Total Wine & More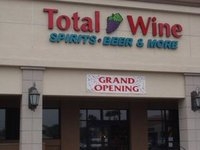 PLACE INFO
Type:
Store
471 S Associated Blvd
Brea
,
California
, 92821-5801
United States
(714) 672-0323 |
map
totalwine.com
Notes:
No notes at this time.
Added by womencantsail on 09-21-2010
Reviews: 11 | Ratings: 20
4
/5
rDev
+0.8%
The recently opened Total Wine Brea takes the location of a big box drug store that is hidden from street view. I know this because I've been to Lucille's Smokehouse many times over the years, and it's located in the same shopping center. More on that later.
For those in SoCal unfamilair with Toal Wine, here's the deal; this place has got lots of lots of bottled beers (more than BevMo), most sitting away from sunlight at room temp, lots of variety (saw Hangar 24 here, the first place in Orange County I've seen carry this Redlands based brewery), single bottles may be purchased instead of entire six-packs, and small displays of glassware mixed with the beer. There's also a small walk-in cold box, which hold a small amount of bottled beer and houses some craft kegs with displayed priectags. There are store associates working the floor, but I didn't find a beer expert on my visit.
I don't know how often I'll be back to this location because the Tustin location is closer and more established (i.e. a few extra gems, more familiar with the store), but if this opened even two years ago when I was still a student at Fullerton, I may not have graduated. This can also serve as a place I can kill time at while I wait the 45 minutes it takes to get a table at Lucille's.
1,282 characters

4.18
/5
rDev
+5.3%
vibe: 4.25 | quality: 4.25 | service: 4 | selection: 4.25
When I'm in the mood to try new beers or breweries, I tend to gravitate towards Total Wine, and the Brea store in particular. As many of you know, they sell singles! I hate to buy 4/6 packs or even bombers when I don't know if I'm going to like a particular beer or not. So, if breweries have 12oz bottles, I'll mix and match them.
I think their selection is pretty diverse. My one pet peeve is that I prefer if they would organize beers by breweries rather than styles.
There's a walk-in cooler in the back, that is sometimes filled with goodies. You generally won't find the rarer shelf beers sitting on the shelves though. However, I have my list of boutique bottle shops that serve that purpose for me. When I want a diverse pick of more common beers by better breweries, I come here.
The prices are good. I generally receive good service from this store, especially if I can't find something I know they should have somewhere in the store. They'll often break 4/6 packs for me if singles are sold out.
I'll continue to buy beers here. Overall, this is a solid store.
1,076 characters

4
/5
rDev
+0.8%
The newest of the Total Wine locations to open up in the area (now I don't have to go all the way to Tustin). The store is much the same as the other Total Wine locations I have been to with several shelves of beer (warm) and a walk in cooler that has some miscellaneous kegs and bottles, as well as several cooler doors with beers and wines, etc.
The selection is not quite as good as the one in Tustin, but these guys are just starting, so I'd imagine there are still some kinks to work out. For example, I haven't seen any of the Russian River sours there yet, whereas the Tustin location has them. They did have some cool stuff right when they opened like vintage Stone beers (some older IRS, Old Guardian, and Anniversary), which was nice. Otherwise, you've got plenty of good California/West Coast beers to choose from, and a decent selection of more well known Belgian, German, and English beers.
The prices are what Total Wine is probably most known for, and you get the same good deals here. Better than competitive pricing which is the main reason I go here. I try to support my local stores, but I am guilty of trying to save a few bucks once in awhile.
The staff are friendly, though not incredibly knowledgeable about beer, I have found. Again, I'll give them the benefit of the doubt for the time being.
Definitely worth a stop, especially since there isn't much in terms of bottle shops in this part of Orange County.
1,436 characters
3.75
/5
rDev
-5.5%
vibe: 3.75 | quality: 3.75 | service: 3.25 | selection: 4.25
The BEER SELECTION (examples of some noteworthy breweries in selection):
Beachwood BBQ
Great Divide
Clown Shoes
Boulevard
Allagash
Ommegang
Jolly Pumpkin
Victory
Goose Island
Jester King
Russian River
+ All local breweries
Total Wine beats the competition in this area in two categories: Amount in selection and price. Occasionally will have the rare items available and usually located in the back cooler, i.e. Pliny's, Abyss, Parabola, etc.
The staff has decent amount of knowledge, but any long-term BA would generally have greater knowledge of beer and releases. Customer service you would expect to receive usually depends on which TW you're at. This Brea location seems to be better than the others I've been to (Tustin, Huntington Beach, Laguna).
Overall, TW is an overall better version of BevMo in all aspects. If I didn't have my local bottleshop, then I would just go here all the time.
Cheers!
909 characters
4
/5
rDev
+0.8%
Stopped in here on a recent trip while killing time with womencantsail. Upon pulling into the parking lot it looked just like any other Total Wine location I have been to here in South Carolina. Beer section was located in the back left of the store. There was a massive single bottle selection going on here as compared to other TWs I've been to with two solid isles full with six-packs lining another isle. There were quite a few things on the shelves that us East Coasters lust over and the West Coasters take for granted as me and womencantsail discussed. There were brews from Port, Russian River, Lost Abbey, and a few others to be had here in singles. I picked up a couple of things while there as I knew I would have to ship them back to myself and had to contain myself. Otherwise I could have filled up a cart quite easily. There was no one back in the beer section while we were there, but we didn't really need any help as we knew what we were doing. I would love to check out some of the other TWs out in that area to see what other West Coast gems I can come across the next time I'm out that way...
1,113 characters

4.15
/5
rDev
+4.5%
I found Total Wine in Brea by chance. Was going to a new theatre with the family and was asking my wife what is that place? So took a stroll through the store and was very pleased. The nice thing about this store is the single bottle selection. Being a craft beer drinker with friends who aren't really allows me to buy what I want and not spend a ton doing it buying all the 6 packs. I can buy what I want, drink it and go back for more on a more regular basis. The selection is nice with a lot of local craft, and even a large belgian selection. The staff is outgoing and friendly and it isn't too far from my house.
618 characters
3
/5
rDev
-24.4%
vibe: 3 | quality: 3 | service: 2 | selection: 4
In a heartbeat i would prefer this spot over the local BevMo. However I feel with some bevmo's i get better service with a very poor selection, on the flip side I get better selections with poor service from total wines. if only there was a way to infuse the two of them at some point. what I find annoying is their lockup of random beers. seriously who cares if you have rare beers most bottle shops do, no need to lock up pliny the elder of all things. also they have a sign up sheet to get called when rare beers come in, my friends do it at other locations and it works. I have yet to get a call from them for the last 5 beers i have signed up for. I def say if you not smart enough to utilize BA to find yourself bottle shops i guess Total Wines is a nice start. But I prefer giving my time and money to the little guys trying get you good beers.
851 characters

4.28
/5
rDev
+7.8%
vibe: 4 | quality: 4 | service: 4.5 | selection: 4.5
Several aisles of a very large spirits store set aside for crafts and an excellent selection of out-of-state brews. A few surprises, like a Shipyard Smashed Blueberry and a lone Parabola hiding in back. Their beer guru, Mike, was very helpful. I had inquired about a Great Divide 17th Anniversary DIPA and the salesperson said they were out.
Ran across Mike a little later while staring big-eyed at the rows of tasty beverages and mentioned the sadness of GD 17th denial. Dude snapped his fingers and disappeared, coming back with the happy news that he found two cases of the stuff. M'man!
Prices were pretty decent - paid $4.49 for a Pliny and $3.98 for a Blind Pig. Only problem was the bright light - room temperature conditions that most of their beers are subjected to. But like I said about Bev Mo, at least this is a high volume/turnover kind of store.
863 characters

4.08
/5
rDev
+2.8%
vibe: 3.5 | quality: 4 | service: 4 | selection: 4.5
Nicely designed, yet clearly wine focused. The aisles they have of beer are well kept, with a nice cooler.
The beers are clean and arranged, sometimes by style, and sometimes by brewery.
The help is ready to serve and always there.
The singles selection here is awesome, some of the sixers they break and make just for trying. Hundreds of breweries and beers welcome you to a great location.
Prices are good and/or average. While I got a bottle of Rasputing XIV for 18.99(which I bought), and St Bernardus Abt 12 for 9.49, I also saw Older Viscosity for a buck more than other places. Once again, less for some, and more for others.
I will visit this place again, definitely more of a place to go, just wish they had more glassware.
DOA
742 characters

4
/5
rDev
+0.8%
Went here after an Eagles concert on the way home.Not as large as the one in Rancho Cucamunga but it seems they had more of what I was looking for.Lagunitas,Ballast Point,Lots of Clown Shoes,Stone,Dogfish Head,Ale Smith,Ten Fidy,Firestone,Duvel,The Bruery,The lost Abbey and a lot more.If your in the Area check it out.
319 characters
4.14
/5
rDev
+4.3%
vibe: 4 | quality: 4 | service: 4 | selection: 4.5
the wife and I stopped by this place this weekend after reading about it on ba. wowzer do they have a nice selection, I could have spent hours in this place. I am trying to figure out what beers I like so this is the place .there were tons of single bottles to choose from. I loaded up a whole shelf on my fridge with all different picks for about 40$. The prices are less than bevmo for sure. I stayed away from any bombers or too pricey beers this time. But if I find a 1000$ bill on the ground any time soon I know where I'm headed to.
538 characters
Total Wine & More in Brea, CA
3.97
out of
5
based on
20
ratings.