Blindside Pale Ale
| Leech Lake Brewing Company
BA SCORE
82
good
10
Reviews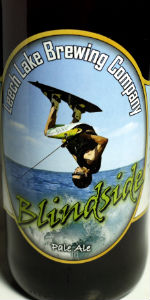 BEER INFO
Brewed by:
Leech Lake Brewing Company
Minnesota
,
United States
Style:
English Pale Ale
Alcohol by volume (ABV):
6.50%
Availability:
Year-round
Notes / Commercial Description:
No notes at this time.
Added by shadow1961 on 12-02-2010
This beer is retired; no longer brewed.
Reviews: 10 | Ratings: 21
3.67
/5
rDev
+6.1%
look: 3.5 | smell: 4 | taste: 3.5 | feel: 3 | overall: 4
I visited the brewery during the Christmas season and loved the location--in the northwoods of Minnesota with the snow regally ornamenting the trees on a very crisp day.
For a certain type, this really is a beer for paradise, as it says on the bottles. I didn't sample this during my visit but grabbed a bottle at a local liquor store. I'm sorry to say the head was not as white as the snow in Walker that day, and that the head lasted not nearly as long as Minnesota's famed winter snow. At least from this bottle, which I poured a least a month after I purchased, lacing is not much to talk about, you betcha.
No matter, the aroma and flavor of the beer come through immediately with a nice floral blast on the nose, followed by a solid bitter taste and then strong overtones of grain. The bottle says the beer is brewed exclusively with Fuggles hops, and I must say, it delivered a very favorable hop tang.
Poured into a tall Pilsner glass, this pale, amber-colored brew had only hints of alcohol-induced hotness as well. On those -40 degree nights, it could even heat a guy up nicely. As the beer warmed, subdued sour notes came through almost reminding of a very mild Belgian ale.
As I sit and look at a snowy evening out my window, though, I am struck at how nicely this pairs with a meat-loaded pizza. I did not notice carbonation and took no notice of how it felt on the palate, which for me, amplifies its drinkability.
This Minnesota-nice beer is probably better suited to a six-pack of cans on a nice summer morning out on the lake rather than poured from a 22 oz. bomber at home. Perhaps the brewer will consider this. But, we all have to start somewhere, don't we, Mr. Leech Lake Brewing Co. of Walker, MN.?
1,730 characters

3.63
/5
rDev
+4.9%
look: 4.5 | smell: 4 | taste: 3 | feel: 4 | overall: 4
22 ounce bomber.
pours out a hazed, perfect amber colour with a frothy off white head reducing to a thin collar and some wispy lace. no carbonation issues. aroma is malt forward, crackery...biscuit like...nicely paired with an earthy, herbal, medicinal hop note. certainly smells english. the taste is a bit different...there is a slight tart sourness that is a bit strange. it does just enough to overshadow the pale maltiness, but not overpower the overall beer. i'm hoping it's the house yeast at play. the earthy and herbal hoppiness melds well with the extremely dry finish to squash any sweetness. there is the slightest sting of alcohol in the far back end, making for a layered and interesting overall taste profile. for a pale ale, this DOES have quite the hefty body on it and a relatively smooth mouthfeel. drinkability is nice. certainly not a quencher by any means, but a nice, big, solid drinker for sure.
overall...this is a hulk of a pale ale. brutish, grainy, grassy and extremely dry. the girth makes it unique, and the price made it seem worthwhile. recommended.
1,083 characters
3.63
/5
rDev
+4.9%
look: 4 | smell: 3.5 | taste: 3.5 | feel: 3.5 | overall: 4
A -- Light amber in color, pouring to a one finger khaki head that settles to a light skim. Leaves thin, broken lacing.
S -- Tones of earth and faint pine, floral hops and mild sweetness.
T -- Citrus rind, pine resin, a hint of sweetness that is quickly overcome by light bitterness with flowery herbal tones. A touch of toasted malts shines through on the back end.
M -- Medium body with moderate carbonation. A little oily and resinous; to be expected. Yet, a little astringent for the style.
D -- Fairly solid brew. Maybe it's the affinity I have for the brewing region with the outlaws' cabin being near there, but this is a nice beer. Worth a repeat.
659 characters
3.58
/5
rDev
+3.5%
look: 4 | smell: 3.5 | taste: 3.5 | feel: 4 | overall: 3.5
Leech Lake Blindside Pale Ale pours a disk of sticky foam over a cloudy honey colored brew. Carbonation seems moderate and steady, the nose is butterscotch, vanilla, and something spicy and earthy- fuggles, is that you? The flavor is sweet, fruity malt, that note of butterscotch again, balanced with earthy/spicy/medicinal hops. Mouthfeel is round and fairly smooth, with a long grassy hop finish. Wow- an actual English~style pale ale. I'm so used to pale ales with West coast hops that this seems fresh and new by comparison. Well played!
541 characters
3.55
/5
rDev
+2.6%
look: 3.5 | smell: 3.5 | taste: 3.5 | feel: 3 | overall: 4
Definitely an English Style Pale Ale and a relatively tasty one at that. Nice pleasant fruity characteristics (apples, pears)....more spicy on the nose than the taste...body is light side of medium...very drinkable...carbonation is low (almost flat)...makes it easy to drink though.
This is a good beer. A nice change up from most Pale Ale's I see. Has mild bitterness on the finish but more of a fruity, lightly carbonated Pale Ale. Would love to try this on tap with a little better carbonation.
Hops remind me a little of Palisade.
536 characters
3.52
/5
rDev
+1.7%
look: 3.5 | smell: 4 | taste: 3.5 | feel: 2.5 | overall: 3.5
22oz bottle poured into an oversized wine glass.
Appearance- Dark straw in color, murky clarity looks like it may be quite yeasty for a pale ale. Only a bit of off-white head to speak of and not much for lacing.
Smells- very nice, hoppy aroma with a touch of sweetness (honey?) maybe.
Taste- Very nice taste. Seems a little more like an IPA to me, quite strong hop bitters up front, but more subdued in the finish.
Overall- Plan to go back to the brewery and get a growler of this next time I swing through Walker. Nice work again, LLBC!
541 characters
3.46
/5
rDev 0%
look: 4 | smell: 3 | taste: 3.5 | feel: 4 | overall: 3.5
After a mildly aggressive pour, this one looks quite nice. A lovely glowing orange color with a fluffy light tan head of foam that leaves some rings of lace.
The nose is nearly nonexistent. There are some faint citrus and malt notes, but not much.
Some hoppy bitterness with a touch of earthy and maybe citrus notes. Lighter malt sweetness with some rubbing alcohol coming through at the end. Pretty drinkable and above average tasting. Could be better if the alcohol didn't come through as much as it does.
Pretty crisp and refreshing. Almost a medium bodied brew that is quite smooth.
Not a bad pale ale here. Drinks well and is pretty easy on the palate. Not the most interesting pale ale, but it is right there for the style.
733 characters

3.43
/5
rDev
-0.9%
look: 3.25 | smell: 3.25 | taste: 3.5 | feel: 3.5 | overall: 3.5
Leech Lake Brewing Company Blindside Pale Ale, Leech Lake Brewing Company, Walker, MN. "Because Paradise Requires A Brewery." Such an odd slogan. Oh, well…6.5% ABV. 22 oz. bomber. Here's another slogan: "A Lake of Beer…handcrafted one small batch at a time."
Clear and amber-colored, solid white head, slips down to a tight ring.
Aroma: hops aplenty in the nose, citrus fruit bitterness, floral, piney, slightly sweet to match the bitter. Getting the sense that this is an English-style pale, less of an American version.
Taste: On the tongue, it's mild, still hoppy, but buoyed by ample malt. Soft, yet vivacious. Even-keeled, balanced, moderate, drinkable.
Not a thing wrong with this session-able pale ale. Does the job.
So, what else you got, Leech Lake?
Wait, forgot something. Here's the label copy: "Just ask a wakeboarder---tasty trick, smooth landing. This well-balanced beer acquires it's stamina from 2-row pale and light and medium Crystal malts. It attains it's fearlessness from generous amounts of Fuggle hops that are added to both the kettle and the fermenter. (56 IBUs) Bottle-conditioning provides ballast for the perfect wake of carbonation and mouth feel. Now…"Hit it!"
Um, I have a question…what's "wake-boarding"? What did all those words mean that didn't have anything to do with beer? Is that something they do in Walker, MN, I mean, "paradise".
1,385 characters
3.2
/5
rDev
-7.5%
look: 3.5 | smell: 3.5 | taste: 3 | feel: 3.5 | overall: 3
Pale, hazed copper body with streams of CO2 surfacing at a nice clip. Thin beige head recedes to a thin collar quickly. Lace is sporadic. Aroma is fruity and fragrant. Slight malt tones as well. The taste of this pale ale is spicy and bright. Caramel malts are discernible underneath to a slight degree. A bit of an astringent bitterness lingers and there's even a little heat noticeable. Mouthfeel is agreeable with a body hovering around medium. Decent enough beer, but nothing real distinguishable.
501 characters
2.26
/5
rDev
-34.7%
look: 3 | smell: 2 | taste: 2 | feel: 3 | overall: 2.5
I've been the glutton for punishment and have downed a couple of these now, usually on a dare. Can't say it's good but it sure is interesting. Tastes super artificial flavoring and such a strong flavor you'll taste it for hours. It's something you just gotta try to say you have had one of the nastiest beer ideas out there.
324 characters
Blindside Pale Ale from Leech Lake Brewing Company
3.46
out of
5
based on
21
ratings.