Shipwreck IPA
| Lighthouse Brewing Company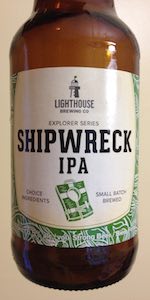 BEER INFO
Brewed by:
Lighthouse Brewing Company
British Columbia
,
Canada
|
website
Style:
American IPA
Alcohol by volume (ABV):
6.50%
Availability:
Year-round
Notes / Commercial Description:
Formerly Switchback IPA
Added by Siriusfisherman on 03-15-2012
Reviews: 33 | Ratings: 120
4.33
/5
rDev
+7.7%
look: 4.5 | smell: 4 | taste: 4.5 | feel: 4 | overall: 4.5
Excelllent beer served on tap at alibi room in Vancouver. Not picking much up smell wise besides citrusy grapefruit. Told this has a bunch of NZ hops. Whatever it is its quite delish. A well balanced beer. I get more of a dank tangerine profile going on. So the sips of this beer start off dry and bitter and finish with a slightly sweet nectarine oiliness. A very unique beer. Incredibly drinkable. Goes well with food too.
★
424 characters
4.02
/5
rDev 0%
look: 3.5 | smell: 4 | taste: 4 | feel: 3.5 | overall: 4.5
12oz bottle (355 mL) served in pint glass. Beer pours a clear pale amber with a thin white head. Fresh, cascadey aroma.
Beer is dead on with a load of alpha acid and citrusy goodness. As the ABV would indicate, this is a pretty big beer -- a healthy balance in between a west coast IPA and a double/imperial IPA. Mouthfeel is relatively thin in terms of weight, which works well with the moderate carbonation and hop-forward style. Overall I am very pleased.
★
459 characters

4.53
/5
rDev
+12.7%
look: 5 | smell: 4.5 | taste: 4.5 | feel: 4.5 | overall: 4.5
A: 3/4" cream coloured head that left a nice lacing over amber coloured liquid with excellent clarity. Can't ask for much more out of an IPA.
S: Pine, earth, grass, grapefruit; smells like we have a hop bomb on our hands. It smells similar to Pliny the Elder.
T: Pine, grapefruit, grass and earth up front that gives way to a tasty and sweet malt base. Extremely tasty.
M: Medium viscosity and medium level of somewhat foamy carbonation.
O: Beautiful. Red Racer IPA and Driftwood Fat Tug move over; there is a new kid in town and he's not pulling any punches. I have no problem saying that this is easily one of Canada's best IPAs. It has the smell profile of Pliny the Elder and the taste profile similar to Stone IPA but more grassy and earthy, and with a better tasting and sweeter malt backbone to finish it up.
★
820 characters
3.56
/5
rDev
-11.4%
look: 4 | smell: 3 | taste: 3.5 | feel: 4 | overall: 4
Poured into 4oz taster @ The Island Beer Fest
FWIW, this beer was HEAVILY advertised...like, by far and away more than any other beer @ Club 919!
A: Light and transluscent gold, almost pilsner-like, with that big head characteristic of Coast IPAs. Dissipated fast, with clean white lacing.
S: Not very strong, but certainly citrusy: pineapple and grapefruit, with some light hop. This was tasted late in the festival, though, so my olfactory sense was slightly compromised.
T: Light and surprisingly refreshing, much like a hoppy grapefruit juice. Some pineapple, lots of hop on the finish.
M: Creamy but light, this beer has it all. Long-lingering on the tongue, with moderate carb.
O: A nice beer, certainly more chuggable than Fat Tug (as I've seen it compared) but not as much as Hop Circle. A good intro to IPAs, and it will certainly see its place on the Victoria scene.
★
881 characters

4.16
/5
rDev
+3.5%
look: 3.5 | smell: 5 | taste: 4 | feel: 3.5 | overall: 4
Poured from a 355 ml bottle into a pint glass, courtesy of the Lighthouse rep.
A - Dark gold, white head not too frothy and with a bit of bubbles.
S - This beer smells fantastic, maybe even better than it tastes. Pineapple dominates the nose, with hints of citrus and tropical fruits.
T - Bitter is the order of the day. Citrusy hop flavour, didn't get much tropical fruit, no malt to be tasted here. This is not to say it's an unbalanced beer or an overdone hopbomb - quite bearable.
M - Tangy bite, but very refreshing. Not too smooth.
D - This is quite a tasty beer, comparable to other BC brews such as Fat Tug or Red Racer. It does wear out the palate a bit from hoppiness.
★
683 characters

4.5
/5
rDev
+11.9%
look: 4.5 | smell: 4.5 | taste: 4.5 | feel: 4.5 | overall: 4.5
A: Gold with a frothy white head, great retention & lace. I don't usually comment on the packaging, but they've done a REALLY great job here. Great art work on an open six-pack, non-twist-off, 355mL bottle like a newer American stubby (like Sierra Nevada). As much as I love it, I'd love to see this in cans!
S: Very perfumy. Definitely some Simcoe and Amarillo here, with a few other new school hops for plenty of depth: Tangerine, pine, lemon grass, gooseberry, nectarine, a bit dank.
T: Piny resin, tangerine, lemon grass, nectarine, mango, gooseberry (but not really catty), bit of sponge toffee from the malt, solid bitterness.
M: Well-attenuated, moderate body has a light hop acidity.
D/O: Really an all-around great brew. This is in the same league as the Red Racer and Fat Tug IPA... and the bitterness and hopping (aroma & flavour) do seem to fall between the two. Actually, the plethora of hops is probably on-par with Red Racer, but the bitterness is a bit less assertive than the mighty Fat Tug.
I'll be buying this one. Lately I've preferred the assertive bitterness of the Fat Tug over the Red Racer Hop fix (bong water?)... but I don't always feel like opening a whole bomber. I can see myself drinking this new-school IPA, as well as the more sessionable, old-school Hophead from Tree.
Their small brewer, big flavour series has certainly showed they have talent. I'm glad this is now routinely available.
★
1,429 characters

4.42
/5
rDev
+10%
look: 4 | smell: 4.5 | taste: 4.5 | feel: 4 | overall: 4.5
Damn , Lighthouse is shooting for the stars with this new IPA. Big , hoppy and a citrus nose to die for. I remember how their first IPA was very conservative and styled after the British versions but this IPA is pure PNW and ranks alongside Phillips,Tree and Driftwood as one of the best In BC.
★
294 characters
4.16
/5
rDev
+3.5%
look: 4 | smell: 4.25 | taste: 4.25 | feel: 4 | overall: 4
Appearance: A perfectly clear gold, could fool anyone into believing its a lager. A nice soapy head on top and some good lacing.
Smell: Huge tropical and fruity hop notes! This beers aroma explodes in the nose, so much flavor. I can get mango, passionfruit, a little pineapple, and maybe some peach, very diverse. One of the best smelling IPAs I have ever come across.
Taste: Very bitter, right off the bat. After that there is a strong citrus presence that comes into play, and then the tropical fruitiness. This is a very tasty beer, very one sided, I can hardly get a trace of malt character, but still very tasty.
Mouthfeel: The carbonation is very crisp and clean, but the body lacks character and the beer feels a little thin if I am being picky.
Overall: A must try if you are into the Tropical hop profile, and highly recommended to even those who aren't. Another great IPA from BC, these breweries around here know what they are doing.
★
948 characters
Shipwreck IPA from Lighthouse Brewing Company
4.02
out of
5
based on
120
ratings.