Pumpkin Smash
| Cascade Brewing / Raccoon Lodge & Brewpub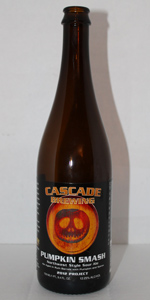 BEER INFO
Brewed by:
Cascade Brewing / Raccoon Lodge & Brewpub
Oregon
,
United States
cascadebrewing.com
Style:
American Wild Ale
Alcohol by volume (ABV):
12.50%
Availability:
Fall
Notes / Commercial Description:
No notes at this time.
Added by anteater on 10-24-2013
Reviews: 10 | Ratings: 107
4.14
/5
rDev
+1.2%
look: 3.75 | smell: 4 | taste: 4.25 | feel: 4.5 | overall: 4
Draft at BittetCreek. A nice cap to the flight. Hazy, dark amber with small, creamy head. Light aroma, but gets serious after that. Taste is pure pumpkin, and light tingling sourness. Velvety smooth, creamy. Truly delicious.
★
224 characters
4.2
/5
rDev
+2.7%
look: 3.75 | smell: 4.25 | taste: 4.25 | feel: 4 | overall: 4.25
On-tap at Cascade Brewing Barrel House, Portland, OR
A: The beer is slightly hazy orange amber in color. There is a light amount of visible carbonation. It poured with a collar consisting of white bubbles around the edge of the glass.
S: Moderate aromas of pumpkin spices, bourbon, and brandy are present in the nose.
T: The taste is nearly a mirror image of the smell, except that the pumpkin spice flavors are stronger.
M: It feels light- to medium-bodied and a little tart on the palate with a moderate amount of carbonation.
O: This pumpkin ale is rather complex and hides its alcohol very well.
Note: 2015 vintage
Serving type: on-tap
★
647 characters

4.18
/5
rDev
+2.2%
look: 3.75 | smell: 4.5 | taste: 4.25 | feel: 3.75 | overall: 4
2014, 11.1%. Pours a thin rusty orange color, and smells instantly of lactic acid and pumpkin spice. Great smooth and crisp mouthfeel with acidic flavors dominating with the spices following. Very enjoyable. Another job well done by Cascade. Cheers!
★
249 characters
4.14
/5
rDev
+1.2%
look: 3.75 | smell: 4 | taste: 4.25 | feel: 4 | overall: 4.25
thanks to my brother for procuring this special rarity! a real unique, intense, and delicious beer from cascade, fitting their high quality standard very well, this beer is very them. pours a murky deep rusted orange color without a lot of head, looks just short of still in my snifter, but smells insane. roasted pumpkin right away, slightly caramelized squashy earthy vegetable vibe, and of course a huge heaping dose of mature lactic acidity and oak. in the flavor, its real layered. grain is toasty and warm, notes of honey and molasses, marrying well with the spice and fruit profile in this, baked figs, clove, white pepper. the spirit barrel and the squash and the roast and the booze (which shows through only just enough, quite minimally for its strength) create a warming fall or wintery vibe, something to curl up with. thats why the acidity seems so out of place. i know this is what cascade does, but it seems almost harsh in this context, cutting through the comfort a little bit. its a major pucker bomb to finish, slow sipper with the alcohol as it warms too. overall a one of a kind beer, thats for sure, and nice around holiday time. definitely one to share though. its greatest sucess might be the choice of barrel, i love that influence. another tasty head scratcher from cascade.
★
1,300 characters

4
/5
rDev
-2.2%
look: 4 | smell: 4 | taste: 4 | feel: 4 | overall: 4
Aged bottle from 2014. Pours a hazy lighter brown color with off-white head. Rum, pumpkin, pumpkin pie spices (cinnamon, nutmeg, allspice, and clove), and funky tartness on the nose; follows onto the palate. Medium bodied. Finishes very tart, but with some spice, and dry.
★
272 characters

3.74
/5
rDev
-8.6%
look: 4.25 | smell: 4 | taste: 3.5 | feel: 3.75 | overall: 3.75
The beer pours a murky, coppery dark brown with a thin blanketing of off-white head that laces slightly while drinking. The head coverage sticks around for a while, and there is no visible sediment. The nose is slightly peppery with muddled pie spices (clove, cardamon, cinnamon-like notes), but there is really no bite/pop to them. The spice profile makes way for smooth rum barrel brown sugar sweetness, pukey tartness, vegetal gourd, and a hint of booze (more prominent when it warms). The taste is a boozy pumpkin wash, with some tart barrel caramel/maple syrup, and muted spices. It's an overly boozy, medium bodied, semi-sweet sour with negligible spices, a confusing pumpkin profile, and challenging drinkability. I'm curious about what this beer was like fresh last Fall, but honestly don't enjoy what it's turned into.
★
827 characters

4.16
/5
rDev
+1.7%
look: 4 | smell: 4.25 | taste: 4 | feel: 4 | overall: 4.5
A-Semi cloudy amber with some slight carbonation.
S-Good deal of pumpkin still, nice rum that seems to have mellowed out. Slight funk as well.
T-Starts with pumpkin nice mellow rum flavor with a tart finish.
M-Medium bodied, no alcohol heat, not much carbonation though.
O-I was worried about the rum barrel making it too sweet, but the beer was nicely balanced.
★
366 characters
3.94
/5
rDev
-3.7%
look: 3 | smell: 4 | taste: 4 | feel: 4 | overall: 4
Thanks to mrbubbler for sharing this one at Retsinis' tasting.
Pours a clear orange-brown with a foamy tan head that settles to wisps of film on top of the beer. Small dots of lace slowly drip into the remaining on the drink down. Smell is slightly sour with malt, caramel, toffee, rum, pumpkin, and spice aromas. Taste is much the same with slightly sour malt, rum, and pumpkin pie spice flavors on the finish. There is a mild amount of acidity and an alcohol kick on the palate with each sip. This beer has a good level of carbonation with a crisp mouthfeel. Overall, this is a good beer with some interesting aromas and flavors.
★
632 characters
4.56
/5
rDev
+11.5%
look: 4.25 | smell: 4.5 | taste: 4.75 | feel: 4.25 | overall: 4.5
Brownish amber color with some lacing. Smells like the guts of a pumpkin that you're starting to carve. That's it. Very distinctly. Very cool and interesting. You get some of the oak and vanilla from the bourbon, limited spice, big clean pumpkin flavor on the mid palate, then only a light tartness. Very interesting beer. I quite enjoyed it.
★
342 characters
4.18
/5
rDev
+2.2%
look: 4 | smell: 4 | taste: 4.25 | feel: 4.25 | overall: 4.25
on-tap at the barrelhouse
from notes
I recall being served this beer at the 2012 Elysian Pumpkinfest - of course it was really just a shitty lager labeled as this. Finally, I get to try the real pumpkin smash...
One of the better pumpkin-oriented beers on the market - I dug the interplay of the typical Cascade lactose sourness with a rich pumpkin pie and spice mix. Cascade has been really impressive lately at crafting very high ABV beers that balance funk and richness. Good stuff.
★
488 characters
Pumpkin Smash from Cascade Brewing / Raccoon Lodge & Brewpub
4.09
out of
5
based on
107
ratings.