Cascade Cuvée Du Jongleur
| Cascade Brewing / Raccoon Lodge & Brewpub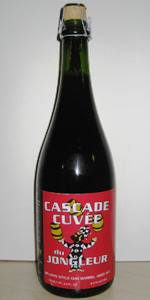 BEER INFO
Brewed by:
Cascade Brewing / Raccoon Lodge & Brewpub
Oregon
,
United States
cascadebrewing.com
Style:
American Wild Ale
Alcohol by volume (ABV):
8.41%
Availability:
Rotating
Notes / Commercial Description:
"A careful blending of select barrels of Flanders Reds and soured Belgian Triples aged in oak for up to 18 months. Then blended with fresh 25° Plato Blond Quadruppel. Hand-bottled, corked and then aged allowing lactic fermentation. 8.41% ABV" - Raccoon Lodge website
Added by Gueuzedude on 10-30-2008
This beer is retired; no longer brewed.
Reviews: 77 | Ratings: 119

4.32
/5
rDev
+4.3%
look: 4 | smell: 4.5 | taste: 4.5 | feel: 4 | overall: 4
On tap at Bailey's Taproom in Portland.
A-Pours a clear golden amber with a thin white head and little lacing.
S-Nice complexity. Serious funky sourness, mild brown sugary sweetness and a fresh herb/spice combo.
T-Very nicely tart but with a background of sweet, dark fruits and mild sourness in the finish. Delicious.
M-Tartness lingers nicely with just a bit of pucker.
D-Tasty, but probably a bit high in ABV to drink more than one of. Deliciously complex for one snifter's worth, though.
HV
★
500 characters

4.3
/5
rDev
+3.9%
look: 4 | smell: 4 | taste: 4.5 | feel: 4 | overall: 4.5
Sampled July 2009
A solid pour into my 25cl tulip glass produces a two-finger thick, light tan colored head; the head leaves some nice layered lacing patterns on the sides of my glass as I work my way through this beer. The beer is a lightly darkened, amber color that shows a lightly hazed, red-tinged, light amber color when held up to the light. The nose has a nice tartness to it that is most definitely lactic in character. The tartness brings out an unripe, green fruit note that is a bit reminiscent of crab-apples, tart plums, or an unripened pear. There is a touch of cracker like malt hidden underneath the lactic aromatics and perhaps a hint of cherry aromatics towards the finish, but overall this is pretty simplistic and not very complex. The tartness is nice though, just nothing to particularly rave about.
Nicely tart tasting, but not overly dry. There is just a touch of malt sweetness (a combination of toasted caramel and dark fruit notes) as well as a fairly substantial body for a sour beer. I wouldn't say this is thick and chewy, but it certainly has a certain viscousness to it as well as some malt body to counter the ample tartness. Fruity flavors of sour plums, tart but slightly washed out cherries, a black currant note as well as some red-wine like notes that are accentuated by a solid oak-derived backbone; each of these notes couple pretty seamlessly with the lactic tartness. The oak provides a nice toasted woody note to the finish as well as some spiciness in the middle and there is definitely a tannic note as well as a body-boosting oak effect. This beer hides its alcohol quite well, there is a touch of heat to the finish but this all seems to come from the oak and not any alcohol.
My second pour sees a touch of vinous character coming out in the nose, more like an oaky chardonnay than a red wine; in fact I don't know how I missed the oak character the first go round as there is a definite oak-derived spiciness and a toasted wood character here in the nose. The fruitiness in the flavor gets a boost as well. This is a nice smoothly drinking beer. It is very well balanced, if not a bit mellow and is fairly clean fermentation wise; there is the sourness, but that is it in the way of funkiness. The finish of the flavor has some nice toasted malt notes and some biscuit like character that couples with the toasted oak quite nicely
This is a nice beer, it does not have the complexity of the Sang Royale (especially in the nose, but this certainly gets better after my second pour), but it is far better than The Vine. Some Brettanomyces funk would certainly be appreciated, but this is more approachable this way I suppose. This is certainly an enjoyable beer to be sipping upon as I work my way through a bout of bill paying. Honestly though, this ends up being much more enjoyable than I was expecting, this is a nice beer I would be happy to have a whole lot more of in the cellar.
Sampled October 2008
4/4/4/4/4, Total 4
This beer pours with an amber tinged, tan colored head that sits on top of an amber colored beer. The aroma is a complex mix of fruity notes, tart lactic acid, lightish funk character and grain. Aromas similar to cherries and tart plums provide the bulk of the fruit notes but there is also some aromatic-varietal apple character here and even some tart apricot notes become noticeable after a bit. The grain aromas contribute a solid cracker-like malt note that one typically doesn't find still hanging around in a sour beer (but I have been noticing this more and more from American versions). The funkiness, other than the sourness, is pretty muted in the aroma, but does contribute notes similar to musty, slightly moldy hay.
The beer is fairly tart as it first hits my tongue, but it is quite balanced. The sourness seems predominantly contributed by Lactic acid. The sourness combines with fruity notes to produce flavors of tart cherry and apricots. There is also a light plastic edge to this beer, as well as some other sharp phenolics; these notes are fairly soft and are not overly intrusive. There is a significant herbal character here as well that reminds me of tannic, wild, weeds somehow. A cotton ball like, tannic character coats the palate after each sip has left my mouth. This beer is fairly light, but there is a full, lingering presence to this beer. There is also a touch of warming alcohol to the finish. This is actually a nicely balanced beer, I am definitely enjoying this.
★
4,480 characters
Cascade Cuvée Du Jongleur from Cascade Brewing / Raccoon Lodge & Brewpub
4.14
out of
5
based on
119
ratings.