Cascade Sang Royal
| Cascade Brewing / Raccoon Lodge & Brewpub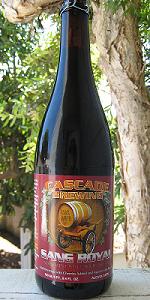 BEER INFO
Brewed by:
Cascade Brewing / Raccoon Lodge & Brewpub
Oregon
,
United States
cascadebrewing.com
Style:
American Wild Ale
Alcohol by volume (ABV):
9.35%
Availability:
Rotating
Notes / Commercial Description:
'Malt Beverage with Cherries Added and Aged in Oak Barrels'
8.87% ABV (2009)
9.35% ABV (2011)
"Sang Royal is a big NW Style Sour Red Ale that spends over six months of lactic fermentation and aging in oak wine barrels. Sang Royal is from select stock that is matured an additional six months in Port barrels and refermented on Bing Cherries." - label text
"This Northwest style sour red is a bottled version of our popular Mouton Rouge. This blend of barrels, with up to 16 months of oak barrel lactic fermentation and oak barrel aging, features dark fruit, sour, oak and funk flavors that sweep over your taste buds like an incoming tide." - Raccoon Lodge website
Added by mykie73 on 05-15-2009
Reviews: 136 | Ratings: 885

4.59
/5
rDev
+6.2%
look: 4.25 | smell: 4.5 | taste: 4.75 | feel: 4.5 | overall: 4.5
Tons of oak, and sour cherries. Coming off the heels of drinking a 13% ABV Oud Bruin, this smells deceptively like an Oud Bruin, but the big matted red "Cascade" label is laughing at me and telling me I'm wrong. Upon second whiff, there's also hints of dark fruit, vanilla, and sweet wine; all signs point to a barrel-aged sour.
Huge flavors of sour red berries and oak inundate the tongue upon first sip. Secondary flavors pretty much mirror the aroma, with subtle hints of raisins, figs, port wine, and vanilla as well. The flavor profile turns slightly more intense as the beer warms up as darker flavors of tobacco and earth come out to play.
Medium-bodied and spirited in terms of carbonation. Despite the high ABV, the brew finishes very crisp and dry with no signs of an alcohol burn (or maybe I'm that drunk?). Overall the flavor profile reminds me a lot of Russian River Brewing Company's Consecration, if it were supercharged/further aged in oak barrels.
966 characters

4.63
/5
rDev
+7.2%
look: 4 | smell: 4.75 | taste: 4.75 | feel: 4.5 | overall: 4.5
Pretty red color with some earth tones to it. 1/3" head quickly hits the bricks.
Aroma was an amazing wave of sour bing cherry, oak, lactic sourness, clean, no off notes, no alcohol noticeable, well done.
Taste just drops sour cherry and oak like its a lambic, its nowhere near as complex as that but it has a nice funk from the port barrels that brings out some complexity beyond your normal wild ale. Some red wine like notes dealing with the oak. Carbonation on point. I like a lot of Cascade beers, they aren't cheap, but this might be their best one they've ever made, just a phenomenal beer and the elite 1st tier level of American wild ales.
658 characters
4.64
/5
rDev
+7.4%
look: 4.25 | smell: 4.5 | taste: 4.75 | feel: 4.5 | overall: 4.75
2009 Project
Appearance: Blackberry colored with a rocky ecru head; plenty of lacing hangs around
Smell: Woody and lactic, with Port, Cabernet, blackberry, cherry and fig
Taste: Fruity and lactic, with cherry, blackberry, red wine grapes and a hint of fig; the funk and woody flavors build through the middle; tart and dry on the finish
Mouthfeel: Medium to full body with moderate carbonation; somewhat puckery
Overall: Unbelievable how fruity this remains six years later; a tremendous achievement
509 characters

4.65
/5
rDev
+7.6%
look: 4.5 | smell: 4.5 | taste: 5 | feel: 4 | overall: 4.5
A: Nice bright red color with touches of a honey color thrown in. Really nice looking. A half finger of white head.
S: Nice mix of tart lacto and cherries. The barrel is evident and the idea of using a port barrel to brew a wild ale frankly blew my mine. A little bit of oak in the way back.
T: Nice tartness right up front. The combination of the port barrel and cherries really does work well together. With the tartness there this was a beer that stood out in am impressive field.
M: This is one of the thickest wilds I have ever had and it was still a really enjoyable sipper.
D:Insanely drinkable. No hint of the ABV at all. We drank a few of their sours and they were all fairly big and none of them even gave you a hint as to their strength. Sharing the bottle made the $20 price tag more bearable.
809 characters
4.65
/5
rDev
+7.6%
look: 4 | smell: 4 | taste: 5 | feel: 4.5 | overall: 5
Big thanks to mykie73 for sending this my way. Poured from a 750 mL bottle into a wine glass.
A- Pours a murky, amberish color. Fingers width of tan head that quickly fizzles away into a thin ring.
S- Lots of sour cherries and grape skins. There is a nice oak barrel presence along with a vinous, port-like quality. The aromas really go well together.
T- Simply fantastic! Lots of complexity going on here. Cherries and tannins abound with a strong, sour oak barrel presence. The port barrel aging added a nice vinous, sweetness to it. A little bit of lemon and citrus gave off the perfect amount of acidity.
M- Medium bodied with lots of carbonation. Semi-dry finish.
D- The sweetness of this beer really tamed the sourness, making this beer extremely drinkable. At nearly 9% abv, this beer is lethal. Putting away a 750 mL bottle is no easy feat for a sour, but is easily achievable with this one.
Overall, many have compared this to Consecration. Having it on tap just the other night, I have to concur. The only difference I noted was that this was a little sweeter and balanced, where as Consecration has a little bit more sourness. I also think the wine qualities came through little bit more in Consecration. Still, this is just as good, if not better.
1,266 characters
4.67
/5
rDev
+8.1%
look: 4 | smell: 4.5 | taste: 5 | feel: 4.5 | overall: 4.5
Pours a dark mahogany with a small tan head that dissipates quickly, leaving good lacing down the glass.
Smells of cherries and lactic acid, with some port and oak in there as it warms. Crazy tart and funky.
Amazing flavor, with so many flavors. Immediate flavors of cherries and lactic acid lead to wine flavor, with port and some oak. Again, crazy tart but not undrinkable. Perfectly funky.
Not the smoothest beer, but with the flavors and all that funkiness, it doesn't need to be. Full of body and flavor.
A true American Wild. So much flavor, and so much funkiness without being overwhelming. Such a great beer. Cascade once again proves that they know the style and how to make it great. A truly amazing beer.
719 characters
4.7
/5
rDev
+8.8%
look: 4.5 | smell: 5 | taste: 4.5 | feel: 4.75 | overall: 4.75
Graciously provided by hoppymcgee in our last trade. Bottle says 2009 Project, Ale aged in oak barrels WITH GRAPES NOT CHERRIES like the above description says (cherries were the 2010 edition); also it has an ABV of 9.345.
Pours a dark hazy brown color with amber hues when held up to the light. A small one inch khaki head with nice soapy bubbles that quickly recedes leaving spotting lacing.
The aromas begin with immediate sourness apple grape skins and light caramel maltiness. Then you get some nice dark fruitiness from presumably the port barrels as well as some nice tannic oak aromas as well. As it warms you get more of the Brett characteristics with a distinct solid earthiness and lesser vinegar and wet hay. Light cocoa notes also become present as it continues to warm to room temperature.
The tastes totally trump the nose with a huge burst of dark vinous fruits and some nice dark berry sourness as well. Then you get the lesser and lighter dark cherry fruitiness as well as a copious amount of wet and earthy oakiness. There is a nice dark caramel base that supports the Brett sourness and other dark berry flavors. As with the nose, as it warms you get more of the underlying dark maltiness highlighted by light powdered cocoa and dark chocolate notes which I have yet to experience or enjoy in a sour.
The mouthfeel is perfect for the style. Medium to full bodied with medium carbonation. The finish is dry and tart but fuller bodied than other sours I have experienced recently. The ABV is no where to be seen, so well integrated and blended; truly a magnificent blended ale.
Overall this beer is epic and I could not be happier. This is like a more complex, Marron Acidife which I also loved. The Port and Cabernet Barrels have really influenced this beer well beyond my expectations. The dark caramel malts are such a great canvas for the Brett yeast and the dark vinous Port and Cabernet barrel-aging. I imagine I enjoyed this beer more than I would have the straight Port aging/Cherry version which either preceded or followed this version. Amazing, probably top 3 sours ales I have ever had to date.
2,130 characters
4.72
/5
rDev
+9.3%
look: 4 | smell: 4.5 | taste: 5 | feel: 5 | overall: 4.5
Had the Mouton Rouge on-tap, and bought a bottle of this which is supposed to be a slightly different, and older blend....
- I opened a bottle at their recommended temp that I had in my wine cooler... so it is overall slightly cloudy as the sediment is throughout.. it foamed over a bit, allowing me to discard some sediment. Fluffy ruby mocha head... nice steady even layer... this stuff is alive and well. A very red/brown murky cloudy color.
- Wonderful sour grape, currants, ripe apple.... oak, bread.... light plum and fig...
- Holy mother of Jesus this stuff is good.. awesome balanced sour, tart, and light nectar sweetness... background blackberry, raspberry.. currants... like a sweet pie hiding well behind tart ripened apple tartness... light breadiness.. this certainly turned out great with a year or so on it....
- Light tart watering palate with some slight dryness and puckering....
- Overall this is just damn fantastic.... my only slight complaint would be the amount of carbonation... I could use a little less as it would add much more to its drinkability.... for me a sour of this magnitude should drink more like a sparkling wine...
1,159 characters
4.77
/5
rDev
+10.4%
look: 4.5 | smell: 5 | taste: 5 | feel: 4 | overall: 4.5
I've had and shared numerous bottles of this over the last 6 months.. reviewed from a few sets of paper notes.
foamy lite tan head.. the brew is deep amber with beautiful ruby highlites.. surprising lace..
nose is tart and vinous (?) .. blackberry and sweet cherry skin.. pretty lactic... mild acetic qualities.... a bit of oak to add to an incredibly complex aroma..
a bit more vinegar than the aroma.. cherry essence is really brought out by some mild caramel sweetness... the big sour player is the lactic aging.. vinous qualities reminiscent of dry red wine.. pinot maybe.. pretty oaky about halfway through and all the way to the dry finish... nice fruity essence lingers on the palate forever.. medium body with abundant carbonation helps cut through the mouthfeel maybe a tad much... Drinkability is amazing.. soooo complex and leaving me want more... another sip.. another glass.
4.5/5/5/4/4.5
907 characters
4.79
/5
rDev
+10.9%
look: 4 | smell: 5 | taste: 5 | feel: 4.5 | overall: 4.5
Pretty red, not candy red color, but an earthy red, with some light brown mixed into it. Aroma was amazing, sour cherry, red ale, massive sourness in the nose that doesn't cover up the sour cherry aspect. Alcohol not to be noticed in the aroma, nor are there any vinegar notes, just splendid.
More and more waves of sour cherry and lactic tart notes. Amazing this is an abv of over 9.3%, at no point does it taste or smell anything like it would be around that level, big props. Didn't taste sweet, like I feared when I read this was partially aged in port barrels, the red wine barrels too aren't over the top, very nuanced red wine with red ale, but this is all about the cherry and sourness.
Hey these aren't cheap, but I'd order them over and over, as I plan to keep doing. Thought the carbonation was just right. Cascade is sooo underrated.
849 characters

4.85
/5
rDev
+12.3%
a: its a murky mix of light brown, ruby red, and dark burnt caramel. it had a really fizzy 1 finger tan head (like a soda) that fades almost immediately. right now its just a film on the side of the glass
s: apple cider vinegar, dark sour concord grapes, sweet molasses. finishes with a nice smell of port - you really can pick that up, which is nice. its an aroma that makes your mouth water
t: there is an insane initial blast of sourness that is an intense mix of like vinegar, soured grapes, and something acidic. it is immediately smoothed out though with a nice port sweetness - its crazy how well the sourness is immediately given away to a rich silky sweet grape like flavor. there is a nice vanilla presence in here as well with a nice oak finish. this is genuinely really good. its not so much a balance here, as a perfect transition of flavors inside your mouth
m: its an interesting combination of a nice smooth mouthfeel with a large amount of carbonation. mouthfeel is definitely on the lighter side (carbonation helps that). finishes a bit dry
o: what can i say? its delicious. a crazy perfect transition of flavors in here that works so well. punch of sour and a nice port wine finish. so glad i tried
1,232 characters
Cascade Sang Royal from Cascade Brewing / Raccoon Lodge & Brewpub
4.32
out of
5
based on
885
ratings.