Figaro
| Cascade Brewing / Raccoon Lodge & Brewpub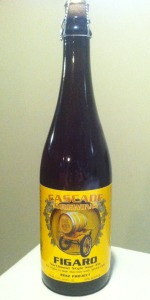 BEER INFO
Brewed by:
Cascade Brewing / Raccoon Lodge & Brewpub
Oregon
,
United States
|
website
Style:
American Wild Ale
Alcohol by volume (ABV):
9.50%
Availability:
Rotating
Notes / Commercial Description:
Strong blond beers were aged in fresh Chardonnay barrels for three months and then additionally aged with dried Adriatic white figs and Spanish lemon peel. Aromas of sweet malts, figs, raisins and citrus zest greet you in the nose. Hints of Chardonnay grapes, lemon peel and sweet figs roll across the palate, leading to crisp lemon sharpness in the finish that will leave a lingering sweetness on the tongue.
Added by largadeer on 06-24-2011
Reviews: 60 | Ratings: 459
4.17
/5
rDev
+1%
look: 4 | smell: 4.5 | taste: 4 | feel: 4.5 | overall: 4
Had on-tap at the Cascade Barrel Room in Portland, OR.
Pours a very clear golden colour, with striking clarity. Some ringing, patchy lace is pretty much all that exists of the white head. No visible carbonation. Solid, but not inspiring.
The nose is gorgeous, however. Vinous, bright sauvignon blanc characters give a clean, pickled acidity. Gooseberries, passionfruit all laced with a slight earthiness. Very impressive. It's not all the complex, but you just want to keep inhaling it nonetheless.
Light, acidic sparkle on the front gives a clean crisp entry, before the middle gives characters of gooseberry, sharp, bright herbs and a hint of chlorine. Clean finish with a light citrus overtone. Despite the acidity and sparkle, it feels really smooth all over; so much so that it almost feels like its defining characteristic—the feel is creamy. It's odd for a wild, but it works.
Really nice drop this one. Like many of the others, the acid builds up after a while, but the smoothness holds this in check for longer than some of the others. Still, this is another impressive beer in an amazingly impressive range from Cascade. This was the last I tried on my visit, and it left me with the impression of having experienced a truly remarkable place.
★
1,258 characters

4.1
/5
rDev
-0.7%
look: 4 | smell: 4 | taste: 4 | feel: 4 | overall: 4.5
Figaro is a blend of strong blond beers aged for three months in fresh chardonnay barrels before some additional time spent with Adriatic white figs and Spanish lemon peel. Enjoyed at the Cascade Barrel House in Portland, poured into a taster glass.
Clear gold in color. A frothy, thin head of pure white soon becomes a thick, sticky ring.
Chardonnay is immediately noticeable in the aroma. Lots of white grapes, some buttery oak, green apple, vinegar, a little red apple. Smooth, mild sweetness.
Some cider character comes through in the flavor — might be the white fig. Sweet and fruity up front with a sour flash of vinegar in the back. White grapes, vinous oak, a hint of vanilla. Great showing from the barrels here.
The smooth medium body quickly fizzes into a more pillowy feel. Lots of carbonation here. A gentle tartness with no discernible alcohol.
Figaro makes me feel like singing. A great beer that strikes a perfect balance between sweet and sour. Good complexity, too.
★
991 characters
4.42
/5
rDev
+7%
look: 4 | smell: 4.5 | taste: 4.5 | feel: 4 | overall: 4.5
On tap at the barrel house back in June.
The beer pours a solid gold color with good head retention and lacing. The nose is quite complex and impressive, as I pick up considerable wine (chardonnay?), concord grape, honey, vanilla and light sour. The flavor profile replicates the nose, but the interplay on the palate of honey, vanilla, concord grape and light sour is unusual and intriguing. Mouthfeel is light to medium bodied, with a fairly long finish of wine, honey and light sour. As is typical of Cascade beers, the alcohol is well integrated into the flavor profile, and I really get no sense that this is a nearly 10% abv. beer.
Not that I'm exactly surprised, but this is another very impressive wild ale from Cascade.
★
731 characters
4
/5
rDev
-3.1%
look: 4 | smell: 4 | taste: 4 | feel: 4 | overall: 4
poured from tap into a tulip. Pours a nice blonde color with a real foamy head.
Very zesty aromas of spices, lemon curds, some raisins and tart citrus tones. There is definitely a sourness to it, but it's slightly tart than it is outright sour.
Medium/full bodied with a real nice and smooth feel. Good flavor depth with notes of lemon curds, spices, and tart citrus'.
This was a really nice and well balanced beer. Had a nice tartness to it as opposed to being downright sour.
★
481 characters

3.18
/5
rDev
-23%
look: 4 | smell: 3.5 | taste: 3 | feel: 3 | overall: 3
On tap at City Beer Store. This was one was marked "LP" and I believe spent a little bit longer in the barrel than the other version. Pours a slightly hazy light golden amber with a small white head that settles to a ring and leaves some light lacing on the glass. The aroma is fig, cinnamon, lactic acid, and some oak. The taste has some initial sweetness with fig and cinnamon. There is also a lactic tartness and a bit of oak. It finishes with a bit of sweetness and lingering fig. Medium body. Low carbonation. A bit more sweetness than I like and the cinnamon was a bit too prominent. This was a bit better than the version I had about a year ago which I remember as being burningly acidic.
★
695 characters
4.72
/5
rDev
+14.3%
look: 4 | smell: 4.5 | taste: 5 | feel: 4 | overall: 5
This Cascade just blew me away. One of the single best beverages I've tasted. Two years ago the Vlad and the Bourbonic "made" GABF for me. Now, Figaro may even be better.
Pours gold with short head that fades fast, but nice looking.
Nose is just all funk, tangerines, purple grapes and figs. Inviting, complex, very layered and pleasant in the extreme. Some tart apple acidic character in the nose just forces you to dive in.
Mouthfeel is tart, rich, nicely acidic and perfect carbonation, at least for me.
Flavor profile is amazing. Super complex, layered and easy. Hands down one of the nicest wild ales I've experienced and I've experienced a lot of them. Big rich and assertive oranges, tangerine, green apple and undertones of fig. There is a sweet/tart/funk front palate that just grows as the funk and tartness develop. Flavors are somewhat unique from other wild ales and sours and extremely impressive.
Finish is tart, crisp and has an orange/herb/spice character that leaves you wanting more.
I only wish I was in S.F. longer so that I could stop by City Beer again and have more. Hopefully, cans of this ( bottles??!!) will show up elsewhere. This is one not to miss.
★
1,185 characters

4.32
/5
rDev
+4.6%
look: 4 | smell: 4.5 | taste: 4.5 | feel: 4 | overall: 4
A - Served a cloudy amber-orange color with a thin finger of frothy white head. The head faded down fairly quickly leaving behind some nice lacing.
S - Aroma is a mix of lots of different fruits including some fig, white grape, prune, and some citrus. There is also lots of tart and funky elements as well.
T - Starts off with a nice kick of acidic sourness with some fig and white grape flavor. There is a bit of citrus and some funky elements as well. Through the middle, the tartness gets a bit stronger with some more funky flavors coming through. The finish is a mix of all of the different fruit flavors and lots of sour/tartness and funky flavors that linger.
M - Medium bodied with moderate carbonation. Feels smooth with some puckering acidic tart flavors.
D - Very drinkable. Really sharp and pungent flavors. The mix of fruit flavors really provides a nice complexity to the flavor and has a nice balance to it.
★
926 characters

3.85
/5
rDev
-6.8%
look: 4 | smell: 4 | taste: 3.5 | feel: 4.5 | overall: 4
On tap poured into a small fluted glass at City Beer for their re-opening following renovation. I had tried a glass of this back during their 5th anniversary but didn't have time to take notes on it. Did think it leaned toward acetone in the aroma though. Hopefully some more time helped it out.
Darker orange with a slight bit of haze with some thin tan collar of head. The thin head does leave a decent bit of lacing that slides down the glass quickly. A few bubbles floating up here and there but not very active.
Nose is mainly sharp acidity, white wine vinegar, plums, but tamed a bit with an earthy and woody aroma. Poured pretty cold initially, but as it warmed, there are some sweeter stone fruits and a small hint of ripe fig.
Tastes pretty good, good initial sourness, white wine and cider vinegars, slightly sweet stone fruits. More over ripe figs in the flavor than in the aroma, almost like a rotten fruit flavor. Back end of a drink has earthy flavors. Finishes dry with a lingering earthy funk and vinegar acidity.
Medium with some good small bubble carbonation to help keep the tongue from being overwhelmed. Definitely a sipper with the bold flavors. Not as bad as when I tried it earlier this year so some additional age might help smooth harsher rotten fruit flavors that doesn't appeal to me.
★
1,319 characters
3.91
/5
rDev
-5.3%
look: 4.5 | smell: 3.5 | taste: 4 | feel: 4 | overall: 4
On cask at the Barrel Room yesterday, served as the Live Barrel offering.
Mostly clear yellow with a dense, white head with great retention and lacing, this was one of the better looking beers I had at Cascade yesterday. The nose is surprisingly muted. There's dry white wine without any fruity aromas. The fig character seems muted, and I'll add the caveat that I've never had an Adriatic White Fig. Some stone fruit, lemon peel and honey are present.. The sourness is also fairly mellow, which is a pleasant change. The palate opens sour, mildly so with a great, fresh, fruity fig and apricot character. Honey and fruit are present, along with a bit of alcohol warmth as well as a mild spice character (is this is a different version from largadeer's review below?). Medium-light in body, medium-light in carbonation, this is solid stuff.
★
841 characters

2.68
/5
rDev
-35.1%
look: 3.5 | smell: 3 | taste: 2.5 | feel: 2.5 | overall: 2.5
Draft at City Beer's 5th anniversary. Figaro is a high gravity sour brewed with figs; the exact details escape me.
Appearance: Hazy amber with a thin, fleeting head.
Smell: Heavy-handed spices and...pumpkin? Reminds me a lot of pumpkin pie. A huge lactic character, too. There's a touch of fig, but the spices are really pervasive and somewhat unpleasant.
Taste: An absolute shit-ton of spice and lactic acid. Sweet and heavy but also pretty stomach-churning - it doesn't taste bad by any means, but it's difficult to drink. Tastes more like pumpkin than fig to me, but maybe that's the spices playing tricks on me. A bit boozy, too; burns going down. By far this is my least favorite of the City Beer anniversary beers.
★
723 characters
Figaro from Cascade Brewing / Raccoon Lodge & Brewpub
4.13
out of
5
based on
459
ratings.