Cascade Strawberry
| Cascade Brewing / Raccoon Lodge & Brewpub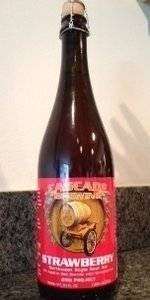 BEER INFO
Brewed by:
Cascade Brewing / Raccoon Lodge & Brewpub
Oregon
,
United States
|
website
Style:
American Wild Ale
Alcohol by volume (ABV):
7.39%
Availability:
Rotating
Notes / Commercial Description:
No notes at this time.
Added by beertunes on 05-29-2012
Reviews: 62 | Ratings: 479
3.97
/5
rDev
+1.5%
look: 3.5 | smell: 4 | taste: 4 | feel: 4 | overall: 4
Thanks to Sam for this one. 750ml corked and caged bottle decanted and poured into a Hill Farmstead tulip.
1 Finger white foamy head with . Beer is a clear orange-pink. Very little lace. Decent.
Nose is big strawberry, some tartness. Syrupy with some hay funk. Moderately aromatic, light, spritzy and clean. Solid.
Opens tart. Lemon, strawberry seeds, dry hay, and rubber. Some cobweb and woodiness at the middle and end. Finishes tart and Brett. Strawberry seeds in the aftertaste. Fruit flavor is very mellow and subtle but overall flavor has a nice, balanced tartness. Tasty.
Light bodied with ample carbonation. Bubbly and crisp in the mouth and goes down foamy, filmy, and wet. Finish is messy with a lingering aftertaste. Showcases the flavor profile nicely.
Strawberry isn't an easy flavor to impart in sours and it shows here. Still, Cascade does a solid job of creating a balanced, interesting beer that is well worth drinking. Glad I had the chance to try this.
★
980 characters

3.85
/5
rDev
-1.5%
look: 3.5 | smell: 3.5 | taste: 4 | feel: 4 | overall: 4
750ml bottle from brewery.
A: Reddened copper. Very thin lacing. No legs.
N: Lemon, orange, and strawberry. Oak and a touch of acetone.
T: Quite good. Plenty of strawberry and a fair amount of balancing sweetness. A little bit of lemon sourness, but it's no puckered lips. Not terribly complex, but it lacks the butter I've had in other Strawberry ales.
M: Light-medium body. Well hidden alcohol.
O: One of the best Cascades I've had in awhile, though it retains the sweet-tart nature of a lot of their beer. It works best here, though.
★
552 characters

4.53
/5
rDev
+15.9%
look: 5 | smell: 4.5 | taste: 4.5 | feel: 4.5 | overall: 4.5
A: poured a pinkish yellow in color with very little head which left hardly any lacing sticking to the glass.
S: I could actually smell the strawberries in the aroma with funky oakiness, a bit od lemony citrus, plenty of sour qualities in this, maybe a little apple but did sniff out some acicic notes as well.
T: the acidic lemony character was more intense on the palate alongisde the nice fresh strawberries that were more like real fruit than strawberry juice, plenty of oaky accents, a bit of funkiness to it, with a great sour punch.
M: the brew was light to medium in body with a moderate amount of prickly carbonation which had a very mild sweet, fruity, oaky, acidic, and sour punch on the finish which lingered on the palate.
O: I have to say cascade really knows how to make these fruit forward sours but I think this one is one of my favorites. Good lookin out beezler for bring this one down.
★
909 characters

3.85
/5
rDev
-1.5%
look: 4 | smell: 4 | taste: 4 | feel: 3.5 | overall: 3.5
Received as an extra in a trade, what an awesome extra I must say.
A-Well carbonation bright ruby red, one finger head that doesn't last long.
S-Smells of nice funk and brett. Lighter strawberry notes along with oak round out.
T-Not an overpowering sour but more than tart, some puckering. Strawberry is lighter in flavor, not much oak, some apples as well.
M-Light, watery and not as much carbonation as I was expecting based of the appearance,
O-A nice sour, the fruit is overpowering and a distraction from the sour but at the same time the blend of flavors wasn't perfect. That being said, it was a good beer and I'm glad I was able to try it.
★
653 characters
3.97
/5
rDev
+1.5%
look: 3.5 | smell: 4 | taste: 4 | feel: 4 | overall: 4
750 ml bottle shared with neighborhood souress at her birthday fiesta 9.22.12.
Mostly white head small bubbles with some pink highlights, finger and a half head over pink/light red clear body, multiple streams of rising carbonation, minimal lacing. Fruitiness dominates the nose, minimal hop aromas. Very interesting taste profile, berries up front with a touch of sweetness, leading to a dry tart finish. Once the beer warmed past the suggested 40 degree serving temperature, good dose of funk, light hay and clean horseblanket, interesting. Mouthfeel on the light side of medium, very good effervescence. While I haven't had a lot of strawberry sours (Block 15's Strawberry Fields in my only other foray) I thought this was quite interesting, and with the relatively low ABV this would be a nice, though a bit spendy,, entry into the world of sours. Tasty, worth seeking out the next time it's released.
★
906 characters
4
/5
rDev
+2.3%
look: 4 | smell: 4 | taste: 4 | feel: 4 | overall: 4
2oz taster pour
Enjoyed at the Portland, OR barrel room on 9/2/12
Enjoyed 2012 Project from bottle
A: Pours out a blush color pink. Even though the pour was small I still got a slightly off white head.
S: Definitely getting that tart sour strawberry, along with the normal sour notes: white grape and green apple. Doesn't smell overly sour.
T: The taste follows the nose. You get a nice pucker up front from the white grape/green apple hints. Then in the middle the barrel character and the strawberry flavors mesh in. It's solid, but liked apricot more.
M: Light bodied. Dry finish as expected
★
599 characters
3.92
/5
rDev
+0.3%
look: 3.5 | smell: 4 | taste: 4 | feel: 3.5 | overall: 4
7.39% ABV for those wondering.
From notes 04AUG12
This one is a pretty pink (white zin) colored ale - glassy. Nose is strait up strawberries with soil and hints of earth in the form of strawberry mold for me (which is nice). Flavor is much more complex than the nose led on. Strawberry, hay, manure, tart (but slightly subdued for the brewery - appropriately so). Some warm metallic characters on the back end along with another flavor I just can't pin down - but I like it and my wife doesn't, so ask her what it is. Medium bodied with low carb and a semi dry finish. Nice beer, better than the Upland version I had.
★
618 characters
4.3
/5
rDev
+10%
look: 4 | smell: 4 | taste: 4.5 | feel: 4 | overall: 4.5
Consumed on 7/28 as a break from the BA DarkLords during the NYC Voltron tasting!!! thanks to thomas for providing this gem.
a - Orange! strawberry beer that's orange...gotta love it! think fizzy head. streaky lacing that coated the glass fully.
s - funky barnyard strawberries.
t - exactly as the nose advertised...funky barnyard strawberries. tastes pretty nice though. not heavy strawberry by itself as the funkiness is strong in the mix.
m - puckeringly sour. strawberry is nice but almost drowned out by the barnyard funkiness...however, still an easy drinker.
o - overall, really nice. funk extreme! strawberry funk. make my funk the strawberry cause i wants to get funked up!
★
687 characters
3.77
/5
rDev
-3.6%
look: 3.5 | smell: 4 | taste: 3.5 | feel: 4 | overall: 4
On tap at Cascade on 8.2.12.
A - Served a orange with a red tiny. Small white bubbles cling to the edges.
S - I actually smell strawberries, and lot of them. Nice little sour pucker as well.
T - Strawberry! Very smooth and consistent. Some slight sourness, but pretty mild for Cascade.
D - Perfect carbonation and light body. Not overly sour.
O - Smooth strawberry and slight funky sour. Good stuff.
★
409 characters
4.04
/5
rDev
+3.3%
look: 4 | smell: 5 | taste: 3.5 | feel: 4 | overall: 4
*** Update 3/23/2013: Wow, this bottle has aged marvelously! Aroma doesn't hold the same magic it once did (9 --> 7), while the taste has matured like a champ (6 --> 9). Full depth of flavor; fresh & pungent. Might be the best strawberry sour I've had. ***
On tap at the barrel house.
Golden red pour, good lace. Super fresh strawberry aroma makes me think I'm actually smelling a fresh strawberry patch. Aroma is truly great.
Taste is a tad disappointing as the strawberries get lost in the mix. Tart and refreshing, just lacks a strong fruit backbone. I hear the bottles are significantly better, so we'll see when I open mine.
This would be a remarkable sour for most breweries, but Cascade set their own bar too high for this to be a celebrated beer.
★
768 characters
3.95
/5
rDev
+1%
look: 4 | smell: 4 | taste: 4 | feel: 3.5 | overall: 4
poured from tap. Pours a nice light strawberry color with a good head.
Very fresh and tart aromas of strawberries, oranges, tart berries and some candy aromas.
Nice refreshing and medium feel that is very good. While it's refreshing, there is definitely a tart and sour side to it with flavors of strawberries, tart berries and candy.
A real nice fruited sour. Well balanced and refreshing while still having sourness to it.
★
427 characters
3.33
/5
rDev
-14.8%
look: 3.5 | smell: 3 | taste: 3.5 | feel: 3 | overall: 3.5
Another beer served without an actual name. If anyone knows the name of this beer, please combine with the proper listing.
Served in tulip. Poured a light golden amber color with just a thin ring of white head that had OK retention and no lacing. The aroma was mostly tart, not really sour, with some faint berry sweetness and basic graininess underneath.
That description also applies to the flavor profile. Nicely tart, but not palate wreckingly sour, a bit of fruitiness and a touch of malty grain reach the tongue. The body was on the thin side and had a nice lingering finish. The drinkability was OK, it may not be sour enough for some Sour fans, but I enjoyed the tartness. Overall, a nice, but not great, little beer. Worth trying if you see it. Or know what it is called.
★
786 characters
Cascade Strawberry from Cascade Brewing / Raccoon Lodge & Brewpub
87
out of
100
based on
62
ratings.