Cascade Manhattan NW
| Cascade Brewing / Raccoon Lodge & Brewpub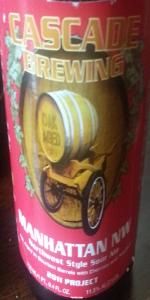 BEER INFO
Brewed by:
Cascade Brewing / Raccoon Lodge & Brewpub
Oregon
,
United States
cascadebrewing.com
Style:
American Wild Ale
Alcohol by volume (ABV):
11.32%
Availability:
Rotating
Notes / Commercial Description:
A blend of spiced Blond Quads, aged in Heaven Hill Bourbon barrels on 150 pounds of sour pie cherries for five months before additionally aging on apricot noyaux for three months.
Added by John_M on 04-06-2013
Reviews: 36 | Ratings: 306
4.28
/5
rDev
+1.4%
look: 4.25 | smell: 4.25 | taste: 4.25 | feel: 4.5 | overall: 4.25
It pours hazy reddish-amber with a small beige head. The nose is sweet-sour, balsamic, bourbon, vanilla, toasted coconut, cherry skin, damp wood and leaf. The taste is sour, tangy, cherry, moderate acidity, mouth-puckering tartness, red grape skins and residual sweetness with a tart finish. Medium body, prickly carbonation and foamy mouth-feel.
346 characters

4.09
/5
rDev
-3.1%
look: 4 | smell: 4.25 | taste: 4 | feel: 4.25 | overall: 4
The beer pours a cloudy amber brown with a good amount if sediment settled in the glass and topped by a thin, off white head. The nose is tart cherries, a hint of bourbon, some spice and booze. There's a similar cherry spice character in the taste which transitions into a sweet bourbony, citrusy aftertaste. The mouthfeel is definitely sweeter cherries upfront, followed by a dry, boozy citrusy finish. This beer delivers on the bourbon and cherry front, but is a bit sweeter than expected. Delightful beer with some distinct cherries and barrel characteristics, unsure how it will age.
587 characters
4.26
/5
rDev
+0.9%
look: 5 | smell: 4.5 | taste: 4 | feel: 4.25 | overall: 4.25
Poured into a tall stemmed tulip glass from a 740ml bottle.
2011 Project
Pours a very nice slightly pinkish/rose amber color. There is a nice quarter inch white head that is of medium density with some tighter bubbles sprinkled around. The color of this brew is gorgeous. A perfect mixing of pink, ruby and copper hues.
Aroma is delicious as well. Notes of sweet pie cherry filling with some underlying mild tartness. THe notes of sugary cherry jam and maraschino cherry notes are delicious and intermingle with a slight boozy heat in the nose as it warms. Notes of clove and slight cinnamon spice are present as well as some underlying notes of sweet Bourbon.
Flavor is pretty delicious. As is typical of these Cascade sours. Things start off with mild and approachable sweet-tart acidity and sourness. Notes of intermixed cherry tartness and sweetness roll around in the palette while some nice underlain notes of bourbon barrel, cinnamon spice and some slight woody vanilla notes. Mouthfeel is nice and fluffy.
Another great brew by Cascade. The cherry notes are delicious and its not overwhelmingly sour. A great beer.
1,127 characters

4.69
/5
rDev
+11.1%
look: 4.75 | smell: 4.5 | taste: 4.75 | feel: 4.75 | overall: 4.75
I obtained this bottle in a trade with a great trader @thebeerprophet. Brought this to a bottle share at Proof. Pours a hazy very dark peach color. Good amount of head on the first pour that dissipated fairly quickly. Second pour got more head than the first. Nice medium white collar. Aroma is very earthy/woody and sweet-tart cherry blend. Taste is amazing. Very similar to the aroma, with some of the caramel/wood coming out. Mouthfeel is viscous for a sour; like chewing an overripe marischino cherry. Nice carbonation despite the low head. Pretty thick body. So glad I traded for this to share with good people.
616 characters
4.16
/5
rDev
-1.4%
look: 3.75 | smell: 4.5 | taste: 4 | feel: 4 | overall: 4.25
750 mL bottle poured into a snifter.
Appearance - Deep reddish amber. Small off-white head with a thick collar. Not much else going on, but the color is nice
Smell - Cherry pie aroma. Acidic cherry. The noyaux comes through with the booze in the very back end. The bourbon is the best part, though. Gives it a richness that counterbalances the cherry.
Taste - Much more cherry dominant. Cherry pie, with a decent sourness. Again the noyaux is an afterthought and more of just a flavor to the alcohol, which is strong. Pale malt actually comes out. Bourbon lends a lot of vanilla and a nice liquor flavor. Not as rich as the nose.
Mouthfeel - It's boozy, but not too much. Moderate sourness. High carbonation. It could br a bit richer.
Overall - Multilayered sour. Very nice. The cherry is strong, but the bourbon is a good counterpoint.
843 characters
4.31
/5
rDev
+2.1%
look: 3.75 | smell: 4.5 | taste: 4.25 | feel: 4.5 | overall: 4.25
Drank this on 4th of July, prior to the awesome Weidman/Silva parlay card I won! Pours a unique color. Pink, rose etc. . . thin head on it, dissipates very quickly.
Aroma was complex, cherry, berry, apricot, bourbon. Cherry and bourbon most prominent. Lactic tartness as always, all over this one.
Taste throws in some oak, coconut, vanilla on top of the aforementioned aromas that are tasted as well. Continues to develop in complexity and intracacies throughout. The quad base is obliterated. Drinks nowhere near as powerful as it indicates on the label. A chocolate undercurrent develops, probably from the Heaven Hill barrels. It is mildly sour, nowhere near most of their beers, even their other bourbon barrel sours like Vlad and Bourbonic seem to have a little more going for them in the straight up sour department.
A very good beer. Worth $30? Once, yeah. But I won't be stocking up on this one when there are just as good (if not better) options from the same brewery for only $20.
996 characters
4.2
/5
rDev
-0.5%
look: 3.75 | smell: 4.25 | taste: 4.25 | feel: 4 | overall: 4.25
Another goodie thanks to Francois.
Light small creamy head, semi clear cherry red color.
Nose is pure cherry, balotin cherry, light sour, sweet malt, light tannic skin, light tart fruit
Taste sweet candy cherries, brown sugar like, a bit acidic and a bite, balotin cherries, candy flavours, caramel, light toasty, slight flemmy. The candy sweetness brings a warming booze that cuts through the tart cherries, almost pie like.
Mouth is med to lighter bod, tart acidic bite, little flemmy, light fizzy carb.
509 characters
4.12
/5
rDev
-2.4%
look: 3.5 | smell: 4 | taste: 4.25 | feel: 4 | overall: 4.25
Thanks to GRG1313 for sharing this one at his tasting.
2011 vintage.
Pours a murky reddish-orange with a foamy bone head that settles to a film on top of the beer. Small dots of lace form around the glass on the drink down. Smell is sour and tart with cherry, bourbon, and wood aromas. Taste is much the same with sour cherry flavors on the finish. There is a medium amount of acidity on the palate with each sip. This beer has a good level of carbonation with a crisp mouthfeel. Overall, this is a very good beer with some tasty flavors.
540 characters
4.25
/5
rDev
+0.7%
look: 4.25 | smell: 4.25 | taste: 4.25 | feel: 4.25 | overall: 4.25
on-tap @ the barrel house
A ridiculously described beer, for sure. Glowing pinkish-red body, light pink film. Not particularly sour - the barrel imparts, or rather sledgehammers, notes of coconut and vanilla that make this a particular fitting beer to consume in a sunny spring day in Portland. Tons of sweet cherry, booze, tropical punch. Interesting stuff - not too upset that the direction of the night prevented me from buying a $30 bottle to go.
451 characters

3.59
/5
rDev
-14.9%
look: 4.5 | smell: 3.5 | taste: 3.5 | feel: 3.25 | overall: 3.75
8 oz on tap at the barrel house.
A: Fruit punch red with a thin white lacing. Not much to say in the way of legs.
N: Lots of candied cherries, almost to the point of being Jolly Rancher 'flavored'. Hints of peach and apricot with a lot more of the sugars coming out. Doesn't smell particularly sour. I get a little bit of vanilla in the bottom of this, but damn, it is absolutely dominated by sweet cherries.
T: Really sweet. There's a moderate sourness here, but it's mostly just sweet and acidic.
M: Plenty of alcohol. There's a heft and an oiliness to this which is slightly off putting. I really have no idea how to grade this. It's a big huge beer, so it should be on the heavier side, I guess. On the other side, down with 12% sour beers.
O: Hawaiian fruit punch with vodka. That's my serious description of this. It's absolutely a confection which you should have with dessert, but it's too much for me.
937 characters
4.46
/5
rDev
+5.7%
look: 3.5 | smell: 4.25 | taste: 4.75 | feel: 4.25 | overall: 4.5
On tap at the barrel room the other day.
The beer pours an attractive rose amber color with fairly good head retention and light lacing. The nose is really pretty nice with this one, as I pick up considerable fruit cocktail, with some light sour, light vinegar, and a hint of vanilla. The beer smells pretty nice, but on the palate, this beer is amazing. The flavor profile consists of a lovely sweet tart flavor, with tropical fruit, light banana, chocolate and light honey. Damn but this is delicious stuff. Mouthfeel is fairly full in this low carbonation beer, and the finish is long, with a chocoalate and sweet tart finish. Drinkability is scary good in this one. It's really hard to believe the abv. is over 11%, as it drinks like a beer with half that level of alcohol.
For me, I thought this beer was fantastic. The sour component was not overdone, which allowed the chocolate and tropical fruit flavors to come out to play. I'm not sure how happy die hard sour fans will be, but regardless, this is a beer I would order anytime I saw it at the barrel room.
1,069 characters
Cascade Manhattan NW from Cascade Brewing / Raccoon Lodge & Brewpub
4.22
out of
5
based on
306
ratings.