Bagge Bocköl
| Janake Wine Group AB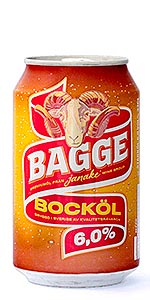 BEER INFO
Brewed by:
Janake Wine Group AB
Sweden
janake.se
Style:
Bock
Alcohol by volume (ABV):
6.00%
Availability:
Year-round
Notes / Commercial Description:
Introduced in October 2010. Brewed by Åbro Bryggerier.
Added by bark on 10-02-2010
Ratings: 5 | Reviews: 4
Reviews by Asgeirr:
1.71
/5
rDev
-8.6%
look: 2.5 | smell: 1.5 | taste: 1.5 | feel: 2 | overall: 2
Appearance: Bagge Bocköl pours a clear maize colour accompanied by the occasional bubble and a white and foamy crown with some persistence.
Smell: Margarine, a bland scent of synthetic sweetness intermixed with a metallic backdrop of malts and a sourness lurking in the utmost background.
Taste: Definitely a corn-starch sweetness to it, then some metallic acridity and blah! what are those chemicals I keep feeling, did you forget to clean the tank after the latest batch of head and shoulders was conceived in it? Which type was it, no let me guess, it was "citrus breeze" right, 'cause I can almost taste the freshness!
Mouthfeel: Watery, yet round to the palate, low in carbonation, (which, really, isn't to this brews advantage) almost flat at times.
Drinkability: Hey now, call a spade a spade! The gents below are quite accurate in the judgements, this beer bares more
liking to a EPL than it is to a Bock of any kind (and it doesn't even pull that particular style off either). Ayyy bro, forshame, forshame...
1,022 characters
More User Reviews:

2.08
/5
rDev
+11.2%
look: 2.5 | smell: 2 | taste: 2 | feel: 2.5 | overall: 2
The beer pours very light straw colored, a white head that recedes quickly and leaves a little lacing.
The smell is sweetish, grain and boiled vegetables, some acidity.
Some sugary sweetness, white bread, a dash of lemon and a short metallic bitterness and some alcohol.
Medium low carbonation, small bubbles, a short dryness.
This is a standard rather high alcohol European lager, nothing more, nothing less.
413 characters
2.08
/5
rDev
+11.2%
look: 2 | smell: 1.5 | taste: 2.5 | feel: 2 | overall: 2
The colour is pale yellow; the liquid is clear. The large head is white and airy; it sinks slowly leaving a three finger lid and some lacing.
The smell is quite strong with metallic bitter notes, some sweet dough, a hint of alcohol and chemical hints of detergents.
The taste is sweet and malty (cheap bread) with some very light neutral hops and a mild bitterness. Some odd chemicals in the background. Hints of nuts and dry minerals plus a hint of vegetables in the short aftertaste.
The carbonation is mild, the bubbles small. The liquid is a bit light for a beer of this strength.
An uninspired beer, much more of a strong Eurolager than a proper bock.
664 characters

1.96
/5
rDev
+4.8%
look: 2.5 | smell: 1.5 | taste: 2 | feel: 2.5 | overall: 2
A: Pour is straw-colored. The large white head is rather thick and sinks into some lacings after a little while.
S: The first thing that hit my nose was corn (?!), then there's sweet grainy malt. Bitter hops. Sadly there's an artificial smell to it.
T: Unbalanced sweetish malt. Some bitter hops. But this is far from the taste of a nice Bock - more like an Euro Pale Lager...
M: Aftertaste stays for a little time, and holds a moderate bitterness. Body is medium full and carbonation is held back.
D: If you're looking forward to a nice Bock - this wouldn't be your first choice. But as a standard Euro Lager - why not?
624 characters
Bagge Bocköl from Janake Wine Group AB
1.87
out of
5
based on
5
ratings.