Jingle Bell Ale
| Ohio Brewing Company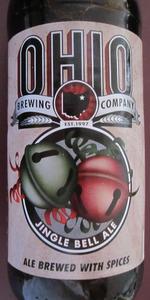 BEER INFO
Brewed by:
Ohio Brewing Company
Ohio
,
United States
ohiobrewing.com
Style:
Winter Warmer
Alcohol by volume (ABV):
7.50%
Availability:
Winter
Notes / Commercial Description:
No notes at this time.
Added by buschbeer on 01-22-2011
Reviews: 9 | Ratings: 19
1
/5
rDev
-72.1%
Bought this at our local grocery store yesterday based on the reviews on BA. I wanted to try something different than my usual go-to holiday beers (GL Xmas Ale, 12 Dogs of Xmas). My first warning should have been that there is no date on the bottle. For all I know, this could be well over a year old. Upon pour of the12 oz bottle, there was no head whatsoever. It poured completely flat with no carbonation. And I really question the alcohol content - I tasted/felt none whatsoever. Basically tasted like a flat/spicy/sweet bottle of Coke. A total fail.
★
557 characters

3.88
/5
rDev
+8.4%
look: 4 | smell: 4 | taste: 3.75 | feel: 3.75 | overall: 4
12oz bottle poured into a pint glass
A: Amber color, 1.5-finger head
S: Loads of spices especially cinnamon, some cocoa powder, a nice caramel/malt backbone
T: Spicy, creamy, like drinking a Chai latte. Nice maltiness adding support. That being said there's something slightly disjointed about it
M: Medium-bodied, finish is a bit short
O: Solid beer, good flavor overall. I'll look for this one again next holiday season
★
421 characters
4.38
/5
rDev
+22.3%
look: 4.5 | smell: 4 | taste: 4.5 | feel: 4.5 | overall: 4.5
This beer surprised me at a local tasting last night. In the past I have not always been crazy about OBC beers but maybe they've upped their game a little since they moved locations. Spices weren't overwhelming like almost every other holiday spiced beer out there. It was nice. Ripe fruits, nice sweetness, some semi sweet bitter chocolates, with a rosie after taste that left you looking forward to your next sip. Maybe I'll start to give the other OBC beers another try...
★
475 characters
4.47
/5
rDev
+24.9%
look: 4 | smell: 4.5 | taste: 4.5 | feel: 4.5 | overall: 4.5
Bottle picked up while at Vintage Estates, poured into my Pirates pint glass.
A: Pours a translucent orange with just a twinge of ruby-red to it, with a thin but persistant white head that bubbled nicely.
S: Wow. Cocoa, cinnamin, a touch of nutmeg, and maybe a hint or raisin, but mostly cocoa. I would not have expected that, based on the pour. I'm interested to see if it's in the flavor, as well.
T: Taste follows the nose. Cinnamin and nutmeg up front, classic amber malted barley flavors in the middle, and a nice touch of classic grapefruit hop bitterness on the back end. Cocoa rides on a wave throughout. Ever present, never distracting.
M: Light and lively, with perfect carbonation and just the right amount of sugars and sticky hop oils on the finish.
D/O: A great brew, artistically rendered. The cocoa and hop flavors grow and grow and grow as you work through the glass. Would definitely have a second one right now. Repeatable.
★
947 characters
5
/5
rDev
+39.7%
look: 5 | smell: 5 | taste: 5 | feel: 5 | overall: 5
I tried it in a bottle.
Appearance - Good carbonation and color
Smell - Nice honey cinnamon aroma but spicy malt taste
Taste - Definitely festive for the season with hints of cinnamon and added sweetness of vanilla
Mouthfeel - I can drink another and another, inviting
Overall I was fully impressed with this beer! I will enjoy it all season long!
★
352 characters

3.25
/5
rDev
-9.2%
look: 3.5 | smell: 3.5 | taste: 3 | feel: 3 | overall: 3.5
Have wanted to try this for a while; it seems more prevelant around Akron this year than in years past, have seen it around at several grocers, etc
Fresh bottle poured into pint glass....
decent but short lived head with an aggressive pour, typical winter warmer looking color
Smell is pretty decent, malty little spiciness
Taste is a very sweet, caramel toffee malt bomb, which does subside some as its warms up...little much at first, but I enjoyed it more as it got warmer
Mouthfeel is average, about right for the style; the excess sweetness takes a little getting used to, and the spices in it are a little different; not sure what they are using, but I enjoyed it
Overall, this was a decent winter brew, locally made (actually contract brewed by Elevator in Columbus according to the label); I am glad to have got a sixer to try for the holidays
★
856 characters
2.59
/5
rDev
-27.7%
look: 4 | smell: 2.5 | taste: 2 | feel: 3.5 | overall: 3
Pours out amberish almost like a dark iced tea with good bubbles coming up. Smell was pretty rich with spice and alot of malt. Toffee and sweetness also makes its way through with a slight creaminess First taste is almost cloying with sweetness and malt. The toffee finds its way into the taste as well with the second sip finding the hops at the end. The spice is almost too over powering and with the creaminess makes me think of Cadbury egg filling. As it warms it also goes to smell like a Cadbury egg and the hops become more apparent as the sweetness seems to subside. Its a good one to try for me but I don't think I'll be seeking it out again. I would really like to know what "spices" are brewed in this one. It seems like cinnamon but not enough balance between that and the malt.
★
790 characters
2.73
/5
rDev
-23.7%
look: 3.5 | smell: 3 | taste: 2.5 | feel: 3 | overall: 2.5
Appearance - No head upon the pour. Laces very weakly to the glass. Looks a bit watery. A deep crimson red and malty brown. Mostly transparent.
Smell - Smells of light grain and malt. Spice. Quaint holiday spice and notes.
Taste - This really took me off guard. This beer is extremely heavy in caramel and toffee, thus causing the sweetness to take over the majority of the taste. The spice is very noticeable with a mixture of honey and nutmeg.
Mouthfeel and Overall - Medium-bodied with heavy malt. The toffee can be a little much, as can the sweetness. This is definitely a different winter warmer that takes some time to grow on you.
★
641 characters
3.57
/5
rDev
-0.3%
look: 3.5 | smell: 4 | taste: 3.5 | feel: 4 | overall: 3
12oz bottle
Served in pint glass
A - It has a copper colored body. The head was about an inch tall and light tan.
S - The aroma is most notably nutmeg with some clove in there as well.
T - The spices stand out in the taste as well. Clove seems to step up in this category.
M - Moderate to thin.
D - This beer definitely tastes like Christmas with the clove and nutmeg. If you like those spices, then by all means try this beer. I find the spices to be a bit overwhelming.
★
488 characters
Jingle Bell Ale from Ohio Brewing Company
3.58
out of
5
based on
19
ratings.