Bourbon Barrel Aged Wee Heavy Ale
| Blue Pants Brewery
BA SCORE
80
good
12
Reviews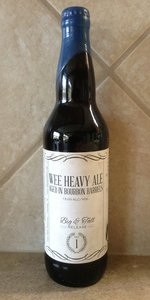 BEER INFO
Brewed by:
Blue Pants Brewery
Alabama
,
United States
bluepantsbrew.com
Style:
Scotch Ale / Wee Heavy
Alcohol by volume (ABV):
13.00%
Availability:
Rotating
Notes / Commercial Description:
Strong Scotch Ale. Sweet Caramel Malts. Notes of Dried Fruit. A slightly smokey finish. Aged in fresh Bourbon Barrels. Find a friend. Use small glasses. Enjoy the first Big Boy Release Experience.
Added by grumpygerman on 03-01-2013
Reviews: 12 | Ratings: 59

3.95
/5
rDev
+20.4%
look: 4 | smell: 4 | taste: 4 | feel: 4 | overall: 3.75
Poured from 22 oz bomber into snifter glass.
A: Deep murky brown with almost non existent head. Zero lacing.
S: Caramel, sweet malts, bourbon.
T: Caramel, dark fruits, and bourbon. Some subtle hints of oak.
M: A bit thinner than I was expecting but still enjoyable. Almost no carbonation to the point of being flat.
O: Nice brew. The flavors are enjoyable and the 13% alcohol is fairly well hidden, but it lacks in carbonation.
433 characters
4.45
/5
rDev
+35.7%
look: 4.25 | smell: 4.25 | taste: 4.75 | feel: 4.25 | overall: 4.25
Appearance - The beer was brown with a nice reddish hue.
Smell - There is a sweet booze impression in the nose. It is almost a candy sweetness.
Taste - My initial impression is sweet caramel. The booze balances nicely with the caramel sweetness. It almost feels like a mixed drink. The taste finishes with a little alcohol burn and the sweetness fading.
Mouthfeel - There was almost a milky impression that allows for extra staying power. I would have liked a little more thickness.
Overall - My bottle share group had this beer side by side with 2011 and 2014 Backwoods Bastard. Blue Pants won. I think Blue Pants has some consistency issues based on some the reviews and my previous experiences with their beer. This one I would certainly have again.
756 characters

3.74
/5
rDev
+14%
look: 4 | smell: 3.75 | taste: 3.75 | feel: 3.5 | overall: 3.75
Big & Tall Release #1... No bottle date, but looks to be an old style label. Could be original?
A - Pours a hazy brown with a light tan two finger head. The head really sticks around and light lacing.
S - Sweet on the nose. Malts, caramel, brown sugar, vanilla and bourbon.
T - The sweetness is a bit amplified here. Dark fruits, bourbon, caramel and brown sugar.
M - Medium bodied and high carbonation to almost too carbonated. Body is smooth and the abv is well hidden probably due to the sweetness.
O - I liked it. Very enjoyable. It would be rated higher if the sweetness was dialed down a bit.
606 characters
3.2
/5
rDev
-2.4%
Bottle says born on 1/14/2014. Also says 2013 vintage. Poured into my Innis And Gunn snifter/tulip hybrid glass.
Pours a dark, murky brown. Fades to a light caramel color on the edges. No head. Absolutly zero head. Even with a vigorous pour.
Smell is rich dark fruit. Plum/prune, Dates, slight candi sugar, some roasted malt, slight wood/oakiness as well as some vanilla.
Taste is dark fruit forward. Sweet candi sugar and dried date, fig, and prune begin to dominate. On the finish it fades into a slight roasted malt, but is almost overwhelmed by the sweet dark fruit.
Mouthfeel is very light for a bourbon barrel aged wee heavy. Almost a little watery, but then again there is almost zero carbonation. Not going to lie I was a little worried that my bottle had a defect and had gone flat when I poured it.
Overall the taste
839 characters
3.89
/5
rDev
+18.6%
look: 4 | smell: 4.25 | taste: 3.5 | feel: 4.25 | overall: 4
Sweet malts with hints of fruit, the bourbon gets a little stronger to the end, touch of vanilla, the 13% are well masked by the overall very sweet beer. Molasses comes through when beer warms above 50 F. Well carbonated and pleasant as a candy like sipping beer.
263 characters
4.49
/5
rDev
+36.9%
look: 4.25 | smell: 4.5 | taste: 4.5 | feel: 4.5 | overall: 4.5
Pours a dark, caramel brown. Slight head, maybe 1/2 inch. Very slight lacing.
Smell is roasted malt, slight wood, some vanilla and the glorious bourbon.
Taste is the slight roasted malt, vanilla on the front. On the back side is that glorious bourbon again.
Mouthfeel is very light for a bourbon barrel aged wee heavy. Slight carbonation.
I enjoyed it. The 13% ABV really doesn't hit you like I thought
412 characters

1.39
/5
rDev
-57.6%
look: 2 | smell: 1.75 | taste: 1 | feel: 1.5 | overall: 1.5
Got on tap at Below the Radar.
L - Hazy dark brown. Absolutely no head at all.
S- sweet smelling with lots of alcohol.
T - this beer tastes horrible. All you really taste is alcohol. This might as well be a liquor. Lots of alcohol and no carbonation at all.
F - thick and syrupy.
Overall - this beer is so poorly done. No carbonation, and all you can really taste is alcohol and syrup. One of the worst craft beers I have ever had.
432 characters

1
/5
rDev
-69.5%
2013 vintage. For starters, this review is of 4 different bottles of Wee Heavy Ale, with notes comparing back to the pints which I've had at their taproom.
A - Pours hazy brown with zero head. No carbonation at all. This is true of all 4 bottles I have had, all from different retailers, purchased over several months.
S - Caramel malt, vanilla and bourbon. When carbonated, aroma is excellent. Decent at best from these bombers.
T - Fairly sweet, but not overly. Bourbon and caramel take the front line here. The sweet taste is more pronounced in bottle.
M - From the bottle there is next to no body overall. Zero carbonation. Mouthfeel is that of iced coffee. In comparison, a pint from the taproom was excellent.
O - Enjoyable on tap, which is how it got my rating of 1.0. Blue Pants is consistently inconsistent when it comes to carbonation. I understand that the BJCP style guidelines call for a low to moderate carbonation, but that still implies it be carbonated. Will not pay money for their beer until this is resolved.
1,047 characters
4.12
/5
rDev
+25.6%
look: 4 | smell: 3.75 | taste: 4.25 | feel: 3.75 | overall: 4.5
Picked up at a local wine and spirits store for 10 $ quite a surprise at 13% very smooth and easy going down quite dangerous
Out of Alabama way to go blue pants will be picking up more as the nights get longer and colder
222 characters

1.56
/5
rDev
-52.4%
look: 3 | smell: 2 | taste: 1 | feel: 2 | overall: 1.5
Another terrible whiskey fusion beer.
I love Bourbon and I love beer, but this fad has to go. It tastes like someone dropped a shot of the cheapest plastic bottle whiskey into an already marginal beer.
This one is completely overpowered by the taste of cheap whiskey. It might as well be carbonated whiskey.
Do not buy unless you really like this kind of beer. So far it has been the worst of these fusion beers that I have tasted.
435 characters

1.44
/5
rDev
-56.1%
look: 1 | smell: 2 | taste: 1.5 | feel: 1 | overall: 1
Review of the 2015 vintage. There is very little to like about this beer. First, the appearance was atrocious, muddy hazy brown with zero carbonation and no head to speak of, looks like a cup of loose leaf tea. Aroma was the only aspect that wasn't completely repulsive, it had decent, if not overbearing, notes of vanilla but also a big boozy component. Taste was truly perplexing, I thought I had accidentally picked up some bourbon barrel/sour experiment; I really don't think this was their intent but somewhere along the line this thing got infected with Brett or something because there is very apparent and unpleasant barrel funk. The only components I tasted were alcohol and a slight vanilla finish, all with a massive sour, earthy/composty overtone. The feel was very thick, looked almost syrupy as I poured it down the drain. Blue Pants continues to miss the mark on consistency, I had a pretty good bottle of imperial stout recently and then wound up with this swill. I really cannot believe they let this batch make it to bottles.
1,043 characters
4.87
/5
rDev
+48.5%
look: 4.5 | smell: 5 | taste: 5 | feel: 4.5 | overall: 4.75
Reviewing Year 2014 better than previous years
Nice reddish hue
Aroma is first, bourbon, vanilla, caramel
Very strong bourbon charachter mixes perfectly with notes of toffee, vanilla, caramel
Excellent beer
208 characters
Bourbon Barrel Aged Wee Heavy Ale from Blue Pants Brewery
3.28
out of
5
based on
59
ratings.