Midnight Porter
| Sebago Brewing Company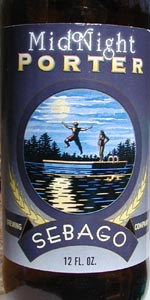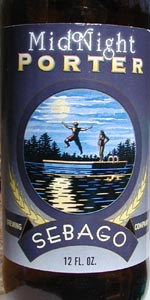 BEER INFO
Brewed by:
Sebago Brewing Company
United States
sebagobrewing.com
Style:
English Porter
Alcohol by volume (ABV):
5.00%
Availability:
Winter
Notes / Commercial Description:
Midnight Porter is a blend of Old World style and New World flavor. Our Porter is based on the traditional English style that was designed to be lighter than a stout and more drinkable at any time of day. It was popular among the laborers of the early 1800s and derives its name from this group of people. Caramel malts give this ale body and Black patent and chocolate malts provide its rich, chocolate-like flavor and ruby hue.
35.8 IBU
Added by MrHurmateeowish on 09-23-2006
HISTOGRAM
Ratings: 63 | Reviews: 37
3.77
/5
rDev
+5.3%
look: 3.5 | smell: 4 | taste: 4 | feel: 3 | overall: 3.5
12oz bottle sent to me in a trade from MichaelfromMaine
Appearance: pours dark black and thick, but allows light through as ruby highlights. Head is colored a subtle tan, mild effort pour produces a lively 1/2" head.
Smell: as with the taste, chocolate dominates, with a slight bitter hint lying underneath.
t/m: I am one of those people that is highly susceptible to butteriness, but I did not detect any of those elements in mine (unlike a previous review.) Chocolate dominates, but not in an over-powering sweet way. On the dry side, just the way it should be, with enough bitter to make its presence known but not throw off balance.
d: surprisingly filling for a 5% porter that allows a slight hint of light to peak through, but otherwise I find it rather quaffable and could easily sit down to quite a few. I don't know if I would be ready to jump off a dock into a moonlit lake, but rather drinkable nonetheless.
To quote that one guy from Robocop "I like it!!"
976 characters
3.5
/5
rDev
-2.2%
look: 3.5 | smell: 3.5 | taste: 3.5 | feel: 3.5 | overall: 3.5
Sebago- Midnight Porter
A- Dark reddish cola brown with a small creamy 1 ring lacing head.
S- Cocoa, corn syrup, charcoal.
T- Charcoal and ash with cocoa powder. Caramel malt comes through once this one warms up a bit.
M- Heavily carbonated with a nice chocolate ashy charcoal finish. Dry and sweet.
Overall- Not too shabby. Definitely worth a pint.
351 characters

3.06
/5
rDev
-14.5%
look: 4 | smell: 3 | taste: 3 | feel: 3 | overall: 3
12 fl oz brown bottle; served in a tumbler.
Nearly opaque, deep molasses in color beneath a creamy, coffee-colored head with pretty impressive retention. Walls of condensed lacing with good strength.
Heavy cream with an intense aroma of diacetyl. Notes of dark chocolate; dried, toasted peanuts and almonds. Rough, floral hop presence.
Dried, roasted nutty profile up front: peanut, cashew, almond. Hints of cream engulffed by an unpleasant buttery diacetyl middle. Big, hairy floral hops without much direction. Bland, chalky dark chocolate.
Almost full bodied; creamy, due to the diacetyl, but also rough in the finish.
A poorly-crafted American Porter. The butteriness absolutely wreck's this one's chances.
715 characters
4.03
/5
rDev
+12.6%
look: 4 | smell: 3.5 | taste: 4 | feel: 4.5 | overall: 4.5
This beer has all of the ingredients to make it worthy of its name.
Poured a dark red-brown with a short tan head.
Nice aroma of hops tinges of malt and wisps of chocolate although I wish the nose were a bit more "up front and center".
The flavor is much like the nose-- hops tinged with chocolate and a background of toasted malt.
The body is that of a porter with a bit of life on the palate thanks to the carbonation although this beer is not fizzy or overly bubbly.
The mouth feel makes for a smooth congenial drink with a bit of roughness around the edges, which I presume, should be at the heart of every porter.
Drinkability is such that I could down several pints at one sitting without complaint.
A very nice porter brew worth your time and effort to find and enjoy.
781 characters

3.68
/5
rDev
+2.8%
look: 4 | smell: 3.5 | taste: 3.5 | feel: 4 | overall: 4
Came to the table in a tall 22oz pint glass a near pitch black just a few ruby highlights when held in the light a thin light brown head atop,roasted aromas with some bitter unsweetened chocolate nothing really out of the ordinary for a porter.Pretty dry and earthy flavors showing some hop muscle a little bitter chocolate as well it finish abruptly though with no lingering flavors.A solid basic porter with some hops but still pretty basic wich isnt all bad.
461 characters
3.77
/5
rDev
+5.3%
look: 3.5 | smell: 4 | taste: 4 | feel: 3 | overall: 3.5
Straight out of a bottle i got from my sebago rep. It poured black with a ruby head at the top of the glass. As far as taste goes you can pick up hints of chocolate and what was almost a coffee like flavor. I really enjoyed this beer not a session beer at all but quite tasty and worth throwing back 2 or 3.
307 characters
2.76
/5
rDev
-22.9%
look: 4 | smell: 3 | taste: 2.5 | feel: 2 | overall: 3
This filled the pint glass with a densely black color with a little red at the edges. Big stubborn smokey head that hung in for the entire ride. The aroma brings on toffy/coffee with a little citrus highlight. The first mouthful is surprisingly bright and bubbly with a decided charcoal overtone. Pretty carbonated, more than I normally associate with a porter, and thinner than most porters. There is a bothersome metallic quality that comes through at the end, as if it were canned. Interesting stuff but not a favorite. I've had this on tap in Portland, Maine and it is naturally a bit thicker, a little more pleasant.
621 characters
3.15
/5
rDev
-12%
look: 3 | smell: 3 | taste: 3.5 | feel: 2.5 | overall: 3
Opens with a loud hiss, then proceeds to fill a pint glass completely full of tan foam. Eventually I get a glass full of nearly black, hazy liquid, topped with a craggy mass of sandy head. Minimalist aroma, basically a study of roasted malt and charred blackness. Some tinny, metallic notes approach something like appleskin. Decent roasty malt flavor. Some pleasant dark-roast coffee taste, with a good bit of charred, woody flavor. Slight apple fruitiness, moving into a bittersweet malt finish. Minimal hop presence. Maybe some traces of herbal flavor, but it's a suggestion at best. Lighter body. Initially psychotic levels of carbonation, like cracking a warm can of pop, but it settles down with some time. Undrinkable at first. Let the bottle sit for a good 30 minutes. Other than that, it's alright.
Perhaps the bottle wasn't handled well, but I did my best to select a bottle from one of the back sixers, away from light. I purchased this at Yankee Spirits in Sturbridge, and it's relatively cool in the back of the store, where the beer is kept. For all I know, this could have been sitting there for 4 months, since i last went beer shopping in MA.
1,160 characters
3.65
/5
rDev
+2%
look: 3 | smell: 3 | taste: 4 | feel: 3.5 | overall: 4
Thanks to jrdegriselles for the trade.
The appearance on this would have been better, but the head rapidly expanded as soon as I began to pour. Other than the cocoa colored head overflowing and waiting for it to subside, this is a great beer. Body is a midnight black, as the name suggests. When put up to the light , there are hues of deep ruby hugging the edges. A sweet, roasty aroma touches the nose. Mouthfeel is fizzy due to the carbonation, nicely balanced with a hop tingle that follows through to the end. The taste is roasted malt with a light touch of chocolate sweetness. A medium bodied porter, which leans to the lighter side, that goes down smooth and dry.
674 characters

3.65
/5
rDev
+2%
look: 4 | smell: 4 | taste: 3.5 | feel: 3.5 | overall: 3.5
A dark black with a pretty good-sized head and lots of lacing. It had a roasted grain aroma, as well as some sweetness. Taste was also kind of toasty/coffeeish, but some sweetness also came in. Not sure if that's a good thing. The beer tasted good, but I thought it to be a little too sweet for a porter.
304 characters
3.41
/5
rDev
-4.7%
look: 4.5 | smell: 3.5 | taste: 3.5 | feel: 3 | overall: 3
12oz bottle purchased as a single from Julio's, Marlboro, MA.
Poured into an imperial pint glass, formed a 2 1/2" frothy brown head over the clear dark burgundy brew. Head lasted way long (enough time for me to fold and change over a batch of laundry), with tons of lace everywhere. Aroma is roasty grains combined with an effervescent tartness. Taste also starts with a full, roasty flavor, with light tart fruit in the middle, and then a coffee bitterness to close. Mouthfeel and drinkability are okay, but that fruitiness turns me off a bit.
548 characters
3.63
/5
rDev
+1.4%
look: 4 | smell: 3.5 | taste: 3.5 | feel: 3.5 | overall: 4
A: Pours a deep brown with reddish tints. Nice creamy one finger caramel tan colored head. Lots of big bubbles on top making the head look soapy. Good looking lace.
S: Burnt coffee malts with a slight infusion of chocolate. Leafy hops are faint, but there.
T/M: Chocolate and coffee malts flush across the palate. Slight sweetness to the malt profile. heres a creamy and smoothness to the medium body. Also a faint woodyness. Bigger bitterness to the finish than I would have thought. Also finishes dry. Ringwood yeast is noticeable in the finish once the beer warms a bit--it hangs out in the aftertaste also.
D: A decent porter. If you can find a single or on tap, try it out.
681 characters
3.82
/5
rDev
+6.7%
look: 3.5 | smell: 4 | taste: 4 | feel: 3.5 | overall: 3.5
Black body with ruby red highlights, with a thin offwhite head. Smells equally hoppy and roasty/toasty with some malt. Burnt malt and some hop. A little watery. Similar in many ways to their Lake Trout Stout, but a little more burnt character and maltiness, and a little lighter in body. Tasty though, a decent little porter.
325 characters
Midnight Porter from Sebago Brewing Company
Beer rating:
3.58
out of
5
with
63
ratings