Single Batch Series - Fool's Gold Ale
| Sebago Brewing Company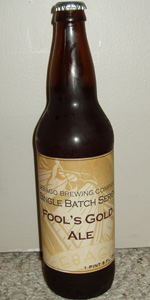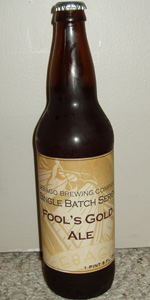 BEER INFO
Brewed by:
Sebago Brewing Company
United States
sebagobrewing.com
Style:
California Common / Steam Beer
Alcohol by volume (ABV):
5.30%
Availability:
Limited (brewed once)
Notes / Commercial Description:
A California Common beer (also known as a "steam" beer) dates back to the late 1800's in California when refrigeration was a great luxury. The brewers back then had to improvise to cool the beer down, so shallow open fermenters were used to cool the beer creating an abundance of steam as the wort cooled. California common beers are fermented with a lager yeast at ale temperatures, which results in a very distinctive flavor profile that includes both ale and lager characteristics. It is a medium bodied, lightly fruity and effervescent beer made with Northern Brewer and Cascade hops. It is deep gold in color with a nice malty backbone which gives way to a clean hop finish. It pairs well with grilled fish or chicken, light seafood fare, salads and pizza.
Added by jlindros on 07-10-2011
This beer is retired; no longer brewed.
HISTOGRAM
Ratings: 10 | Reviews: 9
3.58
/5
rDev
-0.6%
look: 4 | smell: 3.5 | taste: 3.5 | feel: 4 | overall: 3.5
Review from BeerAdvocate Magazine Issue #55 (August 2011):
Part of their Single Batch Series. Great to see some attention to a style most brewers ignore. Clear and brassy, decent lacing on top. Sweet biscuity malt nose hits a chalky, dusty huskiness and leafy hoppiness in the nose. Bit of a malt bomb, and a smooth one at that. Clean throughout, with a mild husk flavor in the back end. Hints of caramel and fresh bread in the middle. Hop bitterness creates a nearly perfect balance. Drinkability runs pretty high here—give it a go if you have not frequented this style much.
579 characters
More User Reviews:

4
/5
rDev
+11.1%
look: 4 | smell: 4 | taste: 4 | feel: 4 | overall: 4
In a Sam Adams pint glass this beer was a brassy/gold color with a small white head.
Fresh, grassy aroma. Sweet malt.
Fruity taste: orange, tangerine, a little bit of apricot. Sweet malt. A little bit of late hops.
This was a crisp, refreshing beer. It had a nice tang to it.
275 characters

3.96
/5
rDev
+10%
look: 4.5 | smell: 3.5 | taste: 4 | feel: 4.5 | overall: 4
Pours a very clean, golden orange color, the color is actually quite vibrant when held up to the light, smallish white head, fades quickly but leaves some bubble patches on top,
Smell is mostly sweet malt and light fruit, it's been a couple months since it has been released so the hop presence has faded a bit but can still be picked up slightly, nothing overly complex but very typical per the style.
Taste is very clean and crisp, goes down quite smooth, carbonation is on point with a slight creaminess from the bubble action, sweet malt is at the forefront, light bitterness in the aftertaste, light fruit similar to apricot is present and delightful.
Honestly, not the hugest fan of California Common beers but this is an easy drinker and better than Anchor Steam in my opinion. We still got some warm days before fall takes full effect, might need to pick up an extra bottle or two of this to enjoy on those days.
924 characters
3.83
/5
rDev
+6.4%
look: 4.5 | smell: 4 | taste: 3.5 | feel: 4 | overall: 4
Pours a light fizzy head over brilliantly clear copper light orange colored beer.
Nose has some crisp pilsner like malts, light toasty, very clean malt aroma, a steam beer aroma, light crisp lager aromas, hints of lager fruits, a very slight copper aroma, and hints of grassy hops.
Taste brings crisp lager flavors, drinkable and lighter, but plenty of malt flavors, light pilsner malts, toasty, and a bit sweet, crisp and light fruity lager flavors, a definite steam like beer, some light coppery flavors, and slight grainy malts, also some nice grassy mild hops with a touch of an earthy presence and some bitterness. Finishes not quite as clean as I expected but still crisp, a little sticky and slightly sweet, some more bitterness and grassy slightly floral hops, a bit more fruity lager flavors and grainy malts.
Mouth is lighter bodied but full, fairly crisp, decent carb.
Overall pretty good, not perfectly executed but decent tasting, nice malts, decent lager flavors but not as light and crisp as a typical lager, some copper flavors probably from the higher fermentation temps, and some light grassy bitter hops.
1,127 characters


3.98
/5
rDev
+10.6%
look: 4.5 | smell: 4 | taste: 4 | feel: 3.5 | overall: 4
22 oz. bottle poured into Chimay chalice.
A: Pours a penny-like copper with burnt-orange highligts. Relatively small head settles into a fluffy cap. Nice looking for the style.
S: Lager yeast, walnuts, caramel, toffee and juicy fruits. Nice!
T: More of the same, with hops coming through for a bitter center. Definitely clear that lager yeasts are at play, with their nail-polish fruitiness coming through distinctly. Nice, though.
M: Pretty thin, but quite representative of the style.
O: If they're going for a California Common (which they are), they've hit it on the head. Very nicely done. That said, I just can't come to love this style, no matter how many different examples I have. Still, a nice one-off from Sebago, and just another example of how good this brewery can be when they deviate from their norm.
Nicely put-together CC.
846 characters

3.97
/5
rDev
+10.3%
look: 3.5 | smell: 4 | taste: 4 | feel: 4 | overall: 4
Bottled 6/24/11
A: Pours a golden copper color with no head. Only a thin layer of bubbles coats the surface
S: Surprisingly fruity. Get some apricots and other light stone-pitted fruits. Aside from that, though, you can tell it uses lager yeast
T: Same as the smell, with a fairly noticeable "steam"-like taste throughout, although predominantly in the middle. Fruits are light and give the steam flavor a nice buddy. Pretty malty overall
M: Light bodied with moderate carbonation. Goes down in typical lager fashion
O: This is a nice, crisp, refreshing beer, especially for summer. Sebago keeps impressing me with their one-offs
634 characters
3.18
/5
rDev
-11.7%
look: 3.5 | smell: 3 | taste: 3 | feel: 3.5 | overall: 3.5
Very interesting beer. I've not had many steam beers, so this style is somewhat out of my norm.
The beer is very malty for what I expected. The beer pours a dark amber color with no foam. Not much for smell, perhaps a bit of musty bread?
Taste-wise this beer is a bit chunky, very thick and very smooth. What comes through most has to be bread dough, its a bit sour on the back but not unpleasantly so. An interesting beer, and definitely outside of my normal buying range.
475 characters
3.88
/5
rDev
+7.8%
look: 4 | smell: 3.5 | taste: 4 | feel: 4 | overall: 4
22oz bottle poured into a SA Perfect pint glass
A: Pours a golden hue. Lots of visible carbonation flowing upward, which holds a 1 finger fluffy white head
S: Grassy, some earth. Light accompanying citrus. Definitely some pale malt as well
T: Reminds me of a pilsner, but a little heavier. Grassy, earthy, little bit of pine. Very pale. A little metallic flavor in the finish
M: Light, refreshing. Light bitterness up front with a fair amount of pale malt lingers
D: Overall I enjoyed this. Can't say I'm all that familiar with the style, because well, there just aren't that many out there. One of the better I've had though
630 characters
2.15
/5
rDev
-40.3%
look: 3 | smell: 3 | taste: 1.5 | feel: 2.5 | overall: 2
Aptly named Fool's Gold!!
Rather aggressive fizzy head fills ½ my pint glass. The beer is on the edge of brass/amber color. Good clarity, lots of carbonation. Head slowly settles and leave a skeleton of large bubbles along with some soapy lace.
Light, almost doughy, sweet toasted malt. A hint of fruit perhaps and some yeast in the nose.
Damn, burned by Sebago again. Frankly, I've not had much from them I've enjoyed… then the Bourbon Barrel Barleywine was awesome… That induced me to try this Single Batch version. Not a fan. A homebrew flavor that is almost plastic in flavor.
Fairly light body a bit fizzy. The head is now explained as it is similar to some of my early homebrew batches.
Not one to try.
722 characters
Single Batch Series - Fool's Gold Ale from Sebago Brewing Company
Beer rating:
3.6
out of
5
with
10
ratings