La Corne (du Bois Des Pendus) Triple
| Brasserie D'Ebly
BA SCORE
84
good
14
Reviews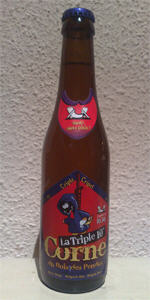 BEER INFO
Brewed by:
Brasserie D'Ebly
Belgium
lacorneduboisdespendus.be
Style:
Tripel
Alcohol by volume (ABV):
10.00%
Availability:
Year-round
Notes / Commercial Description:
No notes at this time.
Added by ThaCreep on 04-19-2011
Reviews: 14 | Ratings: 64
4.07
/5
rDev
+10.9%
look: 4 | smell: 4.5 | taste: 4 | feel: 3.5 | overall: 4
Highly floral and richly of honey, the beer may be more famed for its stemware than for it's taste.
Fitting the "tripel" prototype, the beer pours with a medium straw, light gold color that glows through a yeasty, milky haze. It's a very heady beer that billows to the rim of the glass with ease. Creamy, airy, and frothy, the foam shows tremendous staying power and laces decoratively against the glass.
The beer's bouquet is as aromatic as any I've known- notions of honeysuckle, botannicals, and rose pedals keep the beer lively and highly aromatic. Underneath the obvious floral tones are softer wheat, bread, and yeast scents that ground the beer. Spicy with white pepper, ground cumin, and dried orange, the phenolic aromas bring balance to the fruit and blooms.
And in taste, the malty sweetness and floral taste translates to honey as well. Smooth, rich, and with a hearty grain sweetness that over takes the palate like powdered sugar and hay, the pilsner flavor and floral hops are alive and well. Balanced with a light earthy bitterness, light grass, and herbal taste; the beer also shows complements of sulfur, acidity, and citric character of apples, pears, and oranges.
Medium bodied, the early carbonation keeps things arid and dry. But as the carbonation fades, the lingering malts lay softly on the mouth and buffer against the spices and warm alcohols.
The beer is very rewarding as it satisfies the taste buds, stomach, and head. But with its restrained hop bitterness and elevated sweetness, it compares more favorably to strong pale ales better than tripel ales.
★
1,588 characters
3.79
/5
rDev
+3.3%
look: 4 | smell: 3.75 | taste: 3.75 | feel: 4 | overall: 3.75
Bottle served in a glass horn which was really neat, at Antwerpen Bierhueske.
Pours a huge frothy head in the horn, 4+ fingers pillow head that keeps rising due to the bubbles forming at the base and rising up, the unique shape causes a ridiculous never ending head, hazy orange color.
Nose has a little yeasty aroma, mild spices, faint golden malts, grainy, bit of booze and esters, sweet golden malt character, light fruity orange rind, spices like coriander and orange peel.
Taste starts with malts, sweet candy flavors, blond malt candy, light orange peel, faint spices like coriander, booze kicks in with warmth and tingle as well as light esters and faint phenols. Finish is semi sweet but drier, some booze warmth and tingle lingers, faint orange peel, spices and phenolic lingers.
Mouth is med bod, nice fluffy carb, warming tingly booze.
Overall pretty good, nothing super special but fairly well done beer. Nice malts, booze is there and adds nice characters, light spices, tasty, but the fact that it's served in the big glass horn encased in wood makes the experience.
★
1,085 characters

4.08
/5
rDev
+11.2%
look: 4 | smell: 4 | taste: 4.25 | feel: 3.75 | overall: 4
Don't have the official horn shaped glass, but the Chimay one will do just fine.
There seems to be a lot of sediment in the bottle. Pours hazy golden, massive more than 3 finger high fluffy foam with big retention, that leaves lots of traces on the glass. A few floaters, personally i poured them all in.
Smell of floral and spicy hops, acidic fruit, citrus peel, faint caramel and busy yeasts.
Taste is fruity at first, with green apple, pear, oranges and grapefruit, really acidic (bit of sourness too), backed by mildly sweet malts (grains, hint of honey too). A nice concoction of spices and herbs follows, pretty complex: nice clear coriander, aniseseed, tiny hint of mint, dry orange peel, roses. Funky green notes (green grass and hay) in the nice hoppy finish, with a nice mineral spicy bitterness that wraps it all up.
Medium carbonation after the first fizzy sips, which works ok with the creamy full body of this beer, really unexpectedly chewy. Alcohol is perfectly hidden.
I admit i expected this to be a mediocre Belgian beer with a "fancy" glass and smart marketing, but it was actually a really good tripel, so screw the "corne". Nice surprise. Also, no added sugars, nice.
★
1,189 characters
3.87
/5
rDev
+5.4%
look: 4 | smell: 3.75 | taste: 4 | feel: 3.75 | overall: 3.75
Tap in Brussels. Really good tripel. Full aroma, butterscotch, butter, caramel, , taste echoes the aroma, and is velvety smooth. Delicious and drinkable, worth seeking out.
★
172 characters
3.6
/5
rDev
-1.9%
look: 3.5 | smell: 3.5 | taste: 3.75 | feel: 3.5 | overall: 3.5
33cl Bottle: obtained from De Bierboom some time ago. Poured into Duvel glass (sadly I don't have the horn it should be drank out of) on 5th Dec 13 during a Belgian beer tasting evening I had a home with myself.
Amber with a mini haze because some of the sediment got out the bottle: on top an off-white crown.
Subtle notes of yeast, sweet malts and citrus hints vied for attention in the nose. These features carried on into the taste with a more floral and fruity (none-citrus) feel overall. Add a sprinkling of pepper and some caramel into the brew kettle and you've got the flavours I did.
The beer had a strong alcohol kick from the start with the flavours just about coping.
★
684 characters
4.14
/5
rDev
+12.8%
look: 4 | smell: 4.25 | taste: 4 | feel: 4.25 | overall: 4.25
Coming in a 330ml slim brown bottle, BB 08/2015, served lightly-chilled in a long-stemmed wine glass.
A: pours a dark golden to light amber hue, slightly murky, coming with a 1cm-thick layer of off-white froth and lively carbonation.
S: a decent pale malt backbone carries the yeasty-fruity elements as in sweetened lime juice, citric aroma of Goldings and Saaz, savoury-sweet white prunes, overripe pineapples (only just), wheat-ish malts, etc. Given a very good swirl, the typical perfumy flowery esters (a bit like elderflower cordial) and Chinese mung bean paste emerge on top of the rest of the flavours, as well as a solid but not over-the-top acidity to help reach a balance. Nice.
T: well-effervescent and smooth at the same time, the foretaste is initially exotic-fruity and malty without incurring any heavy or cloying feel, then the citric bitterness, peppery spiciness, mung-bean-paste like esters and a chewy hop mouthfeel chime in, before a restrained alcoholic warmth and a dry-ish palate rounds it off.
M&O: the mouthfeel is generally refreshing and light, showing nothing reminiscent of the strength of a 10%abv. strong ale; this full-bodied Triple is very very likeable, not that colourfully flavoursome but just what I'd expect from a beer made from nothing but water, yeast, malted barley and hops; no candy sugar added, according to the back label. The end result is a well-crafted and nicely-structured pale ale that is sufficiently attenuated but at the same time keeps subtle flavours in their succinct and orderly entirety. I truly like it.
★
1,568 characters
3.04
/5
rDev
-17.2%
look: 3.25 | smell: 3 | taste: 3 | feel: 3.25 | overall: 3
Golden blonde appearance. A lot of creamy foam, white. A lot of floating things.
Malty and honeyed smell, ripe fruitiness, sugary. Yeast.
Taste with a lot of malt and honey, but still drinkable and not too heavy, despite its 10 ABV.
Quite full body, ok aftertaste.
A bit heavy, but acceptable.
★
293 characters
3.83
/5
rDev
+4.4%
look: 4 | smell: 4 | taste: 3.75 | feel: 3.75 | overall: 3.75
Slightly hazy golden color with a huge mushroom head with eternal retention and leaving laces.
Nice and very present aroma with notes of pineapples (core), oranges, mild spices, banana, perfume and herbal hops, some yeast and malt sweetness. Balanced for the style.
Flavor is much spicier, with notes of Cointreau liquor, pears, white grapes, green apple juice, lemon drops, ginger, cloves, a bit of anise, white pepper, cumin and perfumy hops. Dry and alcoholic (not bad) aftertaste.
Incredible deceiving light body considering its alcohol content of 10% abv, which by the way feels much lower. Tickling and somewhat fizzy carbonation.
Good Tripel, this one was fairly attenuated, not sugary and with a fair amount of different spices. Glad that they were able to produce such beer without the additions some Belgians use. A much more difficult task with a plus of not being overly sweet and they were still able to spicy it up.
★
929 characters

3.27
/5
rDev
-10.9%
look: 3.5 | smell: 4 | taste: 3 | feel: 3 | overall: 3
330ml bottle. Tulip glass. Enjoyed on jun´13. (Javi´s –from La Tienda de la Cerveza, Madrid- suggestion). Bright amber color, veiled appearance. White, medium bubbled, froth creates a wide crown showing fairly good retention. Belgian yeast, hints of bread, brown sugar, slight ripe citric & crystal malts, as well as herbal notes to the nose. Fizzy upfront, sugary & mild toasted malt flavors. Medium to full body. Moderate to high carbonation. Oily texture. Subtle ripe citric, low bitterness & warming alcohol. Orange zest astringency provides a dry sensation & lingers into a long finish. Orange & spices on the aftertaste. Neither acidic nor harsh ABV. Pleasant drinkability. Pretty correct Tripel.
★
706 characters
4
/5
rDev
+9%
Very hazy yello colour, big white head. Served in a chalice glass, while I try to get a corn one. Smell is sweet, spicy, vanilla, pears, apple. Alcohol comes in the end. Palate is creamy, like silk, bready. Taste of spices, fruits, oranges, apple, pie, marzipan. Really good.
★
275 characters
4.08
/5
rDev
+11.2%
look: 4.25 | smell: 4.25 | taste: 4 | feel: 4 | overall: 4
33cl bottle (03 2016) into a tulip. Clear golden color, a big foamy head with good retention and huge lacings, settled down to a thin foam. Smell has sweet malts, yeast, peach, lemon with a hint of alcohol. Tastes the same as the smell, fruity and bready. Medium body and carbonation, creamy mouthfeel. The alcohol is well hidden, no apparent alcoholic taste but warms the mouth. A good sipping tripel. Didn't expect much from it but got a pleasant surprise. Would have again.
★
476 characters
3.51
/5
rDev
-4.4%
look: 5 | smell: 4 | taste: 3 | feel: 3.5 | overall: 3.5
Glass still outstanding. The nose is less fresh than her sister but it offers more fruit. And they are quite smelly in a pure style of maceration. The power of beer is also much more feel than its sister fair and there is a high alcoholic strength as it played more on lightness. A good beer in the style tripel but far from exceptional.
★
337 characters

1.96
/5
rDev
-46.6%
look: 4 | smell: 3 | taste: 1 | feel: 3 | overall: 1.5
The beer pours a nice gold with a foamy white head that stays for a long time.
The smell is bready with some caramel, yeast and alcohol.
The taste is similar to the nose with bread, yeast, caramel and alcohol but it has a sugary/syrupy sweetness that I strongly dislike and there's a dry and nasty aftertaste that sticks to the tongue and reminds me of rotting fruit, sour dough and stingy alcohol.
Mouthfeel has a bit too much carbonation but honestly I hardly paid attention anymore with the just plain awful taste.
Overall: My first drain pour, it's drinkable up until the aftertaste which sucks out all possible enjoyment from the beer.
★
644 characters
3.92
/5
rDev
+6.8%
look: 3.5 | smell: 4 | taste: 4 | feel: 3.5 | overall: 4
Bottle from Belgian Beer Shop.com. I served this in the original La Corne glass. The beer is clear golden with a thick, dense white head that leaves a nice lacing. The aroma is very fresh with a clear touch of green apple. The taste is yeasty and fruity. The aftertaste is yeasty and moderately bitter with a surprise at the very end: a touch of almond.
This is a complex and unique beer.
★
388 characters
La Corne (du Bois Des Pendus) Triple from Brasserie D'Ebly
3.67
out of
5
based on
64
ratings.