Traquair 2010
| Traquair House Brewery Lld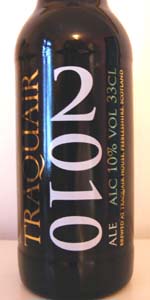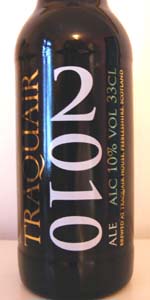 BEER INFO
Brewed by:
Traquair House Brewery Lld
Scotland
,
United Kingdom
traquair.co.uk
Style:
English Barleywine
Alcohol by volume (ABV):
10.00%
Availability:
Limited (brewed once)
Notes / Commercial Description:
No notes at this time.
Added by champ103 on 06-26-2010
This beer is retired; no longer brewed.
HISTOGRAM
Ratings: 10 | Reviews: 9
Reviews by jwinship83:
4.55
/5
rDev
+6.3%
look: 4.5 | smell: 4.5 | taste: 4.5 | feel: 5 | overall: 4.5
11.2oz bottle picked up at whole foods and drank out of my samuel adams perfect pint glass. best by date proudly written on the bottle is 2020.
A- this one pours out a translucent dark brown colored body with some serious ruby red highlights. there is a large light tan colored head on top. the head has excellent retention and leaves behind complete rings of lacing.
S- the first thing i note in the nose is caramel and toffee malt sweetness. then i get some of the peat and light smoke that i have come to expect out of traquair. lots of fruits in the nose also. plum, cherry, date, fig, and grape. a slight bit of alcohol and earthiness.
T- the taste starts out with some sweet caramel and rich toffee-like malty sweetness. after that i get some light smoke and moderate peat. plenty of fruits represented. grape, plum, fig, date, cherry, and raisin. the alcohol makes itself known, but nothing too extreme. earthy hops at the end.
M- full bodied and syrupy. palate coating with a nice and low level of carbonation. some warming from the alcohol.
D- im not sure that being classified as an english barleywine is the best place for this beer. it has lots in common with the other traquair scotch ales; its just bigger and more intense. glad i grabbed a couple of these, im sure theyll continue to improve with some time in the cellar. im not sure ill have the willpower to last until 2020, but i can try.
1,411 characters
More User Reviews:

4.42
/5
rDev
+3.3%
look: 4 | smell: 4.5 | taste: 4.5 | feel: 4 | overall: 4.5
The beer is deep red amber with a slight haze, has a tan head thats settles slowly, leaves a little lacing but has god curtains.
The smell is full of dried fruits, plums, raisins, candid sugar, sherry, port, a faint coffee smell.
Upfront intensely sweet, brown sugar, plum marmalade, sherry sugar treats, port wine, dark chocolate and coffee beans.
Low carbonation, very small bubbles, a huge body, sweet and thick, soft and a slight dry finish.
A very good after-dinner beer. Enjoyed with a Gruyère.
505 characters
4.42
/5
rDev
+3.3%
look: 4 | smell: 4.5 | taste: 4.5 | feel: 5 | overall: 4
330ml bottle bought from York Beer and Wine, York...
Poured a deep mahogany colour. Creamy tan head poured tight, thick and rocky then faded slowly to thick covering.. quite a lot of big carbonation bubbles race to the surface... lots of thick lacing coats the glass..
Aroma - Toffee and caramel maltiness, roasted nuttiness, rich fruits (raisins, figs, prunes, some apples), light pepperiness, earthy notes, toasted malt loaf, treacle notes, light woody traces...
Taste - Spicy dark fruits (figs, currents, apples, plums), toffee and treacle, toasted malts, light nutmeg notes, very light smokiness, some woodiness, chocolate, butterscotch notes, light pepperiness, some very light hop bitterness, some faint metallic notes...
Feel - Pretty rich, smooth and creamy with just a little sharp bite underneath... medium / full bodied... Very quaffable although pretty dangerous at 10%...
Overall - Another fine brew from Traquair and a perfect example of an English Barleywine... highly recommended..
1,002 characters
4.13
/5
rDev
-3.5%
look: 3.75 | smell: 4.5 | taste: 4.25 | feel: 4.25 | overall: 3.5
A: Pours a rufous colour, no crown to talk about.
S: Sweet dried apricots, raisins as well as hazel- and walnuts. Lots of malty sweetness, i.e. presented in a syrupy backdrop. Tons of dark fruit: figs, plums and some cherry.
T: Tons of toffee, and the aforementioned nuts, hints of coal or smoked wood.
M: Very round, full and creamy yet a coarse and woody finish.
O: Well poised and well executed, by-the.book and exactly what you'd expect.
445 characters

4.1
/5
rDev
-4.2%
look: 4 | smell: 4 | taste: 4 | feel: 4 | overall: 4.5
Pours a deep amber to brown in color with a light tan head. In the aroma, small notes oak and peet, with a light roast and notes of caramel. In the taste, a small alcohol presence, and nice roast, and a pleasant caramel presence. A small bite and a medium to bigger bodied mouthfeel, with a dry oak and small alcohol presence in the aftertaste. A bit alcoholic, but a nice sipper.
380 characters
4.63
/5
rDev
+8.2%
look: 3 | smell: 5 | taste: 5 | feel: 4.5 | overall: 4
A: Pours a clear, but viscous garnet red color. A very minimal tan head forms, and recedes in a second. No lace to speak of.
S: This is just amazing. A huge oak aroma fills the room as soon as I crake the cap. Toasted malt and sweet toffee is present. Lots of decadent dark fruits. Raisins, plums, and chocolate covered cerries. A light banana aroma as well.
T: As I would expect from the nose. A huge smoky, dry oak flavor that is excellent. Maple Syrup. Sweet toffee and toasted malts. Tons of dark fruits that follow the nose. Some warming alcohol in the finish as well.
M/D: A full and slightly syrupy body. Very dry, and increadibly smooth, creamy, and decadent. At this early stage, the alcohol is present, but it is still a great beer to sip on throughout the night.
This is a one off to celebrate the first decade of the 21st centery. The bottle says it is aged in 200 year old oak vessels. Overall this is just an excellent beer, and everything is so well balanced. I am glad I was able to track some down. Hopefully I can find some more to age, cause the alcohol is a tad rough right now. Though like everything else from the brewery, a must try.
1,159 characters

4.52
/5
rDev
+5.6%
look: 4 | smell: 4.5 | taste: 4.5 | feel: 5 | overall: 4.5
33cl bottle poured into a Grimbergen chalice.
Best before April 2020
A- Dark mahogany body with a garnet highlight. 2 finger head is tight and creamy although reduces to a crown quickly. Lacing is good
S- Sultana sweet fruit cake. It has a light toffee sweetness.
T- Liquid fruit cake for me. A light fruit cake that doesnt sit heavy in the stomach. No hop note. Alcohol is well hidden although a slight hint is suggested late in the finish. Very smooth.
M- Low carbonation, full mouthfeel with a creamy quality yet not sticky.
D- A beautiful old barleywine ale. Not sickly sweet but still displays the required malt characteristics and a silky mouthfeel without being sticky. No idea this is 10% abv by the feel/palate. Wonderfully smooth. Fantastic.
757 characters

4.49
/5
rDev
+4.9%
look: 3.5 | smell: 4.5 | taste: 4.5 | feel: 5 | overall: 4.5
A: Pours deep red almost burgundy with a small off-white head. There's a thin layer of head that stays as long as there's beer left...
S: A nice balanced smell - sweetness from the malt (loads of caramell). Lots and lots of dark dried fruits. Chocolate. Some citric notes as well.
T: Syrupy - sweetness from malt. Rich chocolate and dark dried fruits. The alcohol isn't noticable - very nice.
M: Rich full creamy body and very moderate carbonation. An aftertaste that lasts forever.
D: This is a great beer - I bought myself six bottles that went down in my beercellar. My guess is that this great beer will evolve to something devine in a couple of years!
662 characters
4
/5
rDev
-6.5%
look: 3.5 | smell: 3.5 | taste: 4.5 | feel: 3.5 | overall: 4
Deep, dark copper ale with a small, creamy, white head. Lasting retention. The bouquet is a luxuriant intermingling of caramel, toffee, ruby port, light molasses and toasted pecans with a splash of coffee. Full-bodied and oily with supple carbonation. The flavor is a complex, lightly vinous, hearty mélange of sweet caramel malts, buttery toffee, crusted port and rich coffee. Malty, but fairly balanced, warming finish. More reminiscent of a Scotch ale than a barley wine.
475 characters
Traquair 2010 from Traquair House Brewery Lld
Beer rating:
4.28
out of
5
with
10
ratings