Autumnal Dichotomous (2014)
| Jester King Brewery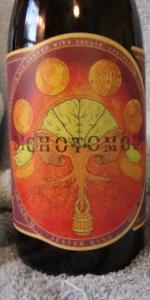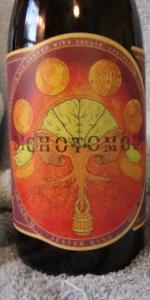 BEER INFO
Brewed by:
Jester King Brewery
Texas
,
United States
jesterkingbrewery.com
Style:
Belgian Saison
Alcohol by volume (ABV):
4.90%
Availability:
Limited (brewed once)
Notes / Commercial Description:
We are pleased to introduce Jester King 2014 Autumnal Dichotomous, our fall saison brewed with squash, long pepper, and sage. Autumnal Dichotomous is our third seasonal saison, following 2014 Hibernal Dichotomous and 2014 Estival Dichotomous, which were released in April and November of last year. As we mentioned with the previous releases, our brewing is largely driven by the seasons. We make farmhouse ales when the weather is warm and temperatures are conducive to fermentation in stainless steel, and we make spontaneously fermented beers and barrel fermented beers when temperatures are cooler and conducive to overnight inoculation of wort and slow maturation in oak. We also use the ingredients that are available to us at various times of the year. In the winter we make beer with root vegetables and citrus, in the spring we use peaches and raspberries, in the summer we use apricots, strawberries, and figs, and in the fall we use grapes, horehound, lemon bee balm, and squash. Autumnal Dichotomous is reflective of the ingredients available during the autumn months.
19 IBU
This beer is retired; no longer brewed.
Reviews: 10 | Ratings: 110

3.84
/5
rDev
+1.1%
look: 4 | smell: 3.75 | taste: 3.75 | feel: 4 | overall: 4
Moderate pour yields a one inch off white head over a mahogany-brown body with some lacing. Nose of very slight funk with some squash-like aromas as well. Tastes a bit sour, a bit funky, a bit spicy, with a tiny bit of sage, but mostly the squash comes through on flavor and feel. Overall, a fairly enjoyable offering from Jester King, but I've had better. Cheers!
366 characters

3.14
/5
rDev
-17.4%
look: 3 | smell: 3.25 | taste: 3 | feel: 3.25 | overall: 3.25
BOTTLE: Batch #1 - Nov 25, 2014. Purchased at Jester King and cellared for ~2.5 years. Brown glass. Branded pry-off crown cap. Appealing autumn-themed label art. 750ml format.
"4.90% ABV. FG 1.004. IBU 19. Ingredients: Hill Country Well Water, Malted Barley, Malted Wheat, Butternut Squash, Acorn Squash, Hops, Longpepper, Dried Sage, Farmhouse Yeast, Wild Yeast from the Texas Hill Country, Native Souring Bacteria." "Unpasteurized." "100% Bottle-conditioned."
Served chilled into a tulip and allowed to come to temperature over the course of consumption.
HEAD: Fills ~80% of my tulip, suggesting potential overcarbonation (in spite of its bottle conditioning). White and fluffy, with a soft airy consistency and plenty of frothiness. Good retention - ~8 minutes. Leaves no lacing on the sides of my glass as it recedes. No legs form on the sides of the glass when tilted.
BODY: Clear vibrant amber-copper. A bit weak, lacking a robust colour. Clean, lacking any visible yeasts or lees.
Appears well (if not over) carbonated. It's a nice appearance for an autumnal farmhouse ale, but it lacks the style's characteristic haziness and isn't as lively as the appearances of the best expressions of the style. Generally appealing, but not unique.
AROMA: Autumnal spice is evident to such extent I might mistake this for a pumpkin ale in a blind tasting. Sage, nutmeg, clove, peppery spice. (No cinnamon or brown sugar aromatics). I get a vegetable aroma - not cooked vegetable like DMS off-flavour, more like a pumpkin presence without pumpkin gourd's unique flavour...I guess that's the squash, but I'd never identify it in a blind tasting. When I know to look for it, it's obvious and contributes nicely to the overall aroma, playing well with the spices.
Ale yeast esters. Mild floral and fruity hop aromatics. No overt farmhouse yeast funkiness (i.e. brettanomyces) or obvious bacterial acidity or sourness.
Seems perfectly attenuated, bringing enough sweetness from amber and bright (I'd guess Munich or Vienna malt, along with 2 row) malts to deliver on the autumn ale premise and enough spiciness to keep it true to the style.
Suggests a pleasant and drinkable spritzy medium-bodied amber ale with nice spicy complexity but little in the way of the farmhouse yeasts, microflora, and bacterial subtlety Jester King's marketing so desperately wants us to believe is in there.
Aromatic intensity is above average. I find no off-notes. No overt booze.
TASTE & TEXTURE: Some bacterial sourness (think 1-2/10 in terms of intensity) does come into play, but it's actually to the beer's detriment: the otherwise pleasant smooth, wet, medium-bodied, bready mouthfeel is subjected to an onslaught of unwelcome sharp acidity and off-putting smackiness - evoking an infected amber ale instead of a deliberately soured farmhouse ale.
Amber malts and pale malts lend this beer its unremarkable backbone. Spices contribute needed complexity but fail to ring as distinctly in the taste as they did in the aroma...clove, spicy Belgian yeast, vague peppery spice. No evocative sage or deep pepper flavour, unfortunately.
The squash is as generic in flavour as the spices, lacking a distinct or recognizable flavour; one would be hard-pressed to identify this as a squash beer in a blind tasting, but the general vegetable-redolent taste is sufficient to evoke an autumnal vibe when combined with the spices.
Finishes dry and starchy.
Bottle conditioning has left this beer near perfectly carbonated; going 100% bottle conditioning really paid off for Jester King.
Hop flavours are backgrounded, but there's some fruity and floral flavour there. Ale yeast esters play into the vague fruit milieu.
Lacks the intricacy one would hope for in a wild yeast farmhouse ale, but it's pleasant enough even if it isn't particularly intricate or well-balanced. Depth of flavour is average. Flavour duration is average, as is flavour intensity.
Pleasant and approachable. Mouthfeel isn't oily, boozy, scratchy, harsh, rough, or otherwise overtly problematic, but it could do with more softness and more of a refreshing texture.
OVERALL: Bottle conditioning and clever uses of underused ingredients like squash and sage help this achieve a definite autumnal vibe and I love what Jester King is going for...but they don't quite get there. Bewilderingly misguided additions of bacteria throw the already murky flavour profile off-kilter, and the ingredients Jester King intended to showcase never quite come into as clear a focus as would be ideal. It's drinkable enjoyable fare for what it is, but it's far from amongst the best expressions of the style and its alarmingly high price for the (lack of) quality would keep me from buying more bottles.
Competent and inspired work from a brewery known for doing better.
C+ (3.14) / ABOVE AVERAGE
4,834 characters

3.75
/5
rDev
-1.3%
look: 3.75 | smell: 3.75 | taste: 3.75 | feel: 3.75 | overall: 3.75
Dark crimson with a 2.5 finger khaki head. Thick cap and spotty lacing. Light citrus aromas with malts and dark tart fruit. Tart and malty with some cherry/apple like flavor. Funk is minimal and it does have a faint squash flavor on the finish. Easy to drink with a tingly carbonation and drying finish. This was enjoyable for this very beautiful fall day.
358 characters

3.75
/5
rDev
-1.3%
look: 3.75 | smell: 3.75 | taste: 3.75 | feel: 3.75 | overall: 3.75
I did not think that there was anything special going on with this beer, though it was a nice palate cleanser for bigger, better beers that hit our recent tasting.
163 characters

4.02
/5
rDev
+5.8%
look: 4.75 | smell: 4 | taste: 4 | feel: 3.75 | overall: 4
Batch 1 pours a nice hazy ruby brownish color with an off white head. Smells like squash/pumpkin and a tad sour taste is interesting squash flavor upright with the tartness of the yeast and brett. Getting maybe a pepper flavor lingering in the mouth? Seems to be more enjoyable as it warms.
290 characters
3.83
/5
rDev
+0.8%
look: 4 | smell: 4 | taste: 3.75 | feel: 3.75 | overall: 3.75
Hazy brown/orange, with a thick slow recording off white head.
Light smoke, squash, sage, pepper, brett.
Smoke and brett kind of dominate the flavor for me with all the advertised adjuncts in tow.
Mouthfeel isn't super light considering the ABV. I'm guessing the squash adds some body. Has a nice crisp carbonation.
318 characters

3.75
/5
rDev
-1.3%
look: 3.75 | smell: 3.75 | taste: 3.75 | feel: 3.75 | overall: 3.75
Poured from 750mL bottle into my Val-Dieu goblet.
Appearance: rich dark brown with a moderate haze and a layer of creamy tan foam. Not bad at all.
Smell: malty with plenty of toastiness and a little biscuit; there's also a hint of tartness here which is quite nice. Kind of like a lightly sour amber.
Taste: quite biscuity right off the bat, which is usually not one of my preferred flavors. There is, however, a light funk and a little sourness which help overcome this problem. Altogether, not a bad beer.
Mouthfeel: medium body with a rocky carbonation and a decent creaminess. Not bad.
Overall: this is probably the biscuitiest beer that I like. Its interesting composition overcomes that particular downside for me.
734 characters
3.79
/5
rDev
-0.3%
look: 4 | smell: 3.75 | taste: 3.75 | feel: 4 | overall: 3.75
a weird one from jester king, amber in color and hazy under a just off white fluffy head. the nose on it is pretty cool, slight smoke and spice, definitely saison yeast and some brett, there is some tangy tart funk in the nose with a moderate acidity detectable. cool they use all the ingredients, although i have to confess i am not overly familiar with long pepper and bee balm, i think the squash is easily identifiable in this brew. its earthy and a little sweet, like baked butternut squash, although the smoke in this really throws me off, and i think sort of derails the beer a little bit. its distracting, and it goes weird with the sourness in here, which is pretty substantial. i like what i taste, but its not at all what i expected, and the delicate nature of the balance in this is sort of overrun by the smoke, which is still light, but it lingers longer than anything else here, and takes my attention away from less impactful ingredients. i like the beer, and i have the utmost respect for jester king, but this for me isnt one of their most successful brews, its weird, i like weird, but once was enough for me on this one.
1,140 characters

4.1
/5
rDev
+7.9%
look: 4 | smell: 4 | taste: 4.25 | feel: 4 | overall: 4
Had on draft at the brewery. Pours a hazy light brown color with off-white head. Smells like the ingredients surprisingly enough, squash, pepper, sage, and some wheat on the nose; follows onto the palate. It is an interesting mix of flavors, but it works and has just a bit of sweetness on the finish from the squashes.
319 characters

3.97
/5
rDev
+4.5%
look: 4.5 | smell: 4.25 | taste: 3.75 | feel: 3.75 | overall: 4
Served on draft and poured into a 4oz Jester King wine glass. Reviewed from notes.
Appearance: Reddish chestnut and mahogany, with a loose off-white head that leaves thick bubbly lacing. The body itself is thinner, and the light shining through brings a really beautiful reddish hue to the beer. Looks gorgeous.
Smell: Sweet squash flavors, with a good deal of funk. Hints of the peppery spice comes through too. Nothing that says this will be overtly sour.
Taste: The pepper provides a wonderful spicy note cutting through the squashy sweetness. As predicted by the nose, the beer is not particularly sour, certainly not in a wild ale sense. But there is a bit of a tart saison funk which works well. Unfortunately, as nicely as the flavors all mesh together, the flavor feels pretty watered down. Would have rated the taste a lot higher if that hadn't been the case.
Mouthfeel: Mid level carb, lower than is typical for a saison. Watery, as I'd said, and doesn't linger behind on the tongue for long.
Overall: This could have been a disaster, but there was a lot to like about this beer. Not enough for me to want to return to it frequently, but this would be great with Thanksgiving dinner. If only it weren't watered down.
1,232 characters
Autumnal Dichotomous (2014) from Jester King Brewery
Beer rating:
3.8
out of
5
with
110
ratings