Equipoise

Jester King Brewery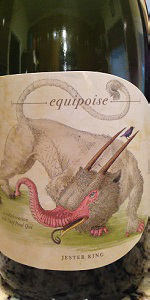 Write a Review
Beer Geek Stats:
| Print Shelf Talker
Style:

ABV:

4.2%

Score:

88

Avg:

3.96

| pDev:

7.32%

Reviews:

10

Ratings:

From:

Avail:

Retired (no longer brewed)

Wants

Gots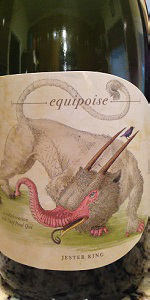 Notes: We're very excited to introduce Equipoise, a farmhouse ale brewed with ginger salt and tarragon, and refermented with cantaloupe, made in collaboration with Chef Paul Qui. We've been great fans of Chef Qui's cuisine for several years now, having first enjoyed his work at Uchiko and East Side King, and later at his eponymous Austin restaurant Qui. We're also great fans of food and beer pairings. The right pairing can enhance both the complexity of a beer's flavor profile and that of the dish with which it's served. In working with Chef Qui, we sought to create a beer that would complement, and hopefully enhance, his culinary perspective.

Equipoise was brewed in September of 2014 with Hill Country well water, malted barley, oats, hops, ginger salt, and dried tarragon. It was then fermented in stainless steel with our unique mixed culture of microorganisms consisting of brewers yeast and native yeast and bacteria harvested from the air and wildflowers around our brewery in the Texas Hill Country. Puréed cantaloupe was added to the beer three days into fermentation. Finally, it was 100% naturally conditioned in bottles and kegs. Equipoise is 4.2% alcohol by volume, has a finishing gravity of 1.000 (0 degrees Plato), and was 4.32 pH and 26 IBUs at the time of bottling in October of 2014.

TX-Badger from Texas
4.25
/5
rDev
+7.3%
look: 4.25 | smell: 4.25 | taste: 4.25 | feel: 4.25 | overall: 4.25
Magnum bottle shared with family: pours a cloudy bright yellow gold color with minimal fizzy, dissipating white head. Floral notes, grass, spice, honey, citrus, and funk on the nose; follows onto the palate. Light bodied. Finishes with wheat, spice, citrus, dry and a little tart.
Jul 06, 2016

cultclassic89 from Texas
4
/5
rDev
+1%
look: 4 | smell: 4 | taste: 4 | feel: 4 | overall: 4
I had higher hopes for this beer, but alas it was just solid.
Melon quality is nice but a bit subdued. Just doesn't have the acidity that I want.
It's not worth it IMO for how limited it was. Whichever recent Dichotomous that released last fall with melons, go for that one. It was a shelf beer and was better than this.
Mar 28, 2016
UCLABrewN84 from California
3.77
/5
rDev
-4.8%
look: 3 | smell: 4 | taste: 3.75 | feel: 3.75 | overall: 3.75
Thanks to Rado for sharing this one at the LA Beer Talk bottle share.
Batch # 1. Bottled 10/23/14.
Pours a murky light orange with a foamy bone head that fades to nothing. No lacing on the drink down. Smell is of grain, earth, spice, herb, and fruit aromas. Taste is much the same with earth, spice, herb, and fruit flavors on the finish. There is a mild amount of earth bitterness on the palate with each sip. This beer has a lower level of carbonation with a slightly crisp mouthfeel. Overall, this is a pretty good beer with an interesting mix of herb and fruit qualities all around.
Serving type: bottle.
Aug 24, 2015
HipCzech from Texas
3.84
/5
rDev
-3%
look: 4 | smell: 3.75 | taste: 3.75 | feel: 4 | overall: 4
Included with the tasting menu at Qui (Austin, TX) alongside fried chicken, poured from 1.5 mL bottle into a small tulip. Light, refreshing with farmyard, yeasty notes expected from Jester King. Melon, tarragon and salt lend some food-friendly savory hints.
Aug 09, 2015

fmccormi from California
3.98
/5
rDev
+0.5%
look: 4.5 | smell: 4 | taste: 3.75 | feel: 4.5 | overall: 4
Straight pour from a 1.5l/.4 gal pry-off, green bottle to an oversized wineglass (Jester King stemware, appropriately). This has a bottling date of October 23, 2014 printed in black ink near the bottom of the label ("BATCH #1 – 10.23.2014"), which would make this beer a bit over ten months old. This was given to me by a friend not long after the release in April, and since then it's been kept in the dark—and refrigerated for the past couple of weeks.
Appearance (4.5): One and a half fingers light white foam rise off of the pour, capping a lightly hazy, golden body with orange highlights. The head fades relatively quickly, but leaves lacing all around the glass that actually sticks. As the beer warms, the haze disappears and the body becomes a brilliantly clear, rich golden color. Gorgeous stuff that shifts and changes.
Smell (4.0): A really nice, eclectic set of aromas come out of the glass, bringing to mind rain, wet grass, unusual herbal notes, yellow grapefruit pith, wheat flour, and just a light layer of cantaloupe toward the back end. This is elegant, with a fresh, bright, refreshing nose.
Taste (3.75): Extremely light, but lightning-bright and flashy with its tart, herbal, grassy, and dry malt tones. A bit of yellow grapefruit skin, fresh cut grass, and an herbal note that sits somewhere between the grapefruit and edible flowers or something like chamomile (must be the tarragon), and a light, musty barnyard funk that hangs out underneath these other flavors and opens up at the end as everything else fades away. A moderately spicy, dried ginger flavor tied up with herbal and yeasty spice notes becomes noticeable toward the end, along with a surprisingly (but not off-putting or too strong) salty finish. That saltiness gets increasingly lost as the beer warms and the finish shifts toward a combination of tart, funky brett, herbs, and light hops.
Mouthfeel (4.5): The body is light, spritzy, and very dry with its dry, flour-dusted biscuit malt body and grapefruit-tart acidity. The carbonation is lightly distributed, just a bit prickly, and lively but still dies off with a nice swish as the beer washes out. The citrusy acidity longers well past the finish, begging for another sip.
Overall (4.0): This is an interesting beer that starts out brashly, opens up and gets weird but also quite elegant in the middle, and then subsides into an easy-drinking, well-rounded set of subtly blended flavors and feelings by the end. Like Jester King's other beers, it's dynamic and its best qualities may be easily overlooked, if you're seeking redlining flavors and fireworks. I like, too, that they sought to make a table beer uniquely suited to cuisine with flavors and ingredients that are easily overlooked or unappreciated by many. I like the concept, the execution, and the final product—quite a bit. Another excellent brew from JK.
Aug 05, 2015
Alieniloquium from Florida
3.26
/5
rDev
-17.7%
look: 4 | smell: 3 | taste: 3.25 | feel: 3.5 | overall: 3.25
1.5 L bottle poured into a taster.
Appearance - Hazy pale orange. Medium white head with nice lacing
Smell - A little herbal. Yeasty. Pale malt. Not very exciting.
Taste - Grassy up front. Herbal flavors build. Mineral flavor that pushes toward salty. Finishes grassy and definitely salty.
Mouthfeel - Medium carbonation. Medium light.
Overall - Decent, but not very exciting, especially considering the presentation. Consumed with a food pairing that worked out quite well.
Jun 02, 2015
StonedTrippin from Colorado
3.96
/5
rDev 0%
look: 3.75 | smell: 4 | taste: 4 | feel: 3.75 | overall: 4
a monster bottle shared selflessly by drlovemd87, a grand champion of hosting beer related events, and of accumulating a top tier cellar. ginger salt, tarragon, and cantaloupe, how weird is that. its a real pale light beer, wheaty in its base, but soft and light, with a short lived half inch of white foam. it smells really interesting, subtle on the ginger, no so subtle on the melon. the beer starts almost savory, as others in our group also remarked. the salt and the tarragon make in herbal and foody on the front end, and the cantaloupe, which is the most prominent of the extra ingredients, is all on the back and, and it sort of satisfies a thirst that the first half of the beer creates. i love the moderate sourness, its right on point for high quantity drinking, which you must do when you open a bottle this larger. not too acidic, but plenty yeasty and tart, citrus like limes, and very clean for a saison type after the swallow. i really like the way it comes together, and if it had just a bit more expressive carbonation, it would be rock star. it was fun to have this first, and as an intermezzo during other beers we were tasting together, it works remarkably well as a palate cleanser, but its also a really inventive and delicious brew in isolation. 30 pack of cans for the next release?!
May 12, 2015
MattSweatshirt from Texas
4.17
/5
rDev
+5.3%
look: 4.5 | smell: 4.25 | taste: 4.25 | feel: 3.75 | overall: 4
Split a bottle 5 ways. I like this format.
Hazy gold with a fluffy sticky white head.
Floral, spicy, herbal and fruity with that cantaloupe addition and some oak. So much depth.
Drinks light as you would expect and mild carbonation. Was kind of expecting something more spritzy from a lightweight beer. Has some herbal tarragon, breadiness. Ends dry with lingering cantaloupe and ginger.
I want a whole bottle to myself. So yum.
Apr 13, 2015
caffeineTX from Texas
3.3
/5
rDev
-16.7%
look: 3.5 | smell: 3.5 | taste: 3 | feel: 4 | overall: 3.25
This beer is super light and refreshing with a light mouthfeel front end with the cantaloupe, kind of what you would expect from a beer with melon in it, but the back end of this made it almost hard for me to drink with a harsh astringency. This isn't bad but it is closer towards the bottom of the list for me with JK beers.
I hope to revisit this again with some age to see if it balances out.
Apr 06, 2015

WTKeene from New Mexico
4.24
/5
rDev
+7.1%
look: 4.25 | smell: 4.5 | taste: 4 | feel: 4.5 | overall: 4.25
Served on tap at the release, 16oz poured into a large jester King flute.
Appearance: Pours a murky goldenrod with a thick fluffy white head that leaves moderate lacing and a very persistent crown.
Smell: Lots of vanilla, bitter JK funkiness, some of the herbal tarragon. Smells very nice.
Taste: Lightly tangy, bready malts. Some skunkiness, which actually works well. Cantaloupe is very light and watery, like biting near the green rind. Perhaps a hint of ginger but not a whole lot. Cantaloupe slightly stronger on the finish.
Mouthfeel: Light and dry, incredibly refreshing. Carb could be higher but it might have just sat out a while too long.
Overall: Probably the most "crushable" bottle Jester King has released in a while, very good for hot summer weather, I suspect I'll hold onto my bottle until then and see what it's like.
Apr 03, 2015
Equipoise from Jester King Brewery
Beer rating:
88
out of
100
with
93
ratings