Viking Metal
| Jester King Brewery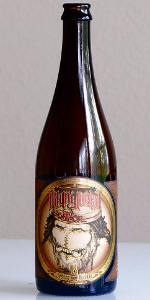 BEER INFO
Brewed by:
Jester King Brewery
Texas
,
United States
jesterkingbrewery.com
Style:
Smoked Beer
Alcohol by volume (ABV):
7.40%
Availability:
Limited (brewed once)
Notes / Commercial Description:
No notes at this time.
Added by GreatBloomer on 04-29-2013
This beer is retired; no longer brewed.
Reviews: 14 | Ratings: 123
3.69
/5
rDev
-6.1%
look: 3.75 | smell: 3.5 | taste: 3.75 | feel: 3.75 | overall: 3.75
Bottle shared at The Full Pint 6th Anniversary Celebration held at 38 Degrees in Alhambra, CA.
Blend 1. Bottled 2/2013.
Pours a hazy gold with a foamy white head that settles to a partial film on top of the beer. Foamy swaths of lace form around the glass on the drink down. Smell is of malt, grain, smoke, herb, and spice aromas. Taste is much the same with sour smoke and botanical flavors on the finish. There is a mild amount of smoke bitterness on the palate with each sip. This beer has a lower level of carbonation with a slightly crisp mouthfeel. Overall, this is a pretty good beer with lots of interesting aromas and flavors that are quite unique.
660 characters
3.93
/5
rDev 0%
look: 3.75 | smell: 3.75 | taste: 4 | feel: 4 | overall: 4
thanks to drlovemd87 for sharing this one from jester king. a smoked pilsener sour? this is a reall interesting combination of flavors here. hazy pale straw in color with an inch or so of big white head. the nose is lactic and lemony, with notes of smoke to the rauchbier extent, bizarre aromatic experience. pilsener and wheat malts present themselves behind the smoke in the taste, and the sourness only comes in late. I can see where people say bandaid flavors here, but I don't get that, its the acid. the smoke is robust, not subtle at all, huge. such an odd mix of flavors, the pilsener malts are light, but the smoke makes them heavy. the carbonation is intense, and the sour vibe makes it almost caustic or prickly on the palate. overall a one of a kind beer that is either love it or hate it, very polarizing, but I fall on the love it side, this is a challenging brew, and I love to be challenged. i will say this though, for being brewed with juniper and aged in gin barrels, I don't really get a whole lot of that in here. its subtle, maybe the only thing subtle about this brew, and I think it works nicely as such.
1,128 characters
4.1
/5
rDev
+4.3%
look: 4 | smell: 4 | taste: 4 | feel: 4 | overall: 4.5
Got in a trade with cyde. 750 ml bottle into signature tulip glass; Blend 1, bottled in 2/2013. Pours lightly hazy golden straw color with a 1-2 finger dense bright white head with good retention, that reduces to a thin lace cap that lingers. Light spotty lacing clings around the glass. Aromas of big lemon zest, tart green apple, juniper, pear, clove, pepper, hay, straw, grass, wood, smoke, rye, leather, herbal, white wine, musty funk, and yeast earthiness. Damn nice aromas with good balance and complexity of fruity/spicy/funky yeast, oak, juniper, and light smoke notes; with good strength. Taste of tart green apple, lemon zest, juniper, pear, pepper, clove, white wine, oak, rye, leather, hay, straw, musty funk, light vinegar, light smoke, herbal, and yeast earthiness. Moderate earthy tartness on the finish; with lingering notes of tart green apple, lemon zest, pear, white wine, clove, pepper, oak, leather, hay, straw, rye, light smoke, musty funk, light vinegar, herbal, and yeast earthiness on the finish for a good bit. Damn nice balance and complexity of fruity/funky/spicy yeast, oak, juniper, light smoke, and malt flavors; with a great malt/tartness balance and zero cloying flavors after the finish. Medium carbonation and body; with a smooth, crisp, and fairly acidic mouthfeel that is nice. Alcohol is very well hidden with only a small warming present after the finish. Overall this is an excellent smoked saison style. All around great balance and complexity of tart fruity/spicy/funky yeast, juniper, light smoke, and malt flavors; and very smooth and crisp to sip on. A very enjoyable offering.
1,622 characters
2.66
/5
rDev
-32.3%
look: 3.25 | smell: 2.75 | taste: 2.5 | feel: 3 | overall: 2.5
Really messy beer with a lot of clashing elements. Smokey, sour, BandAids. And if that weren't enough, an unpleasant gin flavor underneath. Pretty gross.
153 characters

4.24
/5
rDev
+7.9%
look: 4 | smell: 4.25 | taste: 4.25 | feel: 4.25 | overall: 4.25
I shared this with my buddy Dave, who loves both smoked beers and wild ales. Here goes!
Served in my Jester King wine glass (Thanks Michael).
The beer is a hazy golden / copper hue with an inch or so of off-white head. The aroma has so much going on...smoke, funk, grass, hay, white wine, tart fruits, apples, oak. The complexity definitely carries over to the flavor profile. An armada of bold flavors. Yikes! Saison characteristics with earthy and herbal notes. Medium to full bodied with a tangy, tart finish. Smoke and oak character throughout. An interesting and complex beer for sure.
592 characters

4.5
/5
rDev
+14.5%
2013 Batch #1. Have been sitting on this awhile. Got in a trade from my buddy Videofrog.
Decent head. A bit of smoke on the nose with some florally goodness.
Nice and tart up front, and then you really get the gin in the back which lingers.
I really enjoyed this one. Another fine offering from our friends at JK. Glad I got to try it.
347 characters

3.03
/5
rDev
-22.9%
look: 3 | smell: 3 | taste: 3 | feel: 3.25 | overall: 3
This beer was harsh and off putting. I don't need smooth beers, but the aftertaste needs to make me not regret drinking this beer. Made it a challenge to drink my glass and made finishing the bottle not possible. I was not a fan.
232 characters
4.07
/5
rDev
+3.6%
look: 3.5 | smell: 4 | taste: 4.25 | feel: 4 | overall: 4
Sour, smokey, salty. It's really good.................................................................................................................
150 characters
4.16
/5
rDev
+5.9%
look: 4.25 | smell: 4.5 | taste: 4 | feel: 4.25 | overall: 4
Bottle opened on 1.31.14
Blend # Feb 2013
A - Pours a hazy medium orange with a fluffy off-white head with good retention.
S- CItrus, orange, carndy, oak and pine.
T- Silky soft citrus and oak, then a tart gin-pine finish.
D - Good carbonation wtih a light body. Silk smooth with a tart finish.
O - NIce flavors that bounce off of each other well.
352 characters

4.13
/5
rDev
+5.1%
look: 4 | smell: 4 | taste: 4.25 | feel: 3.75 | overall: 4.25
On tap at the Brewery. From notes:
Golden orange in color.
Smells of belgian yeast, faint brett, orange, lemon and faint smoke and herb.
Oh boy it's tart and dry and tangy. Has sharp lemon and then some juniper comes out. Has a slight bitterness. Butterscotch and a panoply of fruit juices interplay. Has a slightly chalky and salty aftertaste.
Way complex and unique light-bodied beer with all the flavors working well together but maintinging distint whithin themselves.
480 characters
4.06
/5
rDev
+3.3%
look: 4 | smell: 4.25 | taste: 4 | feel: 4 | overall: 4
750ml, Blend #1 Feb 2013
Jester King glassware
A: Pours very clear bright yellow color. Thin layer of bright white loose bubbled head. Leaving some sticky lacing. Great carbonation.
S: Definitely smell that dry funky JK nose. Light smoke. Some juniper berry is there. Some spice for sure.
T: Nice hit of funky smoked flavor right away. It's a very light campfire where the original Gotlandsdricka was more pronounced. Middle of the mouth is where you get that flaked rye spice mixing with the wheat creaminess. Rounds the mouth. Add in that juniper berry flavor. Very interesting. Dry finish as to be expected. Very palatable. As it warms really pulling more of that gin character which I like a lot.
M: Medium bodied. Good carbonation.
740 characters
4.02
/5
rDev
+2.3%
look: 4.25 | smell: 4 | taste: 4 | feel: 4 | overall: 4
Blend #1 FEB 2013
Pours out of the bottle a hazy golden yellow with a finger of soapy white head that retains and laces well for a sour beer.
The smoke is diminished greatly from the base Gotlandsdricka, but is still there in the forefront. A touch of residual gin character, souring bacteria, spice, and a field aroma which is probably coming from the amalgam of wild/brett yeast and plant matter.
The taste mirrors nicely, but with the added angle of being able to taste the sourness which is more middle of the road. Big smoke, herbal, funky.
The beer is well carbonated, but doesn't tax the palate. There is a slight thinness to the body. Drinks smooth and super easy. Come off dry, but mouthwatering at the same time.
This is a definite step up for the Gotland beer. This is pulled off nicely.
804 characters
4.08
/5
rDev
+3.8%
look: 4 | smell: 4 | taste: 4.25 | feel: 3.75 | overall: 4
Pours a very hazy golden color with a thin head. Slow bubbles trickle up the glass. Smells sweetly floral, smokey, with some funk and barrel. Taste is delicious, but a little less complex than in the nose. Lots of tartness. Starts sweet and finishes dry. I don't know how much gin I get in this, to be honest. Floral. Mouthfeel could ideally be a little more prickly. Medium body. Tasty.
387 characters

4.18
/5
rDev
+6.4%
look: 4 | smell: 4 | taste: 4.25 | feel: 4.25 | overall: 4.25
Went to Draught House last Friday for the Viking Metal premiere along with the Jester King owner. Poured into a snifter. This beer is a twisted version of Gotlandsdricka but barrel aged in gin.
Appearance: Hazy straw yellow color. Thin and laced one-finger head.
Aroma: Starts off with an spicy, herbal, and earthy aroma, similarly to Pilnser with smoked malts. It develops into fresh cut grass and lemon - a tang of fruit.
Taste: It is like delicious, smoked ribs in liquid form. A strange type of bitterness that is hop-like in nature, but tastes as though it comes from a different source - flaked rye, A pleasant, easy-to-drink taste.
Mouthfeel: Lightly carbonated but the taste blends in well from start to finish.
Overall: Definitely a beer to drink often over summer when it's hot in Austin.
814 characters
Viking Metal from Jester King Brewery
3.93
out of
5
based on
123
ratings.