Infra Red
| Hardknott Brewery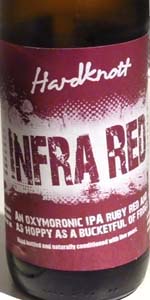 BEER INFO
Brewed by:
Hardknott Brewery
England
,
United Kingdom
hardknott.com
Style:
American Amber / Red Ale
Alcohol by volume (ABV):
6.50%
Availability:
Year-round
Notes / Commercial Description:
No notes at this time.
Added by mdagnew on 10-25-2010
Reviews: 13 | Ratings: 23
3.42
/5
rDev
-12.1%
look: 3.5 | smell: 3.25 | taste: 3.5 | feel: 3.25 | overall: 3.5
330ml Bottle: BBD 08 2015, poured into a Duvel glass during 10 2013.
Looked fine, nice red hue with a full white crown on top.
Floral and fruity nose, but difficult to tell if it was hop or malty notes I was picking up, most likely a mix of the two. It became more malty as it warmed in the glass, with some sweeter, caramel type esters arriving.
The taste was maltier from the start with dark berries and an earthy, woody hint within the mix: different and no unpleasant. The alcohol just about hidden by the flavours, would have liked a bit more body depth, but is based on an IPA style, so you shouldn't expect a heavy, creamy bodied beer.
645 characters
3.45
/5
rDev
-11.3%
look: 3.5 | smell: 3.5 | taste: 3.5 | feel: 3 | overall: 3.5
On cask at The Rake in London. From notes.
A - Dark copper pour with a ring and film of beige head. No visible carbonation. Bright. Good lacing on top, no retention.
S - Bready, nice hop character with fruits and spice. Not too strong but smells fresh and inviting.
T - Nice with darker malts like crystal or caramel. Bready. Hops are mild but obvious and balance well. Not overly complex but refreshing and good on a warm day.
M - No carbonation in the mouth. Light to medium body. Fruity sweetness and a little bitterness in the finish.
O/D - Not too bad but not spectacular. A good amber ale on cask. I enjoyed it. Good balance and a good malt character that was a little richer than an IPA.
699 characters

3.71
/5
rDev
-4.6%
look: 4.5 | smell: 3.5 | taste: 3.5 | feel: 4 | overall: 4
A 500ml bottle with a BB of Feb 2014. Acquired recently from my local beer specialist; they just received a load of Hardknott beers. The label mentions that this beer uses Cascade and Centennial hops, and is bottle-conditioned.
Poured into a tulip pint glass. A very hazy coppery-red hue with low carbonation. Yields a massive head of creamy tan foam with good retention; this slowly reduces to a surface layer. A concentrated fruity aroma arising from copious aromatic hops. Notes of grapefruit, citrus and yeast. There is also a plant-like hint in the background.
Tastes of intense fruity hops with a powerful bitter finish. Notes of grapefruit, orange and citrus, with hints of earthy yeast and malt. Again, the 'plant' note appears in the background (fresh hops?). A considerable spicy bitterness upon swallowing. Mouthfeel is smooth and slick, with a spicy prickliness and good body. Highly astringent - dries the palate completely. Aftertaste of aromatic citrus and extremely bitter hops.
This one takes no prisoners - like a serial killer loose on your tastebuds. Tons of aromatic hops and very bitter; impressive if you love that kind of thing. However, I thought that it was rather one-dimensional - the malt has no chance to make an impression on the flavour or character. The yeast is also buried by hops, and the background 'plant' taste is a bit odd. A good effort, but not the best American IPA I've encountered. Worth trying (might mellow out with age).
1,471 characters
3.78
/5
rDev
-2.8%
look: 3.75 | smell: 3.75 | taste: 3.75 | feel: 4 | overall: 3.75
Dark ruby with piles of oatmeal-coloured head.
Red berry on the nose with cherry scone and waxy orange peel.
Caramel + plums with a dusting of cocoa, then orange wedge, resin and cardamom hops plus some dry-hopped grassiness.
Piney finish and tightening linger.
Medium, chewy, round.
OK, Hardknott really need to get their carb under control - after Azimuth poured flat, this overflowed head on the counter with about 1/3 of a glass.
The label makes a joke ("oxymoronic") of it being too dark to be an IPA, and that's what's happening here. Piles of crystal, and the better for it. At the same time, with 5 AM Saint as a blueprint, can't UK brewers make a more interesting amber?
Solid, but nothing more.
709 characters
3.82
/5
rDev
-1.8%
look: 4.25 | smell: 3.5 | taste: 4 | feel: 3.75 | overall: 3.75
Pours a lovely red-gold with a creamy head that leaves a layer that lasts the whole glass. Nose is dull. The "west coast" hop profile promised on the label are mostly missing. And this is a very fresh beer, BTW. Taste is better. Malty, a bit peppery, and a reasonable bitter balance. Overall, decent, but could be much better with an improved nose.
354 characters
3.83
/5
rDev
-1.5%
look: 4 | smell: 4 | taste: 3.75 | feel: 3.75 | overall: 3.75
Dark auburn. Medium head.
Malty aroma. Hint of chocolate. Tangy hops.
Sweet malt followed by the astringent hop. More hop than malt in the taste. Bitter finish.
Medium body. Well carbonated.
I enjoyed this more the second time of tasting.
238 characters

3.89
/5
rDev 0%
look: 3.75 | smell: 4 | taste: 3.75 | feel: 4 | overall: 4
Bottled and possibly bottle conditioned
Pours a big red copper hued body with thick lasting off white head
Nice rich strawberry laces aroma
That candy taste in the flavour with a nice slight grapefruit bitter finish
Solid mouthfeel
231 characters

3.96
/5
rDev
+1.8%
look: 3.75 | smell: 4 | taste: 4 | feel: 3.75 | overall: 4
333 ml bottle, Morrison's, Bristol. Pours dark red with a large foamy tan head. Medium carbonation. Nice lacing. Smell -citrus fruits to the fore, touch of caramel. Taste - grapefruit with a long bitter finish. Nice bitter to the fore brew.
240 characters

3.99
/5
rDev
+2.6%
look: 3.75 | smell: 4 | taste: 4 | feel: 4 | overall: 4
330ml bottle, billed as an Oxymoronic IPA, poured into La Chouffe tulip.
A: Ruby, mahogany, clear, small tanned head which was intent on making a swift exit, moderate amount of lacing.
S: Earthy Fuggles hop.
T: Decent Maris Otter malt profile, lots of charcoal, earthy Fuggles, slight bitter sweetness at the finish.
M: Medium body, moderate amount of carbonation, smooth.
O: English IPA meets ESB, well balanced, a bit more of a cold weather beer, but a nice change from the seemingly endless stream of American IPAs.
528 characters

4.1
/5
rDev
+5.4%
Beer pours a hazy dark red/copper colour. Smells sweet and malty, very typical "red ale" nose with very faint hops. Beer has initial taste of sweet malts that transitions into a strong citrus-hop body. Slight bitter aftertaste with a dry finish. Very Sessionable.
Would I buy this beer again? Definitely.
305 characters
4.15
/5
rDev
+6.7%
look: 4 | smell: 4 | taste: 4.5 | feel: 3.5 | overall: 4
500ml bottle bought online from Beermerchants.com
Poured a deep hazy amber red colour. Creamy head poured small but quite thick then faded very quickly to light wispy covering with thicker edging... light carbonation... some light lines of lacing...
Aroma - Lots of piney, peppery and grassy hops up front mixed with toasted caramel malts... lightly roasted nuts, spicy dried fruits (raisins, figs), light tobacco, some rubbery traces, toasted malty loaf, blood oranges, light liquorice, some wet hay...
Taste - Good blast of grassy and spicy hop bitterness, piney resin traces, overripe fruits (bitter oranges, apples, bananas), also some dried fruits (prunes, dates, raisins), warming alcohol, sweet caramel and toffee maltiness, some butterscotch, rubbery traces, light smokiness, soapy...
M&D - Fairly smooth and creamy with a little oiliness - maybe a little cloying at times... full bodied... fairly quaffable for a 6.5% brew...
Overall - A very good Amber Ale / IPA if maybe a little rough round the edges... certainly recommended though...
1,062 characters
4.19
/5
rDev
+7.7%
look: 4.25 | smell: 4 | taste: 4.25 | feel: 4.25 | overall: 4.25
Coming in a 330ml slim brown bottle, BB 10/2015, served lightly-chilled in a straight pint glass. Notes: the back label suggests Cascade, Centennial hops and Crystal malts are the main ingredients used in this brew.
A: pours an obviously very red-ish pale copper colour, coming with abundant flows of carbonation in support of a soufflé-like huge and frothy dark beige head to last.
S: like one's "Red IPA", the grapefruit peel aroma, burned caramel-like malt sweetness and faintly tropical fruit-ish esters come together to deliver a robust background; as the rocky head subsides (after a good five minutes or so), a swirl would then wake up aroma as of hawthorn fruits and/or unknown berries, with a sour-sweet undertone, while the resins from hops are also vivid enough to be picked up.
T: the juicy entry of Crystal malt and its sweetness is at check at all times by the colourful, tannic and sprigy grapefruity and piney hop flavours, added with a bit of bitterness from the thick froth as well; the aftertaste has a lingering bitter tail to it, accompanied by undertones of longan-fruits, caramelised apples, and even prunes, leaving a soothingly warming feel slipping down the throat. Not particularly sweet, either, with a good dry finish at the end of each sip.
M&O: refreshingly carbonated with lots of microscopic fizz to boot, this medium-bodied red-coloured IPA is so well made that it outshines many other counterparts I've had so far. This beer has captured the best of both worlds, that it's colourfully flavoured, yet ever so well balanced, and terribly quaffable... Well worth a try!
1,613 characters
4.96
/5
rDev
+27.5%
look: 4.75 | smell: 5 | taste: 5 | feel: 4.75 | overall: 5
Oxymorononic it is, red (ish) IPA and still good in Sept 2015 with bbf date of 04-04-2015. Not best pleased with my off licence for selling, even on special offer.
163 characters
Infra Red from Hardknott Brewery
3.89
out of
5
based on
23
ratings.