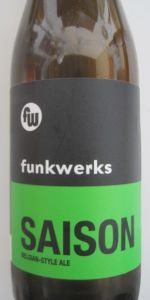 BEER INFO
Brewed by:
Funkwerks
Colorado
,
United States
funkwerks.com
Style:
Saison / Farmhouse Ale
Alcohol by volume (ABV):
6.80%
Availability:
Year-round
Notes / Commercial Description:
No notes at this time.
Added by Oxymoron on 11-22-2010
Reviews: 130 | Ratings: 547
4
/5
rDev
-2.4%
look: 4.5 | smell: 4.5 | taste: 3.5 | feel: 4.5 | overall: 4
a thank you bottle from Forgetfu, thanks man!
clearly a hand bottle on this one, dont see these types of caps too often anymore, reminds me when I used to brew.
Anyway, liquid pours a nice milky white while midstream, that transforms into a golden chalice with 3 fingers of head. I expected a bit more on the open, almost waiting for it to gush out, but it didnt budge, nor did it pour with too much head, almost perfect.
the aroma is really strong on this one, I can smell it as it pours and after I set it on the table, nice coriander, lemon, with some perfume flower tossed in.
Taste is almost spot on with the nose, if anything though, the nose builds it up so much, I was kind of let down after tasting it. I was hoping for something huge based on the nose. It has a bit of astringency to it as well that hangs at the back of my throat.
Mouthfeel is nice clean, crisp... Not too bad for a startup, look forward to see where they go with these saisons. Will pay them a visit next time I am in town.
★
1,005 characters

4.4
/5
rDev
+7.3%
look: 4 | smell: 4 | taste: 4.5 | feel: 4 | overall: 5
From the first batch released to Denver retailers.
Opaque golden yellow body beneath a big white head thayt slowly settles leaving wisps of lacing.
Yeast aromas are prevalent with notes of citrus, damp earth, and spice. Very complex.
The palate is yeast driven with abundant esters and phenols. Malt provides light sweetness, hops provide medium bitterness and great balance, but virtually all the flavor seems to be yeast derived. Apple, lemon, pear, pepper, coriander, and clove with a triple snap of carbonation, acidity, and bitterness that refreshing finish.
Body is medium with a crisp mouthfeel.
That's the good stuff! The sort of Saison you can drink all day, for any occasion and with almost any meal. I'm enjoying mine with sauteed cod, roasted potatoes, and swiss chard and it pairs beautifully.
I couldn't be more excited about what Brad and Gordon have started with Funkwerks. An organic farmhouse brewery is such an awesome concept, its pretty much exactly the kind of brewery I would like to start. Cheers guys, I wish you nothing but the best!
★
1,065 characters

4.06
/5
rDev
-1%
look: 4.5 | smell: 3.5 | taste: 4 | feel: 4.5 | overall: 4.5
Thanks to forgetfu for this! My first experience with Funkwerks.
750mL brown glass capped champagne bottle. No date.
Starts to gush on opening, but I was expecting this for some reason. Pours hazy golden yellow with fluffy white head. Looks and smells a lot like Duvel. Nose is somewhat subtle, nice flowery notes with some faint citrus peel in the background.
Palate is clean and crisp with nice champagne-like carbonation. Light flavors of dried coriander husks, preserved lemon, lemongrass, lime oil, and luscious wheat malt! Finish is crisp, but leaves a whisper of summer.
Notes: A really fantastic brew. Well done indeed!
★
631 characters
3.93
/5
rDev
-4.1%
look: 4.5 | smell: 4 | taste: 4 | feel: 4 | overall: 3.5
Bottle courtesy of forgetfu, the first I've ever heard of Funkwerks. This pours with a huge pillowy head, taking lots of time to subside. The beer itself is pale golden colored and lightly hazy.
It has a fairly strong yeasty aroma, very Belgian smelling, with light touches of spice and a slightly sour edge. First guess is coriander for the spice, which seems consistent with many other saisons and Belgian Pale Ales. Same with the taste, a good approximation might be La Chouffe with 50% of its coriander. Lots of esters and phenols, giving all sorts of fruity notes, no tartness in the taste despite the aroma.
Light bodied but creamy, lower than usual carbonation despite the huge head. A solic saisin, glad to have tried it.
★
731 characters

4.4
/5
rDev
+7.3%
look: 4 | smell: 4 | taste: 4.5 | feel: 4 | overall: 5
Sampled a bottle purchased from the brewery. Pours a mostly hazy golden color. Some sediment in the bottle. A big fizzy head that id take a bit of time to subside but limited lacing overall.
The nose is complex. A soft malt aroma comes out with a hint of sugary undertones. Some pilsner notes with a hint of wheat. Noticeable fruity complexity. Some rose peddles and tropical fruits. A touch of orange and pears as well. Noticeable yeasty notes that come out more as it warms. Great complexity and hint of a spice, almost similar to coriander.
The taste follows the nose. Nice complexity but very soft on the palate. More of a malty undertone than sugary notes versus the nose. More of a Belgian malty connotation despite the German malts. The yeast comes out more versus the nose as well. A very nice complexity with a touch of pepper and noticeable fruity notes. Pears, apricots, figs and oranges.
The mouthfeel is light. More of a soft feel but a great lingering feel. Some residual sweetness in the finish but good. Carbonation might be a touch low but ok. Overall a very good saison. Tasty for sure.
★
1,107 characters
Saison from Funkwerks
4.1
out of
5
based on
547
ratings.