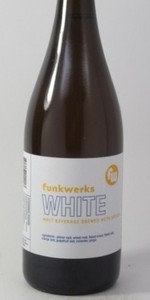 BEER INFO
Brewed by:
Funkwerks
Colorado
,
United States
funkwerks.com
Style:
Witbier
Alcohol by volume (ABV):
6.00%
Availability:
Year-round
Notes / Commercial Description:
No notes at this time.
Added by Oxymoron on 11-22-2010
Reviews: 30 | Ratings: 87

3.79
/5
rDev
-5.5%
look: 4.5 | smell: 3 | taste: 4 | feel: 4 | overall: 4
Thanks Herf for the bottle! I've thoroughly enjoys all Funkwerks prior to this, so I'm looking forward.
Pours a light, cloudy, soft orange color. There is a LOT of carbonation in this. Bright white foam is crowning out of the glass. Aroma is light with coriander, spices, a slight bit of grapefruit and other citrus fruits and a slight hay note. The taste kicks it up a good notch. Bright citrus notes, biscuity malts with some wheaty bits, spices, and a slight hay taste. Much better than the aroma. The feel is good, crisp and with plenty carbonation. It never feels prickly, sharp or abrasive though. All in all, a very nice white.
636 characters
3.65
/5
rDev
-9%
look: 3.5 | smell: 3.5 | taste: 3.5 | feel: 4 | overall: 4
We took a trip up to Fort Collins last week to hit a few breweries. Sadly quite a few were closed so we hit this one out of necessity; fortunately for us, this one was quite good across the board. Poured a somewhat cloudy pale yellow color with a big white head. Aromas bubblegum, orange peel and lemons. Light bodied and refreshing, with flavors of Belgian yeast, spices and tart citrus.
388 characters
3.5
/5
rDev
-12.7%
look: 3 | smell: 3 | taste: 4 | feel: 3 | overall: 3.5
Served in tap at funkwerks tap room, in stemware :
A - presents a light, transparent yellow color with a thin white head of poor retention.
S - peppery spice, yeast, honey, and a bit of light malt. Inviting.
T - gingery spice and pepper, unidentified citrus and honey all mashed together, but I dig it. Quite complex for how light it is.
M - light, fairly crisp and dry. Almost right.
D - one of funkwerks better offerings. Really a solid beer overall.
461 characters

3.41
/5
rDev
-15%
look: 2 | smell: 3.5 | taste: 3.5 | feel: 3.5 | overall: 3.5
Served on-draught into a 330ml snifter at Funkwerks' taproom in high altitude Fort Collins, Colorado. Reviewed from notes. Serving volume was 4 oz as part of a tasting flight. On Funkwerks' beer board, it was marked "Test Batch", whatever that means.
A: Pours a half finger head of slight cream, bad thickness, and poor retention. Cloudy dark yellow colour.
Sm: Light pepper, lemon peel, and slight orange peel, with moderate spice & herbs, and some funkiness. Some mild honey. A mild strength aroma.
T: Honey, light pepper, moderate spice, and some lemon peel. Unexpected ginger. Certainly complex and decently built. Very well balanced, with no alcohol coming through. It shows promise.
Mf: Smooth and wet, until it coarsens slightly right on the finish. Suits the flavours.
Dr: Highly drinkable and complex for the style, with lovely pepper notes. I'd have it again, but it does need work. The 6.0% ABV doesn't come through at all.
944 characters
3.38
/5
rDev
-15.7%
look: 4.5 | smell: 4 | taste: 3 | feel: 3.5 | overall: 3
Served in a tulips glass.
Huge frothy, thick head eruption. The liquid below is a golden straw color, a little hazy and on par with style. This head is huge, and it's not fading very fast. Soapy lacing is bound to be left behind. Through the haze I can see the lively action inside, keeping the head alive. Nice stuff.
Smell is strong and fragrant. Tulips and lilies, juniper/gin, lavender, spices, oranges, limes, grapefruit. Very fruity and flowery, you don't come across many witbiers with this much flowery notes in the nose. Interesting, and a wonderful take on the style. Lacking some of the banana notes I like in wits, but that's okay, nothing seems to be missing here.
First impressions of the taste are; wow, there's a lot of grapefruit in here (and leaves a raw sensation on the palette) and I notice an odd sort of plasticky finish. The nose follows through with the flavors, again, lots of soft flowery notes. However, the raw grapefruit rind is distracting and honestly, doesn't do it for me. I don't like that taste overpowering the lighter fruits to be found. The flaked malts used really makes for a smooth foundation, the light breadiness stays in the background. Finishes a little raw and sticky with just a hint if banana.
I felt like I was really going to like this, but unfortunately, the powerful grapefruit rind taste is overtaking the qualities I like in a wheat beer.
1,397 characters
White from Funkwerks
4.01
out of
5
based on
87
ratings.