Hawthorne Hophouse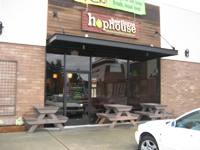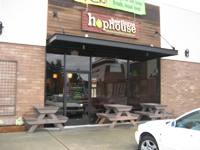 Bar, Eatery
4111 SE Hawthorne Blvd
Portland
,
Oregon
, 97214-5245
United States
(503) 309-4389 |
map
hawthornehophouse.com
Notes: Sunday - Thursday: 12:00pm - 12:00am
Friday - Saturday: 12:00pm - 2:00am
Recent ratings and reviews.
| Log in to view more ratings + sorting options.
Ratings by PhilKeller:

Rated by PhilKeller from Oregon
4.01
/5
rDev
+5.2%
vibe: 3.75 | quality: 4 | service: 4 | selection: 4.25 | food: 3.75
May 15, 2015
More User Ratings:

Reviewed by djbreezy from Washington
3.35
/5
rDev
-12.1%
vibe: 4 | quality: 3 | service: 4 | selection: 3 | food: 3
I've gone by this place a few times and been interested but never got the chance to go in. The excellent signage on the outside was always a big draw to my eye. Kudos on that.

Last night I finally made a visit with a friend.

Upon walking in the vibe was pretty good. Dim lighting, part modern restaurant/part bar feel. The bartender was friendly and laid back so that was good.

I believe there are 24 taps. Here comes the disappointing part...the taplist was full of B- beer. Not much good stuff. I settled on a safe bet...the 10 Barrel India Session Ale. Ideally, I wanted to explore some new stuff but the taplist was just crappy.

We had some bar food apps...they were pretty weak. Nothing special. Some soggy cheese curd gravy fries. Really sort of gross, truthfully. Then, we had some deep fried cheese curds to boot. Same deal. They were fine but just sort of blah.

I noticed there were a couple alright vegetarian options on the menu but not as many as I'd expect to see in a Hawthorne centered established.

Overall, the place was okay but there was nothing unique that would keep me coming back. The bar manager or owner needs to have a better sense of what beers to put on top. The selection is weak as it stands right now and with 24 taps, that's inexcusable.

This is Portland and the market is saturated. I want to see some amazing stuff on draft from Deschutes, Walking Man, Double Mountain, Russian River, Stone, Great Divide, 10 Barrel, ... the big hitters ... not just silly session ales or boring winter ales from local small time breweries.

Although I wouldn't give this place a D, I agree with the review below...the place lacks character.
Nov 10, 2011
Reviewed by RedMedicine from Oregon
2.4
/5
rDev
-37%
vibe: 1.5 | quality: 3 | service: 1.5 | selection: 3
In the finest city in the land for breweries and brewpubs, this place is going to have a hard time attracting customers, I think.

Location is in a mini-strip mall/parking lot next to a Pita Pit, etc. Meh. Looks like some decent outdoor seating that's fenced in.

Plenty of local brews on tap: Laurelwood, Upright, etc., and actually some just released beers as well (Todo Modo from Upright), prices slightly higher than expected for the area. 16oz pints and tulips for our beers - probably could walk around the corner in either direction and find a 20oz pint for the same price.

The selection is the best this place offers as the atmosphere is stale and feels somewhat like a Buffalo Wild Wings, or something else chain-y.. lacking character. Weird non-brewery affiliated beer posters on the wall, some pictures of the area.

Service was weak - the server advertised that she had been off for several days so hadn't tried most of the beers and couldn't offer any advice on a few, and didn't offer to go find out either. She also rang up all four of our beers, which should have been happy hour prices at regular price.

Quality was fine, though possibly terrible since we had a hard time telling whether the pure butterscotch IPA from Natian was the beer or the establishment. Didn't think the server would be able to offer us any guidance.

The place also shut down about 20 minutes early since no one was really in there, and we were told we could stay and finish our beers comfortably, but didn't really believe it or feel it.
Sep 21, 2011

Reviewed by koopa from New Jersey
3.75
/5
rDev
-1.6%
vibe: 3.75 | quality: 3.75 | service: 3.5 | selection: 4
Hawthorne Hophouse was our first stop on our trip to Portland last weekend as it was about 5 doors down from the apartment we rented and we arrived an hour before check in time. It was also the last time we visited as the place seemed average in most ways. Atmosphere was decent for a bar in a strip mall. A couple of outside tables and a good amount of inside tables along with roughly 8 bar stools. Our bar tender was nice enough although not very conversational or well versed on beer. 24 taps did give lots of options but most were fairly standard Pacific Northwest offerings. Although a few on the menu seemed a bit harder to find. I didn't really notice if they had a bottle list or not. Beer samplers were a bit pricey with 6x2oz pours going for $7 and the food menu seemed equally as pricey. I did like that they gave you a color printed business card with the numbers 1-24 on them (which corresponded to the tap lines) and you could circle the numbers you wanted in your sampler. You'd then hand the card in and your sampler would be served to you on a tray with a paper print out below them which had circles w/ corresponding numbers printed on them representing which brew your glass was. Pretty cool actually. I believe you could get samples of all 24 lines for $19 which was a bit better but still no bargain.
Sep 07, 2011

Reviewed by loren01 from Washington
4.4
/5
rDev
+15.5%
vibe: 4 | quality: 5 | service: 4 | selection: 4 | food: 5
Went here on a Saturday night because we saw there was a band playing. Pretty cool atmosphere in a cool part of Portland. Clean/modern style atmosphere with outside seating as well. Beer selection was great they had over 20 taps...mostly very hard to find smaller local breweries (Heater Allen/Burnside/Double MT/Vertigo) to name a few. Food was good...best mac and cheese i have ever tasted. Cobb salad was real good as well. Price was the only downside...was not cheap at all the cobb salad was over 10 bucks and pints were 5 bucks a piece.
Jun 13, 2011
Reviewed by Schnapsidee from Oregon
3.58
/5
rDev
-6%
vibe: 3.5 | quality: 3.5 | service: 3.5 | selection: 4 | food: 3
Live just a few blocks from this place and was excited to try it when it opened last October? Or at least that was my impression. They have a small outdoor patio section with a live wall that will fill in during the summer months. Located in a strip mall type of parking center, with a few other stores, it rests on the corner lined by a quieter neighborhood.
They have something like 25 taps here, all typically local or obscure stuff from around the state that a lot of other places don't typically get their hands on. From what i have heard, they personally go to places that don't distribute far in order to acquire kegs for the restaurant but thats just my impression. Took a bit longer for a server to help us but it wasn't a big deal because i was looking at the taplist for a bit before i made a decision.
Beers were slightly overpriced for what i would have like to pay and food wasn't much better in terms of price. Quality was average but when the cost of a grilled cheese with a slice of ham on it runs you over 12 dollars, it really isn't that appealing, which is aside from how minimal their menu is. All in all it's a quiet spot to grab some beers but i know of cheaper spots with equally good tap selections.
Apr 14, 2011
Hawthorne Hophouse in Portland, OR
Place rating:
3.81
out of
5
with
13
ratings