Siberian Black Magic Panther - Scotch Barrel-Aged

Westbrook Brewing Co.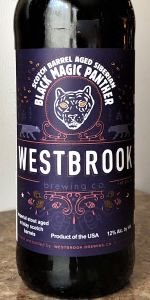 Write a Review
Beer Geek Stats:
| Print Shelf Talker
Style:

ABV:

12%

Score:

89

Avg:

3.75

| pDev:

22.13%

Reviews:

7

Ratings:

From:

Avail:

Retired (no longer brewed)

Wants

Gots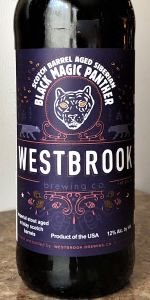 Notes:
Reviews by Mantooth:

Mantooth from North Carolina
3.83
/5
rDev
+2.1%
look: 4 | smell: 4 | taste: 3.75 | feel: 3.75 | overall: 3.75
Nov 08, 2018
More User Reviews:

WickedBeer from Alabama
4.38
/5
rDev
+16.8%
look: 3.75 | smell: 4.5 | taste: 4.5 | feel: 4.25 | overall: 4.25
Bottled 7/26/18.
Viscous black pour, not much of any head rising up. Some tan spots of foam ring the glass, flat.
Jesus, this is for Scotch lovers only (me). Peaty as hell on the nose, pure Smokey Scotch goodness. Bitter malts round it out, with subtle undertones of molasses and coffee.
More of the same on the palate. Definitely more of a chocolate and coffee presence, but still a ton of that Islay barrel. Smoked meat and pure peaty flavors emerge slowly, and progressively more as it warms. Along with it are great complimentary flavors of leather and tobacco. People hated, but this is fantastic.
Smooth, sticky, boozy, soft. Warm down the hatch, obviously a smoky linger in the finish.
Aug 03, 2019

Greywulfken from New York
3.61
/5
rDev
-3.7%
look: 4 | smell: 3.5 | taste: 3.5 | feel: 3.75 | overall: 3.75
I love the base stout, Siberian Black Magic Panther; and I love Laphroiag Scotch (per Westbrook's instagram page, the barrels used) BUT I am leery of a single malt Scotch being used to barrel age a beer - like gin or tequila, Scotch can (depending on the Scotch) have a medicinal, sharp element that doesn't strike me as complementary - particularly an Islay Scotch like Laphroaig, which is peaty, smoky, and can have iodine-like notes...
On the pour, a solid, rich black with little to no translucency that kicked up not much by way of bubbles and was a shiny sheet of black within a minute or two... Aromas produced much of what I expected, some sweet chocolaty stout aromas, sweetened with molasses, but also a peaty, herbal/medicinal aspect that I had mixed feelings about... The flavors followed in like kind, sweetness of the stout was there, but with that somewhat off-setting Scotch element... The merger of the two at times suggested deep fruits, like cherry in particular - although in some ways that was suggestive of cherry flavored cough syrup because of the iodine-like medicinal impressions... The feel was soft and smooth with a stickiness in the corner of the mouth, close to flat, carbonation-wise, and medium-full-bodied...
It's hard to say I'm liking it, but as with the few gin and tequila barrel beers I've had, I like the component flavors enough to continue drinking the beer, even though neither the beer nor the Scotch is improved in this marriage... I think you have to like peaty, medicinal Scotches a lot to enjoy this beer, so I can't quite recommend it for the majority, though Islay fans may find it worth the buy and try... $14.99 at Total Wine...
Dec 15, 2018

DVMin98 from North Carolina
3.36
/5
rDev
-10.4%
look: 4 | smell: 3.5 | taste: 3 | feel: 3.75 | overall: 3.5
Dec 24, 2018

BlurryVisi0n from New York
3.67
/5
rDev
-2.1%
look: 4.25 | smell: 3.5 | taste: 3.5 | feel: 4.25 | overall: 3.75
Served in a snifter glass from the bottle.
Appearance: Thick black body with medium bubbles with a dark tan head rising half a finger's length off the body. Settles with no stickiness to the glass and very defining body.
Smell: Smoked whiskey if that is even a thing. Smell comes and goes and can seriously be more potent.
Taste: Very complex taste, sweet and super smokey with a lighter whiskey feel. Has a soapy after taste which I am not sure where it's coming from, it is like a little too much wood infusion or maybe the barrels we're touch burnt. I have had many many barrel aged beers but this one is definitely not an improvement from the original blend.
Mouth: Medium carbonation with a heavy stickiness. Easily best property of the beer.
Overall: I went a little crazy and bought three of these bottles. I honestly thought this would been the original black magic panther on roids. Buy it if you like that smoke feel in your beer. Imperial stout which would be best partially used in a marinade. Salud!
Feb 12, 2019

StoutAtTheDevil from Alabama
4
/5
rDev
+6.7%
look: 4 | smell: 4 | taste: 4 | feel: 4 | overall: 4
I guess I'm in the minority on this one. I'm not the biggest smoked beer fan, but the char/smoke/peat in this blends perfectly with the base beer, at least to my palate. Thank you Westbrook for trying something different.
Jan 18, 2019

EMH73 from New York
3.4
/5
rDev
-9.3%
look: 4.25 | smell: 3.5 | taste: 3 | feel: 4 | overall: 3.5
Pours black with half inch tan head that dissipated to a ring ad left nice lacing. Smell and taste are overwhelmingly smoke and peat. Definitely Islay Scotch barrel aged. I found the smoke peat and iodine to be overwhelming and ultimately unenjoyable after half a glass. Quite disappointed. Mouth feel is thick and creamy, heavy bodied, light carbonation.
Mar 12, 2019

nater919 from New York
3.81
/5
rDev
+1.6%
look: 4.25 | smell: 3.75 | taste: 3.75 | feel: 4 | overall: 3.75
Pours a nice dark black with a creamy brown head.
Smells of smoke, booze, with a mild chocolate smell. Quite a bit of scotch on the nose.
Big time peaty/smokey flavor it is very assertive. This will be off putting to many but I am a fan of those flavors. The soy sauce/ medicinal note as mentioned by other is noticeable on the pallet. There is a nice bitter chocolate note on the finish.
Mouthfeel is pretty solid chewy to creamy.
If you like intense scotch, peaty, smokey flavors give it a shot.
Jan 18, 2019

DISKORD from South Carolina
1.12
/5
rDev
-70.1%
look: 3 | smell: 1 | taste: 1 | feel: 1 | overall: 1
Concentrated liquid smoke and soy sauce.
Jan 02, 2019
DoghouseReilly3946 from Kentucky
4.07
/5
rDev
+8.5%
look: 4.25 | smell: 4 | taste: 4 | feel: 4.5 | overall: 4
Date: Bottled on 07/26/18, consumed on 12/26/18.
Appearance: Pours out thick, sludgy, and midnight black in color. A not unsubstantial dark tan head rises up about a finger and a half worth, but reduces to just cling to the edges in a matter of less than a minute which leaves some beautiful webbed lacing.
Aroma: F***, The nose on this is gut punch bold. A huge smoke laden peat riddled scotch aroma blankets the nose, but oddly doesn't disguise other aspects such as rich chocolate fudge, pipe tobacco, and very weirdly an M&M aroma. They must have used Islay scotch barrels that were dripping wet. I am sure it is the smoke and peat playing with my nose, but I get a dry aged medium rare steak aroma as well. This is a unique one for sure, but I am kind of digging it.
Taste: Tons and tons of smoke, scotch, peat, and meat. The burnt bitter malts are very pleasant and provide a nice bed, but are at times almost covered by layers upon layers of again, rather intense smoke and meat flavors. This beer is a hammer, subtitles are clearly not needed or wanted here. The chocolate also is woven through, but not to the degree it was on the nose. As it warms a bit, I do get a little soy sauce flavor, but it feels more in keeping in this beer than it does in most and isn't offensive. The mouthfeel is every bit as decadently thick and chewy as the pour indicated. I can understand why some people would find this beer offensive, but I rather enjoyed its lack of anything resembling balance. If the idea of Schlenkerla tackling a barrel aged stout turns you on, then find this beer, as a score of 3.52 is ridiculously low in my opinion.
Mar 08, 2019
Siberian Black Magic Panther - Scotch Barrel-Aged from Westbrook Brewing Co.
Beer rating:
89
out of
100
with
11
ratings