Strawberry Rhubarb Pie Gose

Westbrook Brewing Co.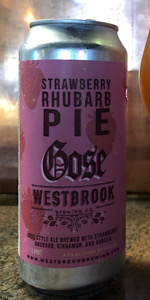 Write a Review
Beer Geek Stats:
| Print Shelf Talker
Style:

ABV:

4.5%

Score:

Avg:

4.27

| pDev:

8.2%

Reviews:

9

Ratings:

From:

Avail:

Rotating/Seasonal

Wants

Gots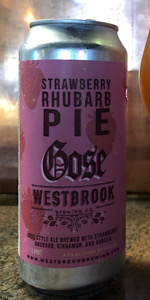 Notes: Gose brewed with strawberry, rhubarb, vanilla, and spices.
hoptheology from South Dakota
4.22
/5
rDev
-1.2%
look: 3.75 | smell: 4.25 | taste: 4.25 | feel: 4.25 | overall: 4.25
16 oz can, dated 8/26/19, into Ploughshare glass.
Has a creamy murky rusty peach-pink color, very murky to the point of being off-putting, with a creamy tight cap of 2 fingers, receding gradually to 1, leaving lace on the sides.
Aroma is tart strawberry, strawberry jam, graham crust, grapefruit rind, lemon rind, rhubarb, and sweet milk sugar.
Flavor brings really tart strawberry, mineral, lime, graham cracker, rhubarb, hints of ice cream/milk sugar, and a general tart finish.
Feel is wet, acidic, tart, biting, creamy, full, and acidic/tart on the finish.
Overall a stellar Gose beer, one of the best I've had, definitely seek this one out. Not as good as New Glarus' Rhubarb beer (but that one is more of a wild ale anyhow).
Price Paid : $4.99 / can
Would buy again : Yes
Jun 08, 2020
JohnnyHopps from Indiana
4.15
/5
rDev
-2.8%
look: 4 | smell: 4 | taste: 4.25 | feel: 4 | overall: 4.25
Appearance - The beer presented a cloudy yellow color with a bubbly white head.
Smell - The nose seemed like a pretty standard Westbrook gose. It was tart with a wheat presence.
Taste - The dry saltiness of the gose coupled with wheat started the profile. A light strawberry presence initiated the adjuncts before the wonderful tartness of rhubarb appeared. For an added layer, cinnamon appeared as the beer warmed. The tartness lingered nicely.
Mouthfeel - The carbonation was appropriately semi-aggressive for the style.
Overall - It was not my favorite, but definitely another winning gose from Westbrook.
Mar 21, 2020

VoodooBear from Puerto Rico
3.3
/5
rDev
-22.7%
look: 3 | smell: 3 | taste: 3.75 | feel: 3 | overall: 3
Presentation: 16 oz. can with the canning date printed on the bottom. Served in a Rastal Harmony tumbler.
Appearance: The half finger head goes away almost immediately and doesn't leave behind any lacing. Is a murky, pale orange color.
Smell: The strongest scent is of rhubarb, with some strawberry in the background and a hint of pie crust.
Taste: It's tart and with a strong vegetable rhubarb taste up front. That's balanced out by some sweet strawberry, a light yogurt funk and rich, bready pie crust. 
Mouthfeel: It's quite pillowy but lighter bodied with medium carbonation.
Overall: It's an OK beer. The advertised flavors of strawberry, rhubarb and pie are present on their own but there's just better executions of the concept as a whole out there. Not a terrible beer, but not great either.
Feb 28, 2020

WickedBeer from Alabama
4.4
/5
rDev
+3%
look: 4.25 | smell: 4.25 | taste: 4.5 | feel: 4.25 | overall: 4.5
Canned 08/26/19.
A nice rosy pink, almost rust-hued coloration.. carbonation is soft, lacing comes in spots.
Nose is all fruit, with strawberry and raspberry coming through. Hints of rhubarb, with a touch of that fresh seediness aroma you sometimes get from fresh, ripe seeded berries.
Flavors tart and fruity, with ripe strawberry flavors making room for a burst of earthy rhubarb, cinnamon, and a touch of vanilla sweetness on the tail. This is killer.
Fairly light-bodied and very soft for no lactose addition. Carbonation is soft and effervescent, with a light, lingering pucker.
Oct 03, 2019
jlindros from Massachusetts
4.44
/5
rDev
+4%
look: 4.5 | smell: 4.25 | taste: 4.5 | feel: 4.5 | overall: 4.5
Thanks to rudzud, canned 8/26/19
Pours a light fizzy airy but dense off-white head that fades at a medium pace, a little whispy lacing, very hazy cloudy pinkish mauve color
Nose brings plenty of tart rhubarb and a bit of tart strawberry, juicy strawberry, a bit of lactic acid and creamy like lacto, with a little bread dough, some vanilla icing, a little cinnamon starting to come through as it warms
Taste starts a bit sweet but very tart sweet pie like flavors, lots of juicy strawberry and some tart rhubarb, nice blend of the two, with some bread dough and pie crust notes, mild lactic acid and lacto creamy like, a bit of cinnamon in the middle adding a nice spice, then wash of vanilla and vanilla icing on the back end, with a tart and sweet sour patch kids like finish, not too flemmy either, and a bit of more bready doughy finish, a touch of salt when I'm really searching for it
Mouth is med to a bit lighter bod, creamy lacto and a bit juicy, medium to lighter carb, a little tart acidity and light flemmy finish
Overall pretty nice, great taste with all the nice flavors blending well into a nice strawberry-rhubarb pie, nose was a little light but still on point, and overall base gose was there and not overpowered too much
Sep 29, 2019
metter98 from New York
3.97
/5
rDev
-7%
look: 4.25 | smell: 4 | taste: 4.25 | feel: 3.5 | overall: 3.5
A: The beer is very hazy amber yellow in color. It poured with a finger and half high dense off white head that has some light pinkish hues and hardly died down.
S: Light to moderate aromas of rhubarb are present in the nose along with hints of yeast.
T: The taste follows the smell, having flavors of rhubarb with notes of saltiness and hints of strawberries.
M: It feels light-bodied on the palate and has a high amount of carbonation. There's so much carbonation in this beer that it's difficult to perceive if there is any tartness on the mouthfeel.
O: This beer was much too carbonated compared to other beers in the style to be refreshing.
Serving type: can
Sep 23, 2019
Jimmy_Kneecaps from Tennessee
4.1
/5
rDev
-4%
look: 3.75 | smell: 3.75 | taste: 4.25 | feel: 4.25 | overall: 4.25
Look is a deep, cloudy pink with 2 fingers of head that has a pinkish/orangish tint. Aroma is salinity up front (on par for the Gose), and a spicy/sweet smell on the back end. The salty sweet thing really works in the taste of this beer! I have no idea what rhubarb tastes like, but what I get is salty up front, sweet strawberries in the middle, and a quick salty finish. Mouthfeel is thicker than normal for a Gose, but still below medium. Great prickly carbonation. Overall this is a fantastic offering from Westbrook!
Sep 22, 2019
FrothyBeard from South Carolina
4.85
/5
rDev
+13.6%
look: 4.75 | smell: 4.75 | taste: 5 | feel: 4.75 | overall: 4.75
This pours out a hazy light pink color. The aroma is strawberry, vanilla, a hint of cinnamon, with a lovely tart/ sour air to it. The flavor profile on this is magnificent. You get strawberries that could have been made by smuckers, you get a kick of pleasant tartness from the rhubarb. The cinnamon and spice set the overall flavor profile off as neither take over the flavor profile but if they had not been added this would have simply been another same old same old gose. This has a medium mouth feel to it. Not overly wet but it's not full bodied either. I am not normally a huge fan of sour beer or gose style beers however this is one of my favorite offerings I've had of theirs.
Sep 15, 2019
rudzud from Massachusetts
4.59
/5
rDev
+7.5%
look: 4.75 | smell: 4.5 | taste: 4.5 | feel: 4.75 | overall: 4.75
Received two four packs of this in a trade.
A - Poured into my Duvel tulip a nice hazy pinkish golden hue with a fat creamy two finger white head that faded slowly to leave a thick almost one finger super creamy blanket. Great color and retention for the style.
S - Aromas of slightly sweet red berries, but a good swirl produces huge strawberry jam aromas, not overly sweet but 100% jammy. The cinnamon and vanilla plays in to that as well big time without getting aggressive lending more of a baking spice type note than cinnamon sticks and vanilla pods. The rhubarb is rather subtle providing just a flash of tartness. For the most part though this is a strawberry pie bomb.
T - Taste is really, really big vanilla and definitely baked pie crust up front with a dusting of cinnamon. It's wild how Westbrook manages to nail the 'pie' aspect of their pie gose series through the usage of wheat. The strawberries are once again more cooked seedy and jammy than fresh berries, which I suppose makes sense as they'd be cooked in a pie. There is pleasant tartness from the rhubarb. Lingering more on the lips than anything is some nice almost drying salinity. It really does taste like summer time for me baking strawberry rhubarb pies and cobblers fresh from the oven with some vanilla ice cream melting on it.
M - Mouthfeel is nicely carbonated, medium bodied. The big thing here though is the finish; it's clean and a bit heavy. It doesn't have that lingering flemmy finish that can plague poorly executed goses.
O - Overall I utterly loved this beer. Great color and awesome retention, one of the cleanest strawberry aromas and flavours I had in a beer in years and years. The rhubarb was a nice replacement for the tradition lemon with the cinnamon, vanilla, and wheat bringing the pie crust and ice cream to the table. Westbrook Key Lime Pie Gose is my go to trade for summer crusher due to it's intense tartness and acidity, however, I think I like the actual execution of this beer more. It is definitely a dessert beer thanks to the amount of strawberry and probably not one I could sit down and put back can after can, so that edge still goes to Key Lime Pie Gose. Still though...if this is added to the Westbrook seasonal release schedule I would trade for multiple four packs. Delicious.
Serving Type: Can
Sep 14, 2019
Strawberry Rhubarb Pie Gose from Westbrook Brewing Co.
Beer rating:
91
out of
100
with
14
ratings