Lichtenhainer
| Westbrook Brewing Co.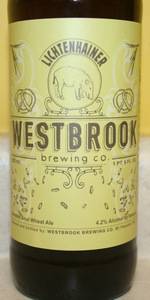 BEER INFO
Brewed by:
Westbrook Brewing Co.
South Carolina
,
United States
|
website
Style:
Berliner Weissbier
Alcohol by volume (ABV):
4.20%
Availability:
Rotating
Notes / Commercial Description:
This is our interpretation of the traditional German Lichtenhainer Weisse style – a pale, sour, and smokey wheat ale. Beechwood smoked malt contributes a subtle bacon/ham aroma, followed by substantial lactic tartness backed up by doughy, grainy wheat. Prost!
4 IBU
Added by thagr81us on 02-14-2011
Reviews: 35 | Ratings: 104

4
/5
rDev
+1.3%
look: 4 | smell: 4 | taste: 4 | feel: 4 | overall: 4
A smoked berlinerweiss? OK, I'll try it. I think Mike provided this one at a recent tasting. Beer is yellow and hazy with a thin lazy white head of small bubbles, some lacing, moderate to low carbonation, looks OK.
Aroma is surprising, all smoke, it isn't like sniffing a campfire but it is definitely there.
Beer is light in body and the lactic character cuts through the smoke and makes for an interesting beer, notice I didn't say excellent beer, I said interesting, it is definitely worth a look. I think the flavors actually go well together but I doubt this is a repeat for me.
★
585 characters
4
/5
rDev
+1.3%
look: 4 | smell: 4 | taste: 4 | feel: 4 | overall: 4
A - Out of the growler at the Charleston Beer Exchange and also out of a 22oz bomber. Hazy straw color. Pleasantly light in appearance.
S - Didn't know what to expect. Nice smoke and lemon in the nose which was confusing at first.
T - The taste sorted everything out for me. Honestly, an incredibly strange but very good beer. I was hesitant at first given the combination of smoke, bacon flavor, wheat, and lemon, but it was very good! I really enjoyed hit beer. Light on the booze as well, so you can sip this for awhile if you like some smoke flavor.
M - Mouthfeel was fairly light with moderate carbonation. It's interesting how the smoke flavor still remains light against the wheat body.
O - Good summertime beer, and I hope that Westbrook makes this a rotational beer. I really enjoyed it.
★
801 characters

4
/5
rDev
+1.3%
look: 4 | smell: 4 | taste: 4 | feel: 4 | overall: 4
Bottle shared by Thorpe429. Thanks Mike.
The beer is hazy and yellow with a small white head. The aroma is quite smoky. Sour malt and some tart citrus blend well with a prominent campfire smoke character. Lingering tartness in the finish with smoke notes. I think of this as equal parts rauchbier and Berlinerweiss. Interesting and well done. I would have this again.
★
368 characters

3.87
/5
rDev
-2%
look: 3.5 | smell: 4 | taste: 4 | feel: 3 | overall: 4
This is my first experience with a Berliner Weissbier, so it's hard to judge it against other ones in with in the style. Got this on draft at the Charleston Beer Exchange. It was a slightly hazy straw color, kind of a light fizzy head. Smell was more malt than hop and VERY citrusy, mostly of the lemon variety. Taste was very similar to the smell, but had a sourness that slaps you in the face with a slight smokiness to the finish. This was a nice style to try out, I think it would go great with the warmer months, hopefully they continue to make this through the summer.
★
574 characters
3.97
/5
rDev
+0.5%
look: 3.5 | smell: 4 | taste: 4 | feel: 4 | overall: 4
On tap at Closed4business.
Pours a hazy wheaty golden...slight head. Smell is of citrusy smoked wheat. Really different.
Taste is first of a lemony citrus followed by a tart smokeyness and ends with a cashew flavor. Really nice.
Overall, one of the most unique of the style. Really creative and good tasting - a great combination!
★
332 characters
3.97
/5
rDev
+0.5%
look: 3.5 | smell: 4 | taste: 4 | feel: 4 | overall: 4
A: Poured from a bottle to a pint glass. Had a pale yellow color and a hazy texture. There was an inch of fizzy head that quickly dissipated. Almost no lacing to speak of.
S: A fruity aroma, with a definite smoky quality as well.
T: Tasted of light fruit (lemon, apples), wheat, malt, and the aforementioned smokiness. Definitely unusual, with the inclusion of the smoke, this is an odd flavor that's hard to pin down.
M: A fair amount of carbonation with a smooth finish. Light- to medium-bodied.
O: This beer is definitely a strange little experiment. Not bad, and worth trying for the novelty, but probably not something I'd drink on a regular basis.
★
657 characters
3.61
/5
rDev
-8.6%
look: 4.5 | smell: 3.5 | taste: 3.5 | feel: 4 | overall: 3.5
Had during Brewvival 2012! Served from tap into a Brewvival sampler imperial pint. Poured yellow with a half finger white head that subsided to a minimal amount slowly. Maintained decent lacing throughout the glass. The aroma was comprised of sweet malt, wheat, smoke, and skunk. The flavor was of sweet malt, skunk, wheat, smoke, and earth. It had a light feel on the palate with medium-high carbonation. Overall this was a decent brew. Out of all the offerings by Westbrook on the day, this one was my least favorite. I know that Berliners are supposed to be earthy by nature, but this one was just a little over the top in my opinion, maybe it was the smoke giving this effect... Not a lot of real balance going on here unfortunately. I still stand by the fact that Westbrook is brewing great things, but this one wasn't as great as I was hoping it would be. Still decent, but defniitely not their best out there. Worthy of seeking out for the true Berliner fan though.
★
972 characters
3.92
/5
rDev
-0.8%
look: 4 | smell: 4.5 | taste: 3.5 | feel: 4 | overall: 4
Had this beer at World of Beer in Columbia. This is the first time I have tried a smoked weisse. It poured a hazy, light yellow gold with a thin, light head. Smelled strongly of acid, smoked ham, and wheat. Initially, this beer tasted exactly like sauerkraut to me until it warmed up a bit. Then, I would liken its taste to a green apple covered in ham hock fat with a lemon wedge on top. It was certainly unique, but I can't say I enjoyed this beer tremendously. My girlfriend who is more of a fan of strong dark beers couldn't drink this beer saying it tasted like vomit and I could certainly see where she was coming from so this is definitely not for everyone..
★
665 characters
4.5
/5
rDev
+13.9%
look: 4.5 | smell: 4.5 | taste: 4.5 | feel: 4.5 | overall: 4.5
Reviewed from notes: Had on tap:
appearance: cloudy yellow almost lemonade like, with 1 finger white snowy head,
smell: BACON, tart acidic, apple, wheat,
taste: tart sour apples, bacon, smoke, wheat,
mouthfeel: mild carbonation, medium body,
overall: probably the most unique berliner I've ever had. And so glad to give this one a try. Can't wait to try it in bottle form in the upcoming year.
Cheers,
The CPJ
★
415 characters
4.77
/5
rDev
+20.8%
look: 4 | smell: 4.5 | taste: 5 | feel: 4.5 | overall: 5
On-tap at Brewvival 2011. As a huge Berliner Weisse fan, this is one I've been looking forward to. Basically a smoked Berliner Weisse.
Pours a cloudy golden straw with a thin white head. Aromas and flavors of toasted grain, lemon peel, wheat, and green apples with a subtle hit of smoke and a lovely lactic tartness that works so well with the smoke. Incredibly crisp and refreshing with a thin body and sharp carbonation. This was my absolute favorite beer of the day, and possibly one of my favorite beers ever. This needs to be brewed full-time, year-round!
★
561 characters
Lichtenhainer from Westbrook Brewing Co.
88
out of
100
based on
35
ratings.