Covert Hops
| Westbrook Brewing Co.
BA SCORE
84
good
15
Reviews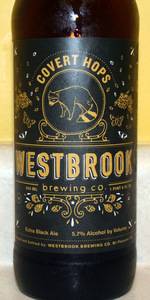 BEER INFO
Brewed by:
Westbrook Brewing Co.
South Carolina
,
United States
westbrookbrewing.com
Style:
American Black Ale
Alcohol by volume (ABV):
5.70%
Availability:
Limited (brewed once)
Notes / Commercial Description:
Covert Hops is a crafty ale. Its stealthy dark appearance belies a light body and beguiling hop aroma from the loads of herbal, piney hops (4+ lbs per barrel to be exact) that melds exceedingly well with its deliciously devious roasty flavor.
45 IBU
Added by avalon07 on 03-31-2012
This beer is retired; no longer brewed.
Reviews: 15 | Ratings: 46

4.23
/5
rDev
+14.6%
look: 5 | smell: 4.5 | taste: 4 | feel: 4.5 | overall: 4
22 oz bottle poured into a pint glass at cellar temperature.
L - Black color with ruby-tinged edges and a massive 5-finger bubbly, pillowy tan head. Great retention and great lacing. Perfect.
S - Blast of piney hops as soon as I cracked the bottle and started pouring. After taking a closer look, there's a tremendous piney and floral hop aroma with a very subtle undercurrent of roasted barley and coffee. I can't wait to taste this.
T - Wow this is an interesting beer. Starts off floral and fruity sweet and quickly develops into a bitter whirlpool of roasted barley, coffee, and piney hops. As soon as the roasted flavors come through, the hops appear, and just when you're trying to pay attention to the hops, the roastiness comes back. Truly unique.
F - Medium-to-full-bodied, a little bit of carbonation, mouth-coating feel, and a nice dry and bitter finish. Both the malty sweetness and hop bitterness linger for a nice amount of time.
O - I loved this beer. This is the first black ale that I've had, so I'm not sure how it relates to others, but it's exactly what I hoped it would be and more. The hops are far more apparent than I thought they would be, and that makes me very happy. At the same time, all the sweet malty and bitter roasted flavors are there in full force. Westbrook continues to impress me their beers, and it makes me very happy that I live 10 minutes away from the brewery.
1,421 characters

4.1
/5
rDev
+11.1%
look: 4.5 | smell: 4.5 | taste: 4 | feel: 3.5 | overall: 4
64oz growler brought to our Memorial Day cookout. Poured into a shaker pint glass...
A: Black; quarter-finger of mocha head; leaves some blobs of lace.
S: Sweet malts; ground coffee; hempy hops.
T: Starts with a blast of hops - citrusy and pine resin, followed by sweet roasted malts and chocolate; very roasty on the finish.
M: Full-bodied; moderate carbonation; a little too full for the style, perhaps - but I guess it is a pretty wide open style; sticky.
O: A nice American Black Ale... Hoppiness is good, but just a smidge more mouthfeel and roastiness than I'd expect for the style. A nice brew, though -
*from notes (5-29-12)
640 characters
4.1
/5
rDev
+11.1%
look: 4.5 | smell: 4.5 | taste: 4 | feel: 3.5 | overall: 4
Covert Hops is black, passing no light. A huge, dense, creamy chestnut head fills the glass and builds well above the rim. The head retention is impressive and leaves a coating of fine lace as it drops at a glacial speed turning rocky in places and dense-creamy in others. A fine mist of carbonation clings to the wall of the glass.
Once the head permits the nose, one can clearly detect rich pine sap with chocolate and coffee. A fresh, citrus background of orange rounds it out. There are also some notes of cigar smoke, but the chocolate returns with warmth.
Bitterness is well controlled, especially given anticipation from the aroma. Toasted character is equally prominent with black coffee, some chocolate and vanilla. Warmth brings out the sweetness.
A light body with soft carbonation, a silky texture, some residue on the lips, and alcohol more prominent than expected. Given the relatively low alcohol content it is quite impressive how much flavor Westbrook was able to develop.
This is clearly one of the better examples of this style. It adroitly brings out the hops one expects from an IPA as well as the roasted malts one expects from a stout. This one was enjoyed on its own, but could easily accompany a juicy burger.
1,238 characters
4.08
/5
rDev
+10.6%
look: 4.5 | smell: 4 | taste: 4 | feel: 4.5 | overall: 4
A - Pours dark black with reddish-brown edges and a creamy khaki head that settles to a dense, 1-inch head that refuses to dissipate.
S - Big, resinous hops backed up nicely by dark roasted malt, coffee grounds, and bitter chocolate. Hops are fresh and pungent, with lots of citrus and pine.
T - Wow, tons of deep, earthy roasted malt character with more resinous citrus hops. Bitter coffee, chocolate, brownies, and burnt toast followed by a long-lasting hop bitterness. Bold, but still fairly balanced and drinkable.
M - Smooth and creamy, with a touch over medium-bodied and good carbonation.
O - Such a tasty Black Ale, it's nice to see the malt take more of the center stage, instead of just providing an ample base for loads of hops. Another fine Westbrook brew.
768 characters
4.04
/5
rDev
+9.5%
look: 4 | smell: 4.25 | taste: 4 | feel: 3.75 | overall: 4
Bottle pour for New Brew Thursday's 3rd Anniversary event held at Beachwood BBQ & Brewing in Long Beach, CA.
Pours an almost opaque super dark brown with a foamy dark khaki head that settles to a small cap on top of the beer. Foamy streaks of lace form around the glass on the drink down. Smell is of dark roasted malt, cocoa, and herbal hop aromas. Taste is much the same with an herbal flavor on the finish. There is a medium amount of hop bitterness on the palate with each sip. This beer has a lower level of carbonation with a slightly crisp and medium bodied mouthfeel. Overall, this is a good beer that is tasty and easy to drink.
638 characters

4.03
/5
rDev
+9.2%
look: 4.5 | smell: 4 | taste: 4 | feel: 4 | overall: 4
A: Poured from a growler to a pint glass. Had a black color and a thick, impenetrable consistency. There was an inch and a half of creamy, tan-colored, long-lasting head. Great lacing.
S: As expected, a lot of hops in the aroma, along with a good shot of coffee as well.
T: Like the aroma, the flavor had a good deal of hops and coffee, and also some malt in the finish. At first, this beer seemed to be out of balance, with the coffee taking center stage, but it balanced out as it went along.
M: A well-carbonated beer with a super dry finish. Medium-bodied.
O: On the whole, this is a solid example of an ABA. Not spectacular, but definitely drinkable.
668 characters
4
/5
rDev
+8.4%
look: 4 | smell: 4 | taste: 4 | feel: 4 | overall: 4
Served from growler into a New Belgium globe. Poured a massively dark brown with a one finger light khaki colored head that subsided to a minimal amount quickly. Maintained phenomenal lacing throughout the glass. The aroma was comprised of sweet malt, roasted malt, earth, citrus, citrus hop, and subtle dark chocolate. The flavor was of roasted malt, dark chocolate, coffee, citrus, citrus hop, and earth. It had a medium feel on the palate with medium-high carbonation. Overall this was a good brew. I really wasn't expecting to get coffee on this one based on the aroma alone. However I found it to be quite enjoyable and added a nice level of complexity to the hop presence in this one. A really well done brew that I'm glad I got the opportunity to try, I suggest you do the same.
785 characters
3.9
/5
rDev
+5.7%
look: 3.5 | smell: 3.5 | taste: 4.5 | feel: 2.5 | overall: 4
Wow! Was this thing brewed with Belgian yeast. Explosive when the cap pops off. Pours mostly head even with the most careful of pours. Hugely carbonated. With all that being said it's a very good beer. Coffee and Hops my two favorite things in both the aroma and flavor. Yum Yum. Balanced with strong flavors of both and they work very well together. I'll definately seek this one again, but next time I'm aware of the carbonation. Whew!
437 characters

3.83
/5
rDev
+3.8%
look: 2 | smell: 4 | taste: 4.5 | feel: 2.5 | overall: 3.5
Bottle dated 3-3-12. Opened 10-25-12. Served at 48 degrees F.
Overly carbonated. I'm surprised the bottle didn't burst. Big time air escape while prying the cap. 95% foam when pouring into a pint glass... An obvious flaw. Opaque, black beer. A rocky, long-lasting tan head fills nearly the entire glass. Lacing everywhere.
Heavy spicy/piney American hops in the aroma. Roasted malt accompanies.
The flavor is reminiscent of a hoppy porter. Chocolate and coffee with heavy hops. Plenty of bitterness. Great flavor.
Light bodied. Intense, attacking carbonation even after all that foam. A long lasting very bitter finish.
This would've been an awesome beer if it wasn't for all the carbonation. It's taking me all night to drink this beer waiting for the carbonation to die down every time I pour some. It's been bottled for nearly 8 months. Maybe the residual yeast has been working on fermentable sugars during that time.
926 characters

3.61
/5
rDev
-2.2%
look: 4.5 | smell: 3.5 | taste: 3.5 | feel: 4 | overall: 3.5
Bomber poured into an oversized snifter, an appropriate vessel to contain the explosive tan head. It slowly settles into a clumpy foam island, and even a half hour is still a thick skim. Pretty impressive lacing, too.
The bottle's about 2 months old, and I'm left to wonder whether the nose may have been a bit more potent a few weeks back. Herbal hops are more prominent than pine, with cocoa and leathery roast all around.
The strong herbal/leathery combo takes a bit of getting used to, but in the end it works pretty well, and a hearty dose of IBUs is always appreciated in a CDA. Dryish finish that showcases a pungent edge to the hop profile. Pretty solid effort here from Westbrook.
691 characters
3.3
/5
rDev
-10.6%
look: 3.5 | smell: 3.5 | taste: 3.5 | feel: 2.5 | overall: 3
Appearance: A foamy explosion, with the initial pour being all foam; settles into a murky obsidian with a nice head, excellent retention (no suprise) and good lacing
Smell: Burnt embers dominate with the piney hops underneath
Taste: Starts out with a lot of roasty char and, while the hops arrive in the middle to add a bitter and piney dimension, the char winds up overwhelming the finish
Mouthfeel: Medium body but overcarbonated
Overall: Balancing the flavors in an American Black is a tricky thing and, in addition to the carbonation issues, this beer doesn't handle the balance as deftly as some others I have tried; Westbrook needs to cut back on the char so that the hops be more prominent in this beer
713 characters

3.21
/5
rDev
-13%
look: 2 | smell: 3.5 | taste: 3.5 | feel: 2.5 | overall: 3
22oz bottled March 3, 2012. Served at around 40F.
Pours black with a huge brown head even with a very careful pour. Looks infected, but it's not, just over-carbonated. When it does finally settle down, it holds a small cap and leaves some lacing behind.
Aroma is pine and citrus hops, a lot of dark roasted, if not burnt malts, chocolate, coffee, a little dark fruit and anise. Good to very good strength.
Flavor is similar, piney hops, some citrus, chocolate, dark roasted malts, toffee, coffee, dark fruits. Minimal sweetness, mild bitterness, little to no alcohol.
Mouthfeel is medium bodied and starts with extremely prickly carbonation that distracts from being able to taste the beer. Subsequent pours from the bomber have settled the carbonation down and is much smoother and more enjoyable.
Very good Black IPA, but carbonation issues hurt the appearance and mouthfeel. If they sort those out, they've got a good one on their hands.
949 characters
2.81
/5
rDev
-23.8%
look: 4 | smell: 3 | taste: 2.5 | feel: 2.5 | overall: 3
Served this American Black Ale, on tap, at the brewery, in a pint glass. This ale poured a dark black color, produced a thick brown head, featured excellent retention and excellent lacing on the glass. The aroma consisted of roasted grain and herbal piney hops. Medium in body, this ale featured roasted grain, and piney hops. Overall this brew is a bit off balanced, the hop flavor fades at the end and leaves an almost watered down taste at the finish.
454 characters

2.55
/5
rDev
-30.9%
look: 2.5 | smell: 2.5 | taste: 2.5 | feel: 3 | overall: 2.5
Thanks Dan!
Appearance: Big tan head, takes up most of the glass
Smell: very herbal, too much roast and tar
Taste: Roast and dark malt dominate, not much else going on. Bitter like old burnt coffee
Mouthfeel: medium body and mouthfeel
Overall: Dumped this sucker very quickly, just not enjoyable at all due to the burnt flavors.
329 characters
1.3
/5
rDev
-64.8%
look: 2 | smell: 2 | taste: 1 | feel: 1 | overall: 1
I bought a bomber at Growlers while on vacation in Hilton Head after trying and enjoying their IPA. I was very excited by try this after I got home. As I poured it in the glass, the beer immediately turned to foam. The bottle was infected. I notified the brewery to see what their response would be. They admitted thay had a problem with that batch and they should have been pulled from the shelves. Unfortunately, I had the same result with their Pacific Jade Rye Pale Ale. They offered to replace them if I brought in the email the next time I am in Charlotte. As I live 376 miles from there, I don't see making the trip and remembering to bring the email. I don't know what I expected, but I thought blaming the store and making a lame offer was disappointing. Not the way to build a faithful following. This is more a review of the Brewery than the on the beer, I felt it needed to be posted.
896 characters
Covert Hops from Westbrook Brewing Co.
3.69
out of
5
based on
46
ratings.