Gose
| Westbrook Brewing Co.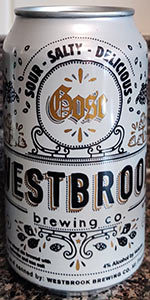 BEER INFO
Brewed by:
Westbrook Brewing Co.
South Carolina
,
United States
westbrookbrewing.com
Style:
Gose
Alcohol by volume (ABV):
4.00%
Availability:
Rotating
Notes / Commercial Description:
This is our interpretation of Gose (pronounced "Gose-uh"), a traditional German-style sour wheat beer brewed with coriander and salt. Once nearly extinct, this very refreshing style is making a comeback.
5 IBU
Added by mrandypandy on 05-06-2012
Reviews: 310 | Ratings: 2,521

4.05
/5
rDev
-1.5%
look: 4 | smell: 4 | taste: 4 | feel: 4.5 | overall: 4
I'm on a gose drinking mission and this is yet another one. As far as Gose goes, this is one of the better ones, very lactic forward, nice and strong. Not too salty.
Beer served in a snifter, thanks Michael. Beer is yellow and dirty looking with a thin white head of small bubbles, no retention, no lacing, moderate carbonation.
Aroma is lactic acid, all the way.
Beer is medium to light in body and really creamy, strong, mildly salty interesting. Almost no yeast comes through at all. I still like the Upright one better but this one is quite good.
★
553 characters

4.08
/5
rDev
-0.7%
look: 4 | smell: 3.5 | taste: 4.5 | feel: 4 | overall: 4
From tap to taster glass at The Funky Buddha Lounger on 6/2/12
*From notes
A: Palest of pale yellow. Cloudy. Minor head and no lacing or collar.
S: Like a fresh lemon shandy with a bite.
T: Tart, dry and salty. Certainly saliter then Leipziger's Gose. There's an organic, tart bite on the mid. The coriander is faint and shows on the finish.
M: The feel is light, slightly sharp and extremely refreshing. If you're looking for the quintessential lawnmower beer, look no further.
O: A great Gose. Not as well balanced as Leipziger's, yet just as elegant. This also well outclasses the new mass-market Sam Adams Gose. Having a saliter edge to this one really enhances the beer's refreshing side, and makes for a beer I'd reach often for if I had access to it. Easily recommended.
Note to ALL brewer(ies): Make more Gose's!
★
826 characters

4.33
/5
rDev
+5.4%
look: 4.5 | smell: 4 | taste: 4.5 | feel: 5 | overall: 4
22oz bottle into a Corsendonk tulip. Thanks to mikeincharleston for the trade!
Pours with a bright goldenrod body that displays a substantial haze. Head is eggshell-white in color and thin, but well retained. Aroma is full of coriander and wheat, with other grainy malts in the background. A hint of sea salt graces the nostrils, but it's quite subtle. Slightly nutty aroma as well (someone at the tasting mentioned almonds?).
Flavor matches the aroma, but adds a delicious layer of bright tartness that puckers the sides of the mouth and tongue. Lots of wheat, coriander, and citrus. Could use a hint more saltiness, though, but it's a minor nit-pick. Mouthfeel is crisp and juicy with a perfect carbonation level. Love the sourness, and it finishes dry and clean. I could have easily downed the entire bomber of Westbrook Gose without batting an eye, but I'm glad I could share it with friends. Delicious stuff!
★
915 characters

3.76
/5
rDev
-8.5%
look: 2 | smell: 3.5 | taste: 4 | feel: 4 | overall: 4
Growler poured into a weizen glass. Hazy gold with a bright white head that sadly fizzes away to nothing in no time flat. Plenty of carbonation is visible bubbling up through the body, though.
Smells of salty sea air with light notes of coriander and vague sweetness. Just enough malt sweetness to keep the salty/lemon juice combo from becoming completely puckering. Crisp and clean finish with light grain and coriander flavors. Overall a very solid stab at the style. The folks at Westbrook certainly aren't shy about variety, and as with this Gose, the results are generally positive. Well done.
★
599 characters
3.97
/5
rDev
-3.4%
look: 3.5 | smell: 4 | taste: 4 | feel: 4 | overall: 4
Served from bottle into a Mother Earth strange. Poured a hazy golden straw yellow with a half finger pure white head that subsided to a very minimal amount fairly quickly. Maintained decent lacing throughout the glass. The aroma was comprised of sweet malt, tart, meringue, lemon zest, citrus, and salt. The flavor was of sweet malt, salt, tart, citrus, lemon juice, lemon zest, lemon rine, and subtle oyster. It had a light feel on the palate with medium carbonation. Overall this was a fairly good brew. I have to be honest that the salt on this one really is the star of the show and makes sure to remind you of this well after each sip as it coats the palate without mercy. I thought it was kind of odd that I picked up on a subtle note of oyster meat on this one on the followthrough. However, it wasn't too bad. Quite refreshing and an interesting flavor profile to say the least. Definitely worth a try for the true Gose fans and the curious alike.
★
957 characters
4.92
/5
rDev
+19.7%
look: 4.5 | smell: 5 | taste: 5 | feel: 4.5 | overall: 5
Every aspect of this beer is unlike any beer I have ever had.
It pours out hazy yellow, with the swirling bubbles you see in ocean water. 1" white head with mild retention
The smell is lemon zest, hay, straw, wheat, lemongrass.
The flavor is sour lemons, light saline saltiness, lactic acid, wheat, sourdough bread.
Mouthfeel is medium-light, with great, refreshing carbonation.
Overall, amazing beer. Salt is light enough to keep it refreshing, sourness is absolutely perfect for this beer.
A+
★
500 characters
4.32
/5
rDev
+5.1%
look: 3.5 | smell: 4 | taste: 4.5 | feel: 4.5 | overall: 4.5
A: Poured from a bottle to a weizen glass. Had a dirty yellow color and a cloudy consistency. There was an inch and a half of foamy head that quickly dissipated. No real lacing to speak of.
S: An interesting aroma - spicier than I would have expected - with touches of wheat and malt.
T: Tasted of wheat, malt, a little bit of grain, coriander, and a saltiness in the finish. A very lively, easy to drink, well-balanced flavor.
M: A good amount of carbonation with a crisp, clean finish. Light-bodied.
O: A completely likeable, well made, and drinkable beer.
★
563 characters
4.79
/5
rDev
+16.5%
look: 3.5 | smell: 4.5 | taste: 5 | feel: 5 | overall: 5
22oz bottle poured into a Pint Glass.
A - Pours a very cloudy yellow with a thin white head that fades quickly, leaving just a tiny stream of bubbles.
S - Wonderful aromas of tart lemon juice, lactic acid, wheat, and a definite mineral component. Really nice blend of the tartness and the crisp, dry wheat.
T - Oh yeah, this is right up my alley. More tart lactic acid, slightly puckering lemon juice, and crisp wheat with a moderate salty mineral finish. Super drinkable and superbly balanced between the sour lemon yogurt flavor, the just-right sea salt, and the almost-creamy toasted wheat backbone.
M - Smooth and crisp, with a medium-thin body and good carbonation. So quenching, this reminds me of a lemon Gatorade (in a very good way).
O - Another phenomenal take on a obscure style from Westbrook. I cannot say how pleased I am to have a brewery that puts out products like this so close to my home. Keep up the great work!
★
933 characters
4.67
/5
rDev
+13.6%
look: 4.75 | smell: 4 | taste: 5 | feel: 4.75 | overall: 4.75
October2013
This years batch is a wee more tart and the salt can be tasted a little more. Still outstanding. Oh, did I mention that they are selling it in cans now. I think that I said someting about that last year.
May 2012
Poured into a pilsner style glass. The head didnot last as long as a cola head from the soda fountain and no legs. That's ok because the taste buds weren't looking at the glass Had a nice cloudy appearance. Could smell a little tartness.
The taste was very refreshing with a good sour taste. I could not detect any salt flavor, which is fine with me. Carbonation was perfect. Not a beer for a sour beginner. It can easily be drank on the beach.
This is the best beer that I have had from Westbrookand would love to see it in cans or 12oz bottles. If you are a sour drinker this is a don't miss beer. I look forward to consuming more over the rest of the summer.
★
891 characters

4.92
/5
rDev
+19.7%
look: 4.5 | smell: 5 | taste: 5 | feel: 4.5 | overall: 5
Served on-tap at the brewery.
A - Pours a hazy yellow, sticky white head and lacing.
S - Smells tart, with a salty breadyness to it. Very interesting.
T - Delicious. Light citric sourness, wheat, and a touch of salt in the finish.
M - Good carbonation, smooth and just all out refreshing.
O - A winner from start to finish. Just the right balance of salty and sour, and no element overpowers the other. I have limited experience with the style, but this is by far the best. Well worth seeking out.
★
509 characters
Gose from Westbrook Brewing Co.
4.11
out of
5
based on
2,521
ratings.