Bearded Farmer 1: "Hughey" Saison
| Westbrook Brewing Co.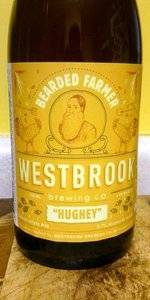 BEER INFO
Brewed by:
Westbrook Brewing Co.
South Carolina
,
United States
westbrookbrewing.com
Style:
Saison / Farmhouse Ale
Alcohol by volume (ABV):
6.70%
Availability:
Limited (brewed once)
Notes / Commercial Description:
Hugely is brewed with a blend of rustic grains including oats, rye, and spelt, then fermented with a combination of Belgian and French yeast strains, including three types of Brettanomyces.
Added by avalon07 on 10-24-2012
This beer is retired; no longer brewed.
Reviews: 11 | Ratings: 70

3.85
/5
rDev
-6.8%
look: 3.5 | smell: 3.5 | taste: 4 | feel: 4 | overall: 4
750 mL bottle poured into a wine glass at cellar temperature.
L – Deep gold with a 3.5-finger white bubbly head. Really nice retention but only some patchy lacing. Clear with tons and tons of bubbles.
S – Mostly lemon esters, spicy rye, and peppery yeast. Not really any funk from the Brett.
T – Sweet and sour lemon and orange esters progressing to spicy rye and peppery yeast. There's maybe a hint of earthy hops at the finish. Still not much in the way of funky Brett – maybe a little bit at the finish along with a touch of lemon sourness that lingers.
F – Light-to-medium-bodied with lots of carbonation, a fresh and crisp mouthfeel, and a spicy, slightly sour, and very dry finish. Rye spice and lemon tartness linger for a bit.
O – This is a pretty good Saison. It's definitely tasty and refreshing enough. I wish it had just a bit more lacing to go along with the head retention and some more funky Brettanomyces in the aroma and taste. This is a good beer; it just lacks the complexity that many Belgian Saisons possess.
1,050 characters
3.88
/5
rDev
-6.1%
look: 4 | smell: 3.5 | taste: 4 | feel: 4 | overall: 4
Pours a light, hazy wheaty yellow/orange, with a large frothy off white head.
Smell is of banana, some other fruit I can't quite identify, spices, a little dry brett maybe but not much. Smell is nice but not super strong.
Taste is pear, apple, a little banana, ends with underripe strawberry. Very fruit forward! Some light floral and spice notes, maybe a little dry brett on the aftertaste but again, really not brett forward. This is really tasty.
Mouthfeel is great, super carbonated and bubbly, not too syrupy or thick but enough of a body.
Very good saison, subtle and big on fruit, not what I expected but great!
8.0/10
630 characters
3.9
/5
rDev
-5.6%
look: 4 | smell: 4 | taste: 3.75 | feel: 4 | overall: 4
Served from bottle into a Westbrook snifter (proper!). Poured a hazy golden yellow-orange with a three finger pure white fluffy head that subsided to one finger very slowly. Maintained nice lacing through. The aroma was comprised of sweet malt, fruit, spice, funk, earth, and barnyard. The flavor was of sweet malt, fruit, big funk, spice, earth, and horseblanket. It had a light feel on the palate with high carbonation. Overall this was a fairly good brew. I found it really quite interesting what was going on in this one. The aroma definitely had a big gaminess going on that was quite intriguing for the style with the fruit character mixed in. On the flavor it was dominated by funk without a doubt. If you love massively funky brews AND Saisons, this is your brew without a doubt.
787 characters

3.97
/5
rDev
-3.9%
look: 3.5 | smell: 4 | taste: 4 | feel: 4 | overall: 4
A: Poured from a growler to a pint glass. Had a yellow color and a hazy consistency. There was a small amount of foamy head that quickly dissipated. Average lacing.
S: A pretty good aroma of yeast, malt, and some citrus.
T: Tasted of Belgian yeast, a light amount of malt, and a hint of citrus in the finish. This is a solid, easy to like flavor. Not quite as heavy on the funk as most Belgian saisons, but tasty nonetheless.
M: A decent amount of carbonation with a sharp, lively finish. Medium-bodied.
O: On the whole, a solid, likeable, well done beer. Drinkable.
578 characters
4.12
/5
rDev
-0.2%
look: 4 | smell: 4.5 | taste: 4 | feel: 4 | overall: 4
Pours a cloudy gold with a soapy white head that settles to a solid cap, leaving behind lots of spotty lacing. Lovely aromas of citrusy hops, light malts, earthy Brett, lots of tropical notes of papaya, pineapple, and mango, and just a bit of plastic. Taste is similarly tropical, with more peach, mango, and papaya, a nicely balanced malt body, earthy Brettanomyces, and citrus hops. Quite drinkable, with a medium body, good carbonation, and pleasantly dry finish. Really nice Saison, I'm definitely looking forward to more in the series!
540 characters

4.25
/5
rDev
+2.9%
look: 4.25 | smell: 4.25 | taste: 4.25 | feel: 4.25 | overall: 4.25
a - poured a three-fingers thick, rocky, bubbly, off-white head into a tulip glass that left great lacing throughout. the body was a bubbly orange-amber color.
s - rye and brett.
t - spicy from the rye and brett.
m - bubbly and creamy.
o - another winner from westbrook. nice balance between the brett and other yeast strains.
326 characters

4.26
/5
rDev
+3.1%
look: 4.75 | smell: 4.25 | taste: 4.25 | feel: 4 | overall: 4.25
P: Cloudy pale orange tinted golden body with a massive rocky white head. Retention is legendary and leaves a solid cream cap with cliffhanger lacing.
S: Barnyard funk, soapy yeast, chicken coop, dried whole oats, sourdough, potent spices that flood the nose and leave it tingling. Minerals, salt, apricot, honey, an old canvas tarp, booze and cedar. Really opens up the nasal passage like an aroma therapy room.
T/M: Lots of earthiness, unwashed grain, flaky oats, cedar, sunflower seed shells, pineapple tea tannin, bandaids and spicy hops. Presence of floral bitters and white grape barrel in the finish. The spice profile is aggressive and grand. Vivacious moderate body that finishes dry with a metallic presence.
O: This is a great looking beer that has an amazing nose that leaves it almost numb from spice cEarthy and spiced up saison that really impresses. A well crafted brew!
892 characters

4.33
/5
rDev
+4.8%
look: 4.5 | smell: 4.5 | taste: 4.25 | feel: 4.25 | overall: 4.25
Presentation: 750 mL bottle chilled and poured into my Portsmouth Brewery tulip glass. Big thanks to mikeincharleston for this beer. Bottled on date of October 4, 2012.
Appearance: Pours a ridiculous, fluffy, three finger white head with outstanding retention. Somewhere between pale yellow and light orange in color. Some cloudiness as well. Really spectacular lacing.
Aroma: Some green apple, lemon zest and some peppery yeast. A nice backbone of barnyard funk that is actually pretty nicely developed. Really balanced with a surprising fruitiness.
Taste: Peppery yeast tones and some spicy rye upfront gives way to some funk and brett tones. A dry finish. Really nice citrus and lemon tones bring a really refreshing quality. Completely drinkable and really complex. A touch of green apple as well. Really nice.
Mouthfeel: Light bodied and juicy upfront with some strong carbonation. A slightly dry finish.
Overall, a really tasty and refreshing saison. The brett and funk flavors are nicely developed, but not overwhelming. Really nice balance between the pepper, spice in the rye, and the fruit tones from the yeast. Incredibly refreshing, would love to have this again.
1,180 characters

4.34
/5
rDev
+5.1%
look: 4 | smell: 4.25 | taste: 4.5 | feel: 4.25 | overall: 4.25
A - Has a hay hue to it with an eggshell head. Very bubbly head that lingers around. Great lacing and retention.
S - Funkyyy... Lemon zest, white pepper, spices, somewhat sweet malts and green apple. A wide array of smells in the glass.
T - White pepper, bready malts, apples, spices and funk. I'm sure I might be missing some things, but the flavors really are blending well together.
M - Light bodied, high carbonation. Has a dry finish.
O - This one hits the spot. Not under or over spiced, very well balanced.
518 characters

4.75
/5
rDev
+15%
look: 4.5 | smell: 4.5 | taste: 5 | feel: 5 | overall: 4.5
Got this bottle when in Charleston for business. Should have bought more.
A-straw pale yellow with huge fluffy white head that sticks around forever
S- pepper, lemon, spice hint of un sweet banana
T- spiciness, pepper, lemon with a perfect driness. Wow this is perfect saison!!
Brett is doing a great job drying this out but isn't funky yet as it is only 2 months old. Would love to cellar another.
M-light to medium body with a ton of carbonation.
O- wow!! Perfect!!
476 characters
4.94
/5
rDev
+19.6%
look: 5 | smell: 4.75 | taste: 5 | feel: 5 | overall: 5
Notes from the bottle: "Hughey is the first installment in our Bearded Farmer series of Saisons. In keeping with the farmhouse brewing tradition, the idea here is to brew each successive beer a little (or a lot) different than the ones before it. Hughey is brewed with a blend of rustic grains including oats, rye and spelt, then fermented with a combination of Belgian and French yeast strains, including three types of Brettanomyces."
Bottle date: Oct 4 2012, purchased at Total Wine Greenville last week in Dec, cellared since and consumed on March 22 2013.
Huge creamy white head, awesome lacing, dusky unfiltered straw ale color.
Getting great yeast complexities on the nose as well as malt & funk.
Taste is just outstanding. Saison is my favorite style and this is superb; complex and yet very sessionable, approachable and goes with just about any savory dish. Great balance between the brett and sacc, slightly spicy, fresh and lively mouthfeel.
Westbrook has just been hitting them out of the park and this is no exception. Would like to see them increase aromatic/finishing hops on their next version.
My new favorite saison. Too bad it may never be made again!
1,181 characters
Bearded Farmer 1: "Hughey" Saison from Westbrook Brewing Co.
4.13
out of
5
based on
70
ratings.