Apple Brandy Barrel-Aged Tripel
| Westbrook Brewing Co.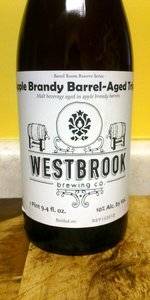 BEER INFO
Brewed by:
Westbrook Brewing Co.
South Carolina
,
United States
westbrookbrewing.com
Style:
Tripel
Alcohol by volume (ABV):
10.00%
Availability:
Limited (brewed once)
Notes / Commercial Description:
No notes at this time.
Added by Huhzubendah on 11-02-2012
This beer is retired; no longer brewed.
Reviews: 8 | Ratings: 51

4
/5
rDev
-6.5%
look: 4 | smell: 4 | taste: 4 | feel: 4 | overall: 4
Shared by raveskdr. Thanks Chris.
The beer is orange with a thin head, appearing mildly hazy. The aroma brings a touch of fruity malt, oak, yeast. The apples and booze emerge much more in the flavor than the aroma. A tad tart in the finish. Pronounced oak presence throughout. Sweetness from the brandy. Booze presence is there but not a barrier to enjoyment. Overall, this was tasty, albeit in small quantities.
415 characters
4.49
/5
rDev
+4.9%
look: 4.25 | smell: 4.5 | taste: 4.5 | feel: 4.5 | overall: 4.5
Big thanks to ChrisMetcalfe for this bottle...
A: Pours a cloudy light gold with a massive amount of head. The foam takes quite a bit to settle, leaving a big rocky layer of pure white bubbles across the top of the beer. Although the head is enormous, there is very little lacing left on the glass as it drinks.
S: The nose is fantastic. It has big notes of green apple, sweet and hot alcohol, yeast, spice, and mild lemon citrus. The barrel treatment is unmistakable, but so it the Belgian yeast component. In fact, the mix of the two almost smells brett-like.
T: It starts out with a mix of tart citrus and yeast and sweet apple brandy booze. The Tripel shines nicely, hitting all the usualy notes, but the barrel treatment adds so much to this beer. I'm actually a little amazed at how balanced the two components are. It tastes as described (a Tripel aged in a barrel). Although that last part seems self evident, you'd understand what I mean if you try the beer. It's perfectly balanced between the beer and the barrel.
M: Full bodied beer. It's hits hard with citrus and yeast, but the apple brandy really evens it out in the middle. The flavors mingle perfectly, and the finish is slightly dry with yeast, and booze complementing on another.
O: Really impressive beer. The amount of time this beer spent in a barrel is spot on. The flavors are so well blended that the apple brandy adds complexity to this brew without overpowering the base beer. I'd love to have more of this in the future. Well done Westbrook. Congrats.
1,534 characters

4.34
/5
rDev
+1.4%
look: 4.25 | smell: 4.5 | taste: 4.5 | feel: 3.5 | overall: 4.25
A: pours a slightly hazy orange-gold with three fingers of cloudy white head that fades into a thin cap witb a lot of lacing.
S: candy sugar with sweet light fruits like apples and pears. There are some slightly funky and barnyard notes that follow with oak, brandy, and wine.
T: Belgian spices and candy sugar, oak, red wine and brandy, sweet fruits, and some funky barnyard flavors.
M: medium body and carbonation, this beer isn't as crisp as I'd like, but avoids being too watery or thick.
O: an enjoyable beer overall. I really like what the brandy adds to the tripel.
577 characters
4.32
/5
rDev
+0.9%
look: 4 | smell: 4.5 | taste: 4.5 | feel: 4 | overall: 4
Shared this one at the tasting while Mississipping was in town for Christmas! Served from bottle into a Mikkeller taster flute. Poured a golden yellow-orange with a one finger white head that subsided to a minimal amount slowly. Maintained phenomenal lacing throughout the glass. The aroma was comprised of sweet malt, funk, wood, green apple, fruit, and banana. The flavor was of sweet malt, banana, wood, apple, funk, fruit, and very subtle sweet alcohol. It had a light feel on the palate with medium-high carbonation. Overall this was a pretty good brew. When I first heard of this one and saw that it was aged in apple brandy barrels. I was definitely not disappointed in any way, shape, or form. This brew honestly brought out all of the best aspects that I love about apple brandy while not bringing the alcohol burn that can be associated with it. It imparted a really unique flavor that I have never experienced in a Tripel before. Out of the brews we shared this night I can honestly say that this one was the standout for all in attendance. Very nicely done Westbrook!
1,079 characters
4.15
/5
rDev
-3%
look: 4.5 | smell: 4.5 | taste: 4 | feel: 4 | overall: 4
750mL bottle into a tulip
bottled Sept 10th 2012
A: Pours a hazy amber orange with 2.5 fingers width of slightly off-white colored head, which takes a good amount of time to dissipate down. Leaves an almost completely solid sheet of lacing the whole way down the glass.
S: Tons of sweetness with huge apple notes along with banana and citrus. A hint of clove, banana ice cream, sweet brandy, peppery spice. Wonderful aroma here.
T: Taste is ever sweeter than the aroma. Candy sugar, like rock candy. Some peppery spice, and a touch of bitterness on the finish. I also get banana, that lingers for a long time after each sip, citrus in the form of orange and lemon zest, and some boozy notes.
M/D: Carbonation on the lower end of the spectrum, especially for a Tripel, but thats ok in my book, I like low carbonated beers. Smooth, with a somewhat syrupy mouthfeel. ABV is noticeable, but not in a bad way. Drinkability is excellent.
O: Overall, another really nice offering from Westbrook. I had pretty high expectation for a brandy barrel aged tripel, and I wasn't let down. Wonderful aroma, and lots of great flavors. Can't wait to see where they take this Barrel Room Reserve Series.
1,194 characters
4.18
/5
rDev
-2.3%
look: 4.5 | smell: 4.5 | taste: 4 | feel: 4.25 | overall: 4
750 ml bottle served in a Westbrook snifter. Bottled September 10, 2012. Big thanks to rnorgart for the bottle!
A: Pours a hazy amber color with a frothy yellowish head forming on the pour. It recedes to a thick film and leaves a lot of soapy lace down the glass.
S: There are a ton of awesome smells going on. Brandy barrel, some light green apple with a subtle tartness. Sweet malt bill, a little pale in nature with minimal yeasty notes coming through. A little oaky as well with a touch of funk.
T: The base tripel really comes on in the flavor profile with the accompanying brandy barrel. Apple tartness, fruity Belgian yeast with a little bubble gum. Mild funk with some dry oak barrel.
M: Medium light bodied with a very yeasty and dry finish. Ample medium high carbonation that makes pretty drinkable for a drying, 10% tripel.
O: The nose was excellent on this beer and it was nice that the base tripel still shown through on the taste. The few other barrel treatments I've had of this beer have been a little too barrel forward so this was a nice treat.
1,067 characters

4.59
/5
rDev
+7.2%
look: 4.5 | smell: 4.75 | taste: 4.5 | feel: 4.75 | overall: 4.5
a - poured a three-fingers thick off-white head into a tulip glass that left thick sheeting and good lacing throughout. the body was a bubbly, bright amber color.
s - brandy, juice, peaches, apricots, oak. very complex and tempting.
t - brandy with oak and juice. the brandy had a burn to it but it was oh so good.
m - bubbly, medium mouthfeel. excellent.
o - this beer goes down so easily and is very complex. another winner from westbrook.
441 characters

4.43
/5
rDev
+3.5%
look: 3.75 | smell: 4.5 | taste: 4.5 | feel: 4.25 | overall: 4.5
750 mL bottle poured into a chalice at slightly cooler than cellar temperature.
L – Cloudy medium amber color with a 1-finger frothy, billowing, rocky, white head. Fantastic retention and some nice sheets of lacing. At first pour, the beer was much clearer and lots of carbonation bubbles could be seen.
S – There's lots going on with this one but the most pervasive aroma is that of apple brandy. Other aromas include pear, a bit of citrus, some candi sugar, peppery yeast, a touch of Brett funk, and the slightest hint of oak. Most of the nice tripel aromas are here with the added bonus of apple brandy and oak.
T – The taste starts off sweet with a good helping of fruity esters with orange, lemon, pear, and of course apple notes. As the apple becomes apparent, so does the dry, sweet, somewhat vinous brandy. Candi sugar may be somewhere in the mix along with grainy, bready pale malts. Some earthy bitterness along with black pepper and coriander yeast flavors appear toward the finish. Really tasty.
F – Medium-bodied with great carbonation, a sticky and creamy but also crisp mouthfeel, and a bittersweet, spicy, and dry finish. Earthy, spicy, and mildly bitter yeast flavors linger for a bit. There's also a nice amount of heat from the alcohol.
O – This is a really nice beer. It has all the elements of a good tripel with the addition of apple brandy and a bit of barrel. The mouthfeel is even pretty close to the good Belgian examples. As if there was any doubt, Westbrook strikes again. I will be anxiously awaiting their next release from the Barrel Room Reserve Series.
1,604 characters
Apple Brandy Barrel-Aged Tripel from Westbrook Brewing Co.
4.28
out of
5
based on
51
ratings.