Acre Restaurant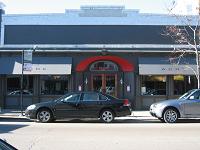 PLACE INFO
Type:
Bar, Eatery
5308 N Clark St
Chicago
,
Illinois
, 60640-2114
United States
(773) 334-7600
// CLOSED //
Notes:
No notes at this time.
Added by emerge077 on 11-03-2010
Reviews: 9 | Ratings: 20

3.59
/5
rDev
-4.5%
vibe: 3.5 | quality: 3.75 | service: 3.5 | selection: 3.75 | food: 3
This place is a puzzling. Their beer list and events are absolutely outstanding. Even more so, their beer director and bartenders are great. They have two certified cicerones behind the bar (real cicerones, not just server). Last year the beer director organized a Three Floyd's tap takeover by hoarding kegs on his own. About a month later he did "Faux BAB", where he imitated FOBAB by having a tap takeover of barrel aged beers (has happened 2 years in a row). You can also ask if there are any fun off-menu bottles. I've witnessed the bartender giddily unveil an unlisted King Henry. Other than the bartenders promoting the beer-culture, the ownership seems puzzled with craft beer culture. They used to own Charlie's, and they own Ombra and Anteprima (upscale Italian, really great if you're into it) on the same block. I have tried SO hard to like this place. The food is really off-putting. They claim the portions and pricing are out of whack because of the "farm to table" aspect. However, within a 2 block radius there are several other farm to table restaurants that give you a full plate at a reasonable price. We stopped eating dinner here, but we tried coming here many times after a dinner elsewhere in the neighborhood. They would close early, or they would put up every stool in the place around us! I have really tried, but I don't know how much more patience I have for this place. Ever since Jerry's opened, we haven't had the desire to go here except for a very special event every now and again.
1,532 characters
5
/5
rDev
+33%
vibe: 5 | quality: 5 | service: 5 | selection: 5 | food: 5
if this place was closer to where I lived, I would be broke, fat, and best friends with everyone in there.
Amazing service, killer line up, educated bar tenders, and the food is worth the price tag!
I went for a craft beer week event, and it was not packed, I had a server bringing me tasters of amazing beers, and he even helped me order the more popular ones first so that I wouldn't miss out on anything I wanted to try. Cannot beat that!!!
I will definitely be back!
473 characters
4.38
/5
rDev
+16.5%
vibe: 3.5 | quality: 4.5 | service: 5 | selection: 4
I had walked past this place a couple times after I moved into Uptown, and saw posters for a Stone tap take-over they were doing back in September. One night I was out with my friends at the Hopleaf (right down the street) and we were sick of dealing with the noise and ridiculous Friday night crowds, so I decided we leave and head over to Acre. Good idea. Everyone was a lot happier to be in a nice setting on a Friday where we could actually sit down and talk to each other peacefully without screaming.
Sel - The draft selection here is always awesome and every changing. They keep a lot of staples on tap for each style of beer, but also ALWAYS have something interesting or rare. A nice list of bottles too. We were here for a friend's birthday and ordered a bomber of EACH of the Abacus and Parabola ($60 for the pair, but still awesome)! The only bad thing I do have to say is that sometimes I feel like the bottles sit for a while, as one time I had old DIPA out of a bottle that was a malty mess. Honestly I always just stick with beers on tap and I am never disappointed. One last thing - I love the tap events they do. Winter Solstice - so awesome. Got to have the 08 BBA Stone IRS and the Vanilla Goose BCBS.
Ser - I try to make it to this bar at least once a month, and the service is the reason. Always. So. Great. I try to bring a different friend with me every time I come so they can experience this place. Billy and Sean are my favorites. I brought my girlfriend here who had never drank craft and Billy gave her 5 or 6 tastings, going off whether/not she liked/ disliked her previous taste to help her pick a beer. She talked about how nice these guys were for weeks, and now, because of them, she has really taken an interest in craft! Billy really knows his stuff... and so does Sean. Sean's a total sweetie too, always attentive and helpful. My favorite thing about these guys is that they are well versed, willing to shoot the shit about beer, but NOT pretentious/ beer snobby/ etc. I love that ... can't stand to be talked down to by snobs.
A - Simple, modern ... nothing too wild but not boring. Always very clean. I do like the shape of the bar, kinda unusual. I've never been here when it's crowded/ during a dinner rush and I work nights and don't usually come by until 11 PM.
Overall - Love it here. Feels like my neighborhood bar!
2,366 characters

3.5
/5
rDev
-6.9%
vibe: 3.5 | quality: 3.5 | service: 3 | selection: 4
Acre presents a bit of a conundrum when it comes to my beer drinking experience. On the one hand, their beer list is designed carefully, with a good number of drafts and
bottles. It would be tough to find someone who could not pull out an intriguing beer from the list.
On the other hand, the service and atmosphere leave something to be desired. Maybe I have just been there on low key weeknights, but there just does not seem to be a lot of energy here. The layout and lighting seem to hint at an intimate environment, but I have just gotten the sense it is too quiet or dead. Also, even when the bar is not that crowded, it usually takes a few minutes to get a bartender's attention and get a drink.
Last time I was there, the first time a waitress asked my friend and I if we needed anything was after an hour. We had been getting drinks from the bar assuming there was no waitress.
They have hosted a couple of events that have been solid, and that is usually why I head up here. Other than that, it is a decent bar I do not really find worth going out of the way for.
1,078 characters
3.55
/5
rDev
-5.6%
vibe: 4 | quality: 3 | service: 4 | selection: 4 | food: 2.5
This is the first time I've been here as Acre. I went during the Andersonville fest, so the atmosphere was a bit different than usual I would suspect.
The beer list is pretty long, and some good drafts can be had. I wasn't feeling too adventurous, so I went with 2 Brothers Eble's Weiss. Perfect drink for the day. The beers are organized as session, malt, hop, or trappist beers (s, m, h, t respectively). The bar area is long and accommodating. The old wood backdrop to the bar is pretty cool to look at. Ample seating is available for those not wanting to sit at the bar.
Food wasn't really that great. My wife got the porkburger and I had the catfish sandwich. Neither was particularly great. The fries were greasy as hell and left me with an upset stomach afterwards. We decided to walk home (~2.5 miles) to "work off" the food we just ate.
Overall it seemed a nice place. The staff was nice and accommodating. I wouldn't make it a point to revisit this establishment though. The food wasn't great and the beer list was unique enough that I couldn't get at Fork or Fountainhead. Also, the beers seem pretty pricey. 15 bucks for a Sofie? I certainly don't remember paying that much for Sofie at Haymarket. Check this place out if you must, but don't expect much.
1,269 characters
3.7
/5
rDev
-1.6%
vibe: 3 | quality: 4 | service: 3 | selection: 5 | food: 2
Charlie's Ale House Redesigned by Mark Rothko.
Clean, well lit place. Huge bar, "modern" aesthetics (not much going on in the way of decoration).
Enormous selection. One of the best draft & bottle lists in the city.
Food isn't bad, just overpriced. Quite possibly the most expensive grilled cheese I've ever seen on a menu.
Service is hit or miss. You'll either end up with a great bartender who's enthusiastic about his job or a obnoxious hipster with a terrible attitude. The list is worth the aggravation of the hipster.
Overall a great place. I would be a regular if Andersonville was still my neighborhood. I wouldn't say the food is anything to write home about, but their draft and bottle list is fantastic.
722 characters
4.44
/5
rDev
+18.1%
vibe: 4 | quality: 4.5 | service: 4.5 | selection: 4.5
A- Really nice interior with lots of dark wood and an old school bar. Fairly quiet with nobody shouting or loud music.
Q/Sel- Combining these since they don't brew their own. Long draft list with lots of great craft choices with an emphasis on locals. Beer buyer clearly knows good beer and wants to keep his list as well stocked as possible. Last time I was there the list included: Stone Pale, Bear Republic Ryevalry, FFF's Zombie Dust, several Half Acres and Metros, Goose Island stuff, Victory, DFH, Bell's, Founder's, etc
Ser- Love Matt the bar manager. He knows his stuff and will curse with the best of them. Plus he knows how to pour a beer.
651 characters

3.64
/5
rDev
-3.2%
vibe: 3.5 | quality: 3.5 | service: 3.5 | selection: 4
Acre resides in what used to be Charlie's Ale House. I'd like to not mention that, but aside from a drastic color change with a new coat of paint and some farm related knickknacks this place looks exactly like it used to.
Acre has the feeling of a local pub. It's split into two sections, a bar and a dining room. The food tries to focus on the current trend towards locavorism while the beer is now all craft and respectable imports.
As for the beer, there is a large number of taps, all of them from respectable breweries (Stone, Dark Horse, GI, HA) and an even larger number of bottles. However, I'm not sure Acre is doing the type of business they need to be doing to support all of the taps as two of the beers I had while I was there tasted stale, almost skunked out, which is really odd for draft beer.
Sat at the bar while I was there and had the chance to speak with the bartenders, both of whom were fairly beer knowledgeable, though neither of them seemed particularly interested in doing his job.
I'll refrain from comment on the food as I only had the charcuterie plate app (which was pretty good) while I was there.
1,136 characters
4
/5
rDev
+6.4%
vibe: 4 | quality: 4 | service: 3.5 | selection: 4.5 | food: 4
Stopped in on a busy Friday night, and sat at the bar to have dinner and some beers. I'd never been here when it was Charlie's, but I think the layout is somewhat the same, just with an interior makeover. Inside, there's a host station with the bar to the left, and dining room to the right. No one was at the host station, but someone eventually showed up and sat us at the bar with menus. There were 2 bartenders, ours seemed a bit overworked. It took awhile to order food, and things felt a bit rushed, though everything else was perfect.
Atmosphere was nice, the stained glass lights gave off a dim glow, and the towering antique back bar was nothing short of majestic. It had intricate detailing, triple arches and mirrors inset in the back, with the tiered bottle selection of beers to the left hand side. A row of small booths for two ran along the side wall, with more table seating in the front and back. Tables and floors were dark wood, and the bar had outsized rounded corners, set with wide stools and a classic brass rail. A couple decorated chalkboards were up front with seasonals. Crowd was somewhat older and trendy, some campers at the bar waiting for tables, which is expected on a packed Friday night.
The beer selection was varied and well organized. After asking for a beer list, there were six sections outlined: Draft, Belgian/Belgian Style, Hop, Malt, Trappist, and Session. Prices were affordable, especially the drafts. Price, ABV, and origin were all listed. Belgian & Belgian style was the largest section, and the drafts were a good variety of styles with the majority US craft, and a couple Belgians: Chouffe & Monk's Cafe. Local taps were well represented: Daisy Cutter, BCS, Krankshaft, Matilda, and Broodoo. Plenty to choose from, the full list is on beermenus.
Food was great, the bison burger, stuffed figs, and mac & cheese were all tasty and well made. The menu focused on local and sustainable items. The taproom and dining room had separate menus. We were given both menus at the bar though, then told the dining room menu was off limits after trying to order off of it... kind of confusing.
Overall the beer selection and food were both great, and i'd definitely return during the week or during the day on a weekend, when it's less crowded.
2,290 characters
Acre Restaurant in Chicago, IL
3.76
out of
5
based on
20
ratings.