Heritage Black Currant Rye Beer
| Kichesippi Beer Co.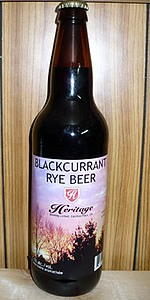 BEER INFO
Brewed by:
Kichesippi Beer Co.
Ontario
,
Canada
kbeer.ca
Style:
Fruit / Vegetable Beer
Alcohol by volume (ABV):
5.50%
Availability:
Winter
Notes / Commercial Description:
In 2005, they brewed this using a lager base, but changed to an ale in 2006. The alcohol also increased from 4.5% to 5.5%.
Added by pootz on 12-04-2007
This beer is retired; no longer brewed.
Ratings: 12 | Reviews: 10
Reviews by pootz:

3.85
/5
rDev
+29.2%
look: 3.5 | smell: 3.5 | taste: 4 | feel: 4 | overall: 4
This beer has been totlly retooled in 2007 and deserves a re rate
Pours an darker copper red with shimmering ruby high lights..tight pored 1 finger caps lasts well and laces the glass.
Sweet aromas are gone and in their place this brew gives spicey malty tones with tart berry fruit under tones.
Flavor is typical of Rye beers upfront; grainy-spicey then the fruity tones kick in but NOT over powering nor sweet...tart berry and citrus hops meld well in the center and the finish is clean spicy-fruity bitter-tart and clean.
Very drinkable in this state and recommended a top flight fruit ale...actually now one of the better ones in the Ontario market
664 characters
More User Reviews:
3.66
/5
rDev
+22.8%
look: 4 | smell: 3 | taste: 4 | feel: 3 | overall: 4
Pours cherry-red, I was expecting a much darker beer, but it looks nice. Seems very fizzy, head doesn't last and lacings are pretty spotty.
Sort of a sour smell, not half as fruity as I was expecting. Barnyard aroma from the rye, very grainy.
The one word I would use to describe this one is tart. I was expecting much more from the blackcurrants, but they are very subdued, in fact if you asked me to name what kind of fruit beer this was without knowing, blackcurrant would not be a fruit I would name. Instead I get red berries with a sort of lambic character. The rye is certainly a standout taste, straight from the farm. Little bit of bitter lemon in the finish.
This beer comes across a little too thin for me and too carbonated. A few tweaks to the body and I'd enjoy it alot more I think.
802 characters
3.35
/5
rDev
+12.4%
look: 3.5 | smell: 3.5 | taste: 3.5 | feel: 3 | overall: 3
LCBO bottle purchase- Hazy pink/red pour with a frothy light pink cap. Nice lace too. The nose is quite fruity. Cherries and currants with cotton candy and fruit punch. Currants are up front and are sweet, but balanced with a tart cherry presence, and some raspberry jam. Sweet, but not a sugar bomb like I expected. I wouldn't want a lot of this at once, but it is pretty nice.
378 characters
3.36
/5
rDev
+12.8%
look: 4.5 | smell: 3.5 | taste: 3 | feel: 3.5 | overall: 3.5
650 ml bottle from the LCBO.
Pours a brilliantly clear ruby red, cranberry juice colour, very thick pinkish head forms, drops some lace spots on the glass and settles to a medium layer, looks pretty good. Smell is nice, sweet and sugary, lots of fruit, berries, currants, cherries, light breadiness and rye spice, brown sugar, quite crisp. Taste is interesting, light berry sourness, some bread and caramel, fruit, dry rye spiciness in the finish, a bit earthy, but very light on flavour. Mouthfeel is light bodied with medium carbonation. Pretty smooth, currant is light but there, same with the rye. Easy drinking beer with a decent flavour profile.
652 characters

3.47
/5
rDev
+16.4%
look: 3 | smell: 3.5 | taste: 3.5 | feel: 3.5 | overall: 3.5
According to the LCBO guy, this uses Scotch Irish Sgt Major as a base beer so I had to try it. This seems unlikely as its a rye beer, but anyways I digress...
It pours a purplish cherry color with a pink fizzy head that dissapears in a flash. No lacing to speak of. The aroma is is sweet with currant and blueberry notes. Some light herbal hops lie in the back. Berry flavors, tart and even slightly astringent, mix with a grainy malt flavor and a dollop of bitter English hops. Spicy rye is prominent throughout. The mouthfeel is light and somewhat coarsely carbonated. The finish is tart and reminiscent of cranberries with some bitterness on the side.
This balances fruit flavor and beer flavor a lot better than most fruit beers. Its hoppier than most fruit beers too, and very dry.
789 characters
1.93
/5
rDev
-35.2%
look: 3.5 | smell: 3 | taste: 1.5 | feel: 2 | overall: 1
Ruby colour, momentary white fizz head settled quickly leaving a garnet-hued beverage with a wispy centre. Low carbonation and no lacing. Nose has hints of rye and berry - I would have guessed blackberries. With air, the smell took on a fermentation-type sourness that wasn't all that promising but unfortunately a preview of things to come. The taste is more disappointing: more sour than tart; I can detect a rye-like effect and mouthfeel but to be honest it didn't blend well with the blackcurrent concentrate the label referred to. The swallow and aftertaste was akin to sucking a lemon. Overall, this combination just did not work for me, I'm going to have to disagree with the majority of the Ontario reviewers here and admit I could not finish this beer after struggling with it for a while. This is the first Heritage product I've tried and I hope the rest are better than this. Definately not recommended.
914 characters

2.74
/5
rDev
-8.1%
look: 4 | smell: 2.5 | taste: 3 | feel: 2 | overall: 2.5
A sheer lovely tone of pomegranate with rosy-white outlining. I have to admit I found the colour quite striking. It sort of glitters as beams of light bounce off its lucent complexion. The beer is pristine less a tiny but overzealous stream of carbonation. If only those bubbles would accumulate to a little more on top than this would really be something glamorous.
I like fruit beers to smell abundantly of fruit and this certainly does not. Its bouquet is badly soured, it smells of curdled produce. Swirling will also surface the off-putting smell of adjunct-like, stale malt. I really wish I hadn't picked up on it, I can't seem to escape that smell now. Boy, this aroma sure isn't a promising sign of things to come.
I'm not sure what kind of results you'd get from using the actual currents but choosing to go with the concentrate doesn't seem to have paid off. There is only very little taste of the fruit and it's soured, not at all sweet or berry like. Again, I like my fruit beers to taste lavishly of fruit - not of crappy pale ale with syrup added in (which I believe may be the case here).
Let's be real about something - rye beer isn't exactly a perfect match for black currents. Rye beer is grainy, dry and hearty with a pumpernickel like kind of flavour. Black currents are sharp and sweet, they're berries. The two simply don't compliment one another and I'm finding it's the mouthfeel in particular that suffers as result. Neither the rye nor the berry qualities are accented and the beer drinks with no character.
For a beer flavoured with black current and rye this tastes surprisingly like neither; it drinks like just another crappy pale ale. It would need far more fruitiness to be appealing and far more malt to be halfway quaffable. The bottom line for me is that the ingredients taste cheap: the current is syrupy concentrate and the rye malt lent no body or character. I'd suggest a trip back to the drawing board.
If this offering is any indication than I believe a blackcurrant rye beer sounds more interesting than it actual is. To be blunt, I was disappointed. This offering certainly doesn't leave me to have a lot of faith in Ontario's craft brewing scene. I appreciate Heritage's efforts to brew something a little more creative, I just wish they had a little more success.
2,316 characters

3.29
/5
rDev
+10.4%
look: 2.5 | smell: 3.5 | taste: 3.5 | feel: 3 | overall: 3
The label shows a winter solstice at Mooney's Bay. Reminds me of sunsets while camping, or ice fishing. Beautiful. Now, on to the beer. Pours a decent copper colour, with a small bit of foam. Probably about two millimetres thin, but it lasts. Pleasantly sour smell. Lots of blackc currants, bit of cranberry and some malts. Taste starts off sweet and sour, with some bready malts, currants, blueberries and what I believe is citrus. I can't quite tell. Perhaps I'll pick up another bottle, or read some of the reviews for a hint, as it is driving me nuts. It's not quite a tangerine flavour. Argh. Finishes spicy, with some rye and pepper. Mouthfeel is a bit grainy, and just a hair below medium body. It's a decent beer. Nothing great, but nothing to complain about neither. I may pick up another bottle, just to try and figure out that not quite citrus citrus flavour.
870 characters

2.14
/5
rDev
-28.2%
look: 4 | smell: 2.5 | taste: 2 | feel: 2 | overall: 1.5
Once the cheap gold foil is removed and the cap pried off, it pours a very clear deep purpley ruby with a slightly pink head that laces nicely. Looks really neat. Really different.
Smells a little fruity, like cherries and, you guessed it, black currants. A bit sour. Slight cooked vegetable.
Tastes like unsweetened grape juice and raspberries more than a beer, very vinous, very tart. Did I say tart? I meant sour. If there's malt and hops in here I sure can't taste them. Same for the rye. The black currant seems to dominate. Meh.
Mouthfeel is incredibly thin and watery.
Overall this isn't a completely horrible experience, only mostly horrible, but the worst of it is that it really doesn't drink like a beer. Also, knowing Heritage's current track record for infected bottles, this one kind of has a tartness that I fear might be unintended.
852 characters
3.83
/5
rDev
+28.5%
look: 4 | smell: 3.5 | taste: 4 | feel: 3.5 | overall: 4
A - Pours a clear purple/red with a massive head of pink foam. Good sticking power and density.
S - Big fruity aromas here with some spicy/herbal hops and a hint of honey and maybe a chalky touch.
T - Sweet/tart, but with a nice fruit character followed by a mild hop and light bitter aftertaste. Fruitiness is actually quite fresh tasting. Sweetness is well controlled and the finish has a nice beery touch following the fruit up front.
M - Medium bodied I guess, wouldn't want to it to be much heavier, and a bit lighter would be better maybe. Carbonation is about right.
D - Definite improvement over the previous edition of this beer, and well worth trying. Manage to strike a good balance between tart/sweet fruits and herbal rye/hops.
Addendum:
Props to Heritage for this one. They've put out some real doozies in the past, but after this one, I'm looking forward to the next of their seasonal beers.
911 characters
Heritage Black Currant Rye Beer from Kichesippi Beer Co.
2.98
out of
5
based on
12
ratings.