Stubby's Gastropub & Beer Bar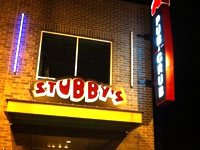 PLACE INFO
Type:
Bar, Eatery
2060 N Humboldt Ave
Ste 1
Milwaukee
,
Wisconsin
, 53212-3530
United States
(414) 763-6324 |
map
stubbyspubandgrub.com
Notes:
No notes at this time.
Added by CurtisLoew on 11-05-2010
Reviews: 11 | Ratings: 32

4.6
/5
rDev
+12.5%
vibe: 3.75 | quality: 4.75 | service: 4.5 | selection: 5 | food: 4.25
I began my beer education as a regular at Stubby's, so my review is admittedly slightly biased... but this is a spectacular beer bar with spectacular variety and a knowledgeable staff.
These guys have 53 rotating taps and a beer list loosely organized by style (light, hoppy, amber, dark, etc.). Milwaukee is a city that sticks close to its German beer roots, so there aren't many places in town with a good variety of hoppy ales. This is a noteworthy exception.
Expect to see a good selection of local brews, noteworthy micros, and a handful of quality imports. Join their mug club for access to the exclusive 53rd tap.
620 characters

3.99
/5
rDev
-2.4%
vibe: 4 | quality: 3.75 | service: 4.25 | selection: 4 | food: 4
Went here for a friend's birthday with a party of ~20. Firstly, the waitstaff was very good. Throughout dinner they were prompt and friendly.
Nice tap list, with a couple surprises that hadn't, to that point, been available in MKE or Madison. Service at the bar was also good, jovial bartenders and, to my slightly inebriated palate, clean tap lines.
Should be noted that I saw CBS on the menu, but upon further investigation it was reserved for their beer club members only. Noted.
Enjoyable place all around, with shuffleboard and other games to mess around with. They even allowed me to stick around after a wayward shot from their basketball game landed on the bar and broke a goblet. Definitely bad form on my part.
723 characters

4.48
/5
rDev
+9.5%
vibe: 3.25 | quality: 4.5 | service: 4.75 | selection: 4.75
Upon entry on a quiet weekday afternoon, the vibe for what would follow is wrong. It *looks* like a college/party bar that serves cheap beer and standard bar food fare. (Let it be said here that we didn't look at a food menu or eat anything, so I have no opinions or knowledge about the food.)
Then we saw the tap handles at the bar and knew we were in the right place. 53 taps, many offering various in-state brews from multiple breweries, and even a very selective bottle list (Central Waters Space Ghost? Yay!)
Ordered a few wonderful beers, including a Central Waters Brewer's Reserve BBA Imperial Stout, and had a great conversation about the state's craft beer scene and learned a lot of neat things from the personable and knowedgable staff.
If you have the ability to frequent this establishment regularly, they have a membership club that gives early and/or exclusive access to special releases. While we live too far away for that, we cannot wait to visit them again.
980 characters
3.35
/5
rDev
-18.1%
vibe: 3 | quality: 3 | service: 3 | selection: 4.5 | food: 2.75
Atmosphere- the best thing Stubby's has going for it is that it's on the river. Interior is your standard near-campus "high-end" gastropub. Think of a classed-up Applebee's. Large Jenga set greets you as you enter. Odd-shaped oval bar off to the left w/ dining room behind. Lighting is dim. Shares the building with a gym? New building, no old world charm here. Ok, not bad, not good.
Quality- I'm going to focus on the food here. The menu is impressive and appetizing, but the food is not. We've visited several times and what you're getting is just what you'd expect from the atmosphere- classed-up chain restaurant food. Very salty, lots of sauces. Screams Sysco Food Truck and line chefs. While nothing we've had here has been so bad we couldn't eat it, every bite has left me wondering why I was spending $13 on a "bratwurst" when I could be enjoying a meal at any one of several small beer-centric restaurants in town. The beer quality ( see selection below) is excellent.
Service- Not bad, not good. Again, we're talking run-of-the-mill college students. The place is too corporate for them NOT to pay attention (so that's a plus) but they clearly don't love what they are doing.
Selection- I'll focus on the beer here. The selection is incredible. A solid tap list, growler fills on most stuff. My only complaint is with the "Stub Club" which forces you to pay for the right to buy "special" beers. Not too big a deal since the best beers are often on the regular tap list. But if you want to try to get Zombie Dust or growlers of rare beer, you've got to join the club.
Food- fair-to-middling. It will impress folks who regularly dine at Chili's.
Value- None. Beer and food are both over-priced. With the beer, I don't mind paying an extra buck or two if it mean good selection. For the food, there is no excuse.
1,829 characters
4.36
/5
rDev
+6.6%
vibe: 4 | quality: 4.25 | service: 4.75 | selection: 4.5 | food: 3.75
Stopped in at Stubby's this weekend when I was passing through MKE. Tap selection was huge and featured a lot of Wisconsin's finest. Service was great and friendly, though our waitress could have been a bit more knowledgable about the beer. The food was better than average, but priced accurately for the larger portions.
321 characters

4.4
/5
rDev
+7.6%
vibe: 4.5 | quality: 5 | service: 3.5 | selection: 4.5 | food: 4.5
My first trip here was an impromptu get togethor with a buddy. Neither of us had been here and wanted to give it a try. We sat at the bar and had pretty good service. After a few great beers and Wisconsin Badgers touchdowns it was time for food. The food was great! I really enjoyed the beer selection and signed up for the Stub Club 53, where I can get in on their special tap beer only available to club members. I now come here pretty regularly with my wife and daughter. Its a little pricey but worth it. Our daughter is on the Autism Spectrum and has sensory related issues with noise so we come in the late morning/early afternoon when its not busy. She has her favorite booth and really enjoys their grilled cheese sandwich (which they have modified for her). We haven't had anything bad to eat and always enjoyed our time there. If your in the area, stop by... you won't regret it!
889 characters
4.33
/5
rDev
+5.9%
vibe: 3.5 | quality: 4 | service: 4.5 | selection: 5 | food: 4
I am a member of the Stubby's Club, it allows you to track what beers you have had in each visit. The restaurant has a wide selection of crafts on tap that I can't find anywhere else in Milwaukee's East Side.
Only down side is the price. Parking is tight. They were on a groupon special a few months ago, and their Thursday night deal is great. They have very good food and recommend beer pairings. It is a great place to get started on learning more about craft beers and overall enjoyable place.
Cheers!
508 characters
4.03
/5
rDev
-1.5%
vibe: 2.5 | quality: 4 | service: 4 | selection: 4.5 | food: 4.5
Went on a Friday night. It wasn't too packed despite it being their Firkin Friday.
They have like 55ish taps and they all are relaly solid. The waitress was quick to point out that they only sold 1 BMC product. The vibe is o your typical sports bar. If any of you have been to Uncle Mikes this is like it but quieter, nicer, and better.
The food was pretty good. I had a pork knuckle that was extremely filling. I paired it with an Emelisse Jack Daniels RIS. The cask was vanilla bean Old Chub which was delicious when I tried my friend's.
Overall a decent bar that I would recommend for the selections and food but not atmosphere.
634 characters

3.94
/5
rDev
-3.7%
vibe: 3.5 | quality: 4 | service: 3.5 | selection: 4.5
A friend of mine is a waitress, and she invited me out with a bunch of friends from her restaurant on a Thursday a couple weeks back, letting me know that this pub has a nice special on taps on Thursdays ($2 for almost all domestic crafts). I thought it was a pretty good atmosphere...it seemed to cater to a post-college, pre-settling-down crowd, with a bit of sports bar vibe coupled with a music venue (there was a DJ and an MC there the second time I went). It has nice seating, a big patio, and a fairly impressive selection of taps. The bartenders were very busy that night and came off a little distracted, which is understandable. They did seem fairly knowledgeable of the beers they served, though. It seemed that there were about 50 beers on tap (great for this part of town), mostly domestic craft offerings--these come from all over the country, though Wisconsin crafts are probably the most represented. I liked that their menus were very clear and easy to navigate, and the bar is set up in such a way to allow easy access. I wish it was a little quieter, but that's what you get when you've got a special like that going on.
I will definitely continue to hit up Stubby's for their Thursday special, as it's a great (affordable) way to try crafts that I wouldn't get the chance to otherwise.
1,306 characters
4.84
/5
rDev
+18.3%
vibe: 4.25 | quality: 5 | service: 4.75 | selection: 5 | food: 4.75
*Excerpt from my article on Stubby's on BeerFM*
When greeted with a wall of bourbon barrels previously used for beer aging and a vast array of taps upon entering Stubby's Gastrogrub it becomes immediately apparent they love their beer. Co-owner Brad Todd has held a variety of different jobs through the restaurant business from dishwashing to managing at Bar Louie but it wasn't until his time at Buckley's that he really got into craft beer, giving him the idea of opening a "large-selection beer bar" with Brian Zarletti.
Stubby's "53"? Todd and Stubby's love their beer so much that it's in their name: Gastrogrub and Beer Bar, but what's up with the "53". Well, they love their beer so much that the 53 in their name represents the number of taps they have to choose from! Ok, so maybe they only have 52 taps…open to the public. That 53rd tap line is reserved for Stub Club members and, more often than not, features a pretty exceptional or rare beer. The varied line-up contains 15 staple taps; ones that don't often leave, while the remainder change on an average of every 1.5 days. This means that you can expect something new every time you head to Stubby's! As self-proclaimed "Beer Travel Agents", Stubby's selection of beer can allow you to travel the beer world from your barstool.
Gastrogrub: As fate would have it, the location Todd and Zarletti had their sights set on was not only prime for a beer bar, but also food. Not in the original plan, the "grub" part of the name came from the fact their desired location already had a perfect kitchen layout. This addition to the plan brought on the idea of gastropub fare; comfort food but with a gourmet twist. Their menu items appeal to both the masses as well as foodies. The recent addition of head chef Brad Clark also brought about a slight change in the menu; a bigger focus on locally sourced ingredients and diversifying the menu based on the culture of Stubby's many surrounding neighborhoods.
Gourmet Comfort Food: Take one look at their beefy (yep, that's an intended double entendre) menu and you might be overwhelmed. With the quality of their food and how delicious everything is, I often find myself in the same situation, trying to decide between a few incredible options, so I'll help you out with a few necessary staples:
Big Sticks – If you like bacon (and who DOESN'T?) and French fries wait until you try this concoction!
The Overachiever Ruben – The name says it all. This massive Ruben will satisfy the burliest, hungriest of men.
Subby's Burger – "Topped with cheddar cheese, thick cut bacon, and pulled bbq pork. Garnished with onion straws, lettuce, tomato and pickles." Said best by one of Todd's friends, "If I want the Stubby's Burger, I have to plan my day around it when I wake up." This is by far and away my favorite menu item and one of the best burgers in Milwaukee!
And those are just a small sampling of the incredible items on their menu!
Stubby's Passion: Service is a passion for Todd and Zarletti because at Stubby's, it's all about making people happy and encouraging a down-to-earth personal feel; their food might lean towards the gourmet side but this is a place when no one's nose will be raised. It's one thing to have great food and a few beers on tap, it's another to take the time to train the staff about the beers, and Todd does just that. When new beers are on tap, everyone is encouraged to try them and learn at least one thing about the beer. Additionally, styles are taught to the staff in tasting sessions as well so they can appropriately pair whatever might be on their frequently rotating taps with that certain menu item that's calling your name.
At Home Gastropub: Creating the atmosphere for Stubby's was a laid back, hands on experience for Todd, all part of the plan for it's down-to-earth feel. Working with the layout from the previous tenant, Bayou, Todd utilized the existing massive bar and made it the focal point of the entire space. An internal "tap island" houses their 53 taps that are protected by the strong and functional concrete bar. Flat TV screens, "specials chalkboards", and an impressive crown of tap handles surround the soffit, showcasing the expansive history of beers and providing entertainment.
The rustic elements from the reclaimed barn boards to the bourbon barrels boast the gastropub's laid-back atmosphere. The entryway wall of bourbon barrels also provides some privacy, dividing the space between public and private dining. For the warm summer nights, leave the TVs behind and, enjoy your craft beers while relaxing on the large patio overlooking the river!
4,733 characters
4.03
/5
rDev
-1.5%
vibe: 3 | quality: 4 | service: 4 | selection: 4.5 | food: 4
Stopped in here last night for dinner and a few pints.
First off the parking sucks. So if you go unless you get one of the five spots out front prepare to walk.
The place itself has a sort of sports bar vibe with tons of flat screens and video games throughout. Huge full 180 degree bar is a nice touch. For a Wednesday night it seemed a bit loud for my taste. I can't imagine what it's like when the place is full. There were times when I had to shout to my fiance' for her to hear me.
The beer list pretty much sealed the deal for me though. I can forgive all short comings with a list like Stubby's boasts. 53 beers on tap. Not a single BMC product in the entire place. SCORE! Not even Spotted Cow! This amazed me. The beer menu was seperated from light to dark. Which is nice for people who need help. They had beers from the west coast to the east coast and everything in between.
The food was good and plentiful. The wait staff was friendly and helpful. No complaints there.
The outside patio is going to a great place to sit by the water and drink this summer. I will be before then I'm sure.
If you are looking for a great tap list and a little less pretentious atmosphere this is your place.
1,211 characters
Stubby's Gastropub & Beer Bar in Milwaukee, WI
4.09
out of
5
based on
32
ratings.