Veux-tu une bière?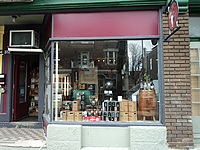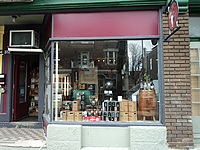 Store
372 de Liège St E
Montréal
,
Quebec
, H2P 1J5
Canada
(514) 871-2771 |
map
veuxtuunebiere.com
Notes:
Reviews: 9 | Ratings: 12
4.28
/5
rDev
-0.2%
vibe: 4.5 | quality: 4.25 | service: 4.25 | selection: 4.25
I stopped here on a recent trip to Montreal in order to grab a couple bottles to bring home. Everything was as described in previous reviews - easy to find what I was looking for, real good selection, friendly staff. The prices were lower than I expected, so that was an added bonus. I would definitely stop in again if I was back in the area.
343 characters
4.87
/5
rDev
+13.5%
vibe: 4.5 | quality: 5 | service: 5 | selection: 4.75
we live around the corner from these guys and visit often enough that we've developed a good rapport with the staff. they supplied the beer for our wedding at a very reasonable price and their employees are always willing to offer up a great suggestion if you feel like trying something new.
although the selection is not as vast as places like peluso, they consistently carry the best brewers in quebec and always have what's new and trending at the moment. I couldn't ask for a better beer store within walking distance.
525 characters
4.87
/5
rDev
+13.5%
vibe: 4.5 | quality: 5 | service: 4.75 | selection: 5
Let me first say how lucky I am to live around the corner from this gem. A tiny shop on a quiet side street, the store manages to stock every high quality, limited/special edition beer in Quebec at any particular moment. More so, it has a large and excellent range of Quebec craft beer. The staff is welcoming and incredibly knowledgeable about their product, and beer in general. Prices are reasonable, although I seem to break the bank every time I go into the store because I have to try all their new stock. The shop also stocks quality bread, meats, cheeses, and other food products. This store just might be my favourite in Montreal
638 characters

4.39
/5
rDev
+2.3%
vibe: 4.25 | quality: 4.25 | service: 4.5 | selection: 4.5
Excellent little shop with a very homey atmosphere and great hours (9-23h every day).
This store is just a little doorway on a seemingly residential street. Once you open the door it is as small as it seems from the street.
The beer is nearly all refrigerated and tucked into the corners with such skill that you would never imagine the wide selection they have. Beers are ordered by style and are mostly available in singles (this may not be the case, however, I didn't ask as I was not looking for six-packs of anything).
The two employees there at the time were extremely helpful and knowledgeable. The store is packed to the gills with beer and assorted food products but doesn't feel cramped whatsoever. They have a great selection of beers not found elsewhere and seem to be very passionate about their job. The prices seemed a tiny bit higher than some other places (think .25-.50) but I preferred the ambiance and the welcome I got to most other bottleshops I have been to on the island.
I would definitely go back despite how far away from my house it is and would recommend it to anyone nearby, on the island, or visiting.
As to the prices, I see below that someone said that tax was included. This well could be the case, as my total didn't seem exorbitant compared to other places. Anyway, worth the trip regardless.
1,345 characters
4.39
/5
rDev
+2.3%
vibe: 3.75 | quality: 4.25 | service: 4.75 | selection: 4.5
Really cool place. The clerks are knowledgeable and the selection is nice. Prices are definitely padded, unfortunately. This little locale has some interesting finds, but you will pay a little extra.
202 characters
3.73
/5
rDev
-13.1%
vibe: 3 | quality: 3.75 | service: 3.75 | selection: 4
A small place with a great beer selection. It is well organized. East to find parking, but busy in-store traffic. Close to the 40 highway. Scored many of the latest Dunham special additions. Given all of the above, email in advance, watching the facebook page. A big cooler for most of the regular beers. Glassware available.
325 characters
4.58
/5
rDev
+6.8%
vibe: 4 | quality: 4.5 | service: 5 | selection: 4.5
Very nice little place which is easy to get to.
When you first see the prices, it seems reasonable but then you find out that the tax is included in his prices which makes the beer cheaper than a lot of other places i've been to.
He prices his beers correctly and does not boost the prices on limited releases or special editions.
In the fridges, some beers seem to have low stocks but you just ask and they always have more. They order a lot of the special beers too so they still have some when a lot of other places are out.
When it comes to the beer talk, the guys know their stuff. They answer your questions As well as they possibly can and when a beer isn't really good they are honest and they tell you.
Overall, this is a great little shop. The only negative point i found with this is the parking which isnt easy to find.
I will be going back for sure and i recommend you guys check it out. Plus with store hours like they have (11am to 11pm) you dont have a reason to miss them.
996 characters
4
/5
rDev
-6.8%
vibe: 4 | quality: 4 | service: 4 | selection: 4
Nice little corner store specializing in micro brewed beers form all over the province. The selection included some Hopfenstark and some hard to find Brouhaha and Dunham beers which was very welcoming as they can be very hard to find. Parking is not necessarily is the easiest to find though if you drive around the surrounding street you should be able to find a spot. Staff is usually very helpful though beers are not stored in any particular order which sometime can make it difficult to find what you are looking for without some help. I would still recommend stopping by this place as it is convenient if you are going by the 40 through Montreal.
652 characters
4.28
/5
rDev
-0.2%
vibe: 4 | quality: 4 | service: 4.5 | selection: 4.5
Came here to do a trade with hoppypocket and decided to do some shopping here.
The store is quite small but doesn't feel too claustrophobic. There are shelves of jams and marinades of every sort including some from La Barberie. They also have self-serve teas as well as some meats and even fish.
The beer selection is quite expansive. The lone hold out is Trou du Diable but they are scarcely available on island. A bonus is they have Hopfenstark due to Fred (the brewer) lives in the neighborhood of this store so he delivers the beer himself. Otherwise, all the other breweries are there. The new (and expensive everywhere) A la fut beers were there. All 341ml. bottles are color-coded and separated by style. If you buy 6, you get a discount even if they are different styles (though the discount is higher if you get all the same color code). The larger bottles are on the other wall, separate from the small bottles. 90% is all in coolers. The guy working there is one of the owners and he knew his stuff. The only knock is that all though he has a lot of different beers, i'm not sure if he has a large quantity of each. Prices are quite reasonable.
This stop is worth a detour, especially due to it's proximity to Highway 40. Right up there with Peluso & Duluth as beer destinations in Montreal.
1,305 characters
Veux-tu une bière? in Montréal, QC, Canada
Place rating:
4.29
out of
5
with
12
ratings