Lake Shore Lager
| Chicago Beer Company
BA SCORE
76
okay
11
Reviews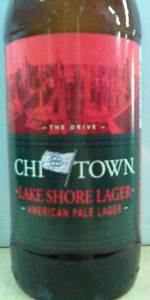 BEER INFO
Brewed by:
Chicago Beer Company
Illinois
,
United States
cbcchitown.com
Style:
American Pale Lager
Alcohol by volume (ABV):
5.50%
Availability:
Year-round
Notes / Commercial Description:
Today's Destination...The Drive. Lake Shore Lager is an excellent example of the dedication and persistence in reaching the fundamentals of producing a great premium hand-crafted lager.
20 IBU
Added by emerge077 on 08-24-2011
Reviews: 11 | Ratings: 48
3.48
/5
rDev
+18%
look: 3.5 | smell: 3.5 | taste: 3.5 | feel: 3.25 | overall: 3.5
Appearance: Deep orange, thin white head, little lacing (3.50)
Aroma/Flavor: Big caramel malt profile, little to no hop/yeast character (3.50)
Mouthfeel: Medium bodied and carbonated. Not a great match up for a lager (3.30)
Overall: Drinkable? Yes. A good example of a Pale Lager? Hardly. Mislabeled California Common at best, under attenuated amber lager is more likely. (3.4)
382 characters

3.42
/5
rDev
+15.9%
look: 3 | smell: 3.5 | taste: 3.5 | feel: 3 | overall: 3.5
Appearance: Straw-golden with some fizzy carbonation. A thin ring of lacing around the rim of the glass.
Smell: Lemon and caramel malt. Very candy-like. Not terrible overwhelming either.
Taste/Mouthfeel: More lemon and caramel. Overall, I kind of like this. Some corn adjuncts in the background. Mouthfeel flattens out at the end after starting with a nice lemon crispness.
Overall Drinkability: Not a bad beer. I don't see too many pale lagers either. I recommend this one.
477 characters

3.22
/5
rDev
+9.2%
look: 3.25 | smell: 3 | taste: 3.25 | feel: 3.5 | overall: 3.25
A: A deep orange, slightly misty. A short-lived off-white head appears, and a few gentle streams of bubbles rise.
S: Faint, but very pleasant. A bit of citrus fruit (orange and apple), wheat, malt.
T: Tastes like a good witbier ("coriander and orange peel"). Apple flavors punching through like a cider. Some residual sweetness from the grains, which is pleasant at first but rubs me the wrong way on the finish. Not a very strong flavor, which makes for a somewhat thin but pleasant easy-drinker.
M: Very fluid, almost smooth despite the good carbonation. Very easy drinker, although a few too many could probably lead to feeling a little too full.
O: Funny story, I thought this was a Goose Island brew from first seeing the packaging through halfway through my first tasting, when I became slightly suspicious. Only after looking it up did I realize my mistake. But that mistake is a tribute to this beer: that a brewery less than 5 years old could make a product that looks professional and tastes passably as a product of a well-established and highly regarded brewery. As stated above, most everything about it was very pleasing, if on less-bold side of things; you could categorize it as a witbier/cider hybrid. As far as lagers go, I'd pick up this one before most.
1,277 characters

3.16
/5
rDev
+7.1%
look: 3 | smell: 3.25 | taste: 3.25 | feel: 3 | overall: 3
Got this from a friend living in Chicago, served it up in a pint.
A: Pours a slightly hazy golden yellow color with a thin white head with minimal amounts of lacing.
S: Smells like wheat, grains, bits of citrus, malts
T: Tastes a bit sweet, little bit lacking, but its alright, tastes of wheat, grains, malts, with a tinge of hops and barley
M: Fairly carbonated, makes it crisp and refreshing, bit lacking on flavors, gives me the impression of carbonated water
O: It's an ok beer, I could defiantly drink lots large quantities of this. It's basically plain, nothing bad about it but nothing impressive either, but still if I'm looking for a summer barbecue beer to drink lots of, I'd opt for this instead of some big brewery junk.
740 characters

3.08
/5
rDev
+4.4%
look: 3.5 | smell: 3 | taste: 3 | feel: 3.5 | overall: 3
I picked up a bottle of Chicago Beer Company's Lake Shore Lager about a week ago for $1.75 at Boyne Country Provisions. I've never heard of this Brewery before and I didn't know that they were available in Michigan, I thought I would give them a try and their Pale Lager sounds like a good beer to start off with, so lets see how it goes. No visible bottling date. Poured from a brown 12oz bottle into an imperial pint glass.
A- The label looks nice, it's not the most eye catching, but I still think it's well done. It poured a pretty clear golden color that took on more of a brighter golden color when held to the light with two fingers worth of white head that died down to a thin ring that eventually faded to nothing and it left some nice patchy lacing behind. This is a nice looking Lager, it looks pretty typical for the style.
S- The aroma starts off with a pretty high amount of medium sweetness followed by a good amount of malts that impart a grainy, slightly wheaty, and light caramel malt aroma with a good amount of doughy yeast showing up. Up next comes a nice fruity aroma with some citrus rind and light apple like aromas. The aroma isn't bad, but I wish there were more hoppy aromas.
T- The taste seems to be pretty similar to the aroma and it starts off with a higher amount of medium sweetness followed by some sweet malts and caramel malt flavors followed by a light doughy flavor. Up next comes a pretty big fruity aroma with a apple and apple cider like flavors sticking out the most with citrus zest showing up a little in the background. On the finish there's a pretty low amount of medium bitterness with a fruity and malty aftertaste. This is an Ok tasting beer, but it doesn't have those distinctive hoppy flavors that I look for in the style,
M- Fairly smooth, crisp, a little refreshing, on the lighter side of being medium bodied with a medium amount of carbonation. The mouthfeel was nice and it worked well with this beer.
Overall I thought this was decent beer, but it was pretty close to being average as for as the style goes, it had some nice and interesting fruity flavors, but I don't think any of those came from the hops and I think all the hops did was add the right amount of bitterness to this beer. This beer had good drinkability, it was fairly smooth, crisp, refreshing, not filling and the flavor did a decent job at holding my attention, I could drink few of these and I think it would be a nice summertime beer. What I like the most about this beer was the appearance, they were both nice and fairly true to style. What I liked the least about this beer was the lack of hop flavors, I wish it had more distinctive hop flavors to go with the right amount of bitterness. I don't think I would buy this beer again, but I wouldn't mind ordering this at a bar or restaurant to go with some food. I would recommend this to most Lager drinkers, but I wouldn't recommend it as a good American Pale Lager. All in all this wasn't a bad beer, it had some nice fruity flavors to it and it's more complex than most Lagers, but it really lacked those hop flavors that I was looking for in the style. It's for sure not the best American Pale Lager I have had and New Belgiums Shift is still my favorite of the still. I have a Pale Ale left to try from this brewery and I hope it has some of those hop flavors that were left out of this beer. This beer made an ok first impression for this brewery since it wasn't a bad beer, but it wasn't a good American Pale Lager either. Better luck next time guys.
3,542 characters

3.05
/5
rDev
+3.4%
look: 3 | smell: 3 | taste: 3 | feel: 3.5 | overall: 3
Served in a Chicago Bears shaker pint glass.
Finally taking down the third offering from the Chi Town boys. It pours a clear pale straw topped by a finger or so of relatively short-lived white foam. The nose comprises light wheat, very light caramel, and light sweet flowers; pretty much as inoffensive a smell as you'll ever come across. The taste brings in more of the same, though the caramel and flowers are stronger now, and some some light sweetgrass comes in as well. The body is pretty light, with a light moderate carbonation and a generally smooth feel. Overall, an average brew on all accounts. That isn't to say it's bad at all, but it'll never stand out in any way, it seems.
689 characters

2.76
/5
rDev
-6.4%
look: 3.5 | smell: 2.5 | taste: 3 | feel: 2.5 | overall: 2.5
Transparent straw color. Descent head on the pour but weak retention. No lacing.
Clean aroma. White bread and rice.
Vague hints of malt, more adjuncts than anything. Rice and corn, mostly. Mild earthy, spinach-like hop. Weak flavor overall.
Light consistency with no texture. Carbonation is adequate.
Subpar. Don't waste your time.
335 characters
2.21
/5
rDev
-25.1%
look: 3 | smell: 2 | taste: 2.5 | feel: 2.5 | overall: 1.5
I'm a big fan (in spirit) of local beer and have seen packages of Chicago Beer Company offerings at stores. Offered at $10 in a Trader Joe's, I went out on a limb to try Lake Shore Lager, which is my first ever experience with Chicago Beer Co.
Believe it or not all you hop-heads, but Miller High Life is a local, albiet not craft, brew and its pretty darn comperable to Lake Shore Lager. This is straight ahead American Adjunct Lager, with just a bit more bitterness at the finish than The Champagne of Beers, beyond that, its pretty darn similar. Suitable to drink out of the bottle, and lower alcohal content than the local pale ales. Absolutely nothing is offensive about this beer, but asside from a pleasent label the brew just completely lacks a personality.
But here's the catch-22, at $10 a six pack its not as good value as High Life so I'm troubled to see how this brew can be effectively marketed. If you want craft brew from a local micro brewery then a better choice is Supper Club Lager from Capital Brewery. Supper Club is similar caliber but some stores have it marketed at a lower price point.
1,113 characters
2.08
/5
rDev
-29.5%
look: 2.5 | smell: 2 | taste: 2 | feel: 3.5 | overall: 1.5
The pour receive an extremely thin, pale yellow colored lager. I noticed immediately the near transparency reminding me of champagne more than beer. There was an immediate rush of carbonation forming a thick head, but this broke up quickly. After the initial pour, there was very little carbonation rising from the bottom of the glass. I found myself getting hypnotized by the slow moving bubbles - some moving slower than others. The nose was fairly clean hop aromas. My first taste was relatively unimpressive and my second was more of the same. This is a very thin beer with virtually no complexity or craft. I would compare this beer to a slightly thinner Rolling Rock. I'm pretty sure I could make this exact lager in my basement using a home kit. That said, I did still appreciate this as a lighter beer with more flavor than typically light beers commonly consumed.
872 characters
2.01
/5
rDev
-31.9%
look: 2 | smell: 1 | taste: 2.5 | feel: 2.5 | overall: 2
"237 11" code printed on the bottle, possibly a production date code... 4-5 mos. old maybe?
Anemic pale yellow, thin layer of white foam that lasts for a few minutes and breaking apart on its own before sipping it.
Heavy skunk and sulfur in the nose, think rotten eggs and car exhaust. Mmm.
After a few minutes that blows off, but the first impact is hard to shake. Swirling the glass brings out a mild floral note, and soggy wet grain aromas.
Flavor is sweet, astringent and corn laden. Middle is metallic and slightly bready, but the metallic notes are a dealbreaker. Dry aftertaste with gaseous CO2 burps. Extremely bland and mediocre.
These beers have all been very lackluster and marketing driven, time to hang it up or turn it around guys. Back to the drawing board, or just scrap it completely. Will never buy these again after trying singles of the entire lineup.
876 characters
1.62
/5
rDev
-45.1%
look: 1.5 | smell: 2 | taste: 1.5 | feel: 1.5 | overall: 1.5
Very pale yellow color. Tastes similar to a macrobrew adjunct lager. I am very disappointed in this beer. I was excited to try it as I they are a local company I never had anything from them before. However, there was nothing about this beer that makes me want to try it again.
277 characters
Lake Shore Lager from Chicago Beer Company
2.95
out of
5
based on
48
ratings.