Diebels Premium Altbier
| Brauerei Diebels GmbH & Co KG
BA SCORE
84
good
12
Reviews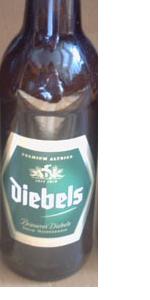 BEER INFO
Brewed by:
Brauerei Diebels GmbH & Co KG
Germany
diebels.de
Style:
Altbier
Alcohol by volume (ABV):
4.90%
Availability:
Year-round
Notes / Commercial Description:
No notes at this time.
Added by smcreator on 09-23-2007
Reviews: 12 | Ratings: 28

3.71
/5
rDev
+0.8%
look: 3.5 | smell: 3.75 | taste: 3.75 | feel: 3.5 | overall: 3.75
Probably the best selling Altbier in Germany. It is also very typical of a style that I do not love because something in the malt mixture is off putting to me. In this one there is a slight coffee note that makes it more bareable for. There is even a clear nicely integrated hop presence in the aftertaste. Better than I thought.
329 characters
4.23
/5
rDev
+14.9%
look: 4 | smell: 4 | taste: 4.5 | feel: 3.75 | overall: 4.25
Fell for Alt years ago and love the chance too return to the offices in Gelsenkirchen just to drink it. Brady, hoppy, but still slightly sweat, very refreshing and very drinkable. Diebels is a good one!
204 characters
3.66
/5
rDev
-0.5%
look: 4 | smell: 3.5 | taste: 3.75 | feel: 3.75 | overall: 3.5
Pours a clear, deep Amber color, with two fingers of bright white head that faded to an eighth-inch film after a couple of minutes. Aroma is bready malt, with a little bit of earthy and peppery notes. The taste is like biting into a slice of fresh-baked farmer's rye bread, a little sweet, a little peppery, with some complex raisin, caramel and toffee notes. The mouthfeel was fairly light for a darker beer, but smooth and refreshing. Overall, this is a pretty nice beer, a nice drinker.
489 characters
3.6
/5
rDev
-2.2%
look: 3.5 | smell: 3.5 | taste: 3.5 | feel: 3.5 | overall: 4
Very good representative of the style. I have it every once in a while. Brown color with creamy head, somewhat sweet with touches of tea and herbs. Very enjoyable beer, but I still miss some more extensive experience with the style to judge better. All in all, if it's within your rich, go for it, you won't regret.
315 characters

3.8
/5
rDev
+3.3%
look: 4 | smell: 4 | taste: 3.5 | feel: 4 | overall: 4
Been looking everywhere for a bottle of Uerige, but no luck so far, Altbier is my style of exploration this week.
.33 bottle opens with a nice hiss, poured into a stange, nice medium brown brew, lighter than the Frankenheimer Alt I had yesterday. Medium thick, tan head. Good body. The carbonation appears medium high, overall solid.
Onto aromatics, first the earthy aromatic profile that intriges me with these brews. Immediatly I smell dried porcini, earth, beet covered in dirt(icked those from a garden before) musty grain, akin to a burlap oak sack, finishes lightly sour. A twang of apple cider vinegar and some yeastiness, sourdough. Fantastic I love style even more.
First sip doesnt pack the punch I had anticipated, I miss the upfront mushroom-earthiness of the aromatics. After few more minutes to warm, a roasted grain character emerges. Brown bread, apple, fall-like mustiness. Sweet malt, bread and grain earthiness rond out the finish. The carbonation and light sourness make this beer immensely drinkable and refreshing.
The medium mouthfeel is perfect, the aroma is deep, rustic and very good. The only problem I find is in the flavor. It seems to be a tad watery in comparison to the smell. I've had better Altbiers but I am now inspired to travel to the source and visit Uerige and Dusseldorf next week.
1,322 characters
3.54
/5
rDev
-3.8%
look: 3 | smell: 4 | taste: 3.5 | feel: 3 | overall: 3.5
500ml bottle. Brought directly from Essen, Germany...
A - Dark copper/brown body. Clear. The head is rich at first; after, it dissipates and becomes a thin foamy ring, which fades away, leaving you with no head at all. Almost no lacing.
S - Roasted malts, caramel, dark fruits, a bit of earthy hops. Smells like a proper altbier.
T - Starts out very bready, then developing some complexity, with notes of caramel, dark fruits, some earthy hoppiness, and a bit of cinnamon and clove. The finish is very dry and fairly bitter, with yet more of that breadiness.
M - Light-to-medium bodied (closer to medium). Crisply carbonated. Dry and a little spicy. Not very pleasant on the palate, but not that bad either.
D - Not bad, but it is a little too dry and bitter for me to consider it sessionable. Drinks farily easily, though.
Overall, this will give you a good idea of what an altbier is like. However, there are better alts out there, so keep that in mind!
962 characters

3.53
/5
rDev
-4.1%
look: 4 | smell: 3.5 | taste: 3.5 | feel: 3.5 | overall: 3.5
.5L bottle, Germany. I guess the "Premium Altbier" is the version available in Europe. Who knows. I bet this and "Diebels Alt" are the same beer aside from the .1 difference in ABV.
Pours an attractive and clear mahogany with a small off-white head. Laces a bit, and the head retention is above average.
Aroma is lightly nutty, woody and fruity.
The flavor is nice, with notes of toasted malt and sweet bread. Very clean and refreshing for a brown beer. There is a light earthy hop character, along with a woody note. Good malt flavor for a light beer, that is light, as far as alcohol is concerned. The mouthfeel has medium carbonation, but did not really fill my mouth in a satisfying way.
This is a good Altbier, if somewhat reserved in terms of flavor.
760 characters
3.38
/5
rDev
-8.2%
look: 3.5 | smell: 3 | taste: 3.5 | feel: 3.5 | overall: 3.5
33cl brown bottle, obtained in Germany, 4.9% and says 'Premium Altbier' on the labels front and rear. Poured into a 'Hannen Alt' glass (twice, because these Alt glasses are small (0.2 litre)).
Visited the brewery years ago and was impressed with the set-up, very slick, smooth host that day and great tasting room.
Anyway, the beer poured well and looked fine, nice reddy/brown, lets say chestnut colour. On top sat an off-white head, which soon fell away to a collar and wisp.
Sweet malt aroma, fresh bread sort of smell too.
Fairly sweet in the taste department as well, with a mixed fruit feel added to the smell flavours.
I think this is the biggest selling Alt in the world and I can see why: it isn't going to upset anyone with a any huge flavours or quirkiness, they have produced an Alt for everyone. Not too sweet, not too dry, not rich, not creamy, nor watery, it is just a well made mass produced product by people who know what they are doing.
I love the Altbiers from the Bolten Brewery, this is a long way from being that good, but it ain't bad.
1,065 characters
4.07
/5
rDev
+10.6%
look: 3.5 | smell: 4 | taste: 4 | feel: 4 | overall: 4.5
It doesn't seem to be a great difference between this one and their regular alt. But I'll review it here since it's the premium version.
The beers pours a brown color with a huge white head. The bottle looks nice but a bit anonymous.
Ah, smells great of freshly baked rye bread with hints of some sort of cola-candy.
In the taste I find hints of rye bread too and some nice notes of brown sugar and dried fruits. A bit hops round it off, a quite filling beer anyway.
Nice Altbier, would be great for session-drinking.
524 characters
3.91
/5
rDev
+6.3%
look: 4.5 | smell: 3.5 | taste: 4 | feel: 4 | overall: 4
This is pretty standard fare around here, since Bonn is relatively close to Duesseldorf, home of Altbier. Picked this bottle up at Rewe, a grocery store near my place.
A: Clear reddish brown with a foamy tan head that quickly dwindles down to a thin layer. Pretty.
S: Malty, with hints or caramel, earth, and a nutty scent.
T: Taste exhibits the same caramel and nutty notes as the smell would indicate, but is less malty. It actually has kind of a burned wood aftertaste - very earthy. The finish has some spice to it, as well.
M: Smooth, yet somewhat crisp due to the spicy finish. Goes down easily.
D: I could definitely take down a bunch of these (I know from experience). Very easy to session; a good alternative to the local Koelsch scene.
752 characters
4.08
/5
rDev
+10.9%
look: 4.5 | smell: 4 | taste: 4 | feel: 3.5 | overall: 4.5
12 oz bottle poured into a stange. pours a crystal clear amber brown color with two fingers of off white head.
aroma is of caramel malts with an earthy base and a mild nutty character alongside a note of chocolate.
taste is of the same caramel malts with a smooth nutty base and similar notes of chocolate and an earthy character.
mouthfeel is light to medium bodied with a smooth texture and a very smooth finish of residual caramel.
drinkability is great. this is a smooth and full flavored brew without a heavy body. prost!
530 characters
3.42
/5
rDev
-7.1%
look: 3.5 | smell: 4 | taste: 3 | feel: 3.5 | overall: 3.5
A: One finger white head on a red-brown bodied beer that dwindles down to zero head.
S: Deep mat with a slight hint of hops.
T: Tastes somewhat of a peppered tea. Not as rich in malt taste as the smell might indicate.
M: Small bubbly front with a light smooth tail.
D: Not a bad beer, but it will leave a film in your mouth which is one of my least favorite beer qualities.
378 characters
Diebels Premium Altbier from Brauerei Diebels GmbH & Co KG
3.68
out of
5
based on
28
ratings.