Strawberry Schwarzcake
| Wild Wolf Brewing Company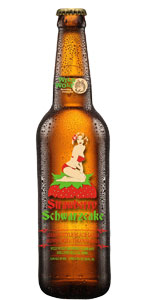 BEER INFO
Brewed by:
Wild Wolf Brewing Company
Virginia
,
United States
wildwolfbeer.com
Style:
Fruit / Vegetable Beer
Alcohol by volume (ABV):
5.00%
Availability:
Rotating
Notes / Commercial Description:
This is not your typical fruit beer and definitely not what you expect when you see its black color and tan head. This beer is extremely light in body with notes of chocolate and roasted malt and just a touch of strawberry flavor to balance the astringency; finishing clean and crisp. If you dislike fruit beer and dark beers – you need to give this beer a try!
20 IBU
Added by zaphodchak on 09-22-2011
Reviews: 6 | Ratings: 52

3.72
/5
rDev
-2.1%
look: 3.75 | smell: 3.5 | taste: 3.75 | feel: 4 | overall: 3.75
22 oz bottle into a Belgian snifter.
Appearance: A short, light tan head with decent retention tops a dark, clear, red-brown body. Minimal lacing but nice ruby highlights when held to the light.
Aroma: Light, sweet, ripe strawberries float over a dark roasted malt base. There's a faint hint of chocolate and some alcohol esters.
Flavor: Hits the tongue sweet but enough hop bitterness kicks in almost right away, leaving a bitter-sweet flavor thereafter that still leans to the sweet side. Good use of strawberry which comes out immediately but quickly gets mixed in good balance with the hops and malts. Hints of roasted nuts and toast.
Feel - Moderate carbonation; medium body.
Overall: nice schwarzbier with judicious addition of strawberries. Neither too sweet nor too fruity.
796 characters
3.86
/5
rDev
+1.6%
look: 3.75 | smell: 4 | taste: 3.75 | feel: 3.75 | overall: 4
Poured off the tap into a pint glass at the "Bucket Trade" in Chester, VA.
Aroma- Has a nice malt and chocolate backdrop.
Appearance- A dark, dark brown color (almost black). Has a small tannish colored head.
Taste- Has a smooth malt flavor mixed with a candy strawberry flavor oh, and toss in some chocolate. A very nice combo.
Palate- A medium bodied beer with moderate carbonation. Has a thin texture feel.
Overall- A nice brew, this is my first beer from Wild Wolf Brewing and I will try others from this brewer and drink this again.
540 characters

3.61
/5
rDev
-5%
look: 3.5 | smell: 3.75 | taste: 3.5 | feel: 3.5 | overall: 3.75
Dark brown with ruby highlights, especially when held up to a light. The 2 1/2 inger tan head disappears quickly leaving almost no lacing.
Smell of strawberries, chocolate and coffee. At first, I wasn't sure if I would have been able to tell there was strawberries in it without it being on the label, but then the flavor developed more fully.
While strawberry dominates the taste. by no means is it overpowering.The strawberry is accented by a bit of dark bitter chocolate. Tart citrus and bitter peel with light metallics.
Rather light in body with a light prickle of carbonation as well. Somewhat drying.
Personally, I could have used both more strawberry and chocolate. However, I have to say, this is probably the most drinkable beer I have ever sampled. I could have downed more of these in a hurry.
High in drinkability
831 characters
4.1
/5
rDev
+7.9%
look: 4 | smell: 4 | taste: 4.25 | feel: 4 | overall: 4
This schwartz is very tasty. It is not listed on here, but has a modest ABV of 5.0%. What surprised me the most was how subtle the strawberry flavor was. It was not overpowering at all, and I only could notice it once I knew it was there. Very smooth and malty, but light and drinkable. My favorite schwartz so far.
315 characters

3.75
/5
rDev
-1.3%
look: 4 | smell: 4 | taste: 3.5 | feel: 3.5 | overall: 4
From notes on 04/15/12:
Growler from the restaurant; Poured in a pint glass.
A - One inch of light tan bubbly head with decent retention; Very dark brown in color with a garnett hue when held to the light; Decent rings of lacing left behind
S - Plenty of roasty presence with a bit of chocolate at first and pretty faint strawberry; As the head settles, a light amount of chocolate remains with very subtle roasty character and a much bigger presence of strawberry - reminiscent of Fruit Roll-Ups with a candy-like sweetness
T - Moderate wet, leafy/green hops come forward, accompanied by light chocolate and caramel with a touch of toasty character; Strawberry flavor is pretty subtle at first, but strengthens as the session progresses where it becomes the main lingering flavor with light doses of metallic, leafy, and toasty flavors; Very light bitterness present with a touch of tartness and little to no sweetness
M - Moderate and zesty carbonation; A bit under medium bodied; Mouthfeel is wet, but feels just a bit too thin and watery
O - I was very excited to try this Wild Wolf offering since mixing strawberry and Schwarzbier qualities seemed like an interesting combination. The aroma turned out quite nice and had me thinking of chocolate cake covered with chopped strawberries and a strawberry glaze. The taste was solid as well, though it wasn't quite what I had anticipated after experiencing the pleasant aroma. In the end though, this beer was certainly worthy of a growler fill, and one I look forward to having again.
1,541 characters
3.95
/5
rDev
+3.9%
look: 4 | smell: 4 | taste: 4 | feel: 3.5 | overall: 4
Got the last 4 oz out of the keg at Rapture in Charlottesville, VA.
Thin creme head, opaque brown body.
Light strawberry nose, quite nice.
Ample strawberry, sweet, nutty malt. Slightly thin.
Mouthfeel a bit thin, but then this was the bottom of the keg.
Could stand to be a bit punchier, but still quite good.
324 characters
Strawberry Schwarzcake from Wild Wolf Brewing Company
3.8
out of
5
based on
52
ratings.