Twist Wine Company Tasting Room and Lounge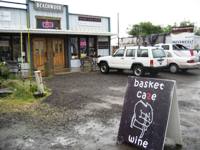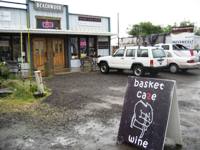 Bar, Beer-to-go
6425 Pacific Ave.
Pacific City
,
Oregon
, 97135
United States
(503) 965-6887 |
map
twistwine.com
Notes: Mon - Thurs: 11:00 am - 7:00 pm
Fri - Sat: 11:00 am - 9:00 pm
Sun: 11:00 am - 7:00 pm
John_M from Oregon
3.77
/5
rDev
-4.8%
vibe: 3.25 | quality: 4 | service: 4 | selection: 3.5
I think it's debatable whether this place should even be in the data base, although I guess for Pacific City, the selection here isn't half bad.
Twist is a pretty small place, and were it not for the fairly large sign near the street (Pacific avenue), it would be very easy to miss this place. I think they have 3 or 4 parking spots right out front, and I'm not really sure where you would go to park otherwise. As you walk in, there's a small bar/counter area straight back to your left. I don't believe there are any seats at the counter/bar, but you can hang out there drinking your beer (or wine), or you can place your beer order there (they have a small cold box with probably 30 or 40 different bottle and can selections). There are also 4 or 5 small tables in the laid back, fairly rustic setting. There's no kitchen here I believe, but I think they have snacks you can buy (not certain of this, as that wasn't the reason I was here). They also have 4 tap handles, and given the owner's relationship with Russian River Brewing, one of them is typically always PtE or Blind Pig. They also get a keg of PtY every year, which was the reason I stopped in on a pleasant Saturday in March (nice weather for the coast, with temps in the 50's).
Service was pretty good. There were only two people serving the "crowd" (owner and maybe his wife?), and they seemed pretty friendly and knowledgeable. Drinks come quickly, as you would expect, given the size of this place (I don't think there were ever more than 8 or 9 folks here for what I understand is one of the busiest days of the year for Twist; I got here at noon, so roughly an hour after they opened). There's very much a locals vibe to this place, and so the folks here can be a bit stand offish if you're some "pilgrim from the city" who just stops in for a glass of younger once a year. That being said, the couple tending bar were otherwise friendly and polite.
Shrug. Not sure why anyone would come here unless you were a local (or were here for younger), as the beer selection is really pretty small here. Yes, they have some cool stuff like B15 Super Nebula and 4 or 5 beers from Ale Apothecary, but even so, I'm not sure that really makes this place a BA destination (unless you happen to live in Pacific City). Other than for younger once a year, I'm not sure I can see any reason to come here again (though in fairness, I enjoyed my visit here, and enjoyed the small town vibe of this place).
Mar 04, 2018

cptbenjamin from North Carolina
4.14
/5
rDev
+4.5%
vibe: 3.5 | quality: 4 | service: 4.25 | selection: 4.5
Brother to the owner of Russian River so they had Pliny and Bling Pig on draft. a very small but decent bottle selection. IPAs were very old but they started carrying The Ale Apothecary while I was there......So that was awesome!
Mar 09, 2015
msubulldog25 from Oregon
3.96
/5
rDev 0%
vibe: 3.5 | quality: 4.5 | service: 4 | selection: 3.5
Visited Sat 18 June, 2011.
After a 20-minute drive down from our campground at Cape Lookout State Park, the potholed gravel parking lot in front of Twist/Basket Case 'wine bar' elicited a 'What the EFF?' moment. It's a drab grey 'coastal' storefront, with display windows filled with a quirky hodgepodge of floating fish, disco balls and ill-dressed manequins - certainly not a 'typical' Beerfly destination. Inside, the oddness continues: more retro-funkiness, a lounge area with silver sitting chairs and a vintage Atari 2600 (= SWEET!), and shelves stacked high with vinyl records. The bar is a rather small 'L' shape with an 'annex' on the opposite wall lined with more of their fairly complicated (which direction is the front?') plush barstools.
We chose our mid-afternoon break spot on a dreary/misty June afternoon (when IS summer going to get here?), knowing it was either this or Pelican (certainly never a bad choice!) or putzing around a damp campsite; Twist was our pick because of their reputatation for tasty wines (2 of 4 in the car wouldn't touch beer) and their beer nerd-worthy drafts. Beer is served in pint glasses and a mix of tulips and goblets; wine is poured as unpretentiously as possible in highballs, with 'Polluted Water' warnings printed on them...
For those who don't know, Twist is run by Sean and Chenin Carlton; Chenin's surname was once Cilurzo (so, let's just say there's a connection to a terrific northern California brewery...). While the ladies (besides my Damnation-loving wife) sipped Pinots and such, I opted for one of 4 draft beers. Just 4 taps? Well, Russian River rules the roost here: Damnation, Blind Pig and Pliny the Elder grab three of them; the other was a relatively obscure Portland brewery, Beetje, whose tasty Farmhouse Ale was pouring this weekend. How cool to chill in a zebra-striped beanbag chair, playing Donkey Kong or Asteroids will sipping a saison from a Chimay goblet (later I switched to PtE from a HUB pint, while playing Missile Command and Ms. Pac-Man)?
Russian River beers are the norm here (and I was told Pliny the YOUNGER shows up in the spingtime - probably to much less fanfare than in the big cities), but the Portland area breweries were well-represented, too. Scattered about the place, in crevices and corners, were a number of empty kegs - from the likes of Hopworks and Upright, as well as Stone (Levitation, as I recall?).
Crowd was a mix of seasoned locals and the ubiquitous weekend tourists (including ourselves, I suppose, plus a gaggle of sequined-capped, wine-quaffing grannies). Service was friendly and professional, with a cute blonde server asking for everyone's ID - then sheepishly laughing when realizing we were all (in some cases, significantly) older than her. After an hour and half or so, we walked out with a decent buzz, a collection of knick-knacks from the adjacent gift shop and a Pliny the Elder ($6 to-go) bottle.
On a fun, rain-soaked weekend at The Coast, this was perhaps the most fun of all. Definitely recommended.
UPDATE JULY 2012: added cans of Fort George - Vortex, Cavatica, Quick Wit, 1811 Lager.
Jun 23, 2012
Twist Wine Company Tasting Room and Lounge in Pacific City, OR
Place rating:
3.96
out of
5
with
3
ratings