Skagway Brewing Company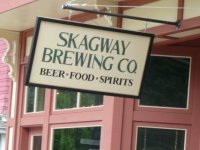 PLACE INFO
Type:
Brewery, Bar, Eatery
7th and Broadway
PO Box 946
Skagway
,
Alaska
, 99840-0946
United States
(907) 983-2839 |
map
skagwaybrewing.com
Notes:
No notes at this time.
Added by BeerAdvocate
Reviews: 18 | Ratings: 36
3.83
/5
rDev
-2%
vibe: 3.5 | quality: 4 | service: 4 | selection: 3.5 | food: 4
I have visited Skagway a number of times, though always in the Spring and late Fall. Certainly not the most amazing atmosphere, but not bad. The great service, friendly staff and other patrons make up for anything lacking. They offer a pretty decent selection of brews, my favorites has almost always been the darker ones. Pretty memorable stout. The food is good, better and ore varied than most while traveling through this part of the woods.
Overall, it is a great place to visit if you are in the area, worth detouring the 90 or so miles to Skagway by road. It is a very reasonable value as well.
602 characters
3.95
/5
rDev
+1%
vibe: 4 | quality: 4 | service: 4 | selection: 4 | food: 3.5
We were in Skagway as a stop on a cruise, walked around until we found this place. Pretty good sized, but gets busy when there are four cruise ships in town. Even with all the out-of-towners, service was still prompt. Prices were quite reasonable, especially when I consider how much of their business must be tourists. Food's fine, but not exceptional. I had the pulled pork.
Pretty decent selection of styles for a little brewery in a little town. I was impressed with their porter and their barleywine. It's a shame they don't distribute beyond Alaska, but I guess it's also not much of a surprise.
602 characters
4.3
/5
rDev
+10%
vibe: 4 | quality: 4.5 | service: 4 | selection: 4.5
Had the pleasure of stumbling across this place, nearly at the end of the road where all tourists roam around when in town.
It has the typical brewpub atmosphere, bar and a few tables, quite small, with an adjoining store.
Service was polite and friendly, just like everything and everybody in town, but one of the waitresses seemed to know her stuff reasonably well. Good prices, and impressive beer; the sampler is a good way to start, but the barleywine and stout that are not included are worth a shot as well - see my upcoming reviews.
I would go back if this was not so far; it is not just a good spot for a small town, but rather a very good brewpub. Recommended.
673 characters

4
/5
rDev
+2.3%
vibe: 4.5 | quality: 4 | service: 4.5 | selection: 3.5 | food: 3.5
Probably most BA folks who visit this establishment will be visiting Skagway for the day on a cruise. Some will be independent travelers. Some will be locals, like myself, if I can turn some of my friends on to BA. The thing to understand about Skagway is that it has a year round population of 850, officially, though many travel for much of the winter. The population more than doubles with seasonal workers in the summer. But we have a year round brewery-pub! The beer is decent. A couple of specialty beers this summer were better, maybe even exceptional. The Wee Heavy and Barleywine, more specifically. They typically have some beers that they don't make, as they have a hard time keeping up in the summer. Stone IPA, Young's Double Chocolate, North Coast Red Seal, Lindeman's Framboise, and Maudite are some that come to mind. You won't find world class selection, but keep in mind that it is 90 miles by sea or air (no road) to Junuea where the distributors live. The atmosphere is excellent, especially this time of year. Midday during tourist season you won't find many of the exceptionally friendly locals to visit with, as they are all working. But the service is excellent, and the locals are extremely welcoming and friendly, and they will be showing up in late afternoon, early evening during the summer. Who knows what kind of mischief you could become involved in once you start talking to the local next to you at the bar? The food is pretty decent for around here, but our standards are a bit lower than more urban areas with better ingredient availability. I listed the prices as reasonable, and for this part of the world they are. But compared to lower 48 states, you'll find them a bit high. A pint is $5, for reference.
1,743 characters
3.7
/5
rDev
-5.4%
vibe: 4 | quality: 3.5 | service: 3 | selection: 4.5
This place was great. Had the brown ale which was good. Also got the sample brews. All the beers were great. Not a bad beer in the bunch. Must be the water in Skagway. The brewery is at the far end of town and away from the tourist traps when you first arrive into town. The service was good and very knowledgeable about the beers they had on tap. I could not believe that in a small town there was a great place to go and have a great fresh beer. I wish this beer was around on the east coast. If you are ever in Skagway, Alaska this is a must stop.
550 characters
3.53
/5
rDev
-9.7%
vibe: 3.5 | quality: 4 | service: 3 | selection: 3.5
this place was a welcome change from the more touristy things to do in town. we visited the place for about three or four hours and it was busy the whole time. it's quite small, so it seems surprising it never got too loud. the beer menu was small but they did carry beers from other breweries. after trying their beers (pretty good for the most part) i ordered a lindemans framboise. the bartender suggested mixing it with some youngs double chocolate, as they keep it on hand for that reason alone. friendly staff and visitors there.
535 characters

4.16
/5
rDev
+6.4%
vibe: 4 | quality: 4.5 | service: 4 | selection: 4
Surprise find during an Alaskan cruise. This brewpub is located toward the far end of the main drag of downtown Skagway. Make sure to pick up a coupon book as I got a free hat with purchase of a sampler.
The interior is a green/yellow color scheme with lots of wood. The bar is on the left side, with table seating on the right. The brewing equipment is not visible but is on another floor.
Skagway Brewing has 6-7 beers on draught, including one or two seasonals. I did not see what bottles, if any, were available. 4 of the beers are available in a sampler as well. The beers are somewhat unique, including a Spruce Tip Pale and Wee Heavy included with the more typical Stout, Amber etc. All of the beers were above average, with a couple being very good.
Service was good on a weekday late morning. The place was really getting busy (with the majority of the clientele being cruisers getting samplers so they could get a free hat - they clearly adopted the South Park model). The bartender tried to find the brewmaster to come talk to us but he was not around. The staff had a good understanding of the available beers.
We did not try any food on the visit.
Overall this brewpub is a gem that is an absolute must-stop if for some reason you find yourself in Skagway.
1,274 characters
3.68
/5
rDev
-5.9%
vibe: 4 | quality: 4 | service: 3 | selection: 3.5 | food: 4.5
Stopped by on my Alaska cruise. BA had the location as closed so I was excited to find it open.
They had 6 of their beers on tap along with several other Pacific NW guest taps.
The waitress was very slow, but to be fair the place was pretty busy. I had a stout and spruce tip IPA both of which were pretty good. I also sampled the Red which was nice as well.
I had a couple pretzels and they were big, soft, homemade and damn good. The mustard was nice as well.
It's nice to see them back open, and if the crowd was any indication of what's to come I think they could be around for quite sometime (at least during cruise season)
632 characters
Skagway Brewing Company in Skagway, AK
3.74
out of
5
based on
101
ratings.