Dismiss Notice
Danilo Classic Kvas
| Darl, Tov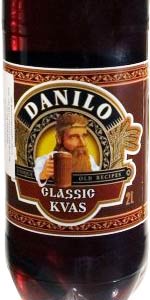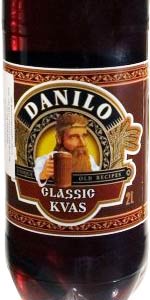 BEER INFO
Brewed by:
Darl, Tov
Ukraine
Style:
Kvass
Alcohol by volume (ABV):
not listed
Availability:
Year-round
Notes / Commercial Description:
No notes at this time.
Added by TMoney2591 on 12-13-2010
HISTOGRAM
Ratings: 10 | Reviews: 8
Reviews by flagmantho:

3.35
/5
rDev
-1.2%
look: 3 | smell: 3 | taste: 3.5 | feel: 3.5 | overall: 3.5
Poured from 70 oz bottle into a pint glass.
Appearance: medium brown hue with a clear body and a strong effervescence. No head at all on this one. It's OK.
Smell: light, bready aroma which is a little bit dusty. Not too sweet, but not a whole lot of character, either.
Taste: bready and on the drier side for a kvass, although there is still a mildly sweet fruitiness here. A tiny acidic zing adds a little bit of oomph to the flavor here; overall, a decent brew.
Mouthfeel: light body and a strongish effervescence leave a pleasing prickliness on the tongue. Appropriately refreshing.
Overall: a drinkable kvass, if not one with a whole lot of complexity. It is nice for its relatively low sweetness.
706 characters
More User Reviews:

3.1
/5
rDev
-8.6%
look: 3 | smell: 3 | taste: 3 | feel: 3 | overall: 3.5
A: deep brown with reddish tints when held to the light. there was a bit of white head, but it disappeared almost immediately.
S: Fairly sweet in aroma, and like a cross between root beer and cream soda. Some light bready notes, but mostly like cream soda.
T: Very interesting, and quite sweet. It tastes like someone took cream soda, added choke cherrie juice, a touch of rye bread, and added a splash of root beer. Not bad, but certainly not very "beer" like. Interesting to say the least.
M: a lot like a dark soda. but with a little twang in the finish.
O: Overal it is a very interesting beer, and a real easy sipper. Anyone who like cream soda will like this.
673 characters

3.33
/5
rDev
-1.8%
look: 3.5 | smell: 3 | taste: 3.5 | feel: 3 | overall: 3.5
2-liter plastic bottle courtesy of RocPorterFanatic, thanks Chad for a style I have not tried yet. Pours a clear brown color with a fizzy tan head, like a soda almost. Fades as fast too.
Nose is sweet and bready with a caramel and zesty rye. Interesting, for sure.
Definite sweetness and the carbonation is surprisingly low. This tastes more akin to a ginger ale than a beer, but some light maltiness is there and I told my son it was soda and he tasted it and said "hey...that tastes like beer", so I guess it must be :) It is not as thick and rich as a Malta Goya I had a few years ago, which is basically an unfermented beer. This is more spritzy and fruity, with a Mello Yello citrusy soda flavor. I dont dislike it by any means, and will happily finish my pints worth. I cant compare the Danilo Kvas to any other of the style as I have had none, but you gotta start somewhere, right?
890 characters

3.37
/5
rDev
-0.6%
look: 3.5 | smell: 3.25 | taste: 3.5 | feel: 3.25 | overall: 3.25
A: Pours a clear but almost opaque root beer brown in color with light amounts of active visible carbonation and faint caramel highlights. The beer has a quarter finger tall fizzy beige head that reduces quickly to an extremely thin ring at the edges of the glass. Minimal amounts of lacing are observed.
S: Moderate aromas of rye bread, fennel, cola, and root beer with lighter aromas of maple syrup.
T: Upfront there is a slightly sweet flavor of root beer and rye bread with some lighter notes of fennel and cola. Hints of tamarind add to the sweetness as well. No bitterness is present.
M: Slightly heavier than light bodied with moderate to heavy amounts of carbonation. Slick.
O: I enjoyed this one quite a bit, easy to drink and refreshing. I have definitely come to enjoy Kvass a lot more than when I initially tried it and this one is a decent example. Thanks to the nice Russian girl at the bakery for scoring me this one.
937 characters

3.23
/5
rDev
-4.7%
look: 4 | smell: 3.5 | taste: 3.5 | feel: 2.5 | overall: 2.5
Big ups to TMoney259 and his Kvass Kick. You gotta trademark these ideas, bro, or any jagov could subsume them for his own.
My uncle, Steve, is joining me for an afternoon of Kvass, having had some Russian instruction while an undergrad at Penn State.
My 2L bottle opened with nary a hiss and to say that this was flat would be like saying that JLo has a big caboose. It was as flat as a board! Color was deep brown with ruby highlights. It was very pretty at least, for us aesthetes. Take that on National Grammar Day! The nose smelled like a tobacco warehouse. So that is the secret ingredient! No wonder it is such a popular national drink. Given the lack of carbonation, it was very light on the tongue and it had a sweet quality to it, like watery root beer. There were hints of chocolate, herbs (think root beer) and simple sugar. It was very sweet, IMHO. That was also what I got on the finish - a sugary sweetness that seemed to linger. My uncle found it to be refreshing and I might agree if the ambient temperature were warmer. Onward!
1,048 characters

3
/5
rDev
-11.5%
look: 3 | smell: 3 | taste: 3 | feel: 3 | overall: 3
Served in a Chicago Bears shaker pint glass.
The Kvass Kick finds its way back into Ukraine. This offering pours a clear amber-garnet topped by a rather short-lived couple fingers of dirty ecru foam. The nose comprises rye bread, fennel, cola, and a hint of burnt maple syrup. The taste is very similar, with some old root beer mixing with rye bread and caraway seeds. The body is a light medium, with a lightly fizzy carbonation and a slick feel. Overall, a pretty ordinary kvass in just about every way. Straight up.
521 characters

3.22
/5
rDev
-5%
look: 3 | smell: 3.5 | taste: 3 | feel: 3 | overall: 3.5
Not a bad kvass- slightly sweeter than some but not clyingly so, and the label says it's fermented, so its not just a soda either. As usual, any alcohol is undectable. Pours cola brown with a tiny bit of carbonation, but no head. Slight hiss from the plastic jug. Smells of light molasses and rye bread, with a bit of dark fruit and some grainy sourness. A bit of nice sweet fruit at the front followed by a more sour breadiness in the finish. Relatively clean and smooth, but slightly palate coating. Fairly enjoyable.
519 characters
4.56
/5
rDev
+34.5%
look: 4.5 | smell: 4 | taste: 4.75 | feel: 4.75 | overall: 4.75
3.2
/5
rDev
-5.6%
look: 2 | smell: 2 | taste: 4 | feel: 3 | overall: 3.5
Had at Cafe Raisa with an outstanding Russian meal.
Cola looking with some bubbles clinging to the glass in the body, but no head at all.
Faint rye bread smell. Maybe a little sweetness in there.
Digging the taste. Like a very sweet soda. Tamarind, cola and simple syrup flavors. Not much bread or rye taste at all. I would be hard pressed to call this a beer, but it is tasty in a soda kind of way.
Very low carbonation, syrupy with a dry finish.
Lackluster in most areas, but i really dig the taste. Like I said before, not sure that this really fits the bill as a beer, but it was rather enjoyable for what it was. Glad to have finally run into this style.
664 characters
Danilo Classic Kvas from Darl, Tov
Beer rating:
3.39
out of
5
with
10
ratings