The Gamble Mill Restaurant & Microbrewery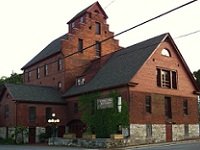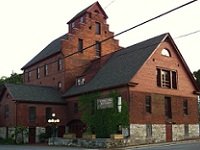 Brewery, Bar, Eatery, Beer-to-go
160 Dunlap St.
Bellefonte
,
Pennsylvania
, 16823
United States
// CLOSED //
Notes:
Reviews by dtivp:

dtivp from Pennsylvania
3.73
/5
rDev
-6.3%
vibe: 4.5 | quality: 4 | service: 3.5 | selection: 3 | food: 4.5
Visited the Gamble Mill with a group during a recent business trip.
The atmosphere was very rustic with the old mill interior and decor. Small brewpub on the ground level, very nice dining area upstairs with a numerous tables set in multiple levels that offered a little privacy. There was a large open room with numerous tables which wasn't being used during our visit.
The beer selection was limited to seven on site brewed beers on tap. A nice variety with a nice sampler which was well presented. The micro brewery was relatively new and the beer was average quality. With time I believe the beer quality will improve.
Service was good, timely, however, our waiter need to learn a little more about the beer they serve.
Food was excellent, a limited menu, however, the quality was excellent and well proportioned.
Overall our experience was good and I look forward to returning for a nice dinner and to see how the micro brewery progresses.
Mar 12, 2011
More User Reviews:


Rifugium from North Dakota
4.25
/5
rDev
+6.8%
vibe: 5 | quality: 4.5 | service: 4.5 | selection: 3.5 | food: 4
I've seen this place advertised in beer mags fairly often, and I always thought it looked nice but that I'd never find myself in Bellefonte, PA. As luck would have it, the wife, her dog, and I planned an impromptu trip from Philly to Pittsburgh, stopping in Selin's Grove, and I thought it would be a great opportunity to check out the Gamble Mill.
I have no qualms about giving a perfect 5 for atmosphere here. If I ever opened a brewpub, this is exactly how I envision it to be. Situated in a refurbished mill from like the 18th century, this place is rustic to the max. Weathered brick, wood, tasteful organic decor, and wrought iron everywhere. Since we had the dog, we sat in the pet-friendly porch area, but I got a good look inside, and wished I could settle down and stay forever. There are two stories and lots of room. The actual bar is on the first floor, and is quite small, intimate and dimly lit, and there are plenty of seats for dining. Up the rickety stairs (where the restrooms are FYI), there is a large dining area. Actually, if I were to change one thing about this place in my perfect dream, I would put a bar upstairs too...there's so much space, you might as well make the most of it.
There were 7 house beers on tap, including year-rounds and seasonals. Most of the beer wasn't tremendous...sorta homebrewyish...but nothing was terrible or even bad, with my favorite of the bunch probably being the Pig Iron IPA. Someone said "appeals to the masses," and that's about spot on. We had just had lunch about an hour or so previous, but several of the items on the medium-sized menu called to us. We finally settled on splitting the meat and cheese plate, which was tasty and the perfect size for a snack. Actually the best part of the meal was the fresh bread.
Service was excellent, and though we were the only people sitting outside, the waitress came out to check on us periodically, and we were never left waiting to order or check out. Prices were decent, with friendly tags on the beer; some of the food was a bit pricey, but there were plenty of small items and sandwiches under $10.
Also worthy of note: lots of merch available, and they actually have decently priced merch packages. I think they had a $90 package that included glasses, mugs, shirts, plus an annual subscription to their mug club, with other kinds of discounts and candy. If I lived in the area, I'd be all over it, but I just settled for a pint glass. ;)
Great place, and I'd love to go back. If you ever find yourself tossing around the possibility of going here while on a road trip, I'd say, the beers aren't spectacular for those of you with highly discriminatory palates, but the experience surely is.
May 19, 2012
slander from New York
4.33
/5
rDev
+8.8%
vibe: 4.5 | quality: 4.5 | service: 4.5 | selection: 4 | food: 4
Change of scenery, 'cause I'm just bored of the landscape along the PA turnpike. That, and there are some fairly recent beervelopments along the 80 stretch. Doin' a month of Sundays out as far as somewhere north of state college and rolling down to Johnstown one of the many back ways in. All roads lead...
In a crazy ancient brick building, as the guy on the corner 3 turns back explained. It is awesome lookin', true. Supposedly, an old grist mill from the 1700's. I circled and entered past an outdoor seating pen into a brick floored foyer way, holding light benching and heavy shwag sales stuff (shirts, hats, growlers & mugs, as well as prints talking the historic building you're in). Places to go, but I sniffed out the bar side through to the right.
It's a small wood bar, sectioned as 2 "U" shaped halves, connected by a pair of large brick pillars. Correction, the other side runs an "L" from pillar to the far wall. Seating for 6 on my side, and roughly the same on the other side. Booze shelved on both pillars, and a large glassware rack above running from one to the other. In front of me, a center bar with 2 tap handles and singles to both sides; across the way, another double and a single with the guest tap. Tap handles hold drawings for each style, and all but the guest handles are phat elaborately carved logo'd pieces. Glassware lining the bar on both sides fronting the taps.
The room is beige painted uppers over wood panel lowers running 2/3 of the way up the outer walls, the trim in between lined with strung lighting. Those are the outer walls, the other 2 are ancient block stone. Brick floorings & plank wood on the far side. Brass 2-lamp chandeliers on each end, drop bowl lighting, and upright wall mounted glass lamps. Old prints, commercial ads and Bellefonte pictures decorating. A single small TV on the far side, and the tap list printed on blackboards mounted to the pillars (Strangely, one of them is a Magic Hat blackboard). 7 small tables behind me for off the bar seating. Some guy just came in very animated about wanting to know where the brewing equipment is (Um, the place is a functional brewery; you can't go and play in the brewroom, jackass). Currently, Guy Davis doing Dylan's 'Sweetheart Like You'. Not too shabby.
Sampler gives all 6 beers on a serving tray for that many in 5oz pilsner glasses. 4 regular full timers (HB 48 Session Ale, 4.5%, light crisp hoppiness snap, flaked corn & barley, spritzy; J. Rose Pale Ale, 5%, Cascade & Ahtanum, assertively hoppy for an APA, good bitterness; Bush House Brown Ale, 5.75%, chocolatey, nice roastiness; Pig Iron IPA, 6.75%, excellent bitterness, big citrusy nose), a seasonal (Monte Weizen Ale, 5.5%, cloveiness first, unfiltered, tasty), and a rotating Belgian (The Curtain Abbey Style Dubbel, 8.1%, caramel, and deep fruit, there's some alcohol there). And Otto's Spring Creek Lager as the guest tap, which I didn't get to. The J. Rose Pale Ale, Bush House Brown Ale, Pig iron IPA, and Curtain Abbey Style Dubbel were the best of 'em. Seriously, they do make some solid beers here. Only 6 of them, but there was nothing offish. Even ordered an additional shorty of the Bush House Brown Ale as it is that good, uh huh. And 200+ wines if that's your thing.
And food, sure, but it's late so I'll play light. Started with the yellow fin tuna, sesame seed crusted with a dipping sauce and Asian slaw of perfect. And then the Mill salad (baby greens, pinenuts & sherry vinaigrette), good stuff. Handsome menu otherwise (bbq wild salmon, locally raised pork schnitzel, lamb bolognese, hello).
With beer in hand, I venture out and upwards of stairs. Front room seating; some of it elevated forward to one side, through to the side semi seating area, and a gang plank to a large rear room. Sets of angled tables of all sizes and shapes and a small bar there. Fat fat wood beams, period pieces, and decorative but hopefully not functional bramble. Upscale, and too nice for the likes of you.
Food got me through, and the beer was really good (Joshtender said the brewer started as an intern and then brewed at DogFishHead and then brewed for Ithaca Beer Co. before coming here; 2 houses of doesn't suck. Excellent space and a really unique place, amazingly warm and inviting. Glad this is in my corridor of 'can easily revisit' en route to points west albeit the longer way around.
Jan 17, 2012
PittBeerGirl from Ohio
3.43
/5
rDev
-13.8%
vibe: 4.5 | quality: 4 | service: 2 | selection: 3.5 | food: 4
Located not too far from state college and not too far from the Bellefonte Exit off of I-80. Stopped here for lunch on Saturday during our camping trip.
Really Excited to try this as it is one of the last major brewpubs in PA that I had yet to try!
This is an old historic biulding-well over 100 yrs old that was the primary water mill for Bellefonte and the canal headed east for yrs. The inside is very antique and rustic. A cool little old place and a cool little piece of history. The tavern area was darker while the upstairs has more formal dining but still that old mill feel.
The beer selection was decent- a generic pale ale for the BMC folk, an APA, a brown ale, a fruit beer, a hefe, and a wit beer. A 5 oz sample of all 6 or 7 is $9. They had just kicked the IPA (which they claim is fantastic-but I didnt get a chance to try it). Interesting to have a wit next to hefe- which you dont see often. I would have liked to see a dark beer or a big beer on the menu to mix it up-but other than that fantastic. All the beers were good and well executed on the brewmasters part.
The lunch menu has enough variety-sandwhiches, burgers, salads and appitizers as well as a few entres-and most are reasonable priced. Our food was delicious.
We were pretty much the first ones to get seated after the place opened-and it took FOREVER to get our food. After the 3 of us had finished the beer sampler-each of us ordered our favorite from the bunch-and we did NOT get our beer until we were almost done eating. The kicker was- all the people around us were done eating and getting served at a normal pace- it seems we were just somewhat ignored. We would have gladly ordered another round or 2 but not after it took 30 min to get our first round after the sampler. We took our beers down to the tavern area to finish from the dining area and were told that that area didnt open until 5 but we were welcome to sit there- in the mean time we talked to what seemed to be the manager and he was happy to tell us all about the place.
I'm really hoping the poor service was a fluke thing because I would like to go back here sometime. The beer is great, the place is really cool and historic, and the food is good.
Oct 13, 2011
akorsak from Pennsylvania
3.88
/5
rDev
-2.5%
vibe: 4 | quality: 4 | service: 4 | selection: 3.5 | food: 4
In for dinner on the way home. Been a long time since I've driven through the heart of Bellefonte.
Atmosphere: The Gamble Mill is, well, an old mill. We entered on the ground floor and were seated in the intimate bar area (maybe 10 tables). Plenty of wood and stone all around. The bar is U-shaped, wrapping around the tables. Upstairs is more formal dining (and the restrooms). The brewing equipment is visible when you enter the restaurant.
Quality: The bar area is cozy, food was good and several beers were spot on. The upstairs area seems like a nice 'special event' restaurant.
Service: We were greeted promptly and regularly visited. One server did prematurely try to snatch our appetizer. She was promptly shooed away.
Selection: Six house beers on tap currently, including a pale ale, IPA and brown ale. Those three were my favorites. The blonde ale, saison, and weizen were all alright as well. Seems like they have a small system, meaning that rotation and experimentation may be in the future.
Food: Both a pub menu (sandwiches and entrees) and a dinner menu (more extensive entrees) were available. The calamari po-boy was quite good; the brewhouse platter came with a particularly piquant dijon mustard. Worth a visit.
Apr 17, 2011

ZeroSignal from Pennsylvania
4.28
/5
rDev
+7.5%
vibe: 4.5 | quality: 5 | service: 4.5 | selection: 3 | food: 4.5
An awesome looking place on the inside. Once a working mill, renovated with much of the original character left in place. I haven't been in the tavern section yet, but the upstairs dining area is very nice.
The food is excellent, my only complaint is that over the past year and a half, the menu has not changed, and it was rather limited to begin with. I'm okay with a small, efficient menu, especially when all the food is superb, but a restaurant of this quality should at least change seasonally IMHO. The entrees are quite pricey. but I don't mind paying for quality.
All of the wait staff I've ever had have been pleasant and attentive without overdoing it. I'm looking forward to trying some of the beers from the new microbrewery downstairs.
Jan 10, 2011
The Gamble Mill Restaurant & Microbrewery in Bellefonte, PA
Brewery rating:
3.74
out of
5
with
0
ratings