Brickyard Gastropub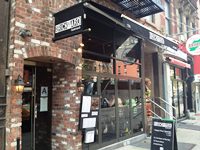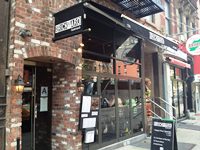 Bar, Eatery, Beer-to-go
785 9th Ave
New York
,
New York
, 10019-5620
United States
(212) 767-0077 |
map
brickyardnyc.com
Notes:
Recent ratings and reviews.
Ratings by Kappakoosh:

Reviewed by Kappakoosh from Texas
3.74
/5
rDev
-5.8%
vibe: 3.75 | quality: 3.75 | service: 4 | selection: 3.25 | food: 4.25
Good pub style food, staff was easy to get along with and the beer selection was less than i expected. I still enjoyed my time there, but wouldn't likely go back with all the other options out there.
Jan 02, 2015
More User Ratings:
Reviewed by BugTownPub from Pennsylvania
4.68
/5
rDev
+17.9%
vibe: 5 | quality: 4.5 | service: 5 | selection: 4.5 | food: 4.5
What the Brickyard was a year ago beer wise and "gastropub-esque" compared to what it is now is a full 180* difference. There used to be a lot of standard craft beers with occaisionally an exciting Founders barrel coming through, but now they have 6 rotating tap lines along with the 18 core lines that match up with any of the other beer bars in the city: George Okeeleys, Blind Tiger, Rattle n Hum, Pony Bar, Valhalla, etc.

The bottle list is small (about 10 American, 5-6 Euros, some bombers, and a nice gluten-free section), but what they have done with it is kick it up. Essentially, theres a top notch bottle for most mainstream styles plus what appears to be unlimited bottles of Goose Bourbon County '12.

There still is a strong NY draft presence, but nothing to what it was. They seem to have weeded out the lesser quality NY breweries and have kept to the mainstays like Ommegang Abbey/witte, Blue Point Toasted, and Brooklyn Lager. There is a NY rotating line, but this is always reserved for rarities from Southern Tier, Spider Bite, and some Ommegangs/Coney Islands occaisionally.

My final huge plus is that they have just as of this weekend put up a rotating Dogfish Head line. I know there are some people that hate on DFH, but c'mon now..they are an awesome brewery plus this isn't something you see much in NYC.

As you can tell, I'm all about the beer, but the food is top notch pub fare as well (staying relatively true to the gastropub title). Burgers are great, steak frites are awesome, and the entrees all incorporate some sort of craft beer to a small extent.

As I said before, this bar is not what it was. Definitely check it out and you'll see what I mean. I am partial because I'm in Hells Kitchen, but being a beer seeker, I;ve been to basically every beer bar worth going to in the boroughs and I'm proud to say I live near the Brickyard.
Nov 05, 2012

Reviewed by UDbeernut from Florida
3.85
/5
rDev
-3%
vibe: 4 | quality: 3.5 | service: 4 | selection: 4 | food: 4
Went here last weekend with my wife. What appears to be a bar and a few tables is actually a decent sized resturant. Open faced brick, lively crowd, alt music.... Cool place.

Beer selection was good. Nothing terribly special, however they did have founder's breakfast stout on tap.

Service was quick and diligent.

They have two menus, one is for the bar but many at the tables were ordering from it, the other is entrees.

As far as value, i think for NYC standards its is reasonably priced, but i do not rate based on the city located in.

Will def go back if in that area of the city again.
Oct 24, 2011

Reviewed by sholland119 from Pennsylvania
3.78
/5
rDev
-4.8%
vibe: 3.5 | quality: 4 | service: 4 | selection: 3.5 | food: 3.5
Another place we spotted on an early morning power walk through Hell's Kitchen. We stopped in for dinner when the Valhalla food menu was largely hot dogs and the like.

The place looks better from the outside than inside. A sports bar sort of vibe and look to the place. Not a bad thing necessarily but not my favorite thing.

Tap list is good but very mainstream by craft standards. Founders Centennial, a lovely beer, but not terribly hard to find, was my choice here. No wow beers really but solid.

Food is decent, no better, no worse. Service was quite pleasant and competent.

I would not go out of my way to come here again but it was alright.

HV
Jun 04, 2011

Reviewed by DoubleSimcoe from Pennsylvania
3.88
/5
rDev
-2.3%
vibe: 4 | quality: 4 | service: 4 | selection: 3.5 | food: 4
*A little re-reviewing, knocking down the selection grade a bit, as they've been having very average taps, nothing exciting, and don't you hate it when you see 24 taps and it's all Blue Point Toasted Lager, Ommegang Rare VOS and Sixpoint*

Brickyard Gastropub is the latest addition to the craft-beer scene in Hell's Kitchen, New York City. Opened in 2010, this restaurant-bar-beer-joint offers 24 taps, a growler-refill station and upscale gastro-pub fare. Not bad!

The taps are pretty damn good, including Left Hand, Lagunitas, Harpoon, Ommegang, Sixpoint, Kelso, Coney, Blue Point, Brooklyn and some quality imports like Chimay and Duvel. There is a focus in local New York beers, which is nice.

Two Founders on tap: Centennial IPA and the very rare (in NYC) Breakfast Stout. Wow!

Food is good in the appetizer section (very inventive and enticing) but a little boring in the entree part (ain't it always like this?). I had the duck breast -which was perfectly rare-, the asparagus wrapped in phyllo and some good (but not great) sides. Unfortunately, everything is enormously expensive for the tiny portions they serve. $10 for three small pieces of duck and asparagus, and $6 for the sides. I wish the menu were more imaginative...

Service is very good, and the atmosphere is correct. A little chain-y feeling (very new looking) but cozy enough. And not crowded on a Friday night, that's a plus!

This is not quite The Spotted Pig (NYC's "original" British-style gastropub) but it is a nice effort. It won't be a destination, but if you're around HK, why not come in and grab some quality brews. And some growlers to drink at home of course!

Solid good. Check it out!
Feb 06, 2011

Reviewed by Billolick from New York
3.86
/5
rDev
-2.8%
vibe: 4 | quality: 4 | service: 4 | selection: 3.5
Northern Hells Kitchen, NY. Just a short walk to midtown, the theatre district, Columbus Circle (home of a whole Foods) and Central park.

Nice athmosphere to this room, brick walls, wooden floors, old fashioned cieling fans operated on a pully system, modern feel as well, with two levels, clean and crisp styling and lighting, multiple flat screens.

Multiple quality beer options, follow on beermenus.com for the latest info. Nothing jaw dropping flowing from the taps, I had a kelso Nut brown, it was fresh and tasty. The menu gives you suggested beers for many of the dishes. A nice touch and shows they are giving beer and food respect. No such info for the bar menu options h/e. Extensive and fairly expensive is how I would describe the food menu. Friendly bar sfaff, and comfortable vibe in general.

I'd be interested in going back. Decent place for a pint, a bite or a meal, take the old lady or a date, not for mom and dad or the family.
Dec 31, 2010
Brickyard Gastropub in New York, NY
Place rating:
3.97
out of
5
with
9
ratings