Little Mountain Brewing Company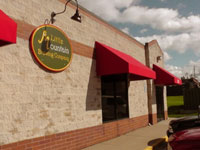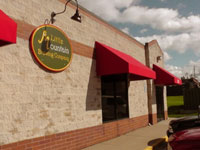 Brewery, Homebrew
7621 Mentor Ave
Mentor
,
Ohio
, 44094
United States
// CLOSED //
Notes:
Recent ratings and reviews.
| Log in to view more ratings + sorting options.
Ratings by schoolboy:
Reviewed by schoolboy from Ohio
3.75
/5
rDev
-1.1%
It's cool to have another brew pub very close to my house, and they have decent ambiance and very good bar food! Unfortunately, their location makes them impossible to find unless you know they are there. I was in the pool hall that was there before. Once. They have done a good job making it a contemporary gathering place and tap room and i wish them success.

The beers were just OK. I tried 6 in a flight, had two pints myself and my son had one pint. In all I tried eight. The best were fairly ambitious brews. A smokey Porter, no. 6, and a bock, called, Bock. None of the beers were served very cold, which is usually OK with me. Most of them were pretty weak in the head too.

We had two pizzas and some fried pickles. All the food was great. They serve hop flavored popcorn. My sons girlfriend tried one of the wines. The services was great and there was live entertainment. It is a very large place. The front room was half full and the large back room was empty.

We had a nice evening and we will be back, but I hope I enjoy the beers more in the future.
Sep 20, 2014
More User Ratings:
Reviewed by buschbeer from Ohio
3.74
/5
rDev
-1.3%
vibe: 3.75 | quality: 3.5 | service: 4 | selection: 3.75
The first thing I want to state is that this place is hidden. It is behind a strip mall with no signage stating this fact. Luckily my girlfriend spotted the building as we were turning around trying to find this place. Once we found our way we entered on a Sunday afternoon.

The place had a small crowd. They have brew on premise equipment and a gentleman was making some beer. We bellied up to the bar. The head brewer was working and explained some of the beers. There were twelve beers on tap and a couple samplers had me tasting all of them.

None of the beers were fantastic, but the brewery was an affable man and made me enjoy the beers more. My girlfriend fell in love with the idea of brewing her own beer there and discussed options with the brewer. The brewer said that sometimes the kept half of a batch to put on tap. I thought that was a good concept to brew a beer and have a taproom put it on tap.

We enjoyed out experience there. They did not have food the day we went because the cooks were catering an event, but normally they do have food. I look forward to going back and chatting with the brewer while my gal pal makes some beer. It is a cool place to visit, but I wouldn't call it "must see."
Jul 10, 2015
Rated by kaptaindanny
4.73
/5
rDev
+24.8%
vibe: 5 | quality: 5 | service: 5 | selection: 4
First time, great place, i am a stout drinker and it was great! Staff came to the table and were really nice.
Feb 08, 2015
Reviewed by MITtheNomad from Ohio
4.1
/5
rDev
+8.2%
vibe: 4 | quality: 4 | service: 4 | selection: 4 | food: 5
They have twelve beers on tap. I sampled 9 of them. Each were decent, but mostly enjoyed their Yellin' Melon. It was a light colored ale brewed with watermelon, honeydew, & cantaloupe. A delightful treat for the summertime.

The bar tender mentioned that the KGB is the most popular....but unfortunately wasn't currently available. But note....I will be returning!!

Food was excellent as well. BBQ chicken pizza with carmelized onions.
Jun 24, 2014
Reviewed by Yetiman420 from Ohio
3.32
/5
rDev
-12.4%
vibe: 3.75 | quality: 2 | service: 4.5 | selection: 3.5
Stop #423 on my world brewery tour.

Stopped in around 5:00 on a rainy Wednesday afternoon. Had the place all to myself with what appeared to be the two guys that run the operation. Bob (the brewer) gave me a quick tour of the 3 bbl operation which they are adding on to.

I had two flights to sample all beers which was about 12.

The service was exceptional and the place was recently updated and is very nice. The location sucks for them because it's behind a small strip mall and a flooring store and they are not allowing them to put a sign up on the main road. It used to be a rowdy pool hall and the flooring company does not want another bar behind him.

They also do brew on premises although they had all of the customer beers fermenting at 68/70 - even lagers. Not that I run the place or was going to say anything, but lagers should be at ambient temps in the upper 40's and ales in the high 50's.

They had three Belgians on tap which got me excited only to be let down that they didn't use Belgian yeast because it smelled too funky. The one beer that I found nice was a Citra hopped Pale Ale because it had such wonderful Citra dry/late addition hopping. It was a let down that so much money and energy was invested in the operation and the brewery operation wasn't up to par. I'd love to do an audit on the house beers to see if they're pitching the right volumes of appropriate yeast (for the style) and fermenting the right length of time at correct temps. I suspect that could go a long way in improving some of the deficiencies I detected.
May 15, 2014

Reviewed by SlovenianMight from Ohio
4.68
/5
rDev
+23.5%
vibe: 4.75 | quality: 4.75 | service: 4.75 | selection: 4.5
This presently small operation is one of the best surprises one can stumble upon. Looking at the front of it one may just assume that it could be a brew supply store, but upon entering it is clear that it is much more than that. When you enter you are greeted by a bar on the left and the kettles and cooler on the right. Directly in front you can see on a board the ten beers they usually have available. The fine folks that work there are also extremely accommodating hosts that will gladly talk to you about their beers and well as dream beers and ones that are on the cook. Extremely knowledgable staff will gladly help you with any kind of beer that you could dream up, which is another point that needs boldly addressing. You can brew your own beer here and they are eager to aid in anything you need. A must visit if your in northeast ohio. I do believe they will be moving to a lager facility as well in the near future.
Aug 07, 2013

Reviewed by WoodBrew from Ohio
4.18
/5
rDev
+10.3%
vibe: 4.5 | quality: 3.5 | service: 4.5 | selection: 4.5
I was able to visit Little Mountain Brewing Co during a recent trip back home thank to a buddy of mine. The LMB is a neat place with a cool concept. The pull is to have people come in a brew their own beer. All the ingredients are available and recipes too. I believe the owner said he can have 16 batches brewing at one time. The place is decked out with beer making equipment and their is a small sit up bar and one table if you want to try some beers. The beer on tap was decent. When I was there the owner was present and was very kind and spent time talking to us about beer and gave us the nickle tour. They had six beers on tap to try and a neat sampler tray to boot. I didnt hear any cricket...just good conversation.
Jan 22, 2012
Reviewed by shortbus7 from Ohio
3.84
/5
rDev
+1.3%
vibe: 4 | quality: 3.5 | service: 4.5 | selection: 3.5
If you blink you will pass this place while driving down 306. Tucked between a bar and a Dairy Mart. This place is great on the inside. A bar on your left with a few of their own beers on tap and 5 brew kettles on your right. Also have a cooler on your right with bombers of various brews. The place seemed reasonably clean besides the fact that for the 2 hours I was there, there was at least 1 cricket chirping somewhere in the corner. With a place like this having hops and barley sitting on the floor on top of crates with your customers actively using them to brew beer I would make sure to have that cricket gone instantly. Anyway.
I was helping to bottle some brewed beer with my uncle. Beer was great, review to come, and the bottling process was slightly involved. Required you to open and close 3 different valves at varying times to fill the bottle. Got the job done though.
I would go back to this place to brew some of my own beer in an instant. The owner was great and very willing to accomodate you in any way possible.
If you live in the NE Ohio area, you need to check this place out if you want to brew some beer, especially if you don't want to wait 4-5 months to get an appointment at the Brew Kettle.
Sep 13, 2011
Reviewed by lastb33rcall from Ohio
4.64
/5
rDev
+22.4%
vibe: 4.5 | quality: 4.5 | service: 5 | selection: 4.5
Looking at the brewery from the outside you would think it is one of the smallest brewing operations in existence. But Little Mountain Brewing has proved that not only size doesn't matter, but that looks can also be deceiving!

Immediately upon entering the brewery you will be greeted by the friendly, and beer-savy owner. The inside has a bar with six drafts, with a flat screen TV. The music in the background wasn't too loud and just encouraged patrons to enjoy themselves.

On the opposite side of the bar is a large cooler where bottled beer of various types are kept till sold. Next to the coolers is the beginning of the brewing works. The owner is more then delighted to show you on a tour of the facility, which boasts brand new bathrooms, and a vast array of brewing equipment.

Sitting at the bar one can't help but try a sample of all six drafts which are presented on a rotating wheel holster. The beers came in an excellent variation that pleases taste preferences of all types.

Before leaving I purchased a Belgium style triple in a bottle, although I was extremely tempted to buy a growler. Maybe upon my next visit, which will hopefully be very soon, I will buy a growler of the finely crafted beer at Little Mountain Brewing Company.
Apr 16, 2011
Little Mountain Brewing Company in Mentor, OH
Brewery rating:
3.51
out of
5
with
19
ratings