Caulier Brune
| Brasserie Caulier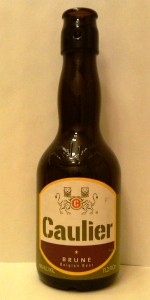 BEER INFO
Brewed by:
Brasserie Caulier
Belgium
caulier.be
Style:
Belgian Dark Ale
Alcohol by volume (ABV):
6.80%
Availability:
Year-round
Notes / Commercial Description:
No notes at this time.
Added by metter98 on 06-17-2010
Ratings: 14 | Reviews: 8
Reviews by brbrocc:
More User Reviews:

3.52
/5
rDev
+7%
look: 3 | smell: 3.5 | taste: 3.5 | feel: 4 | overall: 3.5
One thing I noticed about this bottle as well their Blonde is the particular shape, short body with a neck equally in length, looking almost like a copper kettle or Samuel adams utopia bottle. On the neck were two pitted holes near the top which appear to house a swing cap but the bottle had a regular cap on it.
A: A dark burgundy appearance against lighting reveals a slight haze and a strong effervesce factor within. A beige head is initially fizzy and very active, soon settling to a slight foam covering. The lacing is weak and sparse.
S: Dry chocolate malts with some yeasty character comes through of musky pears, dough with some anti-septic alcohol hints that was light in strength.
T: Spicy cola, sweetly toasted grains combine with yeasty pears and apples. A spiciness of cinnamon comes about in the middle. Malty and worty tones along with chocolate and cola nuttiness comes about in the swallow. Nice balance of sweetness and ending bitterness.
M: very sharp, well carbonated and edgy with a bubbly creamy texture on longer holds. The body is light.
D: Crisp and sharp drinkability, very razor like on the down. Fruity and sweet with manageable alcohol content. Good for one or two at a time.
1,216 characters
2.98
/5
rDev
-9.4%
look: 3.5 | smell: 3 | taste: 3 | feel: 2.5 | overall: 3
A: The beer poured rather dark brown into a goblet with a finger sized beige head. The head slowly died down, but a layer of bubbles consistently covered the surface. A moderate amount of carbonation is visible, along with a few yeast particles floating near the bottom of the glass.
S: There is a light aroma of fruits and spices in the nose along with some notes of caramel malts.
T: The taste is very similar to the nose and has a bit of sweetness. There is a very slight amount of bitterness and notes of spiciness in the finish.
M: It feels light-bodied and rather watery on the palate with a high level of carbonation.
D: The beer is easy to consume but I probably wouldn't have another because the taste wasn't very interesting. The drinkability only slightly improved as the beer warmed up.
802 characters
3.65
/5
rDev
+10.9%
look: 4 | smell: 4 | taste: 3.5 | feel: 3.5 | overall: 3.5
33cl Brown bottle, same as everyone else, normal cap, but with the 'flip-top' holes in the long neck: poured slowly into my Augustijn chalice.
Don't think any sediment left the bottle, the beer looked grand anyway: clear, deep amber in colour, the full head an off-white hue. Rows of bubbles rising through the body to enhance the already impressive crown on top.
I found Almounds in the smell, earthy malts rather than sweet ones, Belgian yeasts also add their own twist to the aroma.
I've struggled with some Belgian Brown Ales, but this isn't as sweet compared to a lot of them: well balanced and very easy to drink it belies the mith of uber sweet Belgian Browns, bloody pleased.
The alcohol content is well contained within the brew and adds to it's complexity without taking away any of the many attributes of the beer.
In short, a lot better than I thought it was going to be!
888 characters
2.47
/5
rDev
-24.9%
look: 3.5 | smell: 4 | taste: 1.5 | feel: 3 | overall: 2
Aromas are all Belgian. Some dark sweet caramel malts with a lot of some yeasty character comes through. Some fruitiness and alcohol is also detectable.
The taste does not follow the nose very much. Sugary sweetness and white wine grapiness are the first two flavors I detect. Some light sweet toasted grains combine with yeasty pears and apples. The mouthfeel is very sharp and dry, a lot of carbonation for such a light bodied beer.
Overall I appreciate the idea of doing a "healthier" style no sugar added beer, this is a complete flop for me. Pass.
554 characters

3.02
/5
rDev
-8.2%
look: 2.5 | smell: 3 | taste: 3 | feel: 3.5 | overall: 3
Poured from, 33cl bottle into tulip glass.
A: Dark copper to light brown colored, very little head and no lacing.
S: Relatively clean yeast profile, dark raisins.
T: Holds back, not overpowering in flavor. Gentle roasted tone against a backbone of malt sweetness. There is some slightly unpleasant phenolic character.
M: Pretty highly attenuated and with relatively high carbonation. Easy drinking were it not for the harshness in the taste.
O: Pretty decent, not great, perhaps not worth $5/bottle.
504 characters

3.58
/5
rDev
+8.8%
look: 4.5 | smell: 4 | taste: 3 | feel: 3.5 | overall: 4
Received in the tickers BIF courtesy of BVbeer1 .
This beer pours a deep, almost opaque brown color. A fat finger of faded khaki colored head falls leaving a bubbly top coating. Lacing slides quickly back into the drink.
The aroma is rather subdued. I smell faint hints of pear, apple, plum, caramel, and spice. Funky, and tart yeast characteristics are present as well.
The flavor seems more subdued than the nose. It reminds me of a weak grape soda.
Light body with a prickly carbonation. After its carbonation quits stabbing my tongue it washes through my mouth nicely.
Highly drinkable, its just a bit boring. Its a well crafted beer, but it leaves my senses wanting more.
682 characters


3.43
/5
rDev
+4.3%
look: 2.5 | smell: 4.5 | taste: 3.5 | feel: 2 | overall: 3
A - Nice deep translucent brown. Moderate sediment. Low head with poor retention and almost no lacing.
S - Nice bready aroma. Brown sugar, black cherry. Twang of booze.
T - Mild malt. Round but pleasant booze. Bit of orange and cardomon.
M - Light body. Slightly watery finish.
D - A light body lends itself to drinkability, but the lack of carbonation cuts down on it's refreshment.
387 characters

3.73
/5
rDev
+13.4%
look: 3.75 | smell: 3.75 | taste: 3.75 | feel: 3.5 | overall: 3.75
3
/5
rDev
-8.8%
look: 3 | smell: 3 | taste: 3 | feel: 3 | overall: 3
Picked this up at Stew Leonard's in Clifton on clearance over the weekend. Yes, I've gotten so desperate with my beer decisions that I'm getting stuff on sale now so I can save money and buy more beer. Why might this be on sale? I guess it's like those Jets PSL's that took forever to be snatched up. You feel like you're missing out on a great deal and everyone else has already gotten in on it but in the end...
Yeah, this was that great. Not much of an aroma to it, enough head to make the 11.2 oz of this beer fill up my pint glass, No lacing to be seen and what in God's name is floating in this? Sludge? Sediment? Settlement? A free surprise? It took forever to get the last of it out of my bottle and into the glass and it never seemed to mesh well with the root beer-like hue of this beer. This was thin and sour in taste and it reminded me of flat soda. There's some carbonation here but no bubbles could be detected. Brown sugar and bitter chocolate could be felt and if those two sound like a flavor mismatch, then you can guess what made this beer so memorable.
Of course, there's alcohol here but you'll be so busy trying to nail this thing down that you'll feel that the booze is just an extra bonus. If Newcastle was brewed in Belgium and wasn't clear, it would be a lot like this. This beer was like a Brown Ale with the funk unfiltered out of it but on its own, this has a hard time standing up. Maybe this is what they drink for a generic brew over on the other side but for here, I'm thankful that I didn't have to put a deposit in on this...
1,564 characters
Caulier Brune from Brasserie Caulier
3.29
out of
5
based on
14
ratings.