Super Des Fagnes Griottes

Brasserie Des Fagnes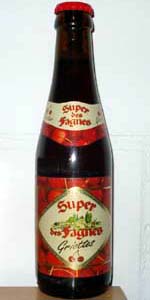 Write a Review
Beer Geek Stats:
| Print Shelf Talker
Style:

ABV:

4.8%

Score:

Avg:

2.74

| pDev:

21.17%

Reviews:

7

Ratings:

From:

Avail:

Year-round

Wants

Gots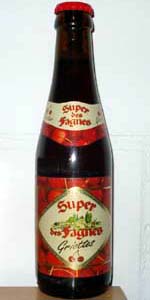 Notes:
Reviews by TheLongBeachBum:
TheLongBeachBum from California
2.09
/5
rDev
-23.7%
look: 3.5 | smell: 2 | taste: 2 | feel: 2 | overall: 2
Presentation: Sampled at the Super Des Fagnes Brewpub in Mariembourg on April 16th during the recent Easter Trip to Belgium. Served from the tap into a Super Des Fagnes glass goblet. Listed as "Aux Griottes 4.8%", cost €2.
Appearance: Dark purple red body with a nicely laced pink head. High levels of carbonation. Looks good in the glass.
Smell: Medicinal cherries with some feint whiffs of SuperGlue. Sweet but not sickly, the cherries have a lot of cough syrup traits to the odors.
Taste: Awful sour cherry start, aluminium middle and a dry, yet sweet finish. Very artificial and incredibly unpleasant. Drinks like a poorly brewed blonde ale with a small amount of old cherry juice added.
Mouthfeel: Thin and fizzy with lots of metallic twists. Watery body with a hint of cherries to at least add something to the experience.
Drinkability: Managed to finish it, but I was quite thirsty by the time we got here.
Overall: Just Awful. *Avoid*
Jul 17, 2006
More User Reviews:


Eltrandos from France
3.52
/5
rDev
+28.5%
look: 4 | smell: 3.25 | taste: 3.5 | feel: 4 | overall: 3.5
Sep 02, 2020
paterlodie from Belgium
2.71
/5
rDev
-1.1%
look: 3.5 | smell: 2.5 | taste: 2.5 | feel: 3 | overall: 3
BB 06-06-06. Nice pink head and a clear redbrown beer. Nose is very much cherries and sweet. Not much else to detect. Taste is also cherrie and a lot of sweetness. This has nothing to do with beer but is actually better then most other examples I tasted. Can imagine some people liking this and I could even drink this on a warm day in the sun icecold.
Aug 09, 2005
BlackHaddock from England
2.33
/5
rDev
-15%
look: 3.5 | smell: 3 | taste: 2 | feel: 2 | overall: 2
Small brown bottle (25cl), glad it wasn't a bigger one, nearly couldn't finish this titchy one.
Poured into my La Chouffe tulip glass it looked OK, a reddy brown, clear and bright body with a big, light pink foaming head. The head fell to a wispy covering a bit to quickly for my likeing, but first impressions were fine.
The aroma was of sweet cherries and almonds, in fact a Bakewell Tart sort of smell, interesting if not overaly beery.
Oh dear, it tasted like it smelled, a sweet cherry alco-pop. It was a thin watered down syrup and one for the kids or ladies who like a sicky drink.
The beer got worse as it warmed, I started to look for excuses to lower my original scores. It was almost undrinkable towards the end. It did however look and smell worth the effort, so my scores didn't alter, many on here wouldn't be so kind, I feel.
Nov 22, 2008
wisrarebeer from Wisconsin
1.7
/5
rDev
-38%
look: 4 | smell: 1.5 | taste: 1.5 | feel: 2 | overall: 1.5
On tap at the brewery in Belgium.
A: very nice rosy red color with pink lacy head
S: nose is all sweet fruit, cloying, way too sweet
T: too sweet and syrupy with high fructose and very little malt and balance, disappointing
M: sweet, very sweet, cloying
O: the final rating reflects how disappointing this beer was for me
Jan 08, 2014
ThaCreep from Belgium
2.09
/5
rDev
-23.7%
look: 3.5 | smell: 2 | taste: 2 | feel: 2 | overall: 2
Colored grenadine beer aroma of cherry juice box marked sickening limit, which suggest by their saturation, biscuit and almond. Although slightly sweet and slightly tart, the attack is also very powerful in cherry juice and taste for beer is almost nonexistent. While refreshing, this beer is nevertheless very disgusting.
Jan 02, 2010
captaincoffee from Virginia
2.98
/5
rDev
+8.8%
look: 3.5 | smell: 3.5 | taste: 2.75 | feel: 2.75 | overall: 2.75
A non-beer geek friend brought a 750ml of this to my Belgian beer tasting. Good on 'em...at least he tried. My expectations weren't too high, but I'm always happy to try something new. Pours a pale red with a thinish white head that goes away quickly. Nose is cherry juice, maybe light grain in the background. Not much there, but nothing off. Taste is light cherry juice over a grainy, almost euro-lager beer. Thin. Sweet, but at least it is not sickly sweet, but not much positive to say. If you want a simple sweet cherry beer, Lindemans kriek is much better.
Apr 23, 2016

Ciocanelu from Romania
2.5
/5
rDev
-8.8%
look: 2.5 | smell: 2.5 | taste: 2.5 | feel: 2.5 | overall: 2.5
Nice pink color with light pink head. Sweet, kind of artificial cherry aroma. Taste starts with artificial cherry sweetness and gets worse with some weird, stale note. Pretty light body with good carbonation. Not really my type, wouldn't buy it again.
Jul 12, 2014




Antyk from Belgium
3.69
/5
rDev
+34.7%
look: 3.75 | smell: 3.5 | taste: 3.75 | feel: 3.75 | overall: 3.75
Jul 28, 2016
Super Des Fagnes Griottes from Brasserie Des Fagnes
Beer rating:
75
out of
100
with
14
ratings