First Frontier IPA
| To Øl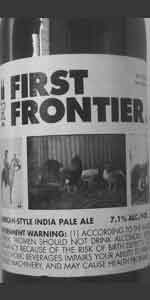 BEER INFO
Brewed by:
To Øl
Denmark
to-ol.dk
Style:
American IPA
Alcohol by volume (ABV):
7.10%
Availability:
Rotating
Notes / Commercial Description:
Ingredients: Water, barley malt, oats, hops (Warrior, Simcoe, Centennial), yeast.
Brewed at De Proef Brouwerij, Lochristi-Hijfte, Belgium.
Added by bark on 03-08-2011
Reviews: 32 | Ratings: 95

4.22
/5
rDev
+10.2%
look: 3.5 | smell: 4 | taste: 4.5 | feel: 4.5 | overall: 4
330mL bottle poured into a Weyerbacher tulip. Cap reads "24/09/13"
A: Pours with about an inch of tight off-white head. Amber/caramel/orange in color, and very opaque. Lots of residual lacing.
S: Citrus hops, caramel malt...that's about it.
T: Grapefruit, tangerine, some pine, caramel. Nice crisp taste.
M: Crisp, light to medium bodied, prickly carb.
O: A solid example of an American IPA from overseas. I'm impressed...it seems most breweries overseas don't live up to the IPAs we make here in the states, but this one can hang just fine.
546 characters
3.42
/5
rDev
-10.7%
look: 3.5 | smell: 4 | taste: 3 | feel: 3.5 | overall: 3.5
A foreign IPA with an American twist to it.
Right off the pour my entire Stone pint glass filled with a massive white head - it went down quickly but left traces all over the top of the glass.
Has grapefruit/flowery scent but more of a malty taste at first sip. After taste is dry and very bitter.
Overall, a decent IPA - wish it had been a little fresher.
359 characters
3.93
/5
rDev
+2.6%
look: 4.5 | smell: 4 | taste: 4 | feel: 4 | overall: 3.5
A - Poured out a hazy, golden-yellow color with a three-finger, foamy, white head. It was fairly long lasting and left sticky rings of lace on the glass.
S - Big grapefruit aroma up front with some other citrus fruits, too.
T - It had a strong grapefruit flavor with some sweet tropical fruit flavors. It had a nice caramel backbone.
M - It was crisp, sharp and smooth. A medium bodied ale with a dry finish.
O - This is a very tasty beer, however, it is really pricey at $8.99 for a 12oz bottle.
500 characters
4.15
/5
rDev
+8.4%
look: 4.5 | smell: 4.5 | taste: 4 | feel: 4 | overall: 4
from notes.
Pours a beautiful cloudy orange with a thick white head that fades to a good amount of lacing.
Smells like flowers, pine, and grapefruit citrus. Sweet caramel malt kind of lurks in the background. Couldn't really ask for a lot more.
Tastes of super resinous pine, very floral, sharp citrus and a pretty dominant metallic bitter flavor.
Mouthfeel is medium with good carbonation. Long lasting bitter aftertaste.
Overall is an excellent beer. I went and bought another the next day.
498 characters
2.51
/5
rDev
-34.5%
look: 3 | smell: 2 | taste: 2.5 | feel: 2.5 | overall: 3
The pale yellow head is very high, firm and compact. The liquid is almost clear (the beer is bottle conditioned), the colour is pale amber. Lots of lacing.
The smell is hoppy, fat and bitter with some grapefruits, but also some stale-earthy notes and a hint of sour milk.
The taste is bitter-sweet with some hoppy-citric flavours. The bitterness is quite light for an American IPA. Some earthy flavours that make me think of tree sap, almonds and ripe flowers. The aftertaste is hoppy with hints of sap, a stale sweetness and a bitterness that borders to sour. Almonds in the finish.
The carbonation is light, the bubbles soft and small. The liquid is thick and sticky.
675 characters

4.57
/5
rDev
+19.3%
look: 4.5 | smell: 5 | taste: 4.5 | feel: 4 | overall: 4.5
A: This beer pours hazy amber with a white creamy thick head, that slowly sinks into nice lacings.
S: Caramell malt with some sweetness to it, is overpowered by the floral and bitter hops, that holds pine, pineapple, grapefruit - very American in style!
T: At first sweet caramell malt but then the bitter hops kicks in followed by the floral - lots of piney and citric notes; pineapple and grapefruit mainly.
M: Body is medium and dry, carboantion is mild. Aftertaste lingers for some time and holds bitter dryness.
O: This is a great example of an American IPA - very nice balanced.
588 characters
4.4
/5
rDev
+14.9%
look: 4.5 | smell: 4.5 | taste: 4.5 | feel: 4.5 | overall: 4
The beer is very clouded, orange, a pale yellow head, good lacing and some curtains.
The smell is citric and floral, as should be! Grapefruit, pine resin, hay and flowers. Some toffee notes.
A rather small initial sweetness, caramel, brown bread, soft citric aromas, grapefruit, bitter oranges, some flowers.
Medium carbonation, a good body, soft and oily, a dry finish.
A clean, nice, flowery IPA with a good balance.
423 characters
First Frontier IPA from To Øl
3.83
out of
5
based on
95
ratings.