Evil Twin Yang
| Evil Twin Brewing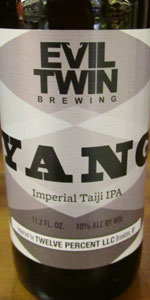 BEER INFO
Brewed by:
Evil Twin Brewing
New York
,
United States
eviltwin.dk
Style:
American Double / Imperial IPA
Alcohol by volume (ABV):
10.00%
Availability:
Rotating
Notes / Commercial Description:
No notes at this time.
Added by rfgetz on 04-22-2011
Reviews: 160 | Ratings: 865
3.62
/5
rDev
-5.7%
look: 3.5 | smell: 4 | taste: 3.5 | feel: 3.5 | overall: 3.5
Poured into a tulip. Pours a relatively dark copper color with about three fingers of rocky beige head. Lots of sticky lacing on this one here.
Lots of sappy piney hops here with a nice citrus profile rounding it out. A little bit of caramel sweetness in the aroma mixes with orange zest. A little bit of orange marmalade with caramel on the pallet. A bigger malt body on this one than the aroma let on. The hops are here. And they are full of pine and citrus but I'd love to get a little more hops on this one than what we're getting. This one is kind of sweet but it's not too much.
The body on this is a bit sticky and full. I know it's a double IPA but I'd like to see a little bit of a lighter body. Overall, for the seven bucks I paid for this I could have picked up a hand full of beers I would enjoy more. Glad to give this a whirl and I think it's worth a try. Tone down the malts and up the hops a bit and we're kickin' here.
★
937 characters

3.29
/5
rDev
-14.3%
look: 3 | smell: 4 | taste: 3 | feel: 3.5 | overall: 3
A bit less then 1/2 the bottle poured into a shaker (I understand the brewer's intent the yin & yang black & tan, which I will do with the rest after having it solo), Yang is auburn with a big-bubbled, thin off-white head leaving thin smatterings of lace.
Smell is impressive relative to low expectations - I'm skeptical of hop-forward beers that aren't locally made and consumed fresh, but this one still has a resiny punch in spite of it's journey from Scandinavia, with a little oxidized biscuit malt as well.
Taste is pretty malty, iced tea crystal with modest hops, more in-line with what I expected from a well traveled export DIPA priced with all the tariffs. The fusels are fairly dominant as well, battling the hops on the lingering finish.
Mouthfeel is oily, medium bodied.
Drinkability is okay, it's an DIPA I'd ever by again compared to our local offerings, but aside from the QPR, which I knew going into it would be bad due to the journey it took to get here, it's not bad by any means.
As part of the Yin & Yang B&T: Pretty good, more balanced, but really, just a hoppier, watered down version of the RIS. Note: I don't pour B&Ts ever, and my sloppy back-of-spoon technique was a fail, so it was a true blend, rather then layered, if that wasn't the intent...
★
1,284 characters
3.67
/5
rDev
-4.4%
look: 3.5 | smell: 4 | taste: 3.5 | feel: 4 | overall: 3.5
12 oz bottel poured into a tulip.
Appearance - carmel brown, with a thick, large bubbled cream colored head.
Smell - Pine, that is it.
Taste - Sweet carmel.
Drink - good Carbonation, very sweet.
Overall - A bit dissappointed, saved some for a Yin/Yang Black and Tan whic was nice.
★
285 characters
4.14
/5
rDev
+7.8%
look: 3.5 | smell: 4.5 | taste: 4 | feel: 4.5 | overall: 4
Massive thanks goes out to beeruser for sharing this one with funkydelic and I at an impromptu tasting! Served from bottle into a Mikkeller sampler wine glass. Poured yellow-orange with a minimal off-white head. There was no lacing evident throughout the glass. The aroma was comprised of sweet malt, fruit, citrus, citrus hop, and pot. The flavor was of sweet malt, fruit, citrus, and citrus hop. It had a medium feel on the palate with medium carbonation. Overall this was a really good brew. The aroma on this one was the best part about it in my opinion. Took me quite awhile to take my first sip due to this fact. The flavor itself was pretty good but nowhere near as complex as the aroma. Granted everything in the flavor was very nicely balanced and quite tasty. Definitely worth your time and also try mixing Yin and Yang as this was quite good when I tried it.
★
869 characters
3.59
/5
rDev
-6.5%
look: 3 | smell: 4 | taste: 3.5 | feel: 3.5 | overall: 3.5
A: A nice dark golden amber color with with a small head that lasts for a few minutes.
S: A bunch of floral and citrus smells (orange, grapfruit) with a little piney smell and a hint of malt in the back.
T: Not overpowering in the bitterness. Well balance with the hops and the maltiness of the brew. Some piney tastes come through and a little bit of the hops.
M: This a a nice medium/full bodied double IPA, the alcohol is very subtle and wouldn't guess that its 10%.
O: A nice double IPA that is well balanced and a good drinker. Easily could have a few of these even at the 10%, nice and balanced.
★
605 characters

4.03
/5
rDev
+4.9%
look: 4.5 | smell: 4 | taste: 4 | feel: 4 | overall: 4
Served on-tap in a 10oz goblet at Local Option (Chicago, IL).
A: Beautiful golden with nice, tight 1/2-finger head, big-bubbled and off-white, with impressive retention and a nice crusty line or two of lacing.
S: Very pale malty for the style with a nice blend of pine sap, grapefruit, orange, and floral hops components, subtle and not over the top.
T: A nice balanced DIPA which I wish had a bit more personality but still was a good brew. The pale maltiness is substantial and holds some nice crackery elements and stands up well versus the hoppy bitterness, which, while it brings some big flavor, still remains understated with grapefruit and orange citrus, floral esters, pine, and a little grassiness. A very sneaky complex brew. And the 10% is not a bit detectable.
M: Medium-full body and very dry and attenuated, which makes it drink like a lot less than a 10% beer too.
O: A very pleasant brew from a new player in the American craft scene. I'm wishing I had tried the black and tan of the Yin and Yang pair, but this was a very good brew on its own.
★
1,067 characters

4.54
/5
rDev
+18.2%
look: 4 | smell: 5 | taste: 4.5 | feel: 4 | overall: 4.5
2 oz pour into tasting glass. The rest made it into the suggested "black and tan."
A: Pours a brilliant translucent copper with bright apricot highlights. 1-finger head settles quickly and leaves a bit of creamy lacing.
S: Tons of melon, grapefruit, honey and citrus. A small amount of mint comes through in the tail. Whatever the hop bill on this is, it's beautiful.
T: Lush melon up front, followed by citrus and strawberry. Honey and an extremely bitter hop flavor dominate the middle and end of this. Very sweet, as well.
M: Mild carbonation, yet very thick and resinous.
O: On its own, I liked this a bit better than the "Yin," although the blended combo is fantastic.
A solid standalone IPA, but blend em' up!
★
723 characters

4.17
/5
rDev
+8.6%
look: 3.5 | smell: 4 | taste: 4.5 | feel: 4 | overall: 4
Bottle from Whole Foods Bowery, 12oz bottle into a tulip. Best before 2015.
Pours a light amber, with an offwhite head. A thick film is left behind. Nose was fantastic and my first run in with this combination of aromas, lots of muskmelon, honeydew and some mild mango notes. Interesting and surprising. Taste has more of these sweet fruits, lots of honeydew and more melon/tropical fruits. A mild bitterness comes through in the finish, and doesn't linger around too long. Medium body and mouthfeel, an interesting and unique offering in the DIPA category; I'd love to know which hops were used to produce such an aroma.
★
622 characters
3.95
/5
rDev
+2.9%
look: 4 | smell: 4 | taste: 4 | feel: 3.5 | overall: 4
Tasty DIPA worth trying. A great foamy head, lacey. Pine, Honey dew, fruit and complex tastes. Average mouthfeel, not a big malt bill.Well carbonated. Very good drinkability. A good introduction to this this "new brewer".Liam's bottle from NYC.
★
244 characters

3.45
/5
rDev
-10.2%
look: 4 | smell: 4 | taste: 3 | feel: 3.5 | overall: 3.5
The Yang portion of the Yin & Yang partnership, designed to be blened to create a black & tan style beer.
Pours a hazed amber oranage color with minimal
head. Scent is of pungent grapefruit and sweet biscuity malt... not much else going on. First sip brings the pungent grapefruit notes with a big bitter taste, quite palate scorching but sweet biscuty malt comes through befoe the finnish. Medium bodied, dry finnish, lingering bitterness on palate.
As i described the Yang, as a stand alone beer, its not exactly what one would seek out in a dIPA, but when blended with the Yin, it works very well. Each beer is bold and aggessive, and when they are blended, the harsh qualities become quite muted.
★
703 characters
Evil Twin Yang from Evil Twin Brewing
3.84
out of
5
based on
865
ratings.