Istedgade Hipster Ale
| Evil Twin Brewing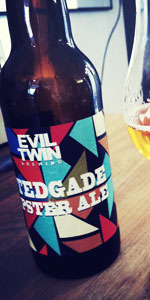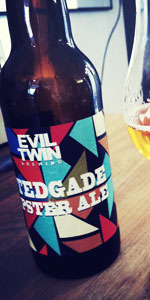 BEER INFO
Brewed by:
Evil Twin Brewing
New York
,
United States
eviltwin.dk
Style:
American Pale Ale (APA)
Alcohol by volume (ABV):
5.50%
Availability:
Rotating
Notes / Commercial Description:
No notes at this time.
Added by bark on 08-08-2011
HISTOGRAM
Ratings: 13 | Reviews: 8
Reviews by circus_cat:

4.36
/5
rDev
+15%
look: 5 | smell: 4 | taste: 4.5 | feel: 4 | overall: 4.5
A: Beautiful opaque amber orange slightly darker than your run of the mill American pale. Poured a soapy three finger off-white head that is leaving some beautiful lacing. This thing looks very inviting.
S: Caramel malts, pine, a bit of grapefruit. Some wet hay. Standard pale ale nose.
T: Wow, that's really nice. Grassy up front, caramel and toffee combined with some lemon zest through the palate. Finishes with the bitter hops and grapefruit that you get so much in the nose. Very nice, very complex.
M: It really coats the mouth and leaves you with that APA bitterness on the back of the tongue. Medium to full-bodied with moderate carbonation.
654 characters
More User Reviews:


3.76
/5
rDev
-0.8%
look: 4.25 | smell: 3.25 | taste: 4 | feel: 3.75 | overall: 3.75
A- This beer pours an orange/amber color with a very light tan head about a half inch high that's hangin' around a while thanks to the aggressive carbonation.
S- Nice mild hop aroma. Floral but not too much with a nice malt balance.
T- Much milder on the hop bitterness than initially expected. It is a very well balanced pale ale.
M-Bubbly on the palate with a little bit of tingle from the hops on the back end
O-Not too shabby. Certainly didn't knock my socks off but overall its a good european pale ale; nothing to complain about.
Serving Type: 12oz can poured into a pint glass
590 characters

3.83
/5
rDev
+1.1%
look: 4.25 | smell: 3.75 | taste: 3.75 | feel: 3.75 | overall: 4
A: The beer is slightly hazy dark amber yellow in color and has a light amount of visible carbonation. It poured with a half finger high beige head that died down a bit but never completely faded away.
S: Moderate aromas of caramel malts are present in the nose along with hints of grapefruit hops.
T: The taste is similar to the smell and has flavors of caramel malts along with notes of floral and citrusy hops, the latter of which contribute a light amount of bitterness. The citrus lingers through the finish.
M: It feels medium-bodied and slightly crisp on the palate with a moderate amount of carbonation.
O: This beer has a nice balance between the malts and hops.
675 characters

4
/5
rDev
+5.5%
look: 4 | smell: 4 | taste: 4 | feel: 4 | overall: 4
11.2 fl oz bottle with an apparent bottled on date of 01/12/2013 printed on the bottle. Got this bottle on sale at the local Binny's. I've never had the regular Evil Twin Hipster Ale, so I've got nothing to compare this against. Blurb on the side of the bottle is all written in Dutch so I can't read what it's about. Going in unbiased.
Poured into a clear balloon snifter glass.
A - Pours just over two fingers of creamy fluffy beige head on top of a dark burnt sienna orange colored body with plenty of chestnut highlights from the dark yeast sediment. Fluffy head has some excellent staying power. Some nice stringy scattered lace. Looks very nice.
S - Smell is earthy, creamy, and twiggy. Oak wood, vanilla, twigs, some dried hops, some apple, and an earthy funky yeast presence. So far, it reminds me a lot of how some of the Mikkeller Single Hop series beers smelled.
T - Taste is still very on point, even if some of the hop bitterness has fallen off. Earthy, creamy, woody, biscuit malts, caramel, green apples, herbs, florals, grass, and a hint of copper / metallics on the finish. Tastes pretty damn good to me.
M - Feel is creamy & smooth with some light bitterness and some caramelized malt presence hanging out on the palate. Very nice.
Overall, I thought it was a damn good beer, even at almost 9 months in the bottle. Reminded me of how a lot of the Mikkeller Single Hop series beers looked, smelled, and tasted. Definitely has me intrigued enough to grab a six pack of the regular Evil Twin Hipster Ale to check it out, and possibly go back for some of the other variants. Recommended.
Evil Twin Istedgade Hipster Ale ---4/5.
1,648 characters

3.83
/5
rDev
+1.1%
look: 4 | smell: 3.5 | taste: 4 | feel: 3.5 | overall: 4
Appearance Pours an hazy orange (SRM 9) in my Cantillon snifter with a tiny but creamy off-white collar.
Smell The nose is of predominant fresh and flowery hops. There's a less noticable malt aroma. It's sweet though with plenty notes of grapefruit, lemon and cookie dough.
Taste Rather a filling and smooth taste this one. Caramalt and light hoppy bitterness washed with lots and lots of exotic fruits.
Mouthfeel A very refreshing light to medium body with average carbonation.
I enjoyed this APA together with Ølbutikken co-owner Michael Feyk at his store on Istedgade. The recipe for this particular beer drafted by his business partner Jeppe "Evil Twin" Jarnit-Bjergsø.
Could this do as a summer ale? Yes sir indeed! Hipster Ale's a refreshing and easily drinkable brew packed with complex flavors. Give me another one!
840 characters
3.98
/5
rDev
+5%
look: 4 | smell: 4 | taste: 4 | feel: 3.75 | overall: 4
A: Pours a lightly hazy golden orange in color with moderate amounts of visible carbonation and some apricot + copper highlights. The beer has a finger tall dense foamy light beige head that slowly reduces to a medium sized thick film and a thin ring at the edges of the glass. Moderate amounts of lacing are observed.
S: Moderate aromas of caramel malts and citrus/grapefruit rind hops.
T: Upfront there is a moderate amount of caramel malts without very much sweetness. There is a moderate amount of citrus/grapefruit rind hops that imparts a light to moderate amount of bitterness which lingers slightly.
M: Medium bodied with moderate amounts of carbonation. Slightly slick/oily.
O: Pretty enjoyable though this bottle may be about a year old so the hops are certainly past their prime - that said, I still enjoyed this beer and found it easy to drink. Fairly well balanced between the sweetness of the malts and the bitterness of the hops.
948 characters
3.68
/5
rDev
-2.9%
look: 4 | smell: 3.5 | taste: 3.5 | feel: 4 | overall: 4
Bottle has a date code of some kind but I can't make it out. Oh well.
Beer is a deep orange with a large off-white head. Good retention. Some sticky lace.
I get a good dose of caramel malt in the nose, alongside some soapy grapefruit hops.
Taste is fairly balanced pretty the malt and hops. Caramel and toffee alongside grapefruit and a bit of pine. Moderate bitterness.
Medium bodied, moderate carbonation. Slightly oily.
Overall, decent APA. Enjoyable but not remarkable.
481 characters

4.35
/5
rDev
+14.8%
look: 4 | smell: 4 | taste: 4.5 | feel: 4.5 | overall: 4.5
I picked up a bottle of this at a certain bottle shop in Copenhagen.
Poured into a wine glass and the appearance is a cloudy orangish tone with fingers of a bright white head. Its` nose has grapefruit, orange, biscuit and malt. The taste is low-key citrus, bread, caramel, mmm, this tastes very nice. Mouthfeel medium, a nice carbonation level. All in all, this is a great American Pale Ale. And it is executed well by these folks outta Denmark !
447 characters
Istedgade Hipster Ale from Evil Twin Brewing
Beer rating:
3.79
out of
5
with
13
ratings