Evil Twin Epilogue
| Evil Twin Brewing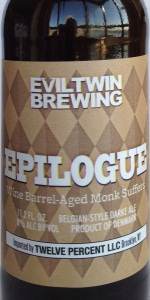 BEER INFO
Brewed by:
Evil Twin Brewing
New York
,
United States
eviltwin.dk
Style:
Belgian Strong Dark Ale
Alcohol by volume (ABV):
8.00%
Availability:
Rotating
Notes / Commercial Description:
Aged for 6 months in Brunello Red Wine barrels.
Added by Jason on 01-09-2012
Reviews: 13 | Ratings: 41
3.96
/5
rDev
+1.3%
look: 3.75 | smell: 4 | taste: 4 | feel: 3.75 | overall: 4
A: Pours a mostly clear dark reddish amber in color with a light amount of gentle carbonation and some ruby red highlights. The beer has a half finger tall sudsy beige head that reduces to a medium to large patch of thick film of large bubbles and a medium thick ring at the edges of the glass. Minimal amounts of lacing are observed.
S: Moderate aromas malts with sweet dark fruit notes (plum), earth, oak, and some lighter notes of red wine and vinegar.
T: Upfront there is a moderate flavor of dark fruit malt sweetness with notes of cherries and plum. That is followed by some lighter notes of earthiness with moderate to strong flavors of red wine and oak along with just a hint of vinegar tartness.
M: Medium bodied with moderate amounts of carbonation.
O: Nice amounts of complexity with really nice notes of tart cherries - my wife, who is not a fan of Belgian beers in general really enjoyed the tar cherries aspects of this one. The alcohol is pretty well hidden and I thought this was really nice. Definitely one I would try again.
1,047 characters
3.89
/5
rDev
-0.5%
look: 3.75 | smell: 4 | taste: 4 | feel: 3.5 | overall: 3.75
A: The beer is hazy dark brownish red in color. It poured with a quarter finger high beige head, that died down and eventually left a collar around the edge of the glass.
S: Light to moderate aromas of Brunello wine are present in the nose.
T: Like the smell, the taste has flavors of red wine from the barrel aging and also has some hints of dark fruits (cherries stand out in particular), which almost resemble a port wine (but without the sweetness) when combined with the red wine from the barrel aging. Hints of Belgian yeast are also noticeable.
M: It feels light- to medium-bodied on the palate and has low to moderate amount of carbonation.
O: This beer is enjoyable because the red wine barrel aging adds a little complexity to the taste.
751 characters

3.79
/5
rDev
-3.1%
look: 3.5 | smell: 3.75 | taste: 4 | feel: 3.25 | overall: 3.75
poured a dark brown/red with a finger of head which sizzled away into nothing.. smells of red wine, raisins, toffee, brown sugar, orange citrus. wow, that is one funky flavor profile! tons of wine barrel/cork flavor, grapes, raisins, sugary sweet but so tart from the grape/wine barrels it almost feels like a sour! the mouthfeel is where it turns weird, medium body with very high carbonation, fizzier than seltzer water. the abv is fairly well hidden as well. a very tasty brew, definitely very unique. worth trying once, but honestly probably not worth the $12 i spent on it (over $1 an ounce).
597 characters

4.11
/5
rDev
+5.1%
look: 3.75 | smell: 4 | taste: 4.25 | feel: 4.25 | overall: 4
huge wine aromas straight off the bat along with a bit of white vinegar and some fermented stone fruit
The color is a wonderfully dark shade of red with a small loosely held together head that dissipates quickly.
the taste is a fair balance of dark fruit like plums and a bit of bitter chocolate and sour with the vinegar only shining through just a touch. as the beer leaves your mouth you get some tannins coming through from the barrel along with hints of old vine wine that leaves your mouth pretty dry.
overall a very nice and unique beer that I enjoy a lot. not sure its worth the price, but im thankfull I did and will remember it for some time.
652 characters
3.67
/5
rDev
-6.1%
look: 3 | smell: 3.5 | taste: 3.75 | feel: 4 | overall: 3.75
Thanks to jmgrub for sharing this one during the Churchill's weekend festivities.
Pours a murky dark orange with a foamy khaki head that settles to wisps of film on top of the beer. Small dots of lace slowly drip into the remaining beer on the drink down. Smell is of malt, brown sugar, dark fruit, and slight wine aromas. Taste is much the same with a slightly sour fruity flavor and an alcohol kick on the finish. There is a mild amount of spice bitterness on the palate with each sip. This beer has a good level of carbonation with a crisp mouthfeel. Overall, this is a pretty good beer with some interesting aromas and flavors.
633 characters
3.89
/5
rDev
-0.5%
look: 3.75 | smell: 4 | taste: 4 | feel: 3.5 | overall: 3.75
Still working on my Christmas presents.
Poured into a tulip glass. Got very little lasting head. Pretty much a cloudy brown with hints of red.
Nose is sour, dark fruit and yeast.
Taste: Ditto from above. A good dose of cherries with yeast. Also, there is some prune or plum. Kind of a sour beer as well but not lots of sparkle.
Mouth feel ends up being not very carbonated, but rather dry on the finish.
Overall, this beer has some things going for it but lacks in overall satisfaction.
492 characters

4.32
/5
rDev
+10.5%
look: 4 | smell: 4.5 | taste: 4.5 | feel: 4 | overall: 4
A - Dark brown-amber with a thin layer of off-white-khaki head. Fades fairly quickly.
S - Dark caramel malts, wine, oak, some sourness, dark fruit, Belgian yeast, raw sugars, some spices, and some of booze.
T - Dark caramel malts, dark fruits, wine, oak, some sourness, raw and residual sugars, Belgian yeast, clove and other spices, a touch of vanilla, and some booze.
M - Full bodied with moderate carbonation. Smooth with a sweet, warming, and lightly sour finish.
D - The wine barrel adds some nice complexity and balance to the beer. Good BSDA.
553 characters

3.67
/5
rDev
-6.1%
look: 3 | smell: 3.5 | taste: 4 | feel: 3.5 | overall: 3.5
Aged in Brunello barrels. I don't know nothin' 'bout wine, so I looked up Brunello. Expensive red wine made in the Tuscany region with high acidity and lots of fruit.
A: Translucent, not particularly warm brown body. Bottle gushed a little bit; head got up to two fingers but dwindled down to nothing fairly quickly. At only 8% and in a Belgian style, there should be better retention.
S: First sniff was very tart, similar to a flanders. Subsequent olfactory investigations reveal sour grapes, a bit of earth, and perhaps a touch of wood.
T: Reminds me more of a flanders. I really just get tartness at the start, of unripe dark fruit I suppose. In the middle is where it really tastes like a flanders red or oud bruin - definite vinous qualities a la sour grapes, a bit of must, and a bit of cherry. Towards the end, the flavors sweeten, with ripe dark fruit coming in. Not much of an aftertaste.
M: A little over-carbonated at the beginning of each sip. By the midway point, things have calmed down, and I am able to enjoy the flavors unimpeded, but without the body becoming too heavy.
O: An enjoyable beer, though not typical for the style. The beer is just too tart, and doesn't have enough sweet, dark fruit, for it to be a classic BSDA. I have not rated it higher because I find the characteristics from the wine to overpower the other flavors. As noted in previous reviews, definitely not worth the $10+ price.
1,427 characters

3.8
/5
rDev
-2.8%
look: 4 | smell: 4 | taste: 3.5 | feel: 4 | overall: 4
Pours a copper color with an off-white head. The wine aromas really come through strongly on this. Quite oaky with lots of grape/fruit notes. Lightly tropical and very sugary. There's a hint of lemon tartness and alcohol as well. The flavor is similar to the nose. Lots of wine, oak, and sugar. A hint of booze, light tropical fruit notes, and some citrus qualities. A nice berry and grape fruitiness to it as well.
415 characters

3.92
/5
rDev
+0.3%
look: 3.5 | smell: 4 | taste: 4 | feel: 3.5 | overall: 4
A: Dirty looking dark reddish brown in color. Forms a smallish head, though in all actuality this beer just looks flat. No lacing.
S: Aroma consists of a malty sourness, red wine grapiness, and tea/
T: Brown sugar, with a mild caramel maltiness and a decidedly vinous quality. Almost sour, but not quite there.
M: Medium bodied, slightly tart with virtually no carbonation.
O: I'm not so sure about this beer. Not sure what it's supposed to be, and while it's not bad, it's not great either. Apparently this one cost $11 for a 12oz. Certainly not worth that price.
571 characters

3.87
/5
rDev
-1%
look: 3.5 | smell: 4 | taste: 4 | feel: 4 | overall: 3.5
Pours ruby red with lifeless appearance, no head or lacing. Light passes through, somewhat cloudy appearance. Nose is full of red wine tannins, some oak character. Red grapes are present. The taste is tart with some grape sweetness followed by oak and tartness. Mouthfeel is somewhat heavy with moderate carbonation. Overall, at a dollar an ounce, this one is a bit steep for what it is.
Pretty tasty overall.
409 characters
4.12
/5
rDev
+5.4%
look: 4 | smell: 4.5 | taste: 4 | feel: 4 | overall: 4
A - Muddy brown, but when held up to light it is a ruby red, thin soapy off white head, light lacing.
S - Sour cherries, mixed berries, candi sugar, strawberry jam, slight olive and funk aromas as well.
T - Very light. Cherries, green raisons, figs, nutty malt, a touch of white oak. As it warms the flavors become slightly stronger.
M - Medium bodied, low carbonation.
O - This is a decent beer. I can't justify the cost though. This is similar to Dogfish Head Raison D'etre which costs less for a 6 pack than 1 bottle of this and they are both equally enjoyable. I'll pay 15 dollars all day for any bottle of Mikkeller...I can't say that about Evil Twin. Hopefully now that he is working out of the US the prices will be more accurate to the quality.
Best before 2015. $13.99 @ Honeygo Wine & Spirits
807 characters
3.97
/5
rDev
+1.5%
look: 3.5 | smell: 4 | taste: 4 | feel: 4 | overall: 4
Had during Brewvival 2012! Served from tap into a Brewvival sampler imperial pint. Poured a dark brown with a very minimal tan head. There was no lacing evident throughout the glass. The aroma was comprised of sweet malt, dark fruit, earth, wood, sugar, and fruit. The flavor was of sweet malt, dark fruit, wood, very subtle sugar, and fruit. It had a medium feel on the palate with mild carbonation. Overall this was a fairly good brew. The wine barrel did a little bit for this one as far as enhancing the flavor and aroma going on here, but it didn't knock it out of the park so to say like I would have liked to have seen. All of the right aspects for the style were there though which helped it quite a bit with its score. Still worth trying if you get the opportunity. Tick.
780 characters
Evil Twin Epilogue from Evil Twin Brewing
3.91
out of
5
based on
41
ratings.