Evil Twin Hipster Ale
| Evil Twin Brewing
BA SCORE
83
good
136
Reviews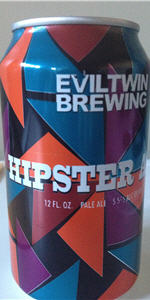 BEER INFO
Brewed by:
Evil Twin Brewing
New York
,
United States
eviltwin.dk
Style:
American Pale Ale (APA)
Alcohol by volume (ABV):
5.50%
Availability:
Year-round
Notes / Commercial Description:
No notes at this time.
Added by oberon on 09-13-2012
Reviews: 136 | Ratings: 689
3.85
/5
rDev
+4.6%
look: 3.5 | smell: 3.5 | taste: 4 | feel: 4 | overall: 4
12 oz can was poured into a ping glass.
Appearance: This beer poured a one finger frothy hear that has reduced and left some nice lacing on the glass. It is a copper amber color with some haziness, floaties, and little carbonation coming up through the glass.
Smell: bready and caramel malts, citrus and tangerine.
Taste: Same as above with some nice lingering bitterness like the style should be.
Mouthfeel: Creamy smooth, medium bodied, traditional bitterness, medium carbonation, and quite enjoyable.
Overall: Pretty nice for an APA out of a can. Love ET and what they think of and where they make their beer. Very enjoyable and happy to have stumbled across this style.
678 characters
3.58
/5
rDev
-2.7%
look: 4 | smell: 3.5 | taste: 3.5 | feel: 4 | overall: 3.5
Trying to gain a grasp on the culture of today's hipster trend, I've boiled it down to two thoughts of ideology: 1) A yuppie that looks like a hippy, that looks like a yuppie. or 2) A hippie that looks like a yuppie, that looks like a hippie. Regardless, this beer is designed for them!
Hipster Ale opens with a glowing burnish gold color and coppery highlights. Its medium haze reminds me of the heavy hop usage and full flavored, unfiltered character. Firmly topped with a creamy yellowish foam, the beer retains and laces the glass beautifully.
Citrus and grass are the prominent characteristics that dominate the nose. But supportive malt notes balance the hops, even if tepidly so. Caramel, biscuit, and bread set the tone, but the grapefruit-scented hops anchor complementary notes of white grape, juniper, and lemon.
Malt flavors have firmer underpinnings than the nose suggest as that balance of the beer begins to more resemble pale ale and not IPA. Rich in bread dough and yeast flavor, the beer has a starchy taste that fuses with soft caramel and biscuit for a richer than usual base. But it's the hops that best celebrates the taste: Dried citrus peel, white pithy grapefruit, and grassy taste (weedy-stemmy, and overall chlorophyll) garner the pungent earth and sharp citrusy balance. The beer finishes with a winy, juniper, spruce, minty and lemony note that I've come to expect from Nelson Sauvin-type hops.
The beer's bready taste also translates to texture- rich bready weight keeps the beer creamy and smooth. But as the hops shed the carbonation and malt, a quick transition at mid palate ensures a dry finish of hops and leaf. Mild astringency from hops, minty-warm alcohols, and an overall pungent fruit character presents themselves in a very terse aftertaste.
I'm currious if patchouli, cabbage, or overall dank character is the proper bait for hipsters, but if the can looks like a Rubik's Cube, it can't loose! I'm not sure if I have ever seen a marketing campaign that targets as specific audience so overtly. Anything to sell beer, right?
2,071 characters

4.08
/5
rDev
+10.9%
look: 4 | smell: 3.5 | taste: 4.5 | feel: 4 | overall: 4
Poured from a 12oz can into a pint glass. Reviewed live.
A- Two finger thick cream-colored head with wonderful retention. Auburn color with lovely clarity and thick ribbons of yeast cascading down to the bottom of the glass. Thick peaks on the head and nice lacing. Appealing other than the yeast flakes at the bottom of the glass. Yes, flakes.
S- Flowery hop notes, sugar, cinnamon. Airy and flowery. Really nice. Appealing and sort of a "cool" scent.
T- Flowery Simcoe-like hops in the first sip, malty and delicious afterwards. Wonderful flavor.
M- Thick and creamy. Really lovely.
O- Great brew from Evil Twin.
620 characters
3.97
/5
rDev
+7.9%
look: 3.5 | smell: 4 | taste: 4 | feel: 4 | overall: 4
A: Pours a hazy dark copper in color with hints of deep golden yellow when held up to the light, some light amount of both white and dark yeast particles in suspension near the bottom of the glass, and a very light amount of visible carbonation. The beer has a finger tall creamy light beige head that slowly reduces to a medium sized patch of thick large bubbles, a thin film covering the rest of the surface of the beer, and a medium thick ring at the edges of the glass. Moderate to significant amounts of lacing are observed.
S: Upfront there is a light aroma of caramel malts followed by some strong hop aromas - grapefruit/citrus, pine/resin, and pineapple/tropical in order of intensity.
T: Like the smell, the taste of this beer upfront has a light to moderate flavor of caramel malts with some light sweetness. After that, the beer has a lot of hop flavors - grapefruit/citrus is pretty strong with lighter amounts of pine/resin and pineapple/tropical. Light amounts of bitterness which lingers for quite a while on your palate.
M: Medium bodied with moderate amounts of carbonation. Slightly chewy. Light to moderate amounts of dryness in the finish.
O: Very enjoyable with a nice combination of hop flavors and aromas without being overly bitter. Easy to drink and one to have again.
1,298 characters

3.95
/5
rDev
+7.3%
look: 4 | smell: 4 | taste: 4 | feel: 3.5 | overall: 4
Poured into a Dogfish Head pint glass. Pours a light golden amber with suspended tiny particulates. One finger off-white head that dissipates to a thick film and tons of lacing. Great piney and citrus hops and grapefruit, light sweet malt in the aroma. Flavor starts with citrus hops and grapefruit, slowly revealing sweet malt and bittering hops. Finishes slightly dry and bitter. Hops are more bitter than aromatic, but flavors are quite intense for a pale ale. I was somewhat underwhelmed by the emphasis on bittering hops on first taste, but this ale grew on me as I drank. A number of flavors develop during the taste, spanning bitterness, light fruit, citrus and malt. Well done and interesting. Medium bodied. I will get this one again.
743 characters

3.62
/5
rDev
-1.6%
look: 3.5 | smell: 4 | taste: 3.5 | feel: 3.5 | overall: 3.5
I was really happy to see this in The Fridge's cooler recently and I have some to spare if anyone is looking for this beer in a CAN. The CANQuest (TM) marches on!
From the CAN: "Perhaps you heard of a worldwide beer-movement that tributes favorite hipster neighbourhoods across the globe. First came Istedgade, Copenhagen then Sodermalm, Stockholm followed by Williamsburg, New York and Shoreditch, London accompanied by Trastevere, Rome & last El Raval, Barcelona. If you feel excluded because you're hip but your city is not, this cutting-edge, 'hip without border' pale ale is an homage to you - the global hipster. Cheers!"
Oh yeah, that totally speaks to me in my hipper-than-thou mode. Not! Let's get on with a Crack & Glug, shall we? I was left looking at a finger of dense, tawny head with good retention. Color was a hazy orangish-amber, but I am cool with a lack of filtration as long as it tastes good. Nose had a minty-caramel scent and so I was reminded of toffee or Brach's caramels. Mouthfeel was medium and the minty hops were initially prevalent on the tongue, but the caramel malt got a brief opportunity to shine through. The finish was very dry and quite bitter, just the way I like my APAs. I CANnot tell you that there was anything stand-out about this one and coupled with its relatively high price point, I would probably reach for other APAs instead. I guess that I am not much of a hipster.
1,418 characters
4.2
/5
rDev
+14.1%
look: 4 | smell: 4 | taste: 4.5 | feel: 4 | overall: 4
Appearance: Amber in color with copper hues and an off white head an inch tall.
Aroma: Quite the citrus hop profile in the front. Caramel malts, light butteriness, piney, grapefruit.
Taste: Heavy grapefruit, piney, breadiness on the palate, good spice note, caramel malts, orange and lemon zest.
Notes: Very hoppy with a good dry finish. Cheers.
348 characters

3.88
/5
rDev
+5.4%
look: 4 | smell: 3.5 | taste: 4 | feel: 4 | overall: 4
12oz can into tulip.
A - Dark copper brown with a large dense white head.
S - Sweet caramel malt, floral hops, citrus zest.
T - A flavorful blend of caramel malt, earthy hops, and orange citrus. A sharp mild bitterness builds up and follows through into the finish. Slight breadiness and black pepper notes linger.
M - Smooth, medium bodied, crisp carbonation. Dry finish.
O - A quite enjoyable pale ale. Superb drinkability, no alcohol present. There is a nice balance to this beer, although the earthy bitter hops are the true showcase. Worthy of repeat purchase.
573 characters
4.13
/5
rDev
+12.2%
look: 4.5 | smell: 4 | taste: 4.5 | feel: 4 | overall: 3.5
Poured from a 12oz can into a dfh snifter
A: pours a hazy slightly burnt orange amber with 1/2 a finger if off white head that leavs some very nice lacing... Nice looking beer.
S: nice amount if hops nice balance of pine, and citrusy grapefruit and some light tropical fruit hop notes, lightly grainy caramel malt backbone. Touch of grassy hop aroma, nice.
T: nice juicy citrus grapefruit and resiny pone notes, balanced with lightly toasted grain and caramel notes, a decent amount if bitterness, very nicley rounded and great hop flavor.... A nice hop forward pale ale.
M: nice full bodied flavor and awesome drinkability, great for the abv, nice and dry finish with a slightly bitter piney resin aftertaste.
O: this is a damn good pale ale, pretty expensive at 18.50 per 6pk , and seeing as this one was brewed state side I'm a little confused why this is so expensive, but that is the only complaint I had, and the beer was good enough that i will have no problem picking up another fresh 6pk.
1,004 characters
3
/5
rDev
-18.5%
look: 3 | smell: 3 | taste: 3 | feel: 3 | overall: 3
Poured into a pint glass.
Appearance
Amber with 3 fingers fluffy head. Moderate carbonation and great retention. Some yeast drops to the bottom.
Nose
Honey, grapefruit, pomegranate, caramel and gummy bears.
Taste
Honey like caramel malts, grapefruit juice, pomegranate and gummy bears. Hint of florals and lemony citrus.
Mouthfeel
Medium bodied, smooth, sticky and somewhat dry.
Overall
Rather malt forward for a Pale Ale yet retains a decent bitterness. The hops taste like they're of the New Zealand variety, but I'm not completely sure. Rather mediocre but comes in a really neat can!
594 characters

4.12
/5
rDev
+12%
look: 4 | smell: 4.5 | taste: 4 | feel: 4 | overall: 4
The new canned Global" Hipster for us who are hip but don't live in a hip city.Hipsters annoy me to the core but this APA was pretty damn good.Poured into a standard pint glass a deep murky burnt orange with a sticky white 1/2 finger white head atop.Alot of grapefruit and pine resin in the nose over top of a caramel biscuit malt base,a tinge of honey comes into play as well.Again sharp grapefruit hops dominate the palate with a little grass as well,the malt base is got some caramel sweetness but drys out nicely in the finish.This is a pretty damn good and hopped up pale ale.I haven't had any of the other Hipster line but will seek them out.
648 characters
Evil Twin Hipster Ale from Evil Twin Brewing
3.68
out of
5
based on
689
ratings.